Franchise Consolidation Grows: Trend to Spread Beyond Restaurants
Consolidation arguably has been one of the largest and most important trends in the franchise sector in the past few years, and it's not hard to see why. One definition of consolidation is "a solidification and strengthening"--terms that also describe two of the most critical aspects of running a successful multi-unit operating company. While we expect this trend to continue in the restaurant industry, we also believe that consolidation will have a significant impact on other franchised brands in new and exciting ways.
Historically, the consolidation trend in franchising has been driven by traditional, restaurant industry Tier 1 and Tier 2 brands in the QSR and casual dining segments. The economic reality of declining traffic, heavy discounting and prime cost pressure, combined with heavy governmental regulation, has created a much more complex business model. Smaller operators have borne the brunt of these changes and, in many cases, the answer has been to sell to a "consolidator" in the same franchise system. These consolidators typically have an established organization and infrastructure that allows them to deliver a level of professional management and to leverage fixed overhead costs in a way smaller franchisees simply can't.
As we move forward, the traditional consolidation model we've seen in recent years will remain prevalent. However, while this activity is likely to slow as the seller pool of smaller companies operating top-tier restaurant brands shrinks, we believe this trend will maintain its strong momentum for the foreseeable future. With large absolute numbers, a significant number of aging franchisees, and a new era of sophisticated buyers looking to achieve rapid growth, this form of consolidation is not going anywhere soon. Tier 1 and 2 brands have been the front-runners in attracting buyers seeking growth through mergers and acquisitions, owing to the sheer number of restaurants in their systems, large geographic footprints, and the greater number of available opportunities to consider.
Eventually, there will come a time where these massive, consolidated operators will reach a critical mass and no longer have the desire, or ability, to acquire more stores. We have already started seeing some franchisors implement size limits on their franchisees, creating an incentive for these large-scale operating companies to seek opportunities in new brands. Although mega-franchisees benefit from their immense size (because of greater predictability of operational results and returns through economies of scale, implementation of modern technology, market control, and fixed-cost leverage), there is still a point at which big becomes too big, and benefits turn into inefficiencies.
Where are we headed?
Once top-tier consolidation slows, the question is, Where will this leave franchising? We suspect that strategic buyers will turn their attention to Tier 3 and 4 restaurant brands, as well as to regional brands. The greatest untapped potential for consolidation lies within these smaller brands. Additionally, the opportunity in this segment will attract a greater number of interested purchasers because of the inherently lower valuations of these brands.
Also meaningful for potential buyers is the risk-and-reward tradeoff of entering a less mature system with high-growth opportunity. This leads to another appealing aspect of consolidating smaller brands: a buyer's greater ability to control a larger portion of a system's franchised universe. This is especially desirable when purchasers are seeking "the next greatest thing" by entering a system at the ground level.
We already are seeing this consolidation trend follow in the non-restaurant franchise world. While it remains true that restaurant franchising is the most widespread use of the business model, the industry inevitably will become overpopulated in the future. This saturation in the restaurant realm will push franchisees to seek outside opportunities with a less competitive purchasing process. Industries likely to see an uptick in their attractiveness to buyers include service businesses such as auto services and repair, house cleaning, day spas, health centers, fitness centers, senior care, pet care, dry cleaning, and early childhood development.
Opportunities for consolidation in these industries are immense and desirable for the same reasons as they are for smaller restaurant brands: purchasers are typically working with lower valuations and have a greater chance of controlling a significant portion of the franchised system.
The bottom line is that the franchise business model works. It enables entrepreneurs to run their own businesses without falling prey to the fundamental risks of creating a new and unique concept. Operating a franchised brand gives buyers a sense of safety and security, stemming from the existing familiarity with the concept.
We will continue to see the application of the basic, time-honored concept of franchising push itself into other, non-food industries. This is clearly the free market at work, with the survival of the strongest business models, like franchising, reigning supreme. Because franchising has proven itself time and again as an incredibly successful way to run a large, multi-unit company, we believe there are no upper bounds to what can be achieved in operating businesses in this domain.
Dean Zuccarello is CEO and founder of The Cypress Group, a privately owned investment bank and advisory services firm focused exclusively on the multi-unit and franchise business for 25 years. He has more than 30 years of financial and transactional experience in mergers, acquisitions, divestitures, strategic planning, and financing in the restaurant industry. Contact him at 303-680-4141 or dzuccarello@cypressgroup.biz.
Published: April 3rd, 2017
Share this Feature
Recommended Reading:
Comments:
comments powered by

Disqus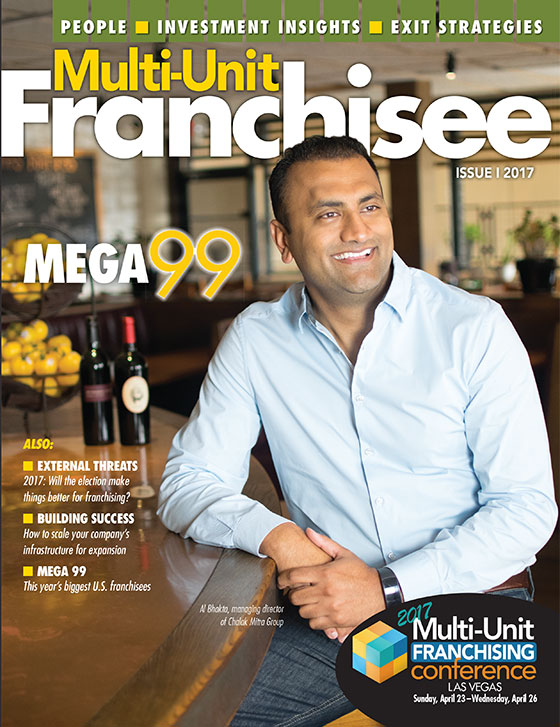 Multi-Unit Franchisee Magazine: Issue 1, 2017
High AUVs + 8-hour operating days in a food category that's not oversaturated = an eggs-straordinary life.
Subway has new and existing franchise opportunities available for experienced multi-unit franchisees. Build your portfolio with a globally recognized...
Cash Required:
$100,000