Franchisee & Franchisor: Wearing many hats as VP of restaurant ops
Name: Russell Berner
Title: VP of Restaurant Operations, Partner
Company: JDK Management
No. of units: 49 Perkins Restaurant & Bakery, 31 Quaker Steak & Lube
Family: Wife and 3 children
Years in franchising: 33
Years in current position: 24
Russell Berner is vice president of restaurant operations and a partner with 80-unit franchisee JDK Management. He's also a chef who graduated from The Culinary Institute of America. He says that connection to food and discipline helped prepare him for the corporate climb.
JDK Management is the largest Perkins Restaurant & Bakery franchisee in the system, with 49 locations in states that include Pennsylvania, Ohio, and New Jersey. The company also operates 31 Quaker Steak & Lube locations—and purchased the brand last year to become the franchisor.
In addition, JDK Management, through its JDK Hotels division, operates Microtel Inn & Suites by Windham, Holiday Inn Express, Hampton Inn, and Fairfield Inn & Suites in Pennsylvania and New Jersey. JDK also has a healthcare division with interests in the senior living industry.
Berner says early in his career he "had an epiphany when I realized that I had to move out of the kitchen to succeed in a corporate environment." He became a GM and says it was a significant turning point in his career that gave him the opportunity to learn the service aspect of the business.
Later, he says, he had the opportunity to get off the cutthroat corporate ladder and go to work for a family business, JDK. "I left the big city for a more wholesome, rural community life," he says. "I was able to use what I had learned to enhance our role in the franchise space and help JDK grow to be the largest Perkins franchisee."
In his 24 years with JDK Management, Berner has been part of its steady growth. "We acquired 15 Perkins locations in 2000, doubling our size," he says. "In 2019-2021 we did that again. We learned how to nurture relationships, bid on opportunities when needed, and navigate the courts. Finding deals with upside like that, you realize the importance of taking great care of your debt and capital."
Berner says hard work and focus pay off. "At JDK, we always strive to be the best, not the biggest. We were fortunate enough to become both with our brands along the way."
PERSONAL
First job: Dishwasher in high school with a private restaurant in Plantation, Florida.
Formative influences/events: Before working at JDK, I climbed the ranks in the specialty restaurant division of Ruby Tuesday. I began with them when there were 27 restaurants. They grew significantly during my time with them. When I departed, they were pushing 700 restaurants. I was there for more than 13 years. This experience and the people there mentored and influenced me within the corporate environment. Influences: Too many mentors to mention; also, navigating the troubled waters that brands go through, how to survive, succeed, and thrive in those situations.
Key accomplishments: 1) Expanding the JDK portfolio to a $150 million business. When I came to JDK, they had only a handful of restaurants, now they have 80. 2) Being a chef by trade. I graduated from The Culinary Institute of America. This connection to food and discipline prepared me well for climbing the corporate ladder. 3) L&N Seafood Grill had two restaurants when I joined. I helped our team grow to 42.
Biggest current challenge: People. It always has been and must be the highest priority. If you're not focused on being more efficient and investing in retention, recognition, and recruitment, then you're probably not doing the right thing. It's a people business. Every issue we face is on steroids now. We're them head-on, protecting continuity while reimagining the future of our brands for development. Brands that succeed will be more efficient, nimble, and relevant to consumers/guests. Our product is more than the food and service in a digital age.
Next big goal: Efficiency for our internal and external guests using technology and brand design/reengineering. Looking at great leaders to make it happen (internally or externally).
First turning point in your career: Moving out of the kitchen to succeed in a corporate environment (doing the work and getting the key results but not necessarily gaining the rewards). Becoming a GM, learning the service aspect of business. When computers first came along, I jumped on the opportunity quickly, which really helped me to grow as well. I then had the front and back of house and administrative skills in my back pocket.
Best business decision: Getting off the corporate ladder and transitioning into a family business environment with JDK. In between L&N and JDK, I worked for Carlson Worldwide in specialty restaurant development and had the opportunity to create something brand new again. I was able to see other approaches to the industry from these diverse companies, enabling me to ascend to my present role at JDK.
Hardest lessons learned: It's not hard if you learn from everything. You must always be consciously learning. I was able to learn from others' behaviors and watched their mistakes. There is no replacement for effort and care. Work smart and hard. This is a simple business, but it's not easy. Control your ego. It can work for or against you. I believe you benefit from swallowing your pride when needed; helping people should always be #1. We constantly look to help our people grow and achieve their best (from within when possible). Succession planning is a constant to progress for a healthy organization. We also teach to always have Plan B.
Right now, we are building the next generation for JDK. To grow individually and grow your business, you must always be training your replacement. I'm looking forward to being succeeded someday and see the company remain in good hands. A legacy isn't what just you've done, but what you leave for others to be more successful. Also, never be overleveraged and always lead with integrity. I have a statue that I keep on my desk to remind me of this. It's a statue from a bank that lost a lot of money in a transaction with another restaurant development company that we ultimately acquired. At JDK, we have succeeded by absorbing entities and through acquisitions in concert with internal and organic development. That's been our balanced growth model.
Work week: There are never enough hours in any day or week. So do the most you can and make sure to build your team to get results. I also learned that at my age, I must make it a priority to depressurize, which allows me to have clarity and clear thinking throughout the week, no matter how many hours or facing down immense challenges. I have a healthy mechanism for doing so and have made it a daily habit, which helps me look at the bigger picture and really put things into perspective.
What's your passion in business? The success and satisfaction of the people I work with means as much as profitability. It's essential to balance that to have a possibility of being successful in my mind. Like most, my stake in caring for my family extends to JDK's 3,000-plus employees.
How do you balance life and work? Water seems to be my element. Work/life balance has changed for so many folks in the last 2 years. If my window on the world incudes water, it soothes my soul.
Guilty pleasure: Baseball is my escape from reality.
What do most people do not know about you? I'm pretty much an open book and most people know me well. I think it serves all well in this case.
Pet peeve: Excuses over solutions.
What did you want to be when you grew up? Growing up in New York City, I always wanted to be a center fielder for the New York Yankees. When I realized that wouldn't work, the restaurant business grabbed me and wouldn't let go. I just leaned in hard and deployed my work ethic.
Last vacation: I went to Australia with my wife in March 2020 to celebrate our 40th wedding anniversary and ended up not being able to fly out for some time. We were trapped at the beginning of Covid, and a 3-week sabbatical became 6 days in the air and a 3-day weekend. Instead of going to the Outback, we had to just get back. we did end up making it out and look forward to going to the Outback soon.
Person I'd most like to have lunch with: Thurman Munson or Derek Jeter, former Yankee captains. These guys were leaders, had skill, passion, and work ethic grit.
MANAGEMENT
Business philosophy: Be prepared and make good deals.
Management method or style: Cautiously progressive, always a balanced approach.
Greatest challenge: The industry challenge has been the same for decades—it's people. Doing well for them and at the same time delivering results.
How do others describe you? They know I truly care and always try to do the right thing.
One thing I'm looking to do better: Everything. I'm definitely tough on myself and am never completely satisfied. We take joy in our success, but at the same time we're always looking to do better. You could say it's kaizen (Japanese for incremental, continuous improvement).
How I give my team room to innovate and experiment: I try to help them realize how to tap into finding their own motivation. In our business environment, we try to make sure we all understand the parameters so we can navigate and grow within that playing field.
How close are you to operations? Not close enough. However, I really enjoy it and realize that's where the rubber meets the road. As you become removed as an executive, you're pulled away from that. But it's definitely most important to have people close to you who lead and remain heavily involved in operations.
What are the two most important things you rely on from your franchisor? JDK is both franchisor and franchisee, so 1) consistency with infrastructure, and 2) a forward-looking business plan.
What I need from vendors: Now at this time, really anything you can get. But what we really depend on from vendors are value, reliability, and quality.
Have you changed your marketing strategy in response to the economy? How? It's truly never-ending adjustments since the economy is continually fluctuating. I'd say the answer is to be nimble and apply your resources creatively.
How is social media affecting your business? Social media affects business just as it affects the global environment and society as a whole. We experience everything that social media offers—good, bad, and indifferent, and you always have to be aware of what's coming next.
How do you hire and fire? Have courtesy and respect. Be fair and consistent.
How do you train and retain? We give 100% to people in both those disciplines. Give people everything you can; give them your time and the tools to be successful.
How do you deal with problem employees? As professionally as possible in all circumstances. Look for improvement opportunities.
Fastest way into my doghouse: Excuses and lack of effort.
COVID-19
How did Covid-19 affect your business? In every way possible: health, safety, people, profit, and product were all affected.
How have you responded? In every way possible. We faced each challenge as calmly and firmly as we could to try to maintain, compromising only where no other option existed.
What changes do you think will be permanent? I don't believe that anything is truly permanent. But in the foreseeable future, the restaurant service model does have to adapt. Full-service restaurant brands also need to be more flexible to how the consumer expects the products to be delivered. People (internal and external guests) expect a new aspect of convenience, and the industry has to adjust accordingly.
BOTTOM LINE
Annual revenue: $150 million in hospitality revenue this year (restaurants and hotels).
2022 goals: Continuity, re-creation, stepping forward into the future. Continue to manage business strategically and keep disciplines in place. Staffing and training for 2022. Succession plan and enhance our leadership team.
Growth meter: How do you measure your growth? All metrics. We look at the top line and bottom line with equal respect, and everything in between. All people, employees, guests, and facilities are considered.
Vision meter: Where do you want to be in 5 years? 10 years? We also want to explore new concepts. Since JDK is family-owned, we have a long-term model and horizons for our brands.
Do you have brands in different segments? Why/why not? We have hotels as well as casual and family-style restaurants. Diversity has value, and we have a solid platform and capacity to expand in additional segments.
How is the economy in your regions affecting you, your employees, your customers? We operate in many states, which affects us on a geographic, constant, level. Inflation is a key word today, but it won't be forever. It will be something else tomorrow. So, we prioritize maintaining prices to provide the best possible value, as well as increasing wages and benefits for employees. The main things that affect both employees and customers must be balanced.
Are you experiencing economic growth in your markets? Surprisingly, yes. Activity has certainly been robust, and liquidity seems to have accelerated the economic engine. It's apparent that the strong survive and growth is beginning again.
How do changes in the economy affect the way you do business? Being in business, the economy affects us in every way. You must be flexible, have foresight, and be adaptable.
How do you forecast for your business? We have a disciplined approach. We follow the model and remain aware.
What are the best sources for capital expansion? Our model has always been to reinvest in our businesses for long-term health. Most of our capital comes from our own results. Traditionally, we're very conservative. We remain solvent by not being overleveraged. We limit borrowing and carefully measure capital-intensive expansion (we take it incrementally). However, ironically, with what we've done in the past 2 years through two major acquisitions, we've grown by around 100%.
Experience with private equity, local banks, national banks, other institutions? Why/why not? We have experience with all of the above. Our more conservative approach is with regional banks. They tend to be more stable, which matches our business model.
What are you doing to take care of your employees? Everything that a business can possibly do within reasonable structure. We have increased wages, benefits, work/life balance, and flexibility for our employees. We're in the midst of applying this to all operating levels.
How are you handling rising employee costs (payroll, minimum wage, healthcare, etc.)? We have a full spectrum of employee benefits, so we must have the accountability and responsibility to have a balanced approach. We do whatever we can to remain steady in that balance.
What laws and regulations are affecting your business and how are you dealing with them? Given our current environment and health regulations, we do everything we can to remain compliant. Covid guidelines have been a challenge, but we make sure that we're following them as safely as possible. We're not in a super-highly regulated industry, so we're able to navigate those invasive policies pretty well and make sure to deal with them very consciously.
How do you reward/recognize top-performing employees? We want to ensure that we remain stable when it comes to individual recognition. We try to provide growth as well as a supportive community environment. We like to make sure people have what they need to be motivated and feel successful.
What kind of exit strategy do you have in place? Those evolve, but ultimately, they're all based on creating value and building equity. As long as we're doing that, we can adjust our strategies as needed. We're not intent on exiting, but we do have a 5- and 10-year plan as we continue to build on the equity in and of our brands. Everything has a price if it has value.
Published: May 14th, 2022
Share this Feature
Recommended Reading:
Comments:
comments powered by

Disqus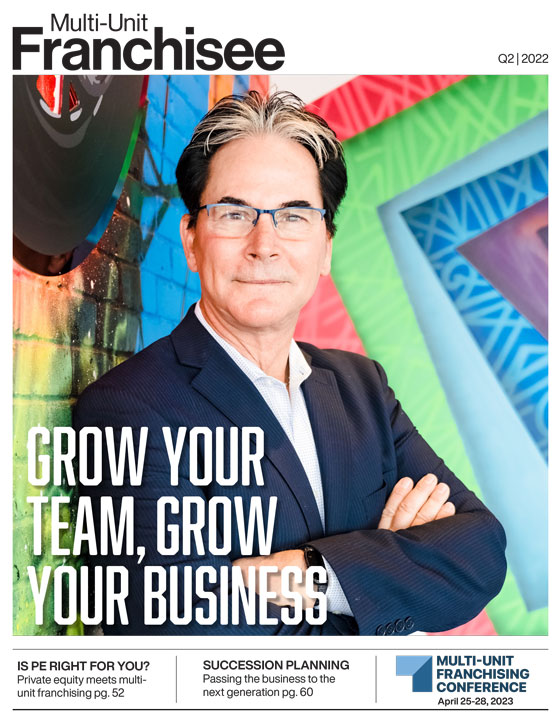 Multi-Unit Franchisee Magazine: Issue 2, 2022
Starting your own Snapology education franchise is affordable, flexible, and provides a great opportunity for success. Find out more today on how you...
Marco's Pizza is the nation's fastest-growing pizza brand* with 1,100+ stores and counting. It is America's No. 5 pizza brand based on annual...
Cash Required:
$286,852