Good at Multi-plication!: Multi-Concept Franchising Continues To Grow
When one brand just won't do, growth-hungry franchisees add new ones. And why not? Operating multiple concepts provides power in numbers--units, brands, territories, and cash flow--plus the additional security of spreading risk across different brands and territories.
But as experienced multi-brand operators will quickly tell you, it takes an efficient infrastructure to successfully manage more than one brand. Their organizations have talented people at all levels who know how to work well together to benefit the company, its employees, and its customers. Then there's the leverage multi-brand franchising creates, the economies of scale in advertising, market penetration, and buying power, to name just a few areas.
We've again asked FRANdata for their latest data on multi-brand franchising. This is the sixth year the market research firm has provided us with their list of the country's Top 50 multi-brand franchisees. Curious to see which 25 brands are most popular among the Top 50? Some of the most popular this year are Pizza Hut, KFC, Taco Bell, Burger King, and Hardee's.
Numbers are one thing, but nothing really tells a story better those who live and breathe it. This issue, we caught up with six busy multi-unit, multi-brand operators. Each has a unique story, yet all share the commonalities that drive franchisee success: a desire to serve their customers, to provide jobs and opportunities for the people they employ, and a burning passion to grow their business. Here's a sample of what you'll discover in their profiles:
Brandon Jones has known exactly what he wanted to do since third grade, when he wrote: "Own a bar with my dad." And that's just what he did in the small Indiana town of La Porte. Today the 33-year-old oversees 6 Buffalo Wild Wings, 2 Smashburgers, and recently opened his first Flip Flop Shops location.
John "JD" Draper says, "If you're not hospitable, you're in the wrong game." And with more than 100 units in 6 brands in the food industry, he must be doing it right. He's spent more than four decades in franchising and today oversees 61 Pizza Hut, 30 Burger King, 24 Auntie Anne's, 6 Coffee Beanery, 2 Häagen Dazs, and 2 Edy's units for V&J Holding Companies.
Jim Fitlow and his partner Mike Allen believe in the old adage "Go big or go home." And they are, building a multi-unit, multi-brand empire around, well, building things. Fitlow oversees 10 HomeStory, 5 Floor Coverings International, and 3 Re-Bath territories in Utah and Colorado.
Lloyd Sugarman might just be the Franchise Whisperer. That's because he has a knack for sniffing out great concepts early on. For example, in 1987, he became the first Johnny Rockets franchisee. Today, he operates 17 Johnny Rockets and 3 Original Soupman units across 7 states, plus 2 Yeh! Yogourt Glace and Café units in Montreal.
Ricky Warman knows pizza. We found that out when we first interviewed him in 2009. The longtime Papa John's franchisee has added Genghis Grill and Homewatch CareGivers--and today keeps everything close at hand in South Florida: 31 Papa John's; 2 Genghis Grills; and a Homewatch CareGivers territory.
Greg Cutchall certainly knows how to grow quickly: he's doubled his number of units since last we spoke in 2009. His Midwestern empire has weathered the economic turmoil and he's on the grow again. For those scoring at home, he now has 17 Paradise Bakery & Cafés, 15 Sonics, 7 Famous Dave's, 4 Tin Stars, 3 Domino's, 2 Twin Peaks, 1 Rock Bottom, and 1 Burger Star.
Published: April 15th, 2013
Share this Feature
Recommended Reading:
Comments:
comments powered by

Disqus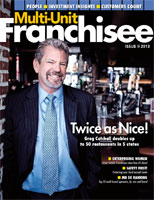 Multi-Unit Franchisee Magazine: Issue 2, 2013
Charleys Philly Steaks is the #1 Cheesesteak Franchise in The World. We offer delicious, made-to-order food that is affordable without sacrificing...
Cash Required:
$175,000
MOOYAH Burgers, Fries & Shakes (MOOYAH) is a fast-casual concept committed to providing the best-tasting burger experience possible by specializing...
Cash Required:
$500,000