Heart of a Champion: Noble Cause MVP Gives Generously to Many
Jeff Burroughs has always been driven to lead with a purpose. A big believer that "you get what you give" in business, his passionate, unwavering support for his communities and those in need makes him a fitting recipient of the 2019 Noble Cause MVP Award.
Burroughs, named Team Leader/Owner of the Year in 2014 by Sport Clips, was honored in 2018 with the brand's "Heart of a Champion" award for his community activities--and credits his team of employees throughout his 21 salons for his business success and a giving spirit.
"We ask our teams to look for ways we can continue to get involved within our communities," he says. "They are also asked to help with events, and we never have a problem getting support from our team members."
Burroughs and his wife Robyn were both working full-time at other jobs when they opened their first Sport Clips salon in 2009. They quickly discovered financial freedom, a welcoming work/life balance, and a brand they loved. These days, Burroughs oversees a burgeoning portfolio of hair salons from his Southern Maryland home base, where he looks to make a hands-on difference every day--in ways both big and small.
Burroughs and his team have stepped up to donate, volunteer, and champion a wide range of nonprofit organizations and charitable causes, both locally and through the brand's national charitable partners. Often, their work on the home front is personal and grassroots. Burroughs has rallied around such noble causes as sponsoring the concert series of the St. Leonard Volunteer Fire Department; taking part in Karsyn's Karnival, benefiting an organization that seeks to enhance the quality of life for individuals with Down syndrome; and raising money for the local Humane Society.
For the past 5 years, Burroughs has also been a volunteer firefighter for the city of Huntingtown, Maryland. His decision to step in as a firefighter during an emergency fulfills a childhood dream and has resulted in some memorable moments--showing him a side of community life most people only hear or read about. Burroughs has rescued someone from a burning building, assisted with the roadside birth of a baby boy, worked an accident scene to save a life, and once was called to an incident where he rendered medical aid to one of his own employees.
"Being involved in the volunteer fire department you never know what might come your way," he says. "It could be a medical call, vehicle accident, house fire, administrative duties, or even fundraising. No matter which, you just find a way to react in the right manner. When it comes to other community involvement, I tend to lean toward trying to help many with some, instead of a lot with one."
Name: Jeff Burroughs
Title: Owner/Team Leader
No. of units: 21 Sport Clips
Age: 47
Family: Wife Robyn Hanson, son Tyler Burroughs
Years in franchising: 10
Years in current position: 10
Personal
Formative influences/events:
I worked for 17 years in auto sales at local Ford dealerships. During some of this time, I was a single dad and living paycheck to paycheck. After meeting my wife in 2001, I was determined to find ways to make a better life for myself, Robyn, and my son Tyler. Not seeing any future growth potential, it was time to look for something new. I was introduced to a franchise option known as Sport Clips Haircuts. This would allow me to grow my own business while still at my regular job. In 2009, we opened our first location and were able to walk away from the auto industry in 2014 with six locations open.
Key accomplishments:
2014 Team Leader/Owner of the Year for Sport Clips. 2018 Sport Clips Heart of the Champion Award. Elected to the Sport Clips Haircuts Team Leader Advisory Council.
Work week:
I am in some way working every day. To be honest, it doesn't feel like work when you love what you do. As a franchise owner, I have flexibility in my schedule, which isn't normally possible when working for someone else.
What are you reading?
The 10X Rule and Sell or Be Sold, both by Grant Cardone.
Best advice you ever got:
Two: "You are only as good as the people working under you," and "Make the deal, don't wait for the deal."
Management
Business philosophy:
You get what you give. Grow your team, grow your business.
Management method or style:
Work to hire the right people day one. Once a person is on board, we work to provide continuous training and education to each employee. "Train Up."
Greatest challenge:
In the hair industry, it's hiring career-oriented individuals. Our hope is to keep working to be the employer of choice while continuing to build a fun work culture.
How do others describe you?
They would say I am driven, determined, and refuse to fail. It would also probably be said that I am always wanting to help.
How do you hire and fire, train and retain?
We trust our managers to hire, fire, train, and retain our staff. Our managers are trained on what we expect of our employees. Our franchise provides training.
Bottom Line
Annual revenue:
$7.5 million (2018).
2019 goals:
I would like to add two to three more locations. We also want to find more ways to have an impact in the community.
Growth meter: How do you measure your growth?
My growth can be measured in two ways: 1) by the number of stores I add during the year, and 2) by the client count increase at my existing locations.
Vision meter: Where do you want to be in 5 years? 10 years?
We got to 21 locations in 10 years. The next 5 years will be about strategic growth to support our existing locations. There is a potential over the next 10 years to also add other brands to the existing portfolio.
What are you doing to take care of your employees?
We do our best to make them feel they are part of a family and not just a business. There are several times we have had a chance to help our employees, not only in their professional lives but also in their personal lives. "Happy Staff = Happy Clients = Happy Business."
What kind of exit strategy do you have in place?
At this time, I am really not focused on an exit plan. I like the franchise business. My focus right now is on growth.
MVP Questions
Why do you think you were recognized with this award?
My involvement with several organizations in my community. When owning a business, I feel it is important to give back. There are many ways I have found to give back. One is being a volunteer fireman at the local fire department. Being part of the Huntingtown Volunteer Fire Department has given me a chance to make a difference, even down to an incident that included one of my own employees. Also, we help support our local Humane Society, after adopting a very special puppy. We have raised several thousands of dollars for another local fire department during their big fundraisers, supported initiatives for kids fighting childhood cancer like NolanStrong for Nolan Scully, and helped with fundraisers for the National Fallen Firefighters Foundation. We also provide support for Karsyn's Karnival, an organization that creates connections to the community for kids diagnosed with Down syndrome. We also support many other programs in the area.
How have you raised the bar in your own company?
We have raised our accountability standards. Also, there is an understanding that our team needs to perform at a higher level to stand out above the average in the market.
What innovations have you have created and used to build your company?
As our number of stores has grown, so has the behind-the-scenes part of the organization. Adding more support staff for the stores has really helped the culture and the performance of our group.
What core values do you think helped you win this award?
I care about my employees, clients, and community. To be honest, it is an easy decision to always try to help with our employees, clients, and community. If it wasn't for them, my business wouldn't be where it is today.
How important is community involvement to you and your company?
It is important to me to make a difference in the community. In addition to all we do with fundraisers and causes locally that I mentioned, we also support our national partners, such as the Sport Clips Help a Hero Scholarship program, which provides scholarships to active-duty service members and veterans; the American Red Cross, with blood drive campaigns; Ageless Aviation Dreams, a nonprofit dedicated to honoring seniors and U.S. military veterans; and the St. Baldrick's Foundation, which raises money for childhood cancer research.
What leadership qualities are important to you and to your team?
Trust, commitment, and showing that you care.
Published: June 7th, 2019
Share this Feature
Recommended Reading:
Comments:
comments powered by

Disqus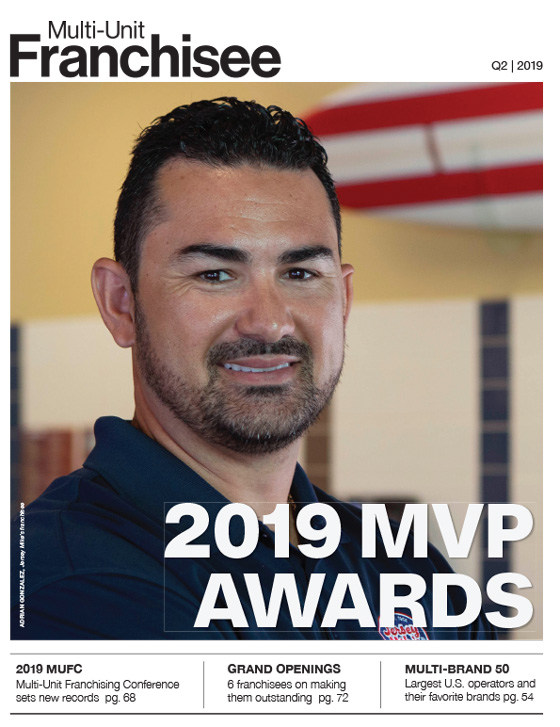 Multi-Unit Franchisee Magazine: Issue 2, 2019
Basecamp Fitness is empowering entrepreneurs to build an innovative fitness franchise in their markets while helping create happier, healthier...
Cash Required:
$250,000
With 500+ restaurants in development worldwide, Wayback Burgers is America's favorite hometown burger joint and one of the world's fastest-growing...
Cash Required:
$250,000