Southern Hospitality: Jake Alleman Sets the Gold Standard for Two Brands
Jake Alleman's team approach and "people first" mantra makes him a deserving recipient of the 2019 Spirit of Franchising MVP Award, presented for extraordinary and enduring performance, growth, and community giving.
The Lafayette, Louisiana-based multi-brand franchisee has been in on the ground floor of two Southern-inspired concepts--Another Broken Egg Cafe and Chicken Salad Chick--operating a portfolio of locations that serve as the gold standard for both brands.
Among the innovations Alleman's training and operational leaders have implemented are the Customer Service Vision and "the perfect kitchen layout" for menu execution at Another Broken Egg (ABE). Chicken Salad Chick (CSC) franchisees have also come flocking for a firsthand look at the organizational "smart wall" grid developed by Alleman's director of operations.
"Being on the franchise advisory council for ABE and CSC has allowed me to be on the front lines, working diligently with our corporate teams to help create training programs and operational platforms to make the restaurants' workflow more efficient, sharing what works and what doesn't work," says Alleman, chief operating officer and co-founder of Cojak Investments. "It really made me realize that we are in it together and have the same goal. We win as a team and lose as a team."
Alleman is equally invested in giving back. Among his many community contributions, Alleman hosts an annual golf tournament in memory of his son, Will, with all proceeds benefiting Dreams Come True of Louisiana, a local nonprofit that provides dreams to area children with life-threatening illnesses.
"One of my passions is community involvement and giving back to the communities in which I do business," Alleman says. "I think of community involvement like deposits in a trust bank, that in bad times can help carry me through. That's the business reason to give back, but my reasons for doing so are personal, and I will never stop giving back in good times or bad."
Alleman has deep roots in franchising. His first job was as a busboy and server at the original Broken Egg Cafe in Mandeville, Louisiana, where he worked while attending Louisiana State University. When the brand geared up to franchise, founder Ron Green approached Alleman about buying into the concept.
Alleman turned to his friend Cody Gielen, co-founder and now president of Cojak Enterprises, who set up a meeting with his grandfather, the late John Dan Gielen--a local legend who built the ShopRite and Tobacco Plus convenience stores and Church Point Wholesale into a Louisiana empire. The elder Gielen remained a partner in Cojak Enterprises until his death in 2018. Alleman says he will never forget the way Gielen jumped at the chance to partner with the young entrepreneurs as a way to pay it forward for all the support he'd received when starting out in business.
"Words can't express how much it means to me to receive the Spirit of Franchising Award," says Alleman. "None of this would be possible without the help of my business partner and mentor John Dan Gielen. He gave us an opportunity, and with his help, we ran with it. To me, the spirit of franchising means giving back. Watching John Dan over the years, with his charitable contributions to many organizations, and seeing the impact he had on the communities, made me want to follow in his footsteps. It's something I continue to strive for every day."
Name: Jake Alleman
Title: COO, co-founder
No. of units: 9 Another Broken Egg Cafe, 3 Chicken Salad Chick (13 under development)
Age: 36
Family: Wife Katie, 2 daughters, Charlotte and Alice
Years in franchising: 11
Years in current position: 11
Personal
Formative influences/events:
I would have to say the loss of my son and adopting my daughter. It made me appreciate the value of life, and I don't want to waste a moment of it.
Key accomplishments:
Having the support of my family to get to do what I love. I also host a golf tournament in memory of my son Will. We donate all proceed to Dreams Come True of Louisiana, an organization that grants dreams to children with life-threatening illnesses.
Work week:
I think when you own a business, you work every day.
What are you reading?
The Five Dysfunctions of a Team by Patrick Lencioni.
Best advice you ever got:
Keep moving forward!
Management
Business philosophy:
To be focused on quality and hospitality by spreading joy, enriching lives, and serving others.
Management method or style:
Participative and affiliative.
Greatest challenge:
Hiring the right people to fit our culture.
How do others describe you?
I'm fair. I'm appreciative. I'm caring. I don't ask anyone to do something I haven't done or won't do myself. I listen.
How do you hire and fire, train and retain?
We perform at least two interviews when hiring, and call their previous employers and references. I'm usually the last one to interview the prospective team member. We look for people who will spread joy, enrich lives, and serve others. We also look for people who are happy and are willing to share their happiness. As for firing, we send everything to our HR director and director of training for correct documentation and coaching. Everything is documented. We coach all employees on all situations, but sometimes they fall short of our expectation and culture. If we have to make the tough decision and let them go, it's always done face to face, with a witness present and our HR director on the phone listening.
Bottom Line
Annual revenue:
$17 million.
2019 goals:
1) Customer experience: enhance the customer experience by continuing to increase our overall satisfaction scores to 88 percent or above, and our Net Promoter Scores to 60 or above. 2) Team development: develop our team to be more efficient to increase productivity and profitability. 3) Building our bench: We are also continuing to build a bench for future growth by adding more hourly team members to our management staff. 4) Building a better culture: Continuing to improve the confidence and productivity in our team to reduce turnover and boost employee morale. 5) Growth: Open five Chicken Salad Chicks in the Houston area.
Growth meter: How do you measure your growth?
I measure growth, or overall success, two ways. First, I measure turnover at both the management and hourly level, since lower turnover means my focus on "People First" is working. Lower turnover reduces my recruitment and training costs, and an improving economy makes it much harder to recruit and retain great talent. More importantly, lower turnover means I'm ultimately able to provide a better overall experience for my guests and drive repeat visit frequency, as well as positive word of mouth. Second, while I do closely monitor increases in top-line sales, a steady increase in guest counts truly validates the health of my business. If I can increase guest counts and PPA (per person average) simultaneously with an emphasis on hospitality, higher-ticket LTOs, and brunch cocktails, versus driving incremental guest counts with deals and discounts, then I know my plan is working. We closely watch our Net Promoter Scores to ensure we're generating more 5-star reviews than 1- to 3-star reviews. We incentivize our managers based on this metric as the hundreds of guest reviews we get every month across all our cafes are much more credible to me and my leadership team than the occasional mystery shop. There is a very strong correlation between 5-star ratings and guest count growth.
Vision meter: Where do you want to be in 5 years? 10 years?
I had no idea when I started in my first restaurant job 21 years ago that I'd own nine Another Broken Eggs and three Chicken Salad Chicks, with more restaurants in development over the next 5 years. I'm pretty invested in the Chicken Salad and Egg business now, and I'm confident I won't be ready to retire in the next 5 to 10 years. I want to run great restaurants, provide a great guest experience, and be the best leader I can be. I want to support the two brands that support me because I truly believe that when you give you get back tenfold. For now, I plan to take it day by day and see where the future takes me. With the team we have in place, I know it's going to be great!
What are you doing to take care of your employees?
I'm lucky to be in the breakfast/brunch/lunch category, open only from 7 a.m. to 2 p.m., so my employees know they will always have their afternoons and evenings free to do what they want or to hold down a second job if they need to. I monitor the competition and what they are paying their managers and employees and make certain I'm competitive. That's a core basic when it comes to ensuring employee satisfaction. Also, based on my personal experiences back in the day when I worked in a restaurant and before I owned my own, I know that employees also want to be acknowledged and appreciated for a job well done. We make sure we don't just focus on the nuts and bolts of training, which are of course critically important to ensuring strong job satisfaction and employee retention, but we're also the biggest cheerleader for our teams. We have a team who are constantly coming up with ideas and initiatives to acknowledge and reward a job well done. We've developed our "Egg Dough and Chick Cash" program, which consists simply of a card that our managers complete to acknowledge strong performance above the norm. It allows employees to use the fake money for employee meals, uniforms, etc.--a simple concept generating amazing results.
What kind of exit strategy do you have in place?
To one day sell our restaurants. But as you know, opportunities change daily. Maybe my daughters will want to follow in my footsteps.
MVP Questions
Why do you think you were recognized with this award?
Honestly, I'm not sure. While it is an honor to be recognized, we wouldn't be where we are today without the help of everyone who works with us. They are the reason we've been able to be successful up to this point. I have the easy job.
How have you raised the bar in your own company?
I try to always lead by example and challenge myself to operate my restaurants at or above the highest standards established by the franchisor. I follow the guidelines, procedures, standards, and recommendations of the franchisor as they are the subject matter experts. But with that said, I also will provide input and suggestions based on my own observations and operations designed to help improve the system as a whole.
What innovations have you created and used to build your company?
As the very first franchisee for Another Broken Egg Cafe, I've been in at the ground level, so to speak, of virtually every initiative since the inception of the brand. My team and I have been instrumental in providing ideas and input related to all aspects of the brand, including recipe ideation, restaurant design efficiencies, kitchen layout revisions for improved throughput, employee training processes and procedures, and local store marketing campaign development with a strong focus on community involvement, to name a few. We've also begun doing the same with Chicken Salad Chick by bringing in new ideas to assist with the operations. Both brands are now some of the fastest-growing, successful concepts in the U.S., and I am very proud to be a brand ambassador for each company. With our continued partnership, the future is very bright.
What core values do you think helped you win this award?
Integrity and my commitment to our people, whether team member, guest, or vendor.
How important is community involvement to you and your company?
We're always looking for ways to give back to our local communities because they support us day in and day out. I've been so blessed to have the opportunity to do what I love, so it only feels right to pay it forward in any way I can. Some of the ways we give back are by adopting families in each market for Christmas, serving on the board of Dreams Come True of Louisiana, and hosting a golf tournament in memory of my son.
What leadership qualities are important to you and to your team?
Integrity, empowerment, empathy, and striving to inspire others through our actions.
Published: May 24th, 2019
Share this Feature
Recommended Reading:
Comments:
comments powered by

Disqus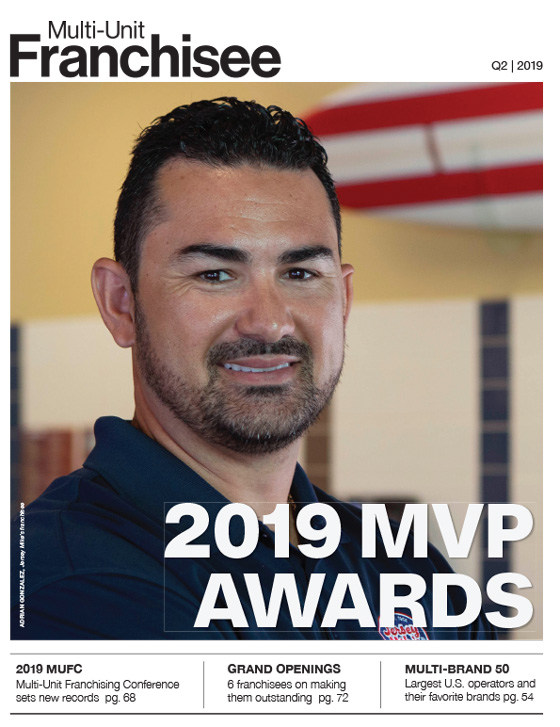 Multi-Unit Franchisee Magazine: Issue 2, 2019
Own a highly profitable business that impacts lives in your community by jumping into action as an Urban Air franchisee owner.
Cash Required:
$750,000
Discover franchise opportunities with one of the world's largest chains of ice cream specialty shops.
Cash Required:
$100,000