People Make the Difference: It's People First for Bill Byrd
Bill Byrd is passionate about restaurant growth. Winner of the 2019 MVP Award for Multi-Brand Growth Leadership, Byrd operates his restaurants with an entrepreneurial spirit and a helping hand. With 32 KFC, Taco Bell, and Capriotti's in Georgia and Alabama, Byrd is the consummate team player who believes in the power of surrounding himself with the right people.
"Whether you are selling food, clothing, or services, you must put your efforts into selecting the best people you can find to help you be successful," says Byrd, president and co-owner of PMTD Restaurants. "Once you have good people, take good care of them and ensure their needs are met too. People Make The Difference!"
Byrd brings a wealth of experience in restaurant operations to each of his brands. His background includes management and executive roles with Pizza Hut, Morrison's Cafeteria, Domino's Pizza, and Pilot Travel Centers. He practically grew up running restaurants. At 13, he began working in his family's full-serve Mexican restaurant in Norfolk, Virginia, which he operated in high school. He loved food and people, and running restaurants came naturally--and became a more personal quest following the unexpected death of his father.
"Our family business was sold about six months after my father was killed in a car accident," he says. "When the business was sold, I went to work for Taco Bell in February of my senior year and was promoted to restaurant general manager right after I turned 18."
PMTD's first Capriotti's restaurant in Kennesaw, Georgia--where his son Jason Byrd is general manager--is a test site for innovation aimed at spurring brand growth. The senior Byrd also serves on Capriotti's Franchise Advisory Council and KFC's National Council and Advertising Cooperative. He recently wrapped up his role as president of the Southeastern KFC Franchisee Association, with its nearly 100 franchisees and 1,100 restaurants in 11 states. "It was very rewarding for me, and I learned as much as I was able to share," he says.
In the next 5 years, Byrd plans to grow to at least 50 restaurants and see his team grow both personally and financially--and expects to add more brands to his burgeoning portfolio. He says his secret to success is people.
"Franchising is an outstanding platform that helps those with that entrepreneurial spirit to be successful," Byrd says. "Entrepreneurs have a lot of drive, and franchising gives them the support and tools that are much needed to be successful."
Name: Bill Byrd
Title: President, co-owner, PMTD Restaurants
No. of units: 20 KFC, 6 KFC/Taco Bell, 2 Taco Bell, 4 Capriotti's Sandwich Shop
Age: 61
Family: Married to Kay Byrd for 40 years this September, 3 children, Kristin Byrd Davis, Jason Byrd, and Justin Byrd
Years in franchising: 12-plus
Years in current position: 12-plus
Personal
Formative influences/events:
Enjoy family vacations and holidays every year with my family. We do an annual Throw Down Cooking Challenge with my three children every year. Each has to prepare an entrée and a side dish and serve. We normally have 16 people for them to serve and everyone gets to vote for their best. Each year a plaque is updated with the winner's name and they hold the plaque for the year. I believe we are on our 9th year. This year's theme is "Georgia in My Belly" and they will have to create a dish that is all about Georgia to them. We did Hawaiian last year! It is a fun time, stressful for my three chefs, but an outstanding meal each year.
Key accomplishments:
Successfully raised three children. All three graduated from college: Kristin, Georgia Southern University; Jason, The Citadel; and Justin, University of Alabama (Roll Tide!).
Work week:
Every day I do something for our business. I pride myself on always being available for our team, regardless of where I may be or what time it is.
What are you reading?
I like reading novels that get my mind off the business, such as John Gresham, Patricia Cornwell, etc.
Best advice you ever got:
"Only worry about those things you can control." I was told this when I was 20 and it has forever been good advice that I have lived by.
Management
Business philosophy:
Ensure your team is successful, and you will be. It is all about your people. Hire the best people for the job, give them the tools they need, and let them manage the business.
Management method or style:
A generally organized approach to achieving results. Have a plan and know what you are going to do next. I truly believe that People Make The Difference (PMTD). David Barr and I share the same philosophies on people. Everything we have going well in our lives is because of people, and every issue is because of people. Our restaurant company, PMTD Restaurants, is not just a name, but our philosophy and our belief in people.
Greatest challenge:
Sourcing, selecting, and retaining great team members. It is getting more difficult every day. You have to take care of your people!
How do others describe you?
Always available, open, easy to have discussions, willing to help.
How do you hire and fire, train, and retain?
Take time to hire the right person. Know the new team member or manager has to make the right decision too. It is not only an employer's decision: the applicant also has to make the right decision. Regardless of whether you hire the individual or not, get back with the applicant as soon as a decision is reached. Remember, they were a customer first and you want them to remain a customer. I feel this way even when we terminate or someone resigns: keep them as a customer. Use the tools to train them as well as possible. Do not short-term their training. In the restaurant business you must train them correctly the first time. There is no time to retrain!
Bottom Line
Annual revenue:
$33 million-plus.
2019 goals:
Add 7 to10 restaurants to our company through new builds and acquisitions. Enjoy my 40th wedding anniversary with my bride.
Growth meter: How do you measure growth?
Grow top-line same store sales 5 percent. We finished 2018 well and Q1 of 2019 has started out strong. I am certainly bullish on the future of all three brands we operate.
Vision meter: Where do you want to be in 5 years? 10 years?
In 5 years I want to have at least 50 restaurants, all profitable and growing. I want to see the same team I have today be with me and growing both personally and financially--and be able to add many more like my team today. I have not gone out 10 years with my thoughts for now, but I will focus on the next 5 years with all of my energy to ensure I accomplish my vision for our company and our people.
What are you doing to take care of your employees?
It starts with hiring someone who wants to be with you. Then provide them the training they deserve and reward them throughout. We provide good bonus opportunities for our general managers and director of operations. The bonus is all about performance and taking care of their people. We invest practically every dollar we make back into our business. Our teams can see that we give them the tools they need to do the job and are constantly upgrading our facilities to encourage new team members and guests.
What kind of exit strategy do you have in place?
Currently, I do not have an exit strategy. I love this business and am not sure when I will exit. But for now we are sticking with our business plan. We like to purchase the property, build the building, and operate the restaurants. This model has served us well since the beginning of PMTD Restaurants, which was started by my partner David Barr in 1998.
MVP Questions
Why do you think you were recognized with this award?
I am not totally sure, but certainly honored. I love helping people. Whether it is a team member, a general manager, or a fellow franchisee, I want to help people be successful. I am often called on by fellow franchisees to help them understand something or to help them with a problem. This is what makes me tick, seeing people flourish and knowing that I may have had a little something to do with it.
How have you raised the bar in your own company?
I measure the bar by sales. We have had positive same store sales growth every year except one in the past 20 years. Same store sales is the key. Sales is an excellent barometer on what is going on in your business. There are many ways to get feedback from your guests, but I feel sales growth is the best! You see it daily and know if you are doing a better job than others. Our guests vote every day with their dollars.
What innovations have you created and used to build your company?
I created a very simple performance appraisal for all levels to help our supervisors and team members accurately evaluate themselves. It is all based on a 10-point system and very easy to complete. It allows each to know what they can do to get better. A second innovation is a very simple bonus plan where you can easily see how much you can make each period and what you may have left on the table. I feel it is important for your team to know where they stand and what they can do to earn more or perform at a higher level.
What core values do think helped you win this award?
It is all about the people. Have integrity, do what you say. Ensure your team has the resources to do the job, and help them instill discipline to do the job.
How important is community involvement to you and your company?
We encourage our general managers to recognize certain people around all of the holidays. For example, we allow all of our teams to bring in their mothers on Mother's Day to dine with them--and the same for fathers on Father's Day. In addition, we encourage each to bring in a veteran for lunch on Veteran's Day. At Thanksgiving and Christmas we encourage our teams in each restaurant to make the holiday special for a family in the community or within their restaurant. Many enjoy this opportunity in their trade area to give a little back, and it is great to see the smiles on so many faces when the GMs do these simple acts of kindness. It is very rewarding for me.
What leadership qualities are important to you and your team?
General concern about people. Have self-awareness. Integrity without question. Self-motivated. Lead by example. Delegate. Inspire others. Set targets and ensure everyone knows the targets and goals. Help others get where they want to go.
Published: June 14th, 2019
Share this Feature
Recommended Reading:
Comments:
comments powered by

Disqus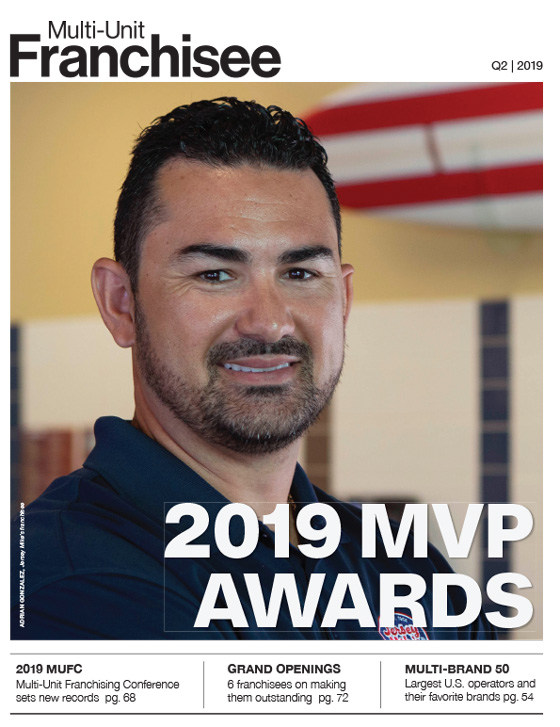 Multi-Unit Franchisee Magazine: Issue 2, 2019
Charleys Philly Steaks is the #1 Cheesesteak Franchise in The World. We offer delicious, made-to-order food that is affordable without sacrificing...
Cash Required:
$175,000
Cicis is an iconic, modernized restaurant that pushes the limits of the regular family dining experience. With unlimited opportunities for revenue,...
Cash Required:
$250,000