How Social Is Your Media?: Social Networking Catches Fire as a Cost-Effective Marketing Tool
By now you're most likely familiar with pop culture buzzwords like tweets, friending, and texting. But if you haven't had much firsthand involvement in these activities, chances are you will very soon. These ubiquitous and participatory endeavors are all part of a "social networking" trend that's spreading like wildfire online and, some say, is poised to create a new frontier in 21st century marketing.

Platforms such as Facebook and Twitter offer a quick and easy way to communicate with others online with incredible immediacy. Until recently, however, online social media have been dominated primarily by a younger demographic posting relatively benign musings ("What are you doing today?"). But as the use of these networks grows and the number of people becoming "fans," "friends," and "followers" reaches critical mass, business minds have begun to take notice. Facebook, for example, claims more than 250 million active users worldwide and Twitter more than 7 million. (Both continue to grow rapidly, assuring these numbers will increase by the time you read this.)

Franchise companies--along with other businesses throughout the country--are beginning to experiment with these emerging social media tools. Most have only begun to uncover the potential advantages of social media. And many--like the ones we spoke with--like what they are finding. Think of social media as virtual word-of-mouth marketing and you'll begin to see one of its potential benefits.

Social media platforms provide built-in target markets, much of it available for free. Online members not only identify their own likes and dislikes in their personal profiles, their frequent and regular posts supply additional information about them. You can determine where they live, how old they are, where they shop, and where they eat--in addition to other demographic data accumulating on social networking member pages. This kind of data makes it easy to target promotions, advertisements, or coupons in specific areas--and it's all measurable.

Perhaps one of the biggest advantages of social media is the real-time (or nearly real-time) exchange of information. Anyone with a laptop computer or a smartphone can have 24/7 access.

Sites like Facebook and Twitter are emerging as great ways for franchisors and franchisees to keep in touch with their customers for both marketing and relationship building. But there are other uses. For example, social media sites make it easy to generate an advanced "buzz" about a soon-to-open new location. It's a great forum to talk up the benefits of the upcoming store. Social media sites can help recruit employees for a franchise store in a particular area. And there will undoubtedly be more uses for social media sites as the technology evolves and the number of users increases. That much of this can be done for a fraction of the cost of traditional media channels makes social media very attractive--especially for smaller businesses.
Corporate push
Tasti D-Lite, the Franklin, Tenn.-based franchisor, has been mining the potential of social media for the past year and a half, according to B.J. Emerson, director of information and social technologies.

"As a company, we had no real online engagement with our customers," says Emerson. "Our fans are over-the-top brand evangelists for us, and we discovered many had created their own Facebook groups and were talking about Tasti D-Lite."

Emerson says the company quickly determined that a corporate Facebook page could play an important role in promoting brand awareness and "pushing down" information. And, as a Facebook member, Tasti D-Lite can monitor online comments and posts about the brand. It's a move that has given the brand more visibility, input, and opportunity for engagement.

"The viral nature of this technology allows us to get our message out there," he says. And the brand didn't stop with Facebook. It has also jumped onto Twitter and Yelp (a site that gathers customer reviews of businesses).

Emerson says he signed on to Twitter last year and loves the ability to "follow" Tasti D-Lite "fans." "Twitter is very instantaneous and I can send a coupon to one of our fans instantly at any time," he says.

When we spoke to Emerson in late July, Tasti D-Lite had more than 800 Facebook "fans" and more than 1,400 Twitter "followers." When you factor in the "friends" of the "friends" you can see how widespread the coverage can become.

As much as Tasti D-Lite is doing from a corporate perspective, the brand also is pushing its franchisees to embrace social media platforms. "We encourage our franchisees to set up their own Facebook and Twitter accounts. We can even help them get started and provide training," says Emerson. At the local level, he says, these tools can be used to build more personal relationships between the franchisees and their customers.

"Staying in touch with customers--and what customers are saying about you--is a critical function of social networking," he says.
Benefits galore
Jonathan Kaufman is the Tasti D-Lite area developer for the state of Arizona and a multi-unit franchisee with plans to open more than 40 units. He's been right in the middle of a social media campaign to build awareness of his soon-to-open store in Scottsdale. He must be doing something right because he already has 500 Facebook "fans" and his first store is not even open yet.

"It's been a great way for me to create excitement and awareness about the brand coming to Arizona," he says, "and at very little or no cost." That's another advantage to social media: signing up and creating a page is free. And if you want to post company advertisements to a targeted group of individuals (the ads show up when they sign onto their own pages), it's pay-per-click or per impression and you can cap your level of investment.

Kaufman has been targeting Tasti D-Lite fans based on demographics--for example, people who live in the Scottsdale area, and those who have identified themselves as fans of "Sex in the City" (Tasti D-Lite appeared in two episodes of the show). And he likes the corporate marketing efforts of Tasti D-Lite, saying it gives "cohesion to what we're both doing."

While preparing to open his first store, Kaufman regularly posted updates to a Facebook page he created called, "Crazy for TASTI-D in AZ!!!" letting his "fans" know what was happening and creating fresh energy with every post. He continues to respond to questions and is building a guest list to invite to the store's grand opening this fall--and is offering a free small Tasti to all 500 members on the page.

Unexpectedly, his Facebook page has attracted local contractors and vendors inquiring about his new stores. "I've heard from people who want to help me build. I've gotten several bids this way and heard from various other vendors. It's been a big help," he says. He also intends to use the site to find employees when he's close to opening.
And he's discovered another interesting benefit to Facebook. "I've become a 'fan' of some of my competitors," he says. "It's always good for a business person to know what their competition is doing."

Kaufman says Facebook has been a great tool for him because "It takes so little time to do it and it's easy, there's no html or coding." He just now dipping his toes into Twitter, but can see how he could benefit from that as well.

Once the new stores open, he plans to use social media to keep the customers coming in with spur-of-the-moment offers to his online followers. "Social networking offers amazing ways to run 'immediate response' promotions, and today's younger consumers are all about jumping on those opportunities," he says.

"Social networking is one of those things where 'if you build it they will come' is true, but you have to push it and promote it and stay active in its development," says Kaufman. "You need to maintain active communications with your customer base and this an excellent way to do it. Your social networking efforts can't go stale, or people will quickly lose interest."
Pre-opening buzz
As Adam Saxton prepared to open his newest McAlister's Deli in Texas last spring, he turned to Facebook. "We created a Facebook page for our new store in Weatherford about 60 days before it opened," he says. "We used targeted ads and created a fan base with several hundred fans before the store had even opened." He kept the page active by posting photos of the store throughout the building process and by reading and responding to "fan" posts regularly.

Saxton is director of development for Saxton Pierce Restaurant Corp., which operates 26 McAlister's throughout Texas. He says half their restaurants have their own Facebook pages and it's all happened in just the past year.

McAlister's corporate team sets up the individual franchisee pages and the franchisees take over from there, managing their own content--which helps maintain consistency, uniformity, and quality across the brand while also providing a local touch.

Saxton says the various social media offer numerous advantages. He especially likes its instantaneous nature. "Customers can eat at our restaurants and then post their thoughts about the experience to their Facebook pages almost immediately." Saxton then can see that feedback, which he says is much more frequent and informative than customer comment cards, which might take weeks to filter back to him, if ever. Also, he says, customers are much more likely to write about their experiences on their Facebook page than seek out a store manager and discuss it in person.

His company, he says, is trying to use Facebook not just to promote the restaurants, but also to create dialogue with customers. "We like to respond to things our customers write on the 'wall' and find out more about what they liked and didn't like," he says. "Facebook fans are the ones who are really passionate about the brand so it's important to have regular dialogue with these customers," he says.

Saxton says he's been so pleased with the Facebook results he experienced with the Weatherford opening that he plans to follow the process with all new store openings. "We used Facebook to invite our fans to our store's grand opening and were so pleased with it that we probably won't even do printed invitations anymore."

Building brand awareness through social media is another bonus, he adds. And he expects to soon be using social networking to recruit employees. "Job searching has gone online almost exclusively anyway," he says. "Whether it's markets we're already in or markets we're coming to, social networking is a great tool."
The great equalizer
Tamar Bundy, William Stout, and Jonah Engler operate eight Wireless Zone stores in New England. The young entrepreneurs are using social media to increase customer traffic and get the word out about everything from the latest store promotions and deals to hiring. Each store has its own Facebook page and each store manager is empowered--and encouraged--to use the page.

"Social media has been a great tool for us because we can generate a lot of buzz for very little cost--and that's very important to small business operators," says Bundy. Indeed, that is a huge benefit to small businesses. Social media can provide a lot of bang for not a lot of buck.

Since creating their first Facebook page in February, Bundy says they have experienced "very positive" results. This summer, for example, more than 100 "fans" signed up in just over a month on the Facebook page of their Southbury, Conn., location.

They've also begun using Facebook to recruit employees. "People can upload their resumes directly to our store managers," he says. "It's working better for us than Monster.com or CareerBuilder.com."

Twitter accounts have been the latest social media tool Bundy and his crew have begun experimenting with. He says they're using it in similar ways to Facebook, but that the interaction time is a little more "instant."

And at corporate, Wireless Zone has created a YouTube site where viewers can find out more about the latest phone-related products and follow links directly to their local Wireless Zone stores. "Anything we can do to push our stores and products is going to help drive business for us," says Bundy.
Building relationships
Some franchisees are beginning to use social media--but not to reach out to customers. Brad Culp, a multi-unit operator for Griswold Special Care, a non-medical homecare referral service, is one of them.

"Referral sources such as social workers, nurses, and attorneys are very important to me. They are the ones observing the need, the ones I count on to describe the service we can provide our clients in their homes. I discovered that many of these referral sources were on Facebook and Plaxo so I quickly determined I needed to be there too."

Culp says his number-one priority with tools like Facebook and Plaxo is to stay connected with his referral sources. For the two to three dozen sources he stays in regular contact with, he says, using these tools "allows me to put a personal touch on my marketing." He tracks their birthdays, sends greetings, and keeps in touch with their lives online, allowing him to connect on a more personal basis. For example, he'll read a post by a health care provider who has been on vacation and written about it on her Facebook page. "The next time I see her at the hospital I can say, 'How was your vacation?' and we begin to chat. It's building relationships."

He's also taking advantage of the ability to mine the friends of friends on Facebook, he says. "If I'm a 'friend' of Linda and I know that she works with Joni, I can try to reach out and 'friend' Joni."

For Culp, social media will never replace the importance of face-to-face meetings, telephone calls, and email, but he says it's a great addition. After about a year of social networking, he guesses that he'll soon be adding Twitter to his online relationship-building toolkit and is already thinking about ways he might implement that tool.
Mobile messaging
Text messaging may seem "old school" within the context of social media tools like Facebook and Twitter, but for Chris Kramolis it's been a solid business builder--and he doesn't see any reason to deviate from something that's working.

Kramolis is an area developer and multi-unit franchisee for Tropical Smoothie Café in Arkansas, where he has 8 locations open, and in Northeast Oklahoma. A couple of years ago he read a magazine article about how some restaurants were using text messages on cell phones to communicate with customers.

"I thought that was a great idea," says the 39-year-old Kramolis, who quickly set up what he calls his "mobile text club"--a relatively simple web-based program he can use to design and arrange promotions to be sent out at his discretion.

He began promoting the text club by having his employees tell customers about the program and printing information about it on all receipts. He even pushed his "text marketing" program in his traditional media advertising. The efforts worked: he now can send nearly 7,000 text messages to numbers he's collected.

"I call the messages Tropical Storm Warnings and they always include some kind of coupon or offer for our products," he says. "I don't crowd them with too many messages and never want it to be like junk mail or spam," he says. But if his business is slow because of rainy weather, for example, he can put an instant spike in sales by sending out a text coupon for a $1 smoothie, he says.

"People with cell phones are on the go, and this program is a cost-effective way to reach them with a promotion that gets them in the doors." He'll even honor a text coupon that's been forwarded to another phone--and, of course, pick up that person as a new text club member. Kramolis keeps a similar database and program for email customers (another 2,700 or so) and has been experimenting with Facebook and Twitter.

"We're trying out Twitter, and each one of our stores has a separate Facebook page," he says. He's done some things on Facebook that he can't do through the text club, such as post corporate commercials and videos. However, he notes, "Not everybody has a Twitter or Facebook account, but everybody has a cell phone."

Kramolis sums up the sentiment of the other franchisees we spoke with when he says, "Social media lets small businesses without big media budgets compete effectively for customers." That will very likely be one of the game-changing legacies of this technology.
Published: November 9th, 2009
Share this Feature
Recommended Reading:
Comments:
comments powered by

Disqus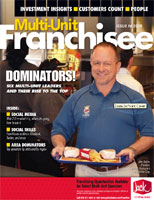 Multi-Unit Franchisee Magazine: Issue 4, 2009
With a proven 45-year track record, 1.1MM+ Nationwide AUVs*, and flexible footprints to fit into any community, Potbelly is poised for growth —...
Cash Required:
$250,000
There's nothing quite like the perfect cup of coffee. It wakes you up and gets you on the right path. Now, you've got the chance to build a lifestyle...
Cash Required:
$100,000