Leadership by Example: Earning The Confidence Of Franchisees
Leadership is a fundamental ingredient for the success of a franchise concept. When franchisees invest in a brand, they are casting a vote of confidence in the leadership team. After all, if the franchisees don't believe in the leadership team, why would they put their financial resources at risk with the brand? So, what might a franchisee be looking for in terms of brand leadership?
The franchisee's first impression may be of the leadership styles of the CEO and executive team. Is there any one right or best leadership style? The short answer is "no." Every leader, in some form or fashion, blazes their own trail. But at the root of great leadership must be the belief that before you can lead others, you must lead yourself, and hold yourself accountable for your own actions and decisions. Leadership by example is a critical trait within a franchise system.
Franchisees also look at the executive team's track record. They evaluate the way the brand is managed, as it affects their operation of the business. But more important, they are looking for brand leadership. The distinction between management and leadership is significant. Great management is functional in nature, while great leadership is inspirational and drives the people within the brand to achieve at a level higher than they might do on their own.
Great leaders restore calm and reason when the team is under pressure and duress. Great leaders create an environment where team members have mutual respect for one another and put the success of the team ahead of their own interests. Great leaders inspire people to act because of a sense of purpose, not out of fear of retribution. The qualities a leader needs to instill this sort of drive and motivation are far different than the recipe for a successful manager, and your franchisees will certainly look for these points of differentiation.
Prospective franchisees will look at your track record of critical decisions. Existing franchisees will judge you on the basis of their direct experience under your leadership, and their commitment to the business will be directly shaped by that experience.
As the leader of a brand, you must not dismiss this dynamic. You should be thoughtful and reflective, do your due diligence, and consult with others as part of your decision-making process. But there will be times where expediency is of greater consequence, and it is at these moments great leaders really shine.
General Patton once said it best, and I will paraphrase: A plan that is 80 percent right, executed at the right time, is better than a plan that is 100 percent right executed too late. In business, this translates into the old saying "paralysis by analysis." There are times in many walks of life where leaders must seize the moment. But never forget that it should always be a calculated risk. A bold plan without contingencies risks crossing the boundary toward recklessness.
I have faced moments like this in my own business career. In 2008, Firehouse Subs was faced with the challenge of declining comparable sales. In the absence of a plan that would lift sales, I allowed the franchisees to stop sending in their 2 percent advertising fee. Instead, I told them to keep their money. In the absence of a winning advertising campaign, I would empower them to market their business locally.
But before I had ever made that decision, I thought through the contingency plans. If the franchisees failed to lift sales through their own local store marketing efforts, I would have to be prepared to step back in with a solution.
Empowering the franchisees didn't work. But within six months, we were well on our way to selecting a new agency. I later announced to our franchisees that I would not only start collecting the marketing fee again, I would also ask them for an additional 2 percent that would enable us to purchase sufficient media. We demonstrated leadership by testing the program in our 25 company restaurants, a classic case of leading by example.
The franchisees placed their trust in the leadership of the company. Since that strategy has been implemented, we have enjoyed more than 2 years of comparable store sales growth, reached an all-time high average unit sales volume, and have grown our system by more than 130 restaurants. This is the result of leadership at a critical time in a company's history. Without effective leadership, and without the accompanying confidence of your franchise community, your brand will never reach its full potential.
Don Fox is CEO of Firehouse of America. Under his leadership, the brand has grown to more than 475 restaurants in 28 states and one U.S. territory. He sits on various boards in the restaurant community and is a respected speaker, commentator, and blogger. He was named one of 10 Executives to Watch in 2011 by Nation's Restaurant News, is a 2011 Golden Chain honoree, and was recently recognized by NRN as 2011's Operator of the Year. Contact him at 904-886-8300 x248.
Published: February 27th, 2012
Share this Feature
Recommended Reading:
Comments:
comments powered by

Disqus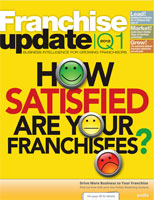 Franchise Update Magazine: Issue 1, 2012
April 25 - April 28, 2023, Caesars Forum, LV. The Multi-Unit Franchising Conference is the premier annual event for the country's leading...
More than 15 years of passion and fascination with the franchise system. Thanks to having met many Franchisees, today I can help new ones and those...