Leadership Rules for the New Normal: Lessons for forward-looking multi-unit franchisees
We recently sat down with Jim Sullivan, author of Multi-Unit Leadership: The 7 Stages of Building Profitable Stores Across Multiple Markets, and asked him to share the new lessons in leadership that are emerging for 2022.
What will change most in the next 5 years for multi-unit leaders?
Heightened integration of new technology in the workplace. This includes robotics, AI, delivery drones, VR for training, third-party apps for delivery, systems retooling, and robust new payment processing. Multi-unit leaders will have to up their skill sets, mindsets, and tools sets to stay abreast. I think an even more interesting question for multi-unit leaders is, "What will <not> change in the next 5 years?" Because if you can identify what will remain relatively stable in operations over the next 5 years, you can design and apply creative new leadership strategies to make those things better.
And what are those things?
What won't change is customer service, sales, hiring, onboarding, training, cost control, and career-pathing. These things will retain their importance in the next 5 years. This is where leaders should put their focus today and tomorrow. If you can help your teams get brilliant at the basics and then rise above that, you'll create and sustain a competitive edge that's hard to challenge.
How can leadership address and affect the staffing challenges we're all facing now?
In a nutshell, the reason we're all having such a hard time with staffing is that our hiring process is rooted in an era that is long past and aimed at an employee who no longer exists. The crew and managers of today and tomorrow are very different from those of yesterday. As a result, above-store leaders must realign how they attract, develop, coach, and engage those teams. And that's doubly true for franchisees. My advice is to look through the right end of the telescope; don't yearn for normal, reach for better. Focus on creating a people-first workplace that aligns with both your brand values and your team members' expectations, lifestyles, and interests.
For example?
Are you still using paper job applications and limiting hiring to a few hours on a weekday afternoon? That says "dinosaur" to today's workforce. Your application process should be 100% accessible 24/7 through smartphones or tablets. We've encouraged our clients to solicit TikTok resumes from managerial applicants, and the creativity and insights have been outstanding. (Compare that with a Word doc CV!) But it's not just leveraging technology to appeal to "Gen Next," it's remembering that a pat on the back is just a few vertebrae up from a kick in the ass. Every company audits their customer experience (CX) feedback, but routinely auditing the employee experience (EX) is just as important. This helps you measure and improve team member engagement, which helps you improve customer service and team member retention. The more good people you can retain, the fewer mediocre ones you have to find and hire.
Where do you recommend multi-unit operators start realigning their thinking around leadership?
It starts with reexamining the culture at your stores. Instead of looking for a roomful of rock stars, look at the room. Workplaces are ecosystems: your people's abilities will expand or contract depending on the people and resources you surround them with. Showing appreciation daily is one of those resources. It's a huge tell if your recognition program occurs every 2 weeks and is called a paycheck. Franchisees and above-store leaders should make a list of all their store managers and crew, review that list twice weekly and ask, "Did someone on this list do something I should recognize?" Then recognize them with a call, email, text, or social media post. The higher up you go in the leadership ranks, the more you must make other people winners and not make it about just winning yourself.
How can better leadership improve store-level performance?
Most multi-unit leaders ask, "How can I get people to do what I want them to do?" But there's a better question to ask: "Why would my managers and crew do what I want them to do?" Answering that question creates a detailed action plan. A leader's job is not to find the right team, but to get the team right.
How important is training and development as a leadership skill?
The first person you lead is yourself. I'm routinely amazed by how little companies invest in their multi-unit leaders' ongoing learning and development. I suppose they think they already know what they need to know. But just because that knowledge got them to where they are doesn't mean it's enough to get them to where they need to go next. A common misconception is that it's only leaders in trouble who need training and coaching. But leaders in transition need training too. Since the pandemic, business has evolved from episodic change to continuous change. If leaders want to build more business and attract and retain brighter and better teams, strategic clarity, stellar communication, and critical thinking skills are paramount.
What do you recommend to help multiunit leaders learn the new skill sets, mindsets, and toolsets to succeed in 2022 and beyond?
At the risk of being self-serving, I'd recommend they invest in a brand new e-learning course called Multi-U 2.0 that our team co-developed this past spring. If you're interested, see page 55.
Final thoughts?
Good leadership is about being a better you. And the better leader you are, the better your team will be too.
Jim Sullivan is CEO of Sullivision.com, a bestselling author, keynote speaker, and a consultant whose customers include Walt Disney, Starbucks, Southwest Airlines, Coca-Cola, American Express, Domino's, Marriott, Chipotle, Supercuts, and PetSmart. His company annually researches and compiles the best demonstrated practices of high-performing multi-unit leaders and franchisees.
Published: August 21st, 2021
Share this Feature
Recommended Reading:
Comments:
comments powered by

Disqus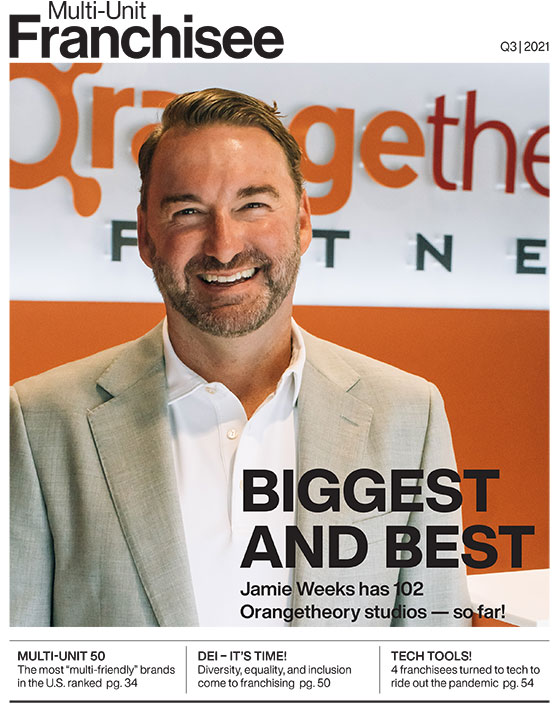 Multi-Unit Franchisee Magazine: Issue 3, 2021
With 500+ restaurants in development worldwide, Wayback Burgers is America's favorite hometown burger joint and one of the world's fastest-growing...
Cash Required:
$250,000
Salata is a 90-plus unit, built-to-order salad and wrap kitchen providing quick, healthy meal options. Known for excellent customer service, the...
Cash Required:
$300,000