M&A Trends: 2020 will be a Busy Year for Deals!
As we enter a new year and decade, expect macro M&A trends from the past few years to continue. The year is already starting strong with new deals announced for several large brands and franchisees, with more to come. In addition to restaurant transactions, expect the pace of franchise transactions outside the food space to accelerate as franchisees continue to look for opportunities to expand and diversify.
7 reasons
The rate and pace of franchise resales and consolidation is expected to continue in 2020, primarily because of these factors: 1) aging franchisees; 2) continued focus on asset light refranchising initiatives; 3) increased complexity and capital required to run the business; 4) strong valuations (liquidity alternatives are plentiful); 5) macro-economic pressures, including a looming recession and a tight labor market that will create a difficult operating environment); 6) a strong, diverse, well-capitalized buyer pool, including traditional operators, family offices, and private equity competing for acquisition opportunities; and 7) the transition of family-owned franchise groups from the first generation to the next, with more outright sales and partial buyouts of partners and family members as owners look to transition their business.
Who will win
As unit growth and consolidation continue, the groups that will come out on top will be those excelling at:
Integration and creating synergies at the administrative level, including aggressive cost-savings initiatives.
Construction and development. Many groups have developed and maintain internal general contracting arms to handle new restaurant development, relocations, remodels, and general maintenance. Controlling this function can yield a savings of 20 percent or more.
Human resource management. Franchise groups that build a true people-first culture with benchmarking, retention strategies, and an employee focus will win.
Who will lend
Professionally managed capital continues to maintain an increasingly large presence in the franchise space. PE firms and family offices are comfortable with transaction metrics on both franchisor and franchisee investments. The economics are understandable and predictable. The investments are fungible, and there is always an abundance of opportunities on the market.
Traditional senior financing, unitranche lending, and hybrid financing should also remain robust. While interest rates and terms are still historically attractive, expect to see a tightening of underwriting standards. Banks will be watching leverage ratios closely as the economic and political landscape is shifting with franchisor-mandated remodels, significant technology-related expenditures, margin compression, 2020 elections, and concerns over a potential recession. Banks will look to keep leverage down and require a much-needed financial cushion to weather any financial-related hurdles.
Breakfast wars on the menu
Breakfast remains the fastest-growing daypart and competition continues to increase. Look no further than Wendy's, which, in 2020, will roll out breakfast for the fourth time. New concepts have emerged with sophisticated financial backing like First Watch, Eggslut, and Another Broken Egg Cafe. Expect to see a competitive and evolving battle for this high-margin daypart. Winners and losers will emerge, but in the meantime the coffee and breakfast halo will enhance valuations and deal interest. With increased investment, new brands, and a waiting line of investment groups looking to access this daypart, expect to see more deal flow.
Time kills deals
In the past several years, we have witnessed an expansion of the deal life cycle for most transactions, including franchisee-to-franchisee transfers, private equity/family office investments, refranchisings, and recapitalizations. Longer deal cycles exacerbate execution risk by exposing the transaction to such factors as franchisor approval, lending conditions, changes in operational performance, and macro or geopolitical events. As a result, we expect to see a continued rise in re-trading risk as buyers attempt to capitalize on these opportunities to lower the aggregate purchase price of a deal. To close transactions, all parties, including attorneys, capital providers, and franchisors, must remain focused, engaged, and keep the end goal in mind. As the stakes rise (higher valuations, larger transactions and store counts, a changing capital market), so must the diligence and persistence of the parties involved. If a weak link emerges and slows down deal momentum, execution risk increases.
Franchisor involvement
It is the right and obligation of franchisors to protect the brands they have established. Often, franchisors are taking a deep dive into the details of every transaction and analyzing the valuation metrics, capital structure, and financial resources of the buying group and are trying to steer transactions to their benefit. In addition, some franchised brands are also inserting mandated development requirements as a condition for franchisor consent. It remains vital that both buyer and seller establish and create a solid relationship with the franchisor.
When assets trade, the franchisor approval process is taken very seriously as brands must strive to align themselves with the best franchise partners possible. If they get it right, great things can happen for the brand: increased store count, profitable franchisees, satisfied consumers, etc. If they get it wrong, it can drag down the franchise system. Consequently, buyers and sellers must plan for and expect the approval and transfer process to be an integral part of any transaction.
We are fortunate to work in such an exciting industry where life is never dull. 2020 promises to be another vibrant year in franchise M&A. Buckle up and enjoy the ride!
Carty Davis is a partner with C Squared Advisors, a boutique investment bank that has completed hundreds of transactions in the multi-unit franchise and restaurant space. Since 2004 he's been an area developer for Sport Clips in North Carolina with more than 70 units. Contact him at 910-528-1931 or carty@c2advisorygroup.com.
Published: March 31st, 2020
Share this Feature
Recommended Reading:
Comments:
comments powered by

Disqus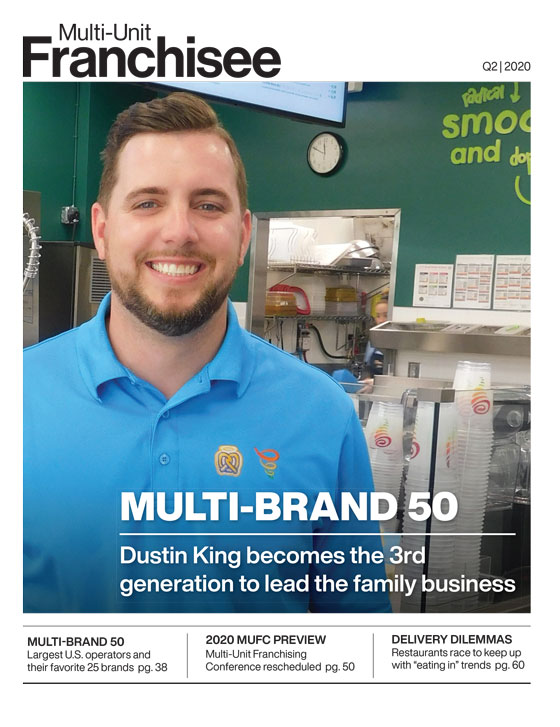 Multi-Unit Franchisee Magazine: Issue 2, 2020
Grab Hold of the Bold with the legacy brand that is backed by 50+ years of experience, a fresh look and feel, and outstanding menu innovation, all...
Cash Required:
$500,000
Garage Living is expanding their successful franchise network by seeking a select group of individuals who are passionate about building a business...
Cash Required:
$100,000