Mega Zees: 7 franchisee superheroes Tell How They Did It
We kick off 2016 with our annual Mega 99 issue: a list of the largest U.S. franchisees ranked by total number of units--along with 7 profiles of multi-unit mega-operators. For the profiles we've identified movers and shakers who have gone big, whether by revenue or by number of brands, units, or locations--or by all of these signs of franchising success. These truly are franchisees who don't settle for less.
Going big takes a certain kind of drive and initiative, as well as a nose for deals, leadership skills, business savvy, and perhaps a dash of good fortune. Few actually make it, and the ones who do have invested blood, sweat equity, and sleepless nights to get there--building their success on the four pillars of strong brands, passionate teams, dedicated employees, and loyal customers.
Each year we discover women and men with unique stories that have led them to their mega status. This year is no different. Regardless of their journey, each of these mega-zees has a riveting personal story that began as a crew member, waiting tables, or working summers in the family business--and, for one, playing in the NFL. Still full of hopes and dreams, they've experienced the highs and lows of wins and losses and faced painful setbacks as well as triumphant successes.
Super numbers, super performers, super people. That's what we're talking about when we say "Mega 99."
Bill Spae jokes that he's "a recovering franchisor." Indeed, before becoming a Dairy Queen franchisee he served as CEO of Mooyah Burgers, Fries & Shakes and COO at Cici's Pizza. Today he's using his 40-plus years of franchising experience to expand Texas-based Vasari LLC, the second largest franchisee in the DQ system, with 76 restaurants in Texas, Oklahoma, and New Mexico.
Van Jakes used to chase NFL receivers up and down the field. He spent 8 years in the NFL before retiring and choosing a career in franchising. Today he chases profitable earnings at his three McDonald's in Atlanta. Recently, he's started his own consulting business, My 5th Quarter, to help current and former pro athletes successfully transition into franchising.
Yaron Goldman is CEO of Southern Deli Holdings, which operates 59 McAlister's Deli restaurants in North and South Carolina, Missouri, Colorado, and Wyoming, along with three MOD Pizzas. His strategic plan for this year includes revenue projection above $100 million and the addition of 3 more brands in the next 10 years.
Shirin Kanji is senior vice president and chief investment officer of Impact Properties, the 35-year-old family business built by his father and uncles. Their diverse portfolio includes hotels from Westin, Marriott, Hilton, and IHG, along with food brands Firehouse Subs and BurgerFi. And last year the company added 40 Rent-A-Center locations to further diversify its holdings.
Gary Moore has spent more than 30 years in franchising and is still happiest behind the counter with his sleeves rolled up alongside team members and talking with customers. Today, he operates 58 Burger King restaurants in five western states, a slew of convenience stores, and six Costa Vida Fresh Mexican Grill restaurants. He's just struck a deal with the Utah-based coffee house chain Beans & Brews to develop 20 stores in Nevada.
We've also "reconnected" with mega-operators John Metz and Dawn Lafreeda, who both have been on the move since we last profiled them.
John Metz continues his unique path of growth and diversification as both a franchisee and franchisor. Since we profiled him in 2009, Metz has bought a franchise brand, Hurricane Wings & Grill, expanded it from 30 to 75 units, is taking it international with deals in Italy and Canada, and is launching a spinoff brand, Hurricane BTW (burgers, tacos, and wings). He's also begun building a new Marriott Residence Inn scheduled to open this year. And, of course, he still operates his Denny's and Dairy Queen locations.
Dawn Lafreeda has added five more Denny's locations since we profiled her in mid-2012, bringing her total to 75 in 7 different states, with a total annual revenue of $100 million. But her Denny's operation isn't the only thing keeping her busy lately. "I recently filmed a pilot-presentation for The Food Network where I advise young restaurant owners how to take their business to the next level or expand."
No matter their background, experience, and training, there are always inspiring stories behind mega-successful franchise operators. Whether you have a single unit or dozens spread across several brands, you're sure to find something interesting, educational, even entertaining in these seven stories of multi-unit franchisees.
And, as usual in our annual Mega 99 issue, we've included a list of the country's largest multi-unit franchisee organizations, ranked by number of units. (Thanks, FRANdata!)
Published: February 29th, 2016
Share this Feature
Recommended Reading:
Comments:
comments powered by

Disqus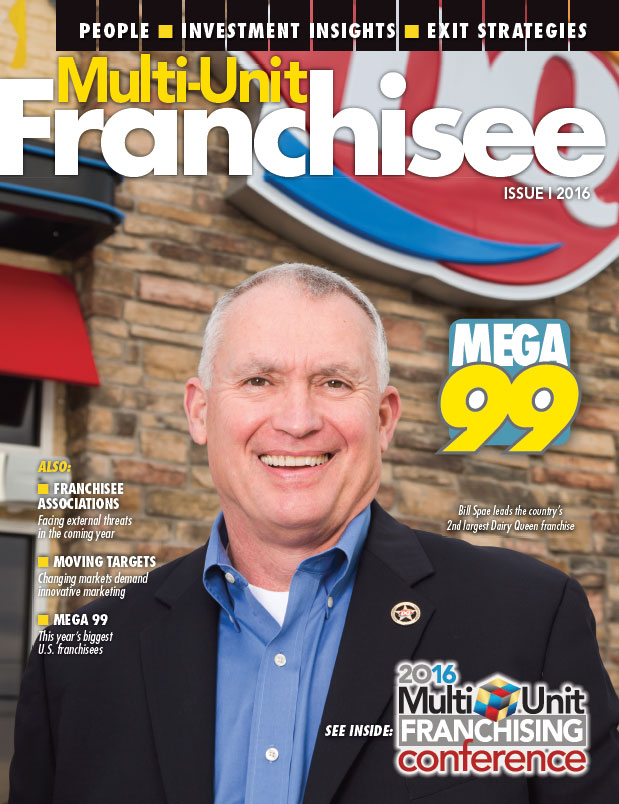 Multi-Unit Franchisee Magazine: Issue 1, 2016
It's time for a fresh start. Join Kona Ice today! We're a low-investment, fast-growing business with over 1,500 franchises in the last 12 years. And...
Cash Required:
$20,000
Basecamp Fitness is empowering entrepreneurs to build an innovative fitness franchise in their markets while helping create happier, healthier...
Cash Required:
$250,000