Mega-Stars: Six Movers and Shakers Who Shoot For The Sky
Franchising is big. And so are some of its franchisees. Just take a look at our "Mega 99" list (page 54) and you'll see what we mean! We've ranked the heavyweights by size, brands, number of units, and locations. These franchisees definitely know how to Go Big!
Franchising at this level is not for everyone. It takes a certain set of skills, drive, and initiative to build and operate these large organizations. The risks and rewards to the ever-growing multi-unit franchisee hinge on savvy decision-making, dedicated managers, hard-working employees, and loyal customers. Few can do it; even fewer can do it well.
And beyond the numbers are the human stories of passion, creativity, and sheer will and determination it takes to succeed at this level. Year after year we continue to find multi-unit franchisees with compelling stories to tell about their journeys to where they are today, stories filled with dramatic twists and turns.
This year we have chosen six successful multi-unit operators who exhibit the best of franchising, entrepreneurship, and commitment to their goals. It's revealing to hear their candid reflections on their successes and failures, goals and objectives, plans for the future, and their thoughts about work, family, and life. But perhaps it's their insights into people--from their employees to their customers to the communities they serve--that makes these franchisees notable.
We get it started in this issue by "reconnecting" with three franchisees we've previously profiled:
Tony Lutfi has tripled the number of franchise units he operates since last we visited with him three years ago. The MarLu Investment Group CEO and president now has 43 Arby's, 46 Church's Chickens, 21 Jack in the Box, 5 Little Caesars, 5 Sizzlers, and has diversified beyond food with 8 Sears Appliance Showrooms and 6 Sears Hardware & Appliance stores, with more likely ahead.
Glenn Mueller is a consummate innovator, and continues to be a beacon for the Domino's Pizza brand. The 57-year-old CEO (chief excellence officer) is Domino's largest franchisee, with 135 locations and an annual payroll topping $25 million. And he's brought several of his family members into the organization.
Kelly Saxton is the founder and executive chairman of The Saxton Group, which operates 50 McAlister's Deli and 4 Pinkberry locations. He's been in the food service business for 30 years, and he previously owned more than 50 Mazzio's Pizzas. Like many successful franchisees, he loves to see his employees succeed and believes that's what leads to the ultimate success of the organization.
We also spoke with three more successful multi-unit operators:
David Grimaud grew up in the car repair business in his father's Midas shop in Alexandria, La. His passion for electronics led to a degree in electrical engineering, but after starting a career in Dallas he soon realized he liked "being the boss." Today he is president of Grimaud Enterprises, which oversees 93 Precision Tune Auto Care locations from Utah to South Carolina.
Tom McDonald spent 20 years traveling the globe as an oil refinery process design engineer. In 1986, during a cross-country trip with his family, a friend in Las Vegas asked him to be a partner in a Burger King and the rest is history. Today the 66-year-old has 35 Burger Kings, 8 Panera Breads, 18 T-Mobile Premium Retail outlets, and 3 Fazoli's.
Don Copus grew up in a family of eight in a 900-square-foot home where he learned to work hard, appreciate others, and never give up. Today the Indianapolis native operates 25 Hungry Howie's in Michigan, Indiana, and Utah--and was named the 2012 Hungry Howie's Franchisee of the Year.
Regardless of their background, experience, and training, there's always a fascinating real-life story behind every successful franchise operator. Whether you're a single-unit operator or have dozens of units across several brands, you're sure to find something interesting, educational, and even entertaining in the stories of these successful six multi-unit operators. And maybe even a nugget or two to apply to your business or your personal life.
It's Mega 99 time!
Published: January 2nd, 2013
Share this Feature
Recommended Reading:
Comments:
comments powered by

Disqus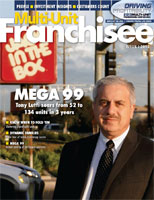 Multi-Unit Franchisee Magazine: Issue 1, 2013
Here's your chance to own a SONIC® Drive-in Franchise Restaurant. As the nation's largest drive-in chain, SONIC® has successfully served up...
Cash Required:
$500,000
At Celebree School, our child care franchise delivers a safe, nurturing, friendly, state-of-the-art learning environment that fosters a solid...
Cash Required:
$250,000