Multi-Brands Zees on the Rise
The real reasons multiunit franchisees seek new brands

During the past 20 years, we have witnessed a generation of multiunit franchise operators grow up. Today there are more than 40,000 of them.

A parallel development is that, increasingly, franchisors are selling only multiple-unit packages. This is true for mature systems such as Dunkin' Donuts as well as for a growing number of new brands that have chosen to start out by selling area development agreements. As a result, multiunit operators today control more than 150,000 units.

A trend that is less clear is the growing number of multiunit operators who own units across brands. The numbers are difficult to ascertain. Our database shows more than 12 percent of multiunit operators have more than one brand. However, we know this is understated.

While there are several reasons for this, the main one is that franchisees often use a different corporate entity when they take on another brand. It is hard to connect the new entity to the existing one for the same franchisee. Further, the ownership may have some, but not all, of the same people involved.

Nevertheless, we believe that the number of multi-brand franchisees may be between 15 and 20 percent of the 40,000-plus multiunit operators. Our data show that it is a growing trend.

Why is this happening?
Looking For Reasons
One answer often given is that franchisees are seeking business diversification. As franchisees add units to their own system, they may find that being involved with only one brand raises concentration risk. Just ask Taco Bell franchisees what happened to sales when the New York City rat story broke in February 2007. Another answer, also often given, is that as franchisor parent companies add brands, they are encouraging their franchisees to expand to other brands within the family.

Both of these reasons are valid, and they do contribute to multi-brand expansion by a growing number of franchisees. But there are other forces at work as well, and these forces are well worth our paying attention.

Many franchisees have learned a great deal about their local community. Even in large DMAs, many multiunit franchisees stay in a fairly tight geographic area. Some of this is due to the unavailability of other territories, particularly for more mature brands. However, some also is due to saturation. As they add units for one brand, they hit a point where adding another unit hurts sales in existing units. Further, some franchisors won't allow more units where this is likely to happen.

Multiunit franchisees have learned how to manage and grow a franchise business. In every brand there is a point when a growing multiunit franchisee has to build a management team. Once they have done this, they frequently, often unintentionally, have built a company capable of running a successful multi-brand franchise business.
Thus, three factors can lead a franchisee to look at different brands:
They want to take advantage of their knowledge of the local market.
They built an infrastructure capable of running a larger franchising business.
They have some internal or franchisor-related constraints in adding same-brand units.

To continue growing, the remaining option is to look at other brands. We increasingly discover multiunit franchisees with a couple of food brands mixed in with a couple of residential or commercial service brands. It is surprising how often this is happening. A lot more is coming.
Franchisors Adapt
So what does this mean for franchising today and in the future? For starters, it means that for those brands that don't have an owner-operator model, franchisors should recognize that their franchisees increasingly are receptive to consideration of other brands. Franchisors should consider focusing some of their development efforts on them.

Taking on an experienced multiunit franchisee rather than a prospective franchisee candidate might even increase the likelihood of a successful unit. However, franchisors should first review their franchise agreements and possibly those of the brands that franchisees already have. We are seeing changes in competitive clauses in franchise agreements, training, and support programs to accommodate multiunit operators from other brands.

The franchise business model is a great example of capitalism at its best. While the business model has changed dramatically in the past 20 years, often to allow for expansion of a trend such as multi-brand, multiunit franchisees, the customer hasn't seen these changes. These changes have happened behind the curtain, which is a good thing as franchising becomes ever more ubiquitous in the economy.

Darrell Johnson is president of FRANdata Inc., an independent research company based in Arlington, Va., that has been supplying information and analysis for the franchising sector since 1989. He can be reached at (703) 740-4701 or at www.frandata.com.
Published: August 7th, 2008
Share this Feature
Recommended Reading:
Comments:
comments powered by

Disqus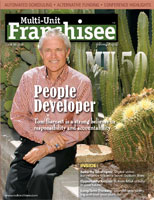 Multi-Unit Franchisee Magazine: Issue 3, 2008
At Celebree School, our child care franchise delivers a safe, nurturing, friendly, state-of-the-art learning environment that fosters a solid...
Cash Required:
$250,000
Ace is #1 for convenience hardware! You pay no royalty fees. Instead, Ace pays you a year-end rebate based on your annual purchases. Enjoy the...
Cash Required:
$250,000