Next in Line: Ryan Bridgeman is now leading the family business
Name: Ryan Bridgeman
Title: President
Company: Manna Inc.
No. of units: 150 Wendy's, 74 Fazoli's, 1 Jimmy John's
Age: 39
Family: Wife Leea, daughters Emerson 8, Hollis 6
Years in franchising: 13
Years in current position: 5
Ryan Bridgeman's dad was someone he could look up to—literally. That's because when he was a kid he watched his dad, Ulysses "Junior" Bridgeman, playing for the NBA's Milwaukee Bucks and Los Angeles Clippers. When his dad's basketball career ended, the younger Bridgeman watched him build a company owning and operating multiple Wendy's and Chili's restaurants.
When he was old enough, Bridgeman began learning the ropes of the restaurant business and working alongside his dad. He soaked up all he could about operating a Wendy's by working in one—"and cleaning my father's company office," he recalls.
Bridgeman was a quick study. It turned out he had a knack for the financial side of the business, even doing an internship in Taco Bell's finance department.
His big opportunity came in 2017 when his father became a Coca-Cola bottling and distribution partner by acquiring Heartland Coca-Cola Bottling Co. The younger Bridgeman jumped at the chance to lead the family's franchise company.
Today, he is president of Manna, Inc., a Louisville-based company that operates more than 200 franchise restaurants throughout the country. The company's portfolio consists of 150 Wendy's, 74 Fazoli's, and a Jimmy John's. He is also managing member and president of RD Services, a company that provides customer and employee service solutions to restaurant and concession businesses, and of Bridgeman Hospitality, which specializes in contract food service through its partnership with Aramark.
Bridgeman's business philosophy is to put customers and team members first. "It's an inverted pyramid style," he says. "Customers and team members are at the top and I am at the bottom supporting everyone to make sure we are all aligned and working toward the same goal."
He says he is currently focused on steering the company through the effects of the pandemic and labor shortage and hopes there will be more growth opportunities on the other side.
PERSONAL
First job: Wendy's crew member. Cleaning my father's company office.
Formative influences/events: My parents were the biggest influence on me, especially working alongside my father in business.
Biggest current challenge: The current labor shortage being experienced throughout the U.S.
Next big goal: Continue to successfully navigate the company through the pandemic and current labor shortage.
First turning point in your career: Becoming a Taco Bell franchisee in 2011.
Best business decision: Successfully restructured the company's restaurant portfolio from 500+ locations to 200+.
Work week: I traditionally work Monday through Friday, but as the leader of the company, I make myself available when needs arise. I also travel extensively so I can present in person in our various markets.
Exercise/workout: I work out at least three days per week.
Best advice you ever got: "Do not have the nightmare before you go to sleep."
What's your passion in business? Setting up members of my team and company for growth and success.
How do you balance life and work? I prioritize my family time and carve out time for friends and hobbies.
Guilty pleasure: Collecting rare bourbons.
Favorite book: The Bible.
Favorite movie: "The Matrix."
Pet peeve: I do not like to waste time, and I don't like doing things in an inefficient way.
What did you want to be when you grew up? As a kid, I wanted to be a professional athlete.
Last vacation: Family vacation to Cape Cod.
MANAGEMENT
Business philosophy: My business philosophy is based on the inverted pyramid: Our customers and team members are the most important group, whereas I am at the bottom supporting everyone to make sure we are all aligned and working toward the same goal.
Management method or style: My management style is team-centered. I lead by collaborating with my executive team and empowering them to always present ideas. I balance this dynamic by being decisive when necessary.
Greatest challenge: Retaining restaurant-level managers and team members in a highly competitive labor market.
How do others describe you? Reserved, dedicated, team player, driven.
One thing I'm looking to do better: I'm always looking for ways to improve the efficiency of our teams at all levels.
How I give my team room to innovate and experiment: Everyone is given the support and autonomy to explore ways to improve the business. This supports our mantra that we all win together.
How close are you to operations? I grew up in the business through operations, so I am very familiar with the day-to-day challenges in the restaurants. Additionally, I spend time in the restaurants in all of our markets to stay connected to operations.
What are the two most important things you rely on from your franchisor? Partnership and support.
What I need from vendors: Seamless execution in support of the business.
Fastest way into my doghouse: If someone forgets the principles of the inverted pyramid and puts themselves ahead of the customer.
COVID-19
How did Covid-19 affect your business? The biggest impact on our business was how customers interacted with the restaurant. The shift from dining in to drive-thrus, and the exponential growth of off-premise through digital and third-party ordering platforms proved that we could still meet the needs of our guests.
How have you responded? With the support of our franchisors, we have successfully managed the changes to meet our customers' needs.
What changes do you think will be permanent? I believe Covid-19 has accelerated the acceptance of digital ordering for several businesses that possibly would have had a slower adoption rate. This digital channel within the restaurant industry is here to stay, and operators should embrace the possibilities of reaching their guests in new ways.
BOTTOM LINE
2022 goals: Continue to successfully navigate the company thorough the pandemic and current labor shortage.
Growth meter: How do you measure your growth? In two ways: 1) growth through development/acquisition of new restaurants, and 2) seeing my team grow through promotion and leadership.
Do you have brands in different segments? Why/why not? We operate brands in different segments of the restaurant industry. This is helpful because we can meet the needs of customers across their different dining occasions.
Are you experiencing economic growth in your markets? Yes. In a few of our markets we are seeing economic growth.
How do changes in the economy affect the way you do business? As we are looking at new development opportunities, we analyze those options based on the current and future market conditions of labor and potential for digital ordering.
What are the best sources for capital expansion? We have great relationships with several financial institutions that support any capital expansion needs.
What are you doing to take care of your employees? We have always put our employees first, but in this environment we have focused on their health, safety, and doing what is necessary to support and retain them in this economy.
How are you handling rising employee costs (payroll, minimum wage, healthcare, etc.)? As rising employee costs are becoming the new standard, we made an effort to ensure that we are doing the right things to support and retain our employees.
How do you reward/recognize top-performing employees? Recognition is a cornerstone of our company. Whether it is as simple as a thank-you to an employee or a large reward, we try our best to celebrate our employees as much as possible.
Published: May 20th, 2022
Share this Feature
Recommended Reading:
Comments:
comments powered by

Disqus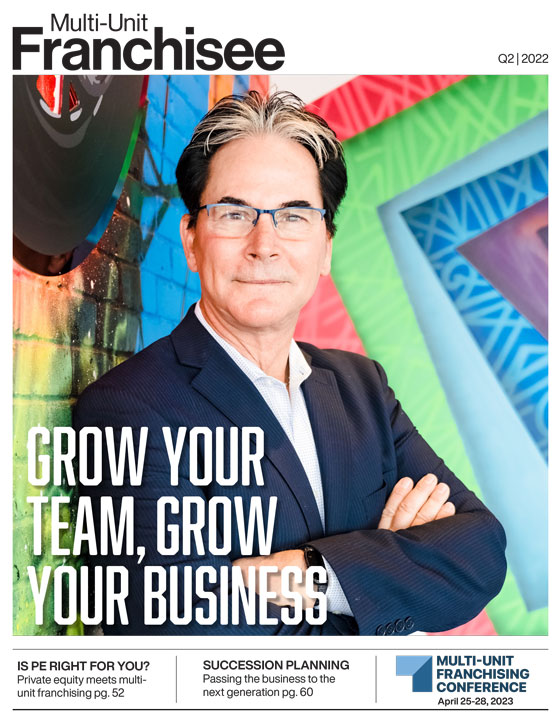 Multi-Unit Franchisee Magazine: Issue 2, 2022
Premier Martial Arts is excited to help entrepreneurs with a passion for martial arts become a meaningful part of their community.
Cash Required:
$100,000
Own a rewarding business and help children develop skills for life with The Little Gym, the world's largest children's motor skill development...
Cash Required:
$100,000