Playing Favorites: Experts Shed Light on Current Franchise Trends
The Great Recession has shifted the thinking and behavior of consumers, forcing franchise brands to respond with changes of their own as they try to keep up with the new normal. Indeed, no discussion of franchise trends in 2011 and multi-unit operators' favorite brands can begin without a nod to the recent economic turmoil and its residual short and long-term effects.
"There's no question that coming out of the recent recession, lower price-point brands are more popular right now with consumers," says Darrell Johnson, FRANdata president and CEO. "The other big trend we're seeing is growth in brands that cater to personal needs, like healthcare."
With the economy now breathing deeply and exhibiting signs of a sustained recovery, this is a good time to take inventory of the current franchising marketplace as it begins to turn back upward. Which sectors, concepts, and brands are maintaining position--or better yet, gaining? Where do you want to be in the next 12 to 24 months, and beyond? Which brands in which sectors are more likely to help you achieve your strategic and growth goals? What consumer and market trends are affecting consumer behavior, and how can you respond?
We turned to a bevy of industry researchers and analysts who track, measure, and assess franchise trends, sectors, and brands, as well as consumer behavior. Key growth areas these experts have identified--including the country's aging population, which is creating the demand for health care-related services--include sectors related to technology, childcare, food franchising, and more.
The value proposition
In today's market, the dollar reigns for consumers. Consider food franchising. "Value has become the name of the game for food consumers during the past year or so," says Johnson. "Consumers are still going out to eat, but they're trading down, say to fast food, and looking for lower price points."
Peter Rose, senior vice president and director, western region at The Futures Company, agrees. "Consumers are very sensitive to risk right now. There's a desire to minimize their exposure to it wherever they can." Rose, whose company conducts consumer attitude and behavior research and publishes the results in its Yankelovich Monitor, says that when it comes to eating out, consumers "don't mind trying something new, but they want to know something about the brand and order from a menu that provides choice, but not at the expense of value."
"There's no question that consumers have by and large traded down from, say, steak to burgers," says Darren Tristano, executive vice president of Technomic, a research company that tracks the food industry.
"Customers are dining out less and being more conservative when they spend," agrees Steve Romaniello, managing director of Roark Capital Group, the Atlanta-based private equity firm invested in 19 different franchise brands, and always on the lookout for more. "Perhaps more importantly, I think this could be the start of a longer-term trend that consumers are becoming more selective in their spending and more aware of value." Essentially, he says, "Consumers want value, consistency, and quality, and they want franchise brands that scream this."
This value-based shift has affected most other franchise sectors as well. As you might expect, demand has waned for the less "essential" franchise concepts (travel, pet services), which have taken a hit as consumers have been forced to tighten their belts. However, basic services (home repair, maintenance, cleaning) are poised for growth and will likely be strong players in the new economy.
Here's the skinny. Service, value, consistency, and quality are recurring themes for most consumers these days and should be at the core of the franchise brands you operate or are considering. Below, gleaned from our discussions with industry and business experts, are some key areas and opportunities to consider adding to your "favorites" list as you look ahead to an improving economy.
Health and senior care
Health care for an aging population has been on the radar screen for years now. The trend has far-reaching effects. There are some 40 million senior citizens in the U.S. right now, a figure estimated to double in the next two decades as Baby Boomers age. That's creating a huge opportunity, only some of which can be filled by the numerous franchise brands that have arisen to serve this growing, relatively affluent population.
"There are a couple of different sectors we're examining for opportunities right now," says Romaniello, "and healthcare and wellness is definitely on that list."
"People want to monitor their health more closely than ever," says Rose. "They desire to be tuned into their own wellness, and many have a do-it-yourself mentality about their health." He says franchise brands that cater to the mental and physical health of the aging population are great opportunities for operators seeking to expand.
Eric Stites is president and CEO of Franchise Business Review, a market research firm that measures franchisee satisfaction. "Senior care has been on the hot list for the last five years now and this need will remain for many years to come," he says. It's why, he says, senior care franchises including Right At Home, Home Instead, BrightStar, and Synergy Homecare are all good models that should remain in demand.
Research indicates that today's seniors seek to remain in their homes as long as possible. Further, says Stites, senior care franchises offer a relatively low cost of entry, low overhead, and can offer high revenue potential--although, he cautions, it's a labor-intensive, often 24/7 business. However, real estate expenses are generally not a part of the equation when considering a health care-related brand, he says. "These concepts can often be operated without having to purchase land or real estate."
Food
People have to eat, like to eat out, and continue to spend on takeout food when pressed for time. And even if they trade down or go out less often, food will always be a part of the foundation of franchising. Pizza, better burgers, and wings should remain strong franchise concepts, says Tristano. He also says that brands requiring or allowing a smaller space (500 to 3,200 square feet) are great low-cost entry points.
Tristano says better burger concepts, such as Five Guys Burgers and Fries, Smashmouth Burgers & Pizza, and Mooyah Burgers & Fries, offer a step down from pricier restaurants, but a step up from fast food burgers. "Better burger concepts are successful right now because they have a narrowed menu focus. They just stick to burgers, a premium focus, and quality products," he says.
Pizza, says Tristano, a perennial franchise staple because of its steady consumer demand, offers franchisees "a lower cost of capital investment compared with full-service and larger units." Wings, he says, also remain in high demand. "The segment is experiencing growth based on flavor profiles and great takeout opportunity." Some traditional casual dining is struggling, he says, in part because of years of over-expansion: "too many options in upscale casual dining (above) and fast casual (below)," he says.
Stites says food franchising remains a good business for many, but points out that it tends to be complex and expensive to get into. "Some of the brands that have gotten high franchisee satisfaction scores in our surveys are Auntie Anne's, Papa Murphy's, Bruegger's Bagels, and Einstein Bros."
Romaniello says when Roark considers investing in food franchises today, the company is looking in the "fast casual" sector with its eye on "environment, food quality, value, and brands that allow consumers to customize or build their own." He says today's health-conscious consumers are also a factor because they are looking for fresh and healthy food alternatives.
Children
Franchise concepts that cater to the needs of children have become quite popular, industry watchers agree. Dual-income family demands continue to squeeze parents for time, yet they still want to provide opportunities for their kids. As a result, we've seen an influx of franchise concepts that provide basic childcare, educational, and youth sports and fitness opportunities.
Stites says working parents today are desperate for help in caring for and educating their children. "More and more schools have cut back on their recreation programs and facilities, making children's services even more in demand," he says, adding that franchise brands such as Mathnasium, JumpBunch, and TGA Premier Junior Golf are solid performers in this sector.
"The education sector is an area we certainly have our eye on," says Romaniello.
Home improvement and services
Coming out of the Great Recession, many people are happy to stay put in the old homestead. Maybe just a new coat of paint here, or a minor remodel there, and all is well. That's why franchise brands that provide home improvement services, painting, electrical, plumbing, etc., should be another sector for sustained franchise growth. Says Johnson, "Home services is a sector that should be strong. More people are saying, 'Let's just keep the old house and fix her up a bit.'"
Commercial cleaning
Based only on the numbers of new units opened during the past year in this sector, commercial cleaning franchises are, well, cleaning up. Seven of the top 10 fastest-growing brands on the most recent Entrepreneur magazine's Fastest-Growing Franchise list are in the commercial cleaning business. It's a sector worth investigating.
Other trends
In addition to the economic and demographic changes discussed above, franchise brands also should be sensitive to the underlying social and cultural trends that are driving change across all market sectors and the brands that compete in them.
Technology. Advances in technology keep marching on--a good thing, since these developments generally help save time and increase efficiencies. Nowhere is this more evident than in brands that cater to consumers' technology needs.

Romaniello says Batteries Plus is an example of a brand a perfect position for sustained growth. "With the proliferation of electronics and gadgets that are battery-driven, this place is a one-stop shop for consumers," he says. Other concepts fill similar niches, such as Cartridge World and CMIT Solutions. Technology-based and computer-related repairing, training, and consulting should remain strong for years to come.
Beyond brands that deliver technology solutions are those that make effective use of technology to deliver other kinds of products and services.

"Gen X and Y are tech-savvy, and they want to be served and do business with companies that can meet them on those terms," says Stites. "Look at how smartphones have changed the way people do business, and we still are just on the edge of how brands can use social media tools to benefit their business." Brands actively using technology effectively include Tasti-D-Lite, Jack in the Box, and BrightStar, he says.

Tristano agrees that brands incorporating technology effectively gain an edge. "Takeout and delivery are becoming more prevalent with online ordering and technology-enabled marketing, coupons, ordering, and locations on most phone apps," he says. Look for brands that are technology leaders, or that use it to help expand their brand.
Conversions. This increasingly popular method of growing a brand's unit count allows independent business owners to hitch their wagon to a franchise system, with the result that everyone benefits. The business owner gains instant brand recognition, marketing support, and buying power, and the franchisor gains an instant royalty stream from an experienced operator with a customer base.

Typically, conversions are easier to finance than new units because of their existing revenue stream and the brand recognition and proven model of the franchisor. Some of the trendsetters in this segment have been Gold's Gym, 7-11, Checkers/Rally's, Maaco, and Meineke.
Mobile food. Perhaps it was only a matter of time before our fast-paced, on-the-go culture began demanding that food join them. That's just what Rose has been seeing in the Los Angeles area. "The popularity of mobile food trucks has just exploded out here," he says. "I think this is just another function of our mobile culture. I think franchisors and franchisees should be asking themselves, 'Am I everywhere I need to be?'" He says social media tools are a great way for these mobile-based services to let their customers know where they are any time of day.

This mobile trend can also alleviate the need for real estate and other significant brick-and-mortar costs. Watch for more mobile food concepts like Sauca, out of Washington, D.C., and ZooHoo's Eatery in Vermont.
Co-branding. Be it in the same facility or next door, co-branding is a smart strategy and should remain effective in the years ahead. Tristano says this strategy can be a smart decision because it spreads risk and provides additional marketing and day-part opportunities. "You can save rent, among other things, when you couple a sandwich shop like Subway with a dessert destination like Cinnabon."
Green is here to stay. Though not new, green/organic/recycling-based franchising initiatives are likely to remain solid and continue to grow. There's a strong cultural demand for environmentally friendly products and services. Subway, a favorite franchise on numerous lists for years now, has begun serving salads in partially recycled salad bowls, and uses redistribution centers that bundle the supplies franchisees need more efficiently so full truckloads can deliver them.
Making your move
Multi-unit franchisees eager to pull the trigger on expansion and growth are likely in a good position to do so, the experts agree. Many have the capital to structure the financial ends of the deals, and they usually have the infrastructure to run a larger operation.
If they can self-fund, their options are a little more open, says Stites. Otherwise, "It's still a little tough to get money out there, which can explain why many new and established franchisees are looking for lower-investment franchise opportunities." If they don't have the capital needed to build new units or acquire additional units, many are considering a private equity partner (see page 58).
Beyond looking for brands that offer consumers good value, says Tristano, "Look for a concept that's not well-established in your area or territory." He says franchisees should be looking for strong sales performance by sector, "and, more importantly, unit growth that will indicate niche opportunity in smaller sectors like better burgers, fast-casual Italian, and bakery-cafe."
Rose says that today's consumers want open, honest communications, and he emphasizes the importance of transparency. "Take Domino's, for example," he says. "They've used their latest marketing efforts to show consumers exactly what they're doing. What you see is what you get. Look for brands that have this appeal."
Says Stites, "When you're considering other brands, you want to know how the existing franchisees are doing and how the franchisor treats the existing franchisees." Is there a cooperative and supportive culture among the franchisor and its franchisees? Critcal food for thought, he says.
It's important to keep your finger the pulse of trends through trade publications, industry and financial news sources, and demographics experts, says Tristano. But as Stites reminds us, "It's just as important to find something you enjoy doing, that you're passionate about."
Consumer Attitudes Drive Brand Favorites
Jim Carroll keeps his finger on the pulse of the world around him, particularly its future. He is, after all, a futurist who identifies business and cultural trends ranging from technology and business model changes to innovation, global challenges, and growth. Carroll's client list includes Northrop Grumman, Visa, Rockwell Collins, Lincoln Financial, and the Walt Disney Corp.
In advance of his April 28 keynote speech at the Multi-Unit Franchising Conference, we asked Carroll for his take on the fast-evolving consumer, technology, and franchise business environment. He outlined five key areas for multi-unit franchisees considering new brands to add to their organization's portfolio.
Paying attention. Consumers today face more stimuli competing for their attention than at any previous time in history--computers, the Internet, cell phones, video games, etc. Carroll says today's interactive world demands franchisees be engaged in all media. "Marketers must work harder than ever to capture the attention of the consumer and make a connection. Brands must keep up with the pace of consumer change in order to stay relevant," he says.
Changing family dynamics. There's a new definition of family in the United States and it's no longer nuclear. Successful franchise brands must respond to today's changed marketplace. "Hyper-nicheing is the new brand reality as the market becomes more specialized and fragmented. Marketers can no longer rely on preconceived segmentation strategies, but rather need to think differently about who they are trying to reach and how to reach them."
Under the influence. Celebrities and peers are influencing consumers more than ever in this age of social networking, and are looked to increasingly for advice and brand recommendations. "Social networks are the new brand influencers, and marketers must find ways to connect with consumers who are highly influential in their peer groups."
Shifting behavior. Socioeconomic shifts are affecting consumer behavior as tastes and preferences continue to evolve. "Faster-paced preference change is the new reality, and brands must be nimble to keep up with consumer demand."
Rapid deployment. New products and innovation are being brought to market ever more rapidly, often with the help of "crowd-sourcing" from their customers. Brands, products, and services must keep up or be left in the dust. "Time to market and corporate agility are the new capabilities to focus on," says Carroll.
Published: June 10th, 2011
Share this Feature
Recommended Reading:
Comments:
comments powered by

Disqus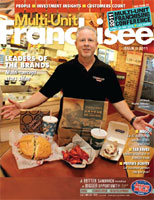 Multi-Unit Franchisee Magazine: Issue 2, 2011
Subway has new and existing franchise opportunities available for experienced multi-unit franchisees. Build your portfolio with a globally recognized...
Cash Required:
$100,000
Our core mission is to nourish, nurture and inspire healthy communities by giving back and creating value.