Rushing Ahead: Former NFL Running Back Scores with Bojangles'
Tshimanga "Tim" Biakabutuka, born in Kinshasa, Republic of Zaire in 1974, came to the U.S. with his family when he was just 6 years old. The family settled in Canada, in the Montreal area. Adapting to a new country and culture meant a lot of adjustments for him and his family, but they made the transition and built a new life for themselves. And, it turned out, the young boy had a hidden natural gift that was just a few years from being revealed.
Biakabutuka never played football until he was in high school. That's when he discovered he could run with a football and was good enough to earn the nickname "Touchdown Tim." His on-field abilities landed him a scholarship at the University of Michigan where he was a running back from 1993 until 1995. Drafted by the Carolina Panthers in 1996, he carried the ball for the NFL team for six seasons. He was ultimately plagued by injuries, and when football ended for him in 2001 he knew it meant the beginning of something new.
Optimistic and a hard worker, he found a mentor who pointed him in the direction of franchising: Carolina Panthers owner Jerry Richardson, a former NFL player himself, who caught a touchdown pass from legendary quarterback Johnny Unitas in the 1959 NFL Championship game. After his own, brief NFL career, Richardson opened the first Hardee's franchise in 1961, and knew the kind of success that could be found in the business. He also knew it wasn't always easy and advised Biakabutuka on both the risks and rewards of franchising.
"He had partners involved with the Bojangles' brand and thought it might be a good fit for me," says Biakabutuka, recalling the start of his post-football entrepreneurial phase. But, he's quick to say, operating a business is not easy, just as Richardson had warned. "Being in business is tougher than football. You have to be humble, willing to learn, and not afraid to get your hands dirty," he says today. Owning a business is certainly different than performing on the gridiron, says Biakabutuka, but he sees similarities too, including hard work and persistence. On his path to success, he says, he has had lots of support and learned from his own mistakes and from surrounding himself with good mentors.
Today, Biakabutuka's Threeone Corp. operates four Bojangles' locations in Augusta, Ga. He says he loves the teamwork, spirit, and camaraderie of franchising and hopes to keep building his company by continuing to hire right and excel at offering great customer service and quality food. "We have grown to four stores now and I'd like to keep it going," he says.
Name: Tim Biakabutuka
Title: Managing partner
Company: Threeone Corp.
No. of units: 4 Bojangles' Famous Chicken 'n Biscuits
Age: 42
Family: Married, two young girls
Years in franchising: 7
Years in current position: 7
Personal
First job:
Delivering newspapers.
Formative influences/events:
Father was a cheap taskmaster. He required quality work with poor tools.
Key accomplishments:
Surviving in business.
Biggest current challenge:
Finding the right area to open a new location.
Next big goal:
Average $2 million per store.
First turning point in your career:
Getting my first store to profitability.
Best business decision:
Not defaulting on debts even when times got tough.
Hardest lesson learned:
Not hiring the right attorney to review leases.
Work week:
6 days.
Exercise/workout:
Circuit training 4 times a week.
Best advice you ever got:
Hire the right people and be quick to let go of the wrong ones.
What's your passion in business?
Learning and people.
How do you balance life and work?
My wife makes sure I do.
Guilty pleasure:
Chocolate.
Favorite book:
The Pursuit of God by A. W. Tozer.
Favorite movie:
"Godfather I" and "Godfather II."
What do most people not know about you?
I am scared of heights.
Pet peeve:
Messy places.
What did you want to be when you grew up?
A businessman.
Last vacation:
Jamaica.
Person I'd most like to have lunch with:
Jesus.
Management
Business philosophy:
Be fair, understand the numbers, and execute the key business drivers.
Management method or style:
Define objectives and let the team use their own skills to get us there.
Greatest challenge:
Finding the right people and capital to expand.
How do others describe you?
Stubborn.
One thing I'm looking to do better:
Balanced life.
How I give my team room to innovate and experiment:
Empower them with clear directives and allow them to make mistakes.
How close are you to operations?
Daily communication with my managers. Weekly visits to the stores.
What are the two most important things you rely on from your franchisor?
System innovation and making decisions that keep the brand healthy and growing.
What I need from vendors:
Quick response and best prices.
Have you changed your marketing strategy in response to the economy? How?
I started in 2008 just when the economy was tough. I have kept the same strategy.
How is social media affecting your business?
You can't hide. Bad news travels even faster.
How do you train and retain?
Yearly reviews and continuous coaching. We never stop coaching.
How do you deal with problem employees?
1) Bring the issue to them as an adult. 2) Write it up if the issue continues. 3) Let them go.
Fastest way into my doghouse:
Lying and laziness.
Athletics
What skills or experience from sports have carried over to operating a business?
Hard work and a never-give-up mindset.
Which do you find more competitive, sports or business?
Both are in their own way. Business is much harder, in my opinion.
Why did you choose franchising as an investment option?
It was the best choice at the time. Franchising gives instant brand recognition with tested systems that give you a better chance to succeed.
How did you transition from sports to franchising?
I got into my first business venture, real estate, and then to franchising.
What was your greatest achievement in sports and what has been your biggest accomplishment as a franchisee?
Landing a scholarship at the University of Michigan when I was told I couldn't play Division I football. Remaining profitable year after year despite external challenges.
Bottom Line
Annual revenue:
N/A.
2016 goals:
Grow same-store sales by 4 percent.
Growth meter: How do you measure your growth?
Transactions are our meter. You can grow sales by increasing prices. But transactions are the result of execution.
Vision meter: Where do you want to be in 5 years? 10 years?
In 5 years, 15 locations. 10 years? I tend to not plan that far out. It has led me to make bad decisions just to meet goals. I am very goal-oriented. I take it one year at a time and focus on maximizing what's before me.
How is the economy in your region affecting you, your employees, and your customers?
I came in during tough economic times so it's been the norm for me.
Are you experiencing economic growth in your market?
Yes, the military base in our area is expanding, bringing in an additional 1,500 jobs.
How do changes in the economy affect the way you do business?
Our price points are pretty good so we offer value at all times, regardless of the economy, which I believe helps.
How do you forecast for your business?
We plan a 4 percent price increase each year as a benchmark, but react on a weekly basis to sales numbers.
What are the best sources for capital expansion?
Capital is tough right now. The banks have the cheapest money but are still very tight on lending flexibility. The SBA has great options.
Experience with private equity, local banks, national banks, other institutions? Why/why not?
Smaller to medium-sized banks have worked best for me because of longstanding relationships. I have worked with private equity; they look for larger transactions.
What are you doing to take care of your employees?
We have various employee incentives, but more importantly have a culture of respect and have fun. Disrespectful people don't last very long in our company.
How are you handling rising employee costs (payroll, minimum wage, healthcare, etc.)?
We are continuously trying to find the best ways to absorb the rising costs without going out of business. But it's not easy.
How do you reward/recognize top-performing employees?
Employee of the month, but most importantly, a lot of recognition such as: "Thank you. I appreciate you being part of the team."
What kind of exit strategy do you have in place?
The business is always for sale; the real estate is not for now.
Published: August 18th, 2016
Share this Feature
Recommended Reading:
Comments:
comments powered by

Disqus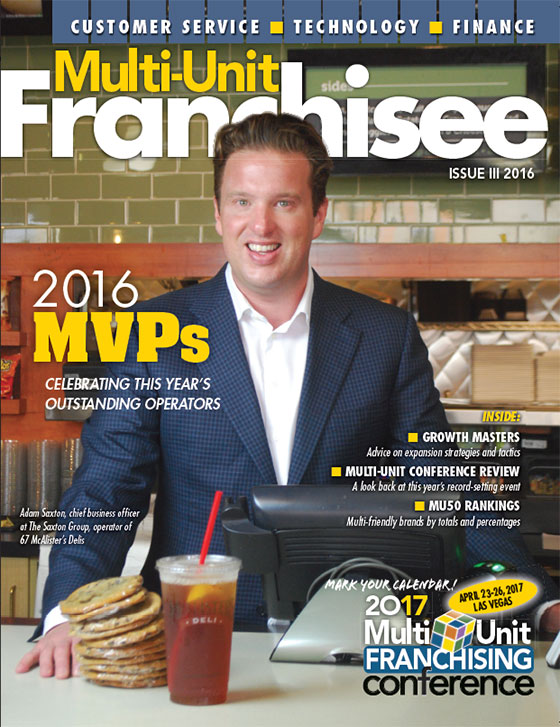 Multi-Unit Franchisee Magazine: Issue 3, 2016
Discover franchise opportunities with one of the world's largest chains of ice cream specialty shops.
Cash Required:
$100,000
Re-Bath is the nation's largest full bathroom remodeler. Customers know it as a one-stop shop, providing remodels from design to done.
Cash Required:
$50,000