Single-Minded Couple: Papa Murphy's Is Their Brand Of Choice!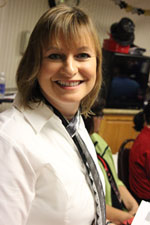 When Pam Wolfe began operating Papa Murphy's Take'N'Bake Pizza franchises 15 years ago you could almost always find her in the company kitchen, kneading, chopping, and shredding the fresh ingredients made daily for the pizzeria, known for its take-and-bake, made-to-order concept.
"It's a great day when you can make pizzas all day long," says Wolfe, 46. "That is the fun part." However, she adds, "Papa Murphy's is very physical. We make our own pizza dough and cookie dough and everything else at the store. It is a labor-intensive business, but sometimes people don't think about that. You can't get into Papa Murphy's and assume someone else will run them and you will make a lot of money."
Wolfe still loves to cook--at home--but these days she has left the pizza-making to others to focus on running the company with her husband Jim. In their first year of business they opened three stores, and today their companies, PJC Corp. and Eflow, Inc. in Savage, Minn., operate 15 units throughout the state, recording annual revenues of more than $8 million.
For Wolfe, the journey working with her husband of 25 years has been a labor of love. When the couple decided to jump into the world of franchising with both feet, and together, they knew exactly which brand and business model they wanted, and what to expect. Wolfe's in-laws had owned two Papa Aldo's Pizza units, and Jim had spent some time managing one of the restaurants.
Papa Murphy's traces its roots back to 1981, when the Papa Aldo's chain was born in Hillsboro, Ore. Papa Aldo's Pizza would later merge with Murphy's Pizza, creating the Papa Murphy's brand in 1995. Currently, Papa Murphy's is the largest take-and-bake pizza company in the world and the fifth-largest pizza chain in the country, based on number of U.S. locations.
Papa Murphy's may be a different restaurant animal than fast food, but Wolfe is no stranger to the sweat equity required. She credits her first job at Burger King at age 16, and a boss that brought out her best, for her strong work ethic and savvy business foundation, which also includes service and management experience at McDonald's.
At Papa Murphy's, she thrives on being in charge of operations and marketing, while Jim, who has a corporate background with a major insurance company, is the risk-taker. Jim, she notes, is skilled in building business relationships and focuses his expertise on the development and financial side of the business.
The couple look for strong character in their employees and believe that honesty and integrity go a long way in running a successful business with happy employees. "We are strong in faith and our church. That is all character and part of who we are, and we try to carry that over into our business," she says. "This focus helps people want to stay here longer, who want to do what is right." She points to two area supervisors who have worked for them for 9 and 10 years as one example.
Looking ahead, the couple hope to have a bigger slice of the pizza market with the addition of three to five more Papa Murphy's. "We don't want to do anything else, and we want to do it well," she says.
Wolfe projects that the bigger they are, the better the financial benefits that will ultimately allow for a comfortable retirement down the road. In the meantime, you can bet the Wolfes, who have a 27-year-old son, will continue to balance work and play (think travel and golf).
"I can't imagine having it any other way," she says. "We love working together. We divide our responsibilities and love being together every day."
Name: Pam Wolfe
Title: Franchisee
Company: PJC Corp., Eflow Inc.
No. of units: 15 Papa Murphy's
Age: 46
Family: Married, with a 27-year-old son
Years in franchising: 15
Years in current position: 15
Key accomplishments: Opening 15 stores.
Biggest mistake: If I had it to do over again, I would geographically place our stores closer together, but I don't consider it a big mistake.
How do you spend a typical day? Working with my leadership team on day-to-day operations.
Work week: Overseeing operations and P&L management.
Favorite fun activities: Traveling and golfing with my husband Jim.
Exercise/workout: Not enough.
Favorite tech toys: iPad.
What are you reading? Psalms.
Do you have a favorite quote/advice? "The product is the hero."
Best advice you ever got: Be honest.
Formative influences/events:
I started my food service management at Burger King under the owner, Ray Veronte, and worked for him for seven years. Ray invested time in training me, was harder on me than anyone else, and held me to a higher standard. That early foundation is what gave me the talents and strengths to become a leader, and is a big part of what got me where I am today.
How do you balance life and work?
Papa Murphy's is a great business model, which provides a comfortable lifestyle and opportunity to enjoy life as well. My husband and I make it a priority to manage our business well and still have a quality personal life apart from that.
Management
Business philosophy:
Run our business with honesty and integrity and train up leaders with the same vision and values.
Are you in the franchising, real estate, or customer service business? Why?
Franchising. Franchising was a great business opportunity.
As an operator, what are the two most important things you rely on from your franchisor?
First, we rely on the franchisor to provide us with a great marketing direction to build sales gain market share; and second, to continue to provide a business model that is profitable and opportunities to expand.
What gets you out of bed in the morning?
Our dogs. We have two toy poodles, Jazzy and Lucky.
What's your passion in business?
Being business partners with my husband Jim. We love being Papa Murphy's franchisees. We find it rewarding to build a good team of leaders.
Management method or style:
Consultative.
Greatest challenge:
Recruiting managers. We have a tough time being competitive in wages in the foodservice industry. Most foodservice managers work more hours and have bigger restaurants and lobbies in which they serve on site. Papa Murphy's is an easier management position, but we can't always compete with benefits.
How close are you to operations?
All aspects of my day-to-day activities are operationally focused.
Have you changed your marketing strategy in response to the economy? How?
As our competitors have brought their price points down we have had to be more aggressive in our pricing.
How is social media affecting your business operations?
Papa Murphy's, as a company, is striving to implement social media in the best way possible to benefit our brand and our guests. We have used online banners, Facebook, text club, eClub (Papa Murphy's online coupon club), and other online couponing.
Personality:
I have a strong personality, confident and motivated, and make it a mission to always turn things into a positive.
How do others describe you?
Goal-oriented, productive, compassionate, and generous.
How do you hire and fire?
We use multiple recruiting options, Craigslist, Indeed, and Quest. We screen them with predictive profiles and we terminate them after addressing performance issues that continue to be unresolved.
How do you train and retain?
We use the Papa Murphy's training program. We have used DVD training with quizzes associated with each position that is the focus of the training. The crew member then uses a "One Bite at a Time" brochure to monitor each position. The trainee signs off on each item as they are being trained, and then the trainer signs off that they are proficient in the trained item.
How do you deal with problem employees?
Counsel and give them the opportunity to improve.
Bottom Line
Annual revenue:
Over $8 million.
2013 goals:
For our 15 stores to be leaders in the system in sales and growth.
Growth meter: How do you measure your growth?
Increased sales and guests over previous year.
Vision meter: Where do you want to be in 5 years? 10 years?
In 5 years, we want to be still building our company to have 18 to 20 locations. In 10 years, we would like to be retired.
How has the most recent economic cycle affected you, your employees, your customers?
To value our employees and our guests more and try and "wow" the guests every time they enter our locations.
Are you experiencing economic growth/recovery in your market?
We are seeing growth.
What did you change or do differently in this economy that you plan to continue doing?
New products and competitive pricing. We have to introduce new products three to four times a year to create news about Papa Murphy's, as well as attract new guests. We have also had to drop our promotional pricing.
How do you forecast for your business in this economy?
We project minimal increases.
Where do you find capital for expansion?
We have used the same lender for all of our locations, First Franchise Capital.
Is capital getting easier to access? Why/why not?
No, restaurant lending is still very tight and they require more down on loans.
Have you used private equity, local banks, national banks, other institutions? Why/why not?
Private equity.
What kind of exit strategy do you have in place?
We are just beginning to plan for that.
What are you doing to take care of your employees?
Incentives, raises, 401(k), tenure awards.
How are you handling rising employee costs (payroll, healthcare, etc.)?
Controlling all costs to maintain profitability. We have been bidding out all of our vendors and getting the best pricing in every category.
How do you reward/recognize top-performing employees?
Incentives, promotions, bonuses, and 5- and 10-year awards.
Published: October 3rd, 2012
Share this Feature
Recommended Reading:
Comments:
comments powered by

Disqus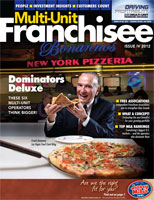 Multi-Unit Franchisee Magazine: Issue 4, 2012
810's mission is to bring there premium entertainment experience, traditionally available in large metropolitan markets, and makes it available...
Cash Required:
$550,000
Daddy's Chicken Shack believes in simple, high-quality ingredients with a lot of love.