Small-Town Operator Grows Big: 10 units opened in 2020 with 8 more on the way
Name: Sajib Singha
Title: Multi-unit franchisee
Company: Singha Group of Companies
Units: 8 Dairy Queen, 2 Captain D's (plus 2 in development), 2 Golden Chick, 2 Papa John's, 1 Schlotzsky's
Age: 39
Family: Wife Aparna Dey, two sons 4½ and 1½; my brother-in-law, mother, and mother-in-law also live with us
Years in franchising: 10
Years in current position: 10
Covid-19 had a silver lining for Sajib Singha. The Texas-based multi-brand operator saw revenue for his 5 brands grow by 20 to 30 percent in 2020. That wasn't all: the 39-year-old also managed to open a new restaurant nearly every month last year. "We are very blessed to have drive-thrus at most of our units and to be in the fast casual segment," he says.
No one can question Singha's work ethic. He's proud to say that he's always worked two jobs. Early in his career, he was working part-time at JPMorgan Chase Bank while also working full-time for KFC. He climbed the ladder from shift manager to operational manager at the chicken brand during a decade of learning the ins and outs of franchising. In 2012, he signed on for his own Golden Chick restaurant.
"The transition was hard at first, giving away part of my income to invest in my own dream," he recalls. But he had a knack for operating restaurants and began his growth trajectory. Today his Singha Group of Companies operates 8 Dairy Queens, 2 Captain D's (with 2 more in development), 2 Golden Chicks, 2 Papa John's, and 1 Schlotzsky's.
Small towns in Texas are Singha's bread and butter. When he added Captain D's to his portfolio last year, he opened locations in Bonham and Mount Pleasant. "We are planning to remodel a Jack in the Box in Gun Barrel City and convert it into a Captain D's," he says. Late last year he executed an area development agreement with Fazoli's to open 3 locations, with the first slated to open in the second half of 2021. And he says there's more to come: he expects to continue opening and operating locations in small towns across Texas over the next several years.
Though he's planning to open additional units among all his brands in 2021, he tempers his ambitions with a simple analogy. "When you still have food on the plate, don't go back to the buffet," he says. "I opened 10 restaurants in 2020 and plan to open 8 more in 2021. While I'm fortunate to experience success, I need to pace myself when it comes to new development. Growth is tough, but even harder to sustain."
PERSONAL
First job: My first job in franchising was with KFC. I was with the company for 12 years and worked my way up from shift manager to general manager.
Formative influences/events: My self-driven tireless work ethic and determination have had a huge influence on our growth. Additionally, I am grateful to Yum Brands for giving me my start on this path. That initial position allowed me to raise funds and invest so that I could have enough working capital to build my franchise network today.
Key accomplishments: When I officially got into being a franchise owner at Golden Chick. I purchased a resale unit and gathered some business partners to assemble a team. I am a restaurant owner at heart and had the motivation to build that one unit into 8 Golden Chicks, which turned into an opportunity with additional real estate investments. Now our network has about 15 units focusing on small towns across Texas.
Biggest current challenge: Because of the pandemic people aren't dining in as much. But we are very blessed to have drive-thrus, and we take advantage of them as much as we can.
Next big goal: Building up my franchise network in 2021! My company focuses on development across Texas. I recently added Captain D's to my portfolio and opened two new locations, in Bonham and Mount Pleasant within just four months of each other. Next, my business partners and I are planning to remodel a Jack in the Box in Gun Barrel City, Texas, and convert it into a Captain D's, and we are looking to open additional locations in McKinney and Paris over the next several years.
First turning point in your career: I've always worked two jobs. When I got my start at KFC, I was also working at JPMorgan Chase Bank. Eventually, I switched to part-time at Chase and was ready to lean into my own venture. The transition was hard at first, giving away part of my income to invest in my own dream. That moment was pivotal in my career shift, with everything riding on the performance of my locations. Looking back, it definitely all worked out!
Best business decision: Going into franchising! I love to meet people and make them smile. They might be having the worst day, but if I'm at my restaurant I go out of my way to make sure they receive the best service and care. Our day-to-day interactions can really make all the difference, which is why I feel passionate about customer service.
Hardest lesson learned: Learning that when you still have food on the plate, don't go back to the buffet. That's the analogy I use. For example, I've opened 10 restaurants in 2020 and plan to open 8 more this year. And while I'm fortunate to see all this success, I also need to pace myself for the development to come. Growth is tough, but even harder to sustain. I remind myself of this every day with my business partners. Learning about work-life balance is also important.
Work week: My week is pretty crazy, but I love every second of it. My wife will tell you that! I work almost every day most of the day, but I do take Sundays off. That is important to me, and I found the flexibility to control my schedule in franchising.
Exercise/workout: I try to incorporate a one-hour walk at night into my schedule. Since my businesses close at night, it gives my wife and me a chance to take a stroll and exercise after our busy day.
Best advice you ever got: To be punctual. It makes a difference in life. I also hate procrastinating.
What's your passion in business? People. I take great pride in managing and developing people. I have had a lot of crew members working with me for the past 10 years and sticking by my side. I feel very fortunate to have them, so I go out of my way to take care of those folks.
How do you balance life and work? Unfortunately, I don't at the moment but it's something I'm working on. Between a 60- and 70-hour work week, I want to be there for my kids as much as I can, but I am also work-oriented and want to ensure a secure future for my family. One of the things I love most about franchising is that it allows the flexibility to involve your family in the business, so I'm hopeful my kids will join the legacy one day.
Guilty pleasure: Eating sweets! I'm not picky.
Favorite book: God of Small Things by Arundhati Roy.
Favorite movie: Anything with Denzel Washington.
What do most people not know about you? Many people see me as flexible with a soft demeanor, which is an aspect of my personality. But once you really get to know me you learn more about the decisive business mind inside.
Pet peeve: When clothes don't fit properly.
What did you want to be when you grew up? I wanted to be successful. I grew up in Bangladesh in a middle-class family. We are two brothers and one sister. In school, I was always on top of my class, striving for more. I was also work-oriented, and at 16 got my first job privately tutoring my classmates. By my early 20s I quite literally won the lottery—the immigration lottery—and earned the amazing opportunity to get a working visa and come to the United States. From there, I worked hard and didn't take one moment for granted.
Last vacation: I went to Washington, D.C., and got to see all of the historic sites.
Person I'd most like to have lunch with: This answer may seem a bit odd, but my business partners! I like to learn a lot and I feel that, together, we exchange the most interesting ideas. It's always a pleasure and I can't get enough of it.
MANAGEMENT
Business philosophy: No matter how many brands and locations I own, I want each restaurant to be successful. Make sure the brand image is aligned, that we're growing into the right markets the right way, and doing right by our employees.
Management method or style: After we reach a certain number of locations with each franchise, we introduce above-restaurant-level management to properly manage and monitor the restaurants. I'm very hands-on, evaluating daily reports from each location and making frequent visits.
Greatest challenge: Finding the best people. It's important to have the best staff possible to best represent your brand in a competitive hiring market.
How do others describe you? I am pretty easygoing and very supportive.
One thing I'm looking to do better: I need to get organized with my business ventures and delegate as we grow.
How I give my team room to innovate and experiment: For example, our marketing team works on a very local level using grassroots tactics. We experiment with a variety of these tactics, get the right feedback, and gather thoughts to keep our finger on the pulse of what's trending. I believe it is important for a business to be involved and know its neighbors, especially in a small town.
How close are you to operations? Very close and I'm pretty hands-on. We discuss numbers every day and look for opportunities to do things better.
What are the two most important things you rely on from your franchisor? The training support is a very important part to get restaurants up and running. For example, opening our first Captain D's restaurants this year during the pandemic might have seemed like a challenge on the surface. However, my experience could not have been smoother, proving that the right system in place allows for a well-oiled machine under any circumstance. Additionally, marketing is a huge contributor, particularly on a local level, and as you grow into new markets like the small towns we're growing in.
What I need from vendors: I need them to be easy to work with. Flexibility with delivery time, quality, and service is important. I also would like my franchisors to negotiate the best rates for us with our vendors.
Have you changed your marketing strategy in response to the economy? How? It has changed a lot because people have a tighter budget this year. Therefore, we try to provide the best value for our products and showcase that in our marketing. We've narrowed in on local marketing and grassroots efforts. For example, we implemented punch cards that would be valid across all of our restaurant brands. Once completed, the individual will get a coupon toward one of the many restaurants we operate.
How is social media affecting your business? Social media, especially Facebook, is very big in small towns. We can boost local promotions that way, as well as on the website for additional visibility. It's working out great.
How do you hire and fire? Small towns are easy to hire in. Sometimes, we'll set up chairs, a table, music, and just have walk-up opportunities to chat about positions. For bigger markets, we look to social media and job hiring sites. As for firing, we give out two warnings, which are write-ups. If the person hasn't improved, we have to let them go.
How do you train and retain? We handle training at the store level aligned with each brand. Management tends to be certified by the franchisor. To retain, we offer competitive and fair wages, a flexible schedule, and an understanding environment.
How do you deal with problem employees? As I mentioned, we offer two warnings. Third strike and you're out. That's not to say we don't try to work with employees. I feel second chances are important, which is why we offer opportunities to improve. But if the relationship isn't working, sometimes it is best for everyone to move on. Most of the time we find people are willing to improve and earn their paychecks.
Fastest way into my doghouse: Attitude makes all the difference in life. If a person just doesn't want to improve, there isn't much more we can do for them.
COVID-19
What are the biggest impacts of Covid-19 on your business? Surprisingly and fortunately, this year has been very positive for us. We've seen 20% to 30% revenue growth since Covid-19 hit. We are very blessed to have drive-thrus at most of our units and to be in business within the fast casual segment. This success allowed us to open a restaurant about every month last year.
How have you responded? We've enhanced our health and sanitation practices with professional cleanings, shut down our dine-in lobbies, and concentrated on the speediness of our drive-thrus. With our focus on the off-premises piece of our business, we looked for ways to serve our food faster and more efficiently. We also kept an eye on our employees and maintained a transparent atmosphere so that they knew to take precautions and time off, especially if potentially exposed to Covid-19.
What changes do you think will be permanent? Social distancing is here to stay for a bit longer. People realized they can work from home, got accustomed to drive-thru and off-premises dining, and now expect delivery options.
BOTTOM LINE
Annual revenue: About $15 million.
2021 goals: I hope to open 8 to 10 more stores and to stay on track with timelines.
Growth meter: How do you measure your growth? We focus on development. Growth is good, but hard to sustain. We are vigilant that while we are growing, we are also maintaining successful locations.
Vision meter: Where do you want to be in 5 years? 10 years? Hopefully introducing our brands into new markets across Texas, as we have with Captain D's this year. In 5 years, we're looking to open 25 to 30 more locations across our portfolio while maintaining quality product and service. We're so busy now I'm not even thinking that far ahead into 10 years!
Do you have brands in different segments? Why/why not? We have a brand in each food segment, from fried chicken to seafood to pizza. We felt diversification was the way to go. Captain D's is a great example of that. They're the leader in their segment and the only viable fast casual seafood brand. Also, their better-for-you products and the breadth of their menu are the way of the future, along with added-value products. Diversification has always been important to my business partners and me. In 2015, we began to open what we called a "dual cap," two restaurants conjoined in one building side-by-side. By doing that, we were able to maximize use of the property and eventually went on to triple capping. These are massive operations, especially in a small town where we are able to employ about 70 people in one plaza. It makes a statement and helps our community. Real estate is also important to us. Captain D's stays ahead of the game in this area, offering extremely flexible prototypes and development options.
How is the economy in your region affecting you, your employees, your customers? For Texas, the state seems to be doing very well economically. It has been a booming hub in the country for the past few years. A lot of real estate investors are pouring projects into our cities and, as a result, a lot of people are moving here from other states.
Are you experiencing economic growth in your market? Yes, multiple land developers are moving into the state and are creating opportunity for retailers, restaurants, multi-family developments, golf courses, and more. We are extremely fortunate to have this going on around us.
How do changes in the economy affect the way you do business? More people means more bellies to fill. A new population is interested in new restaurants, and from there we focus on retaining our customers.
How do you forecast for your business? We look at what's happening locally in our small towns and want to be a part of the conversation. We also keep in mind same store sales growth and population growth.
What are the best sources for capital expansion? All of our ventures are from private investment funds from our small pool of partners. We also consult regular financing options like banks.
Experience with private equity, local banks, national banks, other institutions? Why/why not? We prefer local banks out of all options. We want to be a part of each local community we operate in because a financial relationship ends up going a long way. We also find we have better approval rates with small banks and are more comfortable with one-on-one interaction.
What are you doing to take care of your employees? We want them to know we're there for them in a rough patch. We know everyone has been affected this year. If they are running behind on bills or are down on their luck, we give them financial advances or loans. We see it as an investment. A happy employee translates to a productive employee who is just as invested in the business as we are. This mentality trickles down to a happy customer.
How are you handling rising employee costs (payroll, minimum wage, healthcare, etc.)? Although minimum wage didn't increase in Texas, we continue to adjust our wages to the cost of living as it increases.
What laws and regulations are affecting your business and how are you dealing with this? Small businesses get taxed from all angles, but it is what it is. We do things the right way and know that is the way it must be operated. We budget for it in our game plan.
How do you reward/recognize top-performing employees? Most people are hurting financially right now, so every quarter we grant our top-performing employees rewards and incentives such as gift cards or cash bonuses.
What kind of exit strategy do you have in place? We've always ensured a healthy relationship with each of our franchisors. We don't have any plans to exit right now, but if we decide to, we would seek additional opportunities with the brand outside of how we've been operating.
Published: February 9th, 2021
Share this Feature
Recommended Reading:
Comments:
comments powered by

Disqus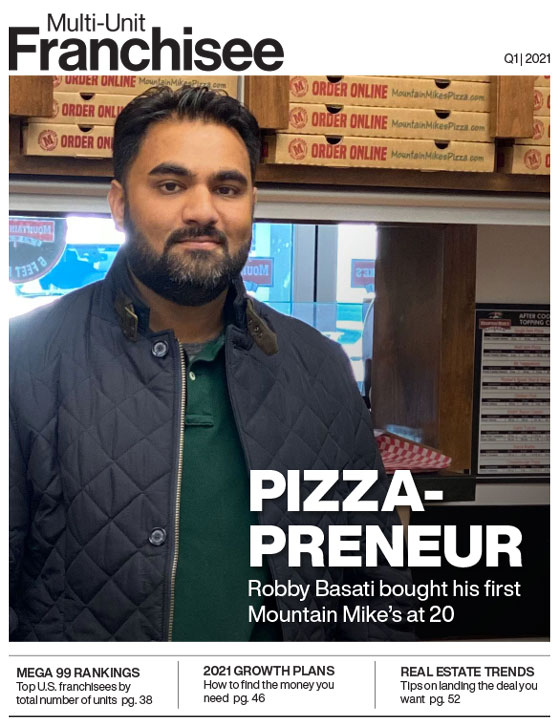 Multi-Unit Franchisee Magazine: Issue 1, 2021
As a fast-growing concept dedicated to serving fresh, cooked-to-order cheeseburger sliders, the Smalls Sliders franchise opportunity brings real...
At Celebree School, our child care franchise delivers a safe, nurturing, friendly, state-of-the-art learning environment that fosters a solid...
Cash Required:
$250,000