Sound Tactics For Managing Talent In Multi-Unit Franchising
The multi-unit operator point of view is more of building an organization. From real estate, capital investment and people development, it is a very different environment. And the people development is the most critical aspect for success.

A franchisor client recently said-and it is true for most organizations-"Everything in our business today can be copied by a competitor-except our talent."

All multi-unit operators are on the lookout for management talent, but rarely is this search easy. Many questions arise: Where do I find the people who can move our business forward? How can we attract them? How can I keep them once we are invested in their ability?

Top-level professionals are asking these questions because they realize that the ultimate goal of business today is not just growth-not just transactional sales-but building customer loyalty and long-term value. In a dynamic, changing environment, such as the kind we see with multi-unit developers, the ideal is to create an infrastructure of people who are flexible, adaptable, and positioned to grow in responsibility and value.

Caliper has found that there are core attributes shared by versatile employees in organizations world-wide, and that versatility, an attribute that can be assessed and identified rather than trained, includes a unique combination of creative problem solving skills, flexibility, confidence, and adaptability. Once versatile individuals are found, they need the chance to prove themselves and know that there is a reward waiting for them if they work hard. Clearly, in a multi-unit franchising environment, these rewards can include everything from recognition to promotions, monetary incentives, and stock options. The recent popularity of this method of brand expansion can do as much for the parent companies as it can do for its employees-when talent is selected and managed properly.

We have seen some of the best-run multi-unit, master and area development organizations and their parent franchisors support and employ best practices that fall under three general principles: planned selection, targeted development, and the careful design of teams.

Gary Occhiogrosso, vice president of franchise development for Desert Moon Fresh Mexican Grill, puts it perfectly when he says, "The multi-unit operator point of view is more of building an organization. From real estate, capital investment and people development, it is a very different environment. And the people development is the most critical aspect for success. If you're not building strong management teams, all the capital in the world is not going to help you if you don't have people to staff it and run it correctly."

Hiring and Selection - "Hire Right the First Time"

How often, after hiring someone who does not work out, have you thought to yourself, "But they looked so good in the interview?" While interviews can provide valuable input into the hiring process, they often confuse as much as clarify.

Planned selection is a systematic and efficient approach to match appropriate talent to a well-defined role, and is the process of matching the right person to the right job. It requires thoroughly understanding the job and the person under consideration. First and foremost, you need to know the qualities you are looking for in a particular position. Then, through valid personality testing and/or comprehensive behavior-based interviewing, you will be able to delve below the surface and get a clear understanding of an individual's strengths, limitations, and motivations.

Some innovative franchisors employ this practice in selecting franchisees. They want to know if prospects have the potential to be successful with one unit, or possess the dynamics that are necessary to manage a large growing territory. Multi-unit operators have a very particular skill set and combination of personality dynamics and motivations. They have to be able to coach and mentor those on their management team, and move them up when the time is right, as opposed to just directing them. It can be illustrated in the classic example of manager versus leader. Single-unit operators need a solid management make-up, while multi-unit operators need leadership dynamics to excel.

Many well-run franchise organizations have taken the time to define and study every job inside their operations, outline key tasks and related competencies, and train on innovative interview practices mapped to each role. These organizations understand that the ultimate success of their large operators is contingent on hiring right the first time and building a strong infrastructure to support rapid growth.

Targeted Development - "Right Talent, Right Place, Right Time"

What differentiates the powerful multi-unit and area developers from ones that are just getting by is strategic planning. Good strategic plans also involve human resource audits and succession planning. Solid, seasoned operators agree that the management team needs to make the appropriate investment of their time and resources to cultivate and strengthen the skills and abilities of the right people for promotions.

Occhiogrosso explains it this way: "As a multi-unit operator, the criteria that an operator should look for in a management candidate is loyalty and honesty, but beyond that, they should be slightly entrepreneurial, and you reward them by giving the employee a certain level of ownership in the business. And the managers have to know that they can move up within the organization, because no one wants to be stuck in a dead-end position."

As a developer, you can quickly assess if you have clear human resource planning. Do your key players feel valued and motivated by their career path? Are your associates clear about what it takes to succeed in their job? Are your people in jobs that play to their strengths? Are you retaining your top talent? Do you spend most of your time with top performers, or is your time absorbed by poor performance issues? Do your employees have clear developmental goals based on who they are and where they plan to go both inside and beyond your organization?

Targeted development is not only about succession planning. It is a commitment to continually expect top performance, raise the bar, and grow your people. It begins with understanding the fit between the person and the role, and measuring the gap between who they are, how they are performing, and the next level of productivity. Once assessed and understood, good coaching, mentoring, and feedback make a difference. When these practices are employed, your growth goals can be accomplished easier, because your people are with you, ready to seize opportunities as they arise.

Designed Alliances - "The Whole Is Greater than the Sum of the Parts"

Businesses, from start-up entrepreneurial firms and Fortune 500 corporations, tell us that, although there are many differences, the most successful companies do share one thing: An emphasis on creating new, more effective ways for empowering people to collaborate.

The importance of teams is sometimes forgotten in small but growing franchise systems. Often, the company may have the selection processes managed well, and even have clear, effective individual development plans in place, but does not realize maximum benefit. Why? Because the truth is that no job exists in a vacuum. People need to learn how to work together, form cohesive groups, and keep conflicts down and productivity up. This is the third and most challenging element of the talent-management equation.

Regardless of whether the team is made up of two founding partners, a married couple who owns a territory, or an executive management group, peak performance teams share a number of common characteristics:
They have a unified understanding and vision of the company's goals, objectives and future.
Each team member is keenly aware of his or her own skills, precise role and value to the team, as well as those of all the other team members.
Communication among team members is open, informal and on-going.

Clearly, to maximize your investment in human capital, there needs to be a focus on planned selection processes that do not end with the hire decision. There must be a focus on the development of staff in every role, and a commitment to build cohesive teams, all of which takes place inside a larger organizational commitment to build a uniquely distinguishable workforce. When organizations see their workforce as the competitive edge it can be, single and multi-unit operators system-wide reap substantial benefits.

- Mariel Miller is the vice president of franchise business development for Caliper, a Princeton, NJ-based human resources consulting company. She can be reached at 732-502-0384.
Published: October 25th, 2004
Share this Feature
Recommended Reading:
Comments:
comments powered by

Disqus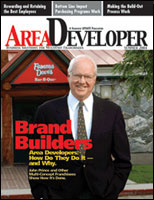 Multi-Unit Franchisee Magazine: Issue 3, 2004
With 500+ restaurants in development worldwide, Wayback Burgers is America's favorite hometown burger joint and one of the world's fastest-growing...
Cash Required:
$200,000
Hungry Howie's is currently EXPANDING! Top Markets are available for single or multiple unit development. Get the EDGE over the competition with...
Cash Required:
$200,000