Sports and God: Escaping Street Life for Success On and Off The Field
Jason Avant grew up on Chicago's notorious South Side where gangs, drugs, and violence are the norm. Abandoned by his mother and raised by his grandmother, he was eventually able to pull himself away from the oncoming dead-end path he was heading down. He credits "sports and God" for saving him.
"My grandmother and aunt both encouraged me to go to church and stay in school," recalls the 35-year-old. He did, and in high school got his first taste of organized sports on the basketball team. He was good. It turned out that his coach also led the football team, so Avant gave that a try. He spent his first year at fullback before finding his groove as a wide receiver. He quickly became one of the top players in Illinois and then in the country. The scholarship offers poured in and he chose the University of Michigan. During college, Avant was a Fred Biletnikoff Award candidate (given to the nation's top receiver), an honorable mention All-American, and received the Bo Schembechler Award as Michigan's most valuable football player.
Avant was drafted by the Philadelphia Eagles in the fourth round of the 2006 NFL Draft. He spent 8 seasons with the Eagles before closing out his career with the Carolina Panthers and the Kansas City Chiefs. His NFL career lasted a decade, during which he had 346 receptions for 4,118 yards.
Toward the end of his football career, Avant spent a summer working at a Launch Trampoline Park. "I fell in love with the business model and its potential," he says. The brand, co-founded by fellow University of Michigan football and NFL player Ty Law, turned out to be just the right post-football move. In 2015, Avant opened his own Launch Trampoline Park and has followed that up with two more.
One challenge Avant faced as he transitioned into the business owner world was micromanaging. "That stunts people's growth," he says today. "When I backed off it allowed their talent to show itself."
Avant is happy with his post-football life. Combining his passion, work ethic, and a great product, he says he's now had two winning careers.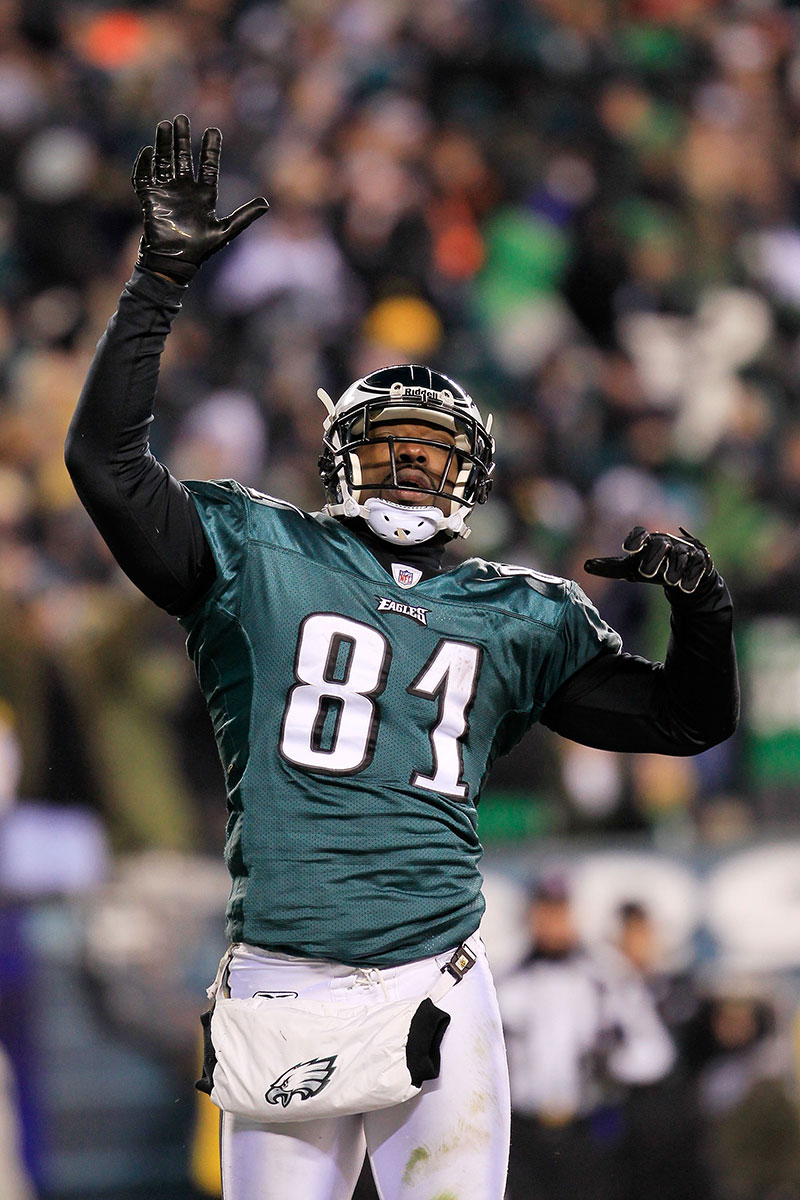 Name: Jason Avant
Title: Franchisee
No. of units: 3 Launch Trampoline Park
Age: 35
Family: 3 children
Years in franchising: 3
Years in current position: 3
Personal
First job:
Summer camp counselor.
Formative influences/events:
Attending the University of Michigan opened my mind to different cultures and philosophies. My grandmother and church instilled in me my values and morality, which are the foundation for all that I do. My coaches and sports taught me discipline, hard work, and how to admit my mistakes. It also taught me to think of myself less.
Key accomplishments:
Having happy, thoughtful, and respectful children. Realizing that I need God! Academic All-American (high school and college), Ed Block Courage Award Winner, Michigan Man Award, and Franchisee of the Year.
Biggest current challenge:
Balancing life. Business is about making money, but life is about your relationships with people. Making sure I don't allow business to steal what life really is about.
Next big goal:
I only have one goal and it never changes! Be the best person, business owner, dad, etc. that I possibly can be! That focus makes me hungry to learn more, examine myself daily, and eliminate distractions.
First turning point in your career:
Realizing that I micromanaged and by doing so stunted everyone's growth. Backing off allowed the talent to show itself.
Best business decision:
Opening a business in the city where I played professionally, and confining myself to a predetermined geographical area near my residence. My name recognition locally can get a customer into our store once. That's all we need because the product is so good! Staying near my businesses helps me to be in the parks every day. I have earned every dollar I've made. I can't expect employees to understand that, but I can show them because I'm around.
Hardest lesson learned:
Hiring for need and not for want. The right chemistry, service, and work ethic can be destroyed with a bad employee.
Work week:
Approximately 50 to 65 hours. Good thing I own a family entertainment business and my kids love coming to work with me!
Exercise/workout:
3 to 4 times a week. Vital to health, confidence, and family.
Best advice you ever got:
Hard work and preparation just needs an opportunity. Fear nothing, attack everything.
What's your passion in business?
The customer service aspect. It allows me a moment to not focus on numbers and contracts. It allows me to be a person, and the customers appreciate you being one of them. Figuring out how to cut expenses, but keep quality service is incredibly exciting as well.
How do you balance life and work?
My kids are my life. I work hard for them and better myself for them, so I bought a business that allows them to be with me at work.
Guilty pleasure:
Probably fruit snacks. I can go through 5 or 6 family-size bags in an hour!
Favorite book:
The Bible.
Favorite movie:
"The Dark Knight."
What do most people not know about you?
I'm very good at Scrabble, play the piano, and was a Division 1 basketball recruit.
Pet peeve:
None.
What did you want to be when you grew up?
A social worker and basketball coach.
Last vacation:
Two days to Punta Cana. It was a disaster when I got back, so I'll never vacation again! Lol.
Person I'd most like to have lunch with:
Joel Osteen or Barack Obama.
Management
Business philosophy:
Care about your staff, care about your customers, and have the best product.
Management method or style:
Don't ever expect. Explain everything three times or more. Allow employees to be themselves. I'm naturally a micromanager but I'm learning to give them space.
Greatest challenge:
Relinquishing control to my managers, who are more than qualified.
How do others describe you?
Most people describe me as humble and approachable.
One thing I'm looking to do better:
Bridge the gap more quickly between the office staff, bookkeeper, and accountant for my new parks. My first park took a while.
How I give my team room to innovate and experiment:
Sometimes I delegate the responsibilities and allow most to cross-train in other areas.
How close are you to operations?
Fortunately, I'm very close and make the operational decisions. Understanding what employees go through and the customer's experience is paramount.
What are the most important things you rely on from your franchisor?
Brand awareness, reduced prices from vendors, marketing, and experience in our industry!
What I need from vendors:
Proximity, low prices, and excellent service.
Have you changed your marketing strategy in response to the economy? How?
No. It has stayed the same, but the budget is seasonal. Our business has peaks and valleys.
How is social media affecting your business?
It's the most effective marketing strategy for our business! Skipping other businesses to access the consumer yourself is what social media does. It helps you to save money and acquire new customers at the same time.
How do you hire and fire?
Our company does group auditions. We are in the entertainment business, so standard interviews aren't compatible. We create games, trivia, and team-building activities to reveal the qualities in employees we like or dislike. We don't fire anyone, they fire themselves!
How do you train and retain?
We have a team of trainers doing all the training. I work with them directly and train them by example. We work together to create best practices and call entire staff meetings when things change.
How do you deal with problem employees?
Every situation is different. We like to have open dialogue with employees, asking questions and not just telling them what to do. This should show you if they will change or not. Certain problems are zero tolerance. We give multiple opportunities before we move on.
Fastest way into my doghouse:
Bullying.
Sports & Business
What skills/experience from sports have carried over to operating a business?
Work ethic, fan interaction at all times, and not accepting failure. In the NFL we work until a task is complete, which includes holidays and weekends. When I moved over to the business, I realized quickly that most people don't like to work on Friday and toward the end of the day. Work ethic is the key to success, so I try not to restrict myself by being time-conscious.
Which do you find more competitive, sports or business?
The NFL! The number of jobs and the amount of talent jockeying for them is unreal. Plus, professional athletes are expected to be perfect. Business is competitive, but not the same level.
Why did you choose franchising as an investment option?
Football for me was structure, a proven system, and that translates well to franchising.
How did you transition from sports to franchising?
A Launch Trampoline Park franchisee allowed me to work in their park in the summer while I still played football. Truly, I fell in love with the business model and its potential.
What was your greatest achievement in sports, and what has been your biggest accomplishment as a franchisee?
My greatest achievement in sports was making it to the NFL and playing 10 years! As a franchisee, I won Launch's Franchisee of the Year award for 2017.
Bottom Line
Annual revenue:
$5 million-plus.
2018 goals:
7 percent growth.
Growth meter: How do you measure your growth?
Through service software that allows us to see where our customers are coming from. It shows us the untapped areas in our local community. We also measure growth by our staff evaluations.
Vision meter: Where do you want to be in 5 years? 10 years?
That's too far in advance for me!
How is the economy in your regions affecting you, your employees, your customers?
We are on the East Coast. The economy is doing well. People have disposable income and that's the dollar we are competing for!
Are you experiencing economic growth in your market?
Growth in our market is definitely happening because people need to be entertained. With Amazon putting traditional retailers out of business, it helped grow the entertainment business across the country.
How do changes in the economy affect the way you do business?
We may have to change our prices or cut back staff.
How do you forecast for your business?
The number of parks in our area, what's happening on Wall Street and in the Oval Office, weather, and school schedules.
What are the best sources for capital expansion?
This depends on your business. Banks and equity partners want to see cash flow. I like banks because I don't want to give up percentages of the business.
Experience with private equity, local banks, national banks, other institutions? Why/why not?
My experience with banks is good because they aren't intrusive and care more about the note payment.
What are you doing to take care of your employees?
Catered staff competitions every three months, yearly trip, and Christmas party with awards.
How are you handling rising employee costs (payroll, minimum wage, healthcare, etc.)?
Self-service kiosk, fewer employees, and raising our prices.
How do you reward/recognize top-performing employees?
Awards, gifts, vacation, and bonuses!
Published: March 1st, 2019
Share this Feature
Recommended Reading:
Comments:
comments powered by

Disqus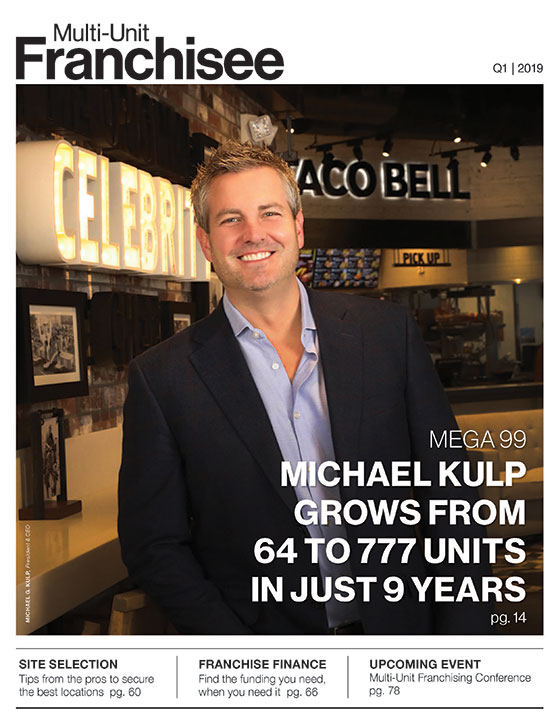 Multi-Unit Franchisee Magazine: Issue 1, 2019
Subway has new and existing franchise opportunities available for experienced multi-unit franchisees. Build your portfolio with a globally recognized...
Cash Required:
$100,000
Big Frog's proven-and-tested business model allows you to take charge of your financial future with a business concept that offers unlimited revenue...
Cash Required:
$50,000