Stockade Companies' Tom Ford
Who ever forgets those early embarrassments? The careless and overheard remark in high school that gets repeated for months, the ticket for running a stoplight the day after you got your license-everyone knows those.

Tom Ford hasn't forgotten his. His earliest job in the restaurant business was as a carhop-he was 12 and working for 35 cents an hour at an A&W store. "I remember putting the tray up on a car window, and knocking a Coke in a guy's lap. He was really nice about it."

The incident didn't stop him. He kept working in the restaurant business, hooking on with the first Sirloin Stockade steakhouse in 1966 as a teenager, washing dishes. He thought it was fun, and he worked his way through college by taking any position from night manager to cashier.

From that beginning, Ford has come a long way. He's now the second-largest franchisee in the Sirloin Stockade chain, as well as part-owner and CEO of the franchise company. It gives him, he says, a unique perspective.

Although not a household name, the Stockade Companies is not small. From the first Sirloin Stockade in Oklahoma City in 1966, the company has grown into a multi-concept chain. Sirloin Stockade is an all-you-can-eat buffet, with many locations also offering steak entrees and featured lunch items. Montana Mike's Steakhouse, added in 1998, is a full-service steakhouse concept. Coyote Canyon, added in 1999, is a casual all-inclusive, one-price concept with an all-you-can-eat steak buffet prepared before the customer on a display grill. The company operates more than 70 restaurants in 10 states and Mexico.

Ford has been with the company in one way or another the entire time. At the beginning, he had ambition, a growing family ("I married and had children too young," he jokes.), and a need for a college education. He studied accounting at Central State University in Oklahoma-"a teachers college that was an inexpensive way to get education," he says. "I didn't like accounting, but I had a degree and by then it was too late."

He kept working at Sirloin Stockade, by now in the corporate office, and worked his way up from store manager to director of operations. By then, the franchise had 179 company stores and 70 franchisees.

Its founder sold the group to Lucky Stores, which in turn sold it to Golden Corral. In 1984, a group of Sirloin Stockade franchisees pooled their financial resources and purchased the Sirloin Stockade trademarks and license agreements to form a new company: Sirloin Stockade International, Inc. Gale Premer led that group and served as CEO until January 2004. He remains the company's largest franchisee.

Meanwhile, Ford had become a franchisee with six units. He acquired them by taking over the inventory and leases of poorly performing units and turning them around. His strategy for success was fairly simple: "To make it work requires taking care of the basics, and being in the units seven days a week," he says. "You make sure the service is good, and you thank customers for coming in."

It is "a much longer and drawn-out process to turn a unit around than build a new one," he says. "But it was the only way I had in."

When the time came, Ford was part of the franchisee group that bought the company from Golden Corral. When the major principal in the group wanted out, Ford and a partner brought in two equity partners from the company's management staff and made an offer that was accepted.

"Owning the company was something I always wanted to do," he says. Now, there are basically four owners: two operating partners working out of the company headquarters in Hudson, Kans., and Ford and his partner working out of Taylor, Tex.

"It has worked out really well," he says. The company now has 72 franchises: 17 Montana Mike's, 13 Sirloin Stockades in Mexico, eight Coyote Canyons, and 34 Sirloin Stockades in the Midwest and the South.

Ford himself has 11 Sirloin Stockades and three Montana Mike's, and, in Colorado and Nebraska, nine Sonic Drive-Ins. The Sonics were not a nostalgia trip for his carhop days, but the idea of an older son who wanted to go out on his own. The son is now 37 and in charge of all the family's company operations in Texas.

Trading Hats

Today Ford is not the largest franchisee-the principal stockholder who sold out is now the largest. "We traded hats, and now he fusses at me," Ford says.

Being both a franchisee and CEO of the franchisor, he says, is really helpful. "I understand where the franchisees are coming from, and it makes it easier for me to deal with them."

His current major project is two new prototype stores, one for Montana Mike's, and one for Sirloin Stockade. "We're trying to get costs out of the buildings and make them more efficient," he says.

The company also has another concept that Ford wants to see developed: Pecos Red's, which Ford describes as "a cross between an Outback and a Texas Roadhouse." He actually had one in operation, until it burned. It was not rebuilt because it was better at the time to cash out.

Spreading the Wealth

"The hardest work we have is finding talent," he says. "You have to do it all the time; it has to be a priority every day." For the talent already on board, he believes, you need to do extraordinary things.

"We share successes with the staff. Our store managers within our franchisee organization are paid 35% of pretax profit. I think the best checks to write are the big ones, and we pay monthly." There's also an annual trip for all the managers, paid for 100% by the company.

Growth is certainly in the plan. "Realistically, we're looking at 10% growth with what's in the chute and under construction [10 to 15 units]," Ford says. "The same growth every year is a good figure. Beyond that you lose some of the control."

The company is actively seeking new franchisees. "We're looking at the single-unit operator, and the multi-unit developer looking for new concepts," he says. How do candidates find out about the company? "Honestly," says Ford, "they usually ate in one of our better operations and they seek us out."

For himself, Ford says, "I've never had more fun in my life. I'm 56 years old, and I think, 'How lucky can you be to do what you love every day? I like being in restaurants. I like being involved in business. It's all I've ever done or ever wanted to do."
Published: April 4th, 2005
Share this Feature
Recommended Reading:
Comments:
comments powered by

Disqus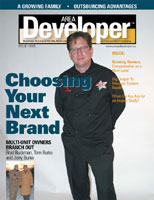 Multi-Unit Franchisee Magazine: Issue 1, 2005
Featured Opportunities