Team Player: Former MLB Star is a Big Jersey Mike's Fan
Whether in baseball or in business, five-time All-Star first baseman Adrian Gonzalez is the consummate pro. The four-time Gold Glove Award winner, and longtime San Diego Padres star, is embracing new challenges and opportunities in Southern California as a franchisee of Jersey Mike's Subs.
His fast start in franchising makes the 15-year MLB veteran a fitting choice for the 2019 MVP Influencer Award for Former Pro Athlete, for excellence in franchising. Naturally, Gonzalez is all about the team.
"We preach being a team player and working together as one to make good things happen," says Gonzalez, who is currently a free agent.
Born and raised in the San Diego area, Gonzalez was a first-round draft selection in 2000 out of Eastlake High School in Chula Vista, California. Along with the Padres, his major league journey has taken him to the Texas Rangers, Boston Red Sox, Los Angeles Dodgers, and New York Mets.
A big fan of Jersey Mike's, Gonzalez has evolved from a silent partner to an active franchisee. With nine locations in San Diego County and two more under development in Coachella Valley, he has nearly doubled the number of his locations since he acquired a majority stake in six existing stores last year. Gonzalez is now turning his attention to growth and expansion in new markets, with plans to add two to four Jersey Mike's stores a year.
No stranger to a challenge, Gonzalez, nicknamed A-Gon and El Titan, admits there has been a learning curve that comes with the game of franchising--and he is catching on quickly. When you love what you do, he says, the rest comes easy.
"I think the best thing is that I didn't get into this with a business mentality. I got into franchising because I loved the subs and I loved the brand," says Gonzalez. "Just like baseball. I love the game of baseball. I'm passionate and I'm dedicated. I want to be involved in the same way with Jersey Mike's. I'm going into this with the same excitement and passion and want to help take the brand to another level. I can't do that on my own--it is a team effort."
He and his wife Betsy are also focused on giving back to the community through Jersey Mike's and the Adrian and Betsy Gonzalez Foundation, founded in 2009. Over the past 10 years, the pair have handed out more than 120 scholarships and donated more than $1.5 million through their organization, which aims to empower underprivileged youth in the areas of athletics, education, and health.
"I'm extremely grateful, and to have this award is something I wasn't expecting," says Gonzalez. "I'm also very grateful for the opportunity that Jersey Mike's has given us and trusting us to take on more stores. Hopefully, we will continue to do well and continue to grow."
If on-the-field contributions are a measure of off-the-field success, expect big things from Gonzalez and his future in franchising.
Name: Adrian Gonzalez
Title: Owner and managing member
No. of units: 11 Jersey Mike's Subs (in 2019)
Age: 36
Family: Wife Betsy, daughters, Brianna and Alessandra
Years in franchising: 4
Years in current position: 4
Personal
Formative influences/events:
I came into franchising through a retired friend. The brand won me over instantly with its new, refreshing taste, becoming my favorite sub shop. So being a partner was an easy decision. When my partner left the group, I was able to take over. I brought along three new business partners and everything has been working great. Without them and the team members at each store, our success wouldn't be possible.
Key accomplishments:
Being a professional baseball player I've earned many awards, but the best accomplishment, by far, is being able to surround myself with the ones I care most about, giving people opportunities and watching the success of others. The key value in life is integrity.
Work week:
We just acquired three Jersey Mike's stores, with two more in development, and I have a couple of other projects. So right now my work week is typically four to six days, whether with phone calls or being present in the stores.
What are you reading?
The Third Option: Hope for a Racially Divided Nation by Miles McPherson.
Best advice you ever got:
Always push forward and never let any obstacles get in the way of your goal.
Management
Business philosophy:
Go big or go home. If you're going big, be prepared to challenge yourself by putting in the hard work each and every day. Every moment is an opportunity to build another relationship, change a person's day, or simply provide the best of who you are.
Management method or style:
Can I clearly identify one style? No, but it requires a team to inspire, collaborate, and set the example with one another to achieve success. A great leader requires the ability to relate with the people who drive their business.
Greatest challenge:
Finding the right people behind the line. It's been mentioned time after time that people, people, and people are key. The saying is true without a doubt. Building a great team makes those obstacles a whole lot easier. "The strength of the team is each individual member. The strength of each member is the team." (Phil Jackson)
How do others describe you?
I hope honest and trustworthy.
How do you hire and fire, train, and retain?
Characteristics we look for when hiring new employees are people with a positive attitude who are highly self-motivated and also work well within a team. Unfortunately, there are times when a person isn't upholding our standards and we have to part ways. We strive to ensure that all employees are trained efficiently and feel comfortable enough to ask questions and ask for help along the way. Teamwork can only be accomplished when is everyone is truly working together and helping each other, which allows for training to be at its best. Treating our employees right, giving them opportunities to be in charge of their own path, and steering them in the right direction encourages employees to want to stay with us until they feel ready to advance to something bigger.
Bottom Line
Annual revenue:
$6.5 million (2018); $9.5 million (2019 projected).
2019 goals:
Double the size of our company and expand into new markets.
Growth meter: How do you measure your growth?
We look at same-store sales and unit count. We plan to add two to four stores per year.
Vision meter: Where do you want to be in 5 years? 10 years?
My plan is to continuously improve our business, expand our sights, and envision a company that others can thrive in. Opening more stores, dabbling in other ventures, or expanding to other parts of the world are all things that are possible. I like to dream big in everything I do!
What are you doing to take care of your employees?
We consistently encourage our employees to take advantage of the opportunity we give them to develop their skill set in many areas and increase their knowledge of the business. We help them build relationships within the community by encouraging a welcoming environment and promote many employees from within. We also strive to motivate our employees to continue their education and offer flexible schedules, which makes it easier for them to continue with their goals. The great thing about Jersey Mike's is that it gives the employees an opportunity to grow with us. And that is one thing we love. When someone comes to work for us they have an opportunity to be a manager and eventually a partner with us. We love that we aren't just giving someone employment for the time being, we are giving them a possible career.
What kind of exit strategy do you have in place?
As of now, none. I'm not in business to get out of business. When you believe in a brand and concept there's no slowing down.
MVP Questions
Why do you think you were recognized with this award?
Because of the great team we have. We continue to want to grow and become a great group that can be counted on and trusted.
How have you raised the bar in your own company?
We continue and will continue to follow the Jersey Mike's way. We will follow their direction and will always push the bar within our guidelines.
What innovations have you created and used to build your company?
Having everyone on the same page by being in contact at all times. Communication is very important, as it is in every relationship.
What core values do you think helped you win this award?
Honesty and integrity, along with hard work. I really, truly believe that when making decisions those two components should be at the top.
How important is community involvement to you and your company?
Jersey Mike's has a great mentality when it comes to giving and community involvement. We as a family feel the same way and are always looking for new ways to get in the community and serve. Giving back is very important to us as a group.
What leadership qualities are important to you and your team?
Being a good team player, being punctual and communicating, and being a good person with a "happy-to-be-at work" attitude. The most important thing in the food industry, or any restaurant, is customer service. If the customer comes in and loves the experience they had while getting their meal, they are going to come back. The biggest thing is that they respect the brand. It is such an important brand and we are very high on it. If they are going to put on the Jersey Mike's uniform, they have to follow all the rules and be a team player.
Published: May 17th, 2019
Share this Feature
Recommended Reading:
Comments:
comments powered by

Disqus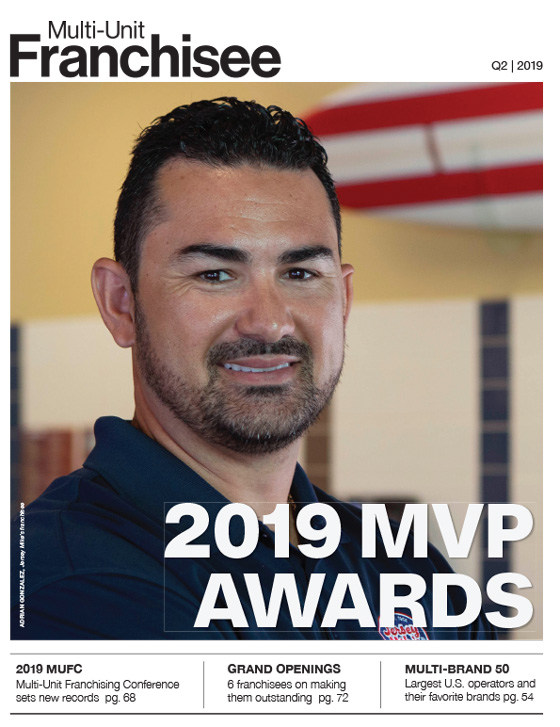 Multi-Unit Franchisee Magazine: Issue 2, 2019
High AUVs + 8-hour operating days in a food category that's not oversaturated = an eggs-straordinary life.
Discover franchise opportunities with one of the world's largest chains of ice cream specialty shops.
Cash Required:
$100,000