The Envelope, Please: Fifth Annual Franchising At Its Best Awards
March 30th marked another celebration of outstanding achievement in multi-unit franchising when the 2006 FAB Awards were presented to four franchisee winners who demonstrated a level of performance resulting in significant contributions to franchisor systems. At the JW Marriott Las Vegas Resort, Spa & Golf, attendees got to see franchising at its best at the Fifth Annual Multi-Unit Franchising Development Conference & Expo.

Nominees from around the nation were considered for the 2006 FAB Awards, which measure categories ranging from customer relationship management, marketing, sales, and retailing to accounting, training, human resources, and supply management to Web strategies, outsourcing, and site development.

Whether it is a customer, supplier, distributor, trainer, franchisee, employee, or family member, each of the 2006 winners makes it clear that people determine the success of their business. Their individual stories indicate why each of them believes that personal and professional relationships are the foundation of a strong franchise and a good life.
Fate creates a winning team
When Jim Traweek graduated from the University of Texas in Austin, his career plans did not include floor coverings. But when he joined a retail chain's three-month training program, he was given a choice of cameras or carpets. He chose carpets.

Meanwhile, John Marett had worked his way through Indiana University of Pennsylvania as a master carpet installer. By age 15, Marett already had become skilled in his family's carpeting business. After college, he joined the insurance industry where, within two years, he was already tops in his company's sales. But his father's health failed, and Marett returned home to operate the Volant, Penn., floor-covering shop, now in its 50th year.

Fast forward to 1994, when Traweek and Marett—now with decades of floor-covering expertise between them—joined forces to form PS America as franchisees for ProSource Wholesale Floorcoverings. The two admitted workaholics now own and manage 41 showrooms from Nevada to Connecticut. They expect to open six more locations in Florida, Maryland, and Texas this year—a time-consuming project that takes about 12 months from start to finish.

Both men are key players on ProSource's advisory council and its strategic planning committee, and their business contributions help ProSource maintain its top position in the industry. The proof? At the end of their first year, their sales volume was $6 million. Last year, their sales volume of $140 million represented more than one-fourth of ProSource's total revenue. This year, the two project more than $170 million in revenues.

While they claim very different personalities, Marett says, both are "hands-on, and we make decisions very quickly." Traweek agrees: "We operate with less future strategy and more 'get it done' approach."

To get it done, PS America has more than 300 employees; about 230 in the showrooms, with the balance in the two corporate offices (Volant or Orlando) or on the road. The organization's Tampa, Fla., training center accommodates 16 to 20 new, as well as current, employees at classes held two or three times monthly.

These entrepreneurs have also done what Marett calls success planning for their business. "Key management positions all have a back-up," he says . His wife and two sons are involved in PS America, also having made names for themselves in the industry. In looking to the future, Traweek refers to their "strong bench of capable executives," although total retirement for either man is not in the cards.

Their careers have taken them all over the world. "While we buy product from Europe, South America, and China," says Traweek, "we do not operate in other countries." Their travels have also brought them into contact with some celebrities: Tom Brokaw, Alan Greenspan, Henry Kissinger, and Arnold Palmer, to name a few. "Lots of famous people visit our showrooms," says Marett. "I have heard from our sales staff when they have waited on Jimmy Johns, Reba McEntire, or Ted Kennedy."

After all of the highly successful years the two men have spent in the floor-covering industry, their individual views of personal success are simple. Traweek says if he is remembered for helping people—employees or suppliers—in his career that would be "neat." As a self-described "farm boy with a Gideon preacher grandfather I ignored," Marett points to what he first considered "lonely times" during his travels. Over time, this changed to what he terms "meditative times," which gave him a deeply spiritual view of the world.

Pressed on their plans for retirement, Traweek laughs. "Even the dog could not take me in full doses." He has a novel and an outline for a business book to finish; travel to Africa, Asia, South America, and Antarctica on his agenda, plus "100 casinos worldwide I need to visit." On a more serious note, he also would like to consult for foreign companies that wish to develop business in the United States, and then there are his seven grandchildren who need his attention. Marett enjoys working with people. "If I did retire," he claims, "I would travel with my wife and surely be engaged with my six grandchildren in some kind of sports activities."

Whether it is opening a showroom, traveling to faraway places, training employees, spending time with family, or making future plans, this duo has recognized that cultivating relationships in all walks of life is crucial to personal and professional success.
Single-minded drive helps others step up
Dressing up like the Statue of Liberty was not a marketing technique Dan Roman ever considered when he entered the tax industry. But as a new franchisee of Liberty Tax Service in 2001, he embraced its strategies wholeheartedly. Roman's business was awarded the Detroit designated marketing area (DMA). Initially, he worked for Liberty Tax as a corporate development representative, and since 2002 has served as president of America's Tax Service.

"My strongest asset is my 'never give up' attitude," he says.
From 1994 until his introduction to Liberty, Roman held positions with firms such as Deloitte & Touche in Detroit. After seven years at the firm, and armed with his bachelor's degree in accounting and his MAcc (Master of Accountancy) degree in taxation from Brigham Young University, he struck off in a new direction. "I decided to do something else. I did not know what the 'something else' was until I found Liberty Tax Service," he says.

From 2002 until 2005, Roman's motivational success with the franchisees under his area development umbrella gained Three Brothers Consulting, LLC (of which Roman is the majority owner) the Toledo, Ohio, and Fort Wayne, Ind., DMAs.

His Detroit franchisees generated tremendous media response with their clever "End-of-Tax-Season Slumber Parties," offering 24-hour service from April 14th until midnight on April 15th. They also held "roadside parties" for worthy causes like Cell Phones for Soldiers. "I was totally surprised by local buzz and numerous phone calls about our collecting and recycling used cell phones for soldiers through this organization," says Roman. "What a great cause!" This year, he partnered with the Red Cross to collect coats for the needy.

Last year, Roman provided 14,000 foam Statue of Liberty crowns with America's Tax Service's phone number and 14,000 pairs of "3D fireworks" glasses to people lining the streets for Detroit's International Freedom Fireworks Festival. "I love marketing," Roman exudes. "Without marketing, a great idea, a great product, or a great service is dead. Marketing is a must. Marketing is a culture, and other tax companies do not have the culture to market like we do."

Because of the enthusiasm Roman built among members of the Detroit group, they were awarded the DMA Marketing Award during the 2005 Liberty Tax Convention. Roman and his franchisees have delivered a powerful punch, as the Detroit DMA figures illustrate. In his first year, with 10 stores that completed 5,200 tax returns, revenues amounted to $572,000; his third year, with 38 stores that completed 19,999 tax returns, he saw revenues climb to $2.4 million.

"Everyone dreads taxes, and I make the dreadful experience a little easier by providing fast, accurate, and professional service to clients in all my offices," Roman says. "I personally do not do many tax returns. My role is to bring the clients through the door and hire competent people to assist me."

Roman has no immediate plans to open additional stores in areas other than Detroit, Fort Wayne, and Toledo, where he currently has 44, seven, and four, respectively. "Next year, I have a plan to open 15 new stores: six in Detroit and three each in the other markets," he says. "I constantly scout out possible new locations. Sometimes it takes weeks, sometimes it takes years."

Each store has an average of 15 employees, not including marketers. Roman has a team to help with day-to-day requirements: an operations manager, a general manager, a director of marketing, a director of Hispanic marketing, and a field operations manager, among them. Most employee training is handled at the corporate office in Virginia Beach, Va.

Roman does have plans for retirement: buying a boat and traveling the Great Lakes and beyond. His greatest career achievement, he claims, would be changing lives. In December 2004, Roman rented a location but had no manager. Tax season was not too far off, so he needed a solution quickly. "I gave a small-business owner friend of mine an opportunity to manage and possibly own that store. He did a great job—more than $150,000 of revenue in the last three months." The satisfaction for Roman, he says, is when these folks say, "Thank you for giving me the opportunity and helping me succeed."

Like our floor-covering winners, Roman's professional life is built on "people skills," whether those people are customers, employees, or a friend.
Discipline, dedication spur dry-cleaning success
According to Jack Godfrey, Sr., CEO of Jack Godfrey & Sons, Inc., and franchisor for Comet Cleaners, "Our organization has valued Chris Ball's years of loyalty and dedication in the dry-cleaning business. He has continued to serve his clients, as well as his fellow colleagues, in the improvement of this franchise system."

These words of praise for this 2006 FAB Award winner are well deserved. With 25 years' experience in the Comet Cleaner system, Ball currently owns five locations in the Dallas Metroplex area.

Since 1957, Comet Cleaners has been a trusted name in communities nationwide, well known for its fine dry cleaning at affordable prices. While the last 50 years brought major improvements in the dry-cleaning plant production process, and ongoing updates in the brand design of Comet Cleaners' stores, Ball maintained quality performance at his five locations by continually upgrading needed high-tech equipment. By Godfrey's account, Ball also invested substantial resources in renovating and remodeling his stores' call office areas. "Due to his disciplined skills of cost and labor analysis, Chris is able to maintain superior quality dry-cleaning standards and, thereby, increase customer loyalty and sales revenue," says Godfrey.

Through his quarter-century of experience with Comet Cleaners, Ball has supported the unique marketing strategies promoted by the chain, such as its "3-Pant Special" or its "Laundry Shirt Special." Although significant changes in the look of such promotions has shifted over time, Ball got the nod from Godfrey because of his consistency in professional advertising with a modern interpretation. "This benefits our franchise system, and it also attracts client loyalty," says Godfrey.

Among the most popular innovations at Ball's stores is Comet's "Drive-Thru" service; his clients enjoy dropping off and picking up garments without ever opening a car door. "Just as the consumer continually seeks convenience in all businesses," says Godfrey, "Comet Cleaners leads the dry-cleaning industry in providing friendly and efficient service to all its customers."

Each location of Chris Ball's dry-cleaning business not only offers its customer base sensible prices and well-marketed dry-cleaning specials; attractive buildings and amiable employees, but also the mindset of a dedicated, driven franchisee whose lifetime's work has been oriented completely around his satisfying his customers.
Turning lives around, one employee at a time
The fourth 2006 FAB Award winner is Jeff Rogers, who has built his reputation in the world of business and franchising over 30 years. With his knack for hard work and inspiring employees, Rogers won the 1997 Turnaround Entrepreneur of the Year from Inc. magazine, IBM, and Deloitte. In a recent interview with Area Developer magazine, Rogers revealed his latest challenge: "I waited way too long to learn how to balance work with the priority of family and am now trying to make up for lost time with my kids."

Rogers got his start in marketing and advertising, but soon moved into franchising at IHOP and then Bonanza. Shortly after joining financially challenged Bonanza, he was named CEO and president of the chain. Under Rogers' leadership, Bonanza grew from 350 to 650 units, doubled average unit comp sales, became listed on the New York Stock Exchange, and was sold to Metromedia—all within five years. After his stint at Bonanza, Rogers involved himself in a few turnaround opportunities. He then was hired as CEO and president of bankrupt Pizza Inn, where he worked through Chapter 11 reorganization with full recovery for all parties involved. He stayed with the company for 12 years, then sold his ownership position.

With his track record for turnarounds firmly established, Rogers next joined Corporate Revitalization Partners, where one of his assignments was to assess Burger King for its parent, Texas Pacific Group. Two years ago, this engagement steered him to Heartland Food Corp., which in December 2003 purchased 248 Burger Kings out of Chapter 11, then recruited Rogers as president and CEO. He and COO Steve Wiborg run the organization. Last year, Rogers received the Burger King Brand Leadership Award from among 11,000 franchisees.

How has he managed to continue growing one success after another? "If you are willing to work alongside your employees at all levels, if you can relate on a level of equality, if you can motivate and reward and have some fun, business works," he says. Rogers has always based his work with others on mutual accountability, honesty, and self-respect.

Other ingredients of his ongoing success are structuring a competitive environment, sharing success, giving recognition, and—most important—paying people what they are worth. All of this, says Rogers, sets the stage for employee stability and allows for careful selection of new staff. "Our company is filled with committed, confident men and women who like to win."

COO Wiborg makes all decisions about store staffing with his operations management group. "Good people attract the same," says Rogers. "To keep good people, management must create a culture of mutual respect and an environment free of drugs, discrimination, and harassment. At Burger King, we develop them through training and constantly challenge them." Those who pass the challenge succeed, and then some.
Published: August 8th, 2006
Share this Feature
Recommended Reading:
Comments:
comments powered by

Disqus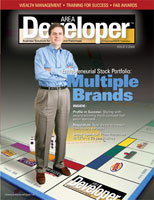 Multi-Unit Franchisee Magazine: Issue 2, 2006
Bonchon is an internationally recognized Korean Fried Chicken concept. Bonchon means "my hometown" in Korean, and represents our...
Cash Required:
$250,000
If you're interested in a bold do-nut business opportunity one with strong multi-unit appeal a Shipley Do-Nuts franchise offering is one of the very...
Cash Required:
$225,000