To Grow Your Business, Grow the Organization
It's one thing to have a dream and a want; it's another thing to have an organization to support that dream and want. I've always said that growing the organization is a full-time job for those who want to grow multi-units.

The key to growth is infrastructure, and the key to building an infrastructure is your response to five questions: How do I find, develop, and retain good managers? How do I train managers to grow a profitable business? How do I compensate those managers? What do I reasonably expect from my management team, in terms of numbers? How do I stage size and complexity of my infrastructure?

Note: I break size down into three categories: a) Get Started (1 to 3 units); b) Go to Grow (4 to 7 units), and c) Over the Top (8 units or more). The challenge in each of these categories is to have an infrastructure in advance of the growth component. If I'm not good at planning and at recruiting people in advance of this growth, I'm definitely not going to make it because I'll be putting too much stress on my organization.

1. How do I find, develop, and retain good managers? The key to management is upward promotion within the organization. And key to this is that the quality of the initial recruit dictates the potential of my management team. If I'm putting more time and energy into recruiting people who have growth potential when I'm hiring at the entry level-people I'm growing within my organization with the quality to move up-then as the visionary in the organization I must take a personal role in that.

I have to build a profile of the kind of person I'm looking for, identify the characteristics I want, and then put them through a rigorous interview program that ensures it's not me trying to get them, but them trying to get the job. And that's critical. Most of us spend most of our time in the interview or recruiting process trying to convince the potential candidate that we're the place to work, rather than taking the reverse role of challenging the candidate to prove to us why they want to work here.

2. How do I train managers to grow a profitable business? First of all, they have to know that's what their intent is. The whole idea is to train to an objective, not train to just a skill. If a manager is learning to do performance standard reviews of the people in his store, then he has to understand that those performance reviews are focused on what it takes to grow the business, what skills it takes to increase sales and store traffic. That must be built into the whole concept of the manager's training. He's trained to an objective, not just a skill-the skill must be tied to the objective. This means multi-unit franchisees must understand what single-unit growth is, and be able to define it.

3. How do I compensate those managers-and what are the rules for compensation in today's marketplace? I have what I call "minimum performance standards." Some people say my minimums are above the average. And I say, "That's right." To be on my team somebody must produce at those minimum performance standards. This is not just keeping the store open, it is a predetermined profitability, and a chart of growth for that profitability. Compensation should be a base plus something; and that plus-something should compensate the person for what they do above the minimum. In other words, if people are rewarded, they need to be rewarded not to get to the average or minimum performance standard; they need to be rewarded to get above that.

The other component of compensation over time is that managers need to be able to earn some psychological ownership in the operation, however you benchmark that. It could be a share of stock, or compensation for the overall store goal annually, but they need to get to that level of psychological or financial ownership in something that keeps them over the long haul. Because I truly believe that in today's economy just making people who are Go and Growers feel good is not enough to sustain their commitment to the team over the long haul. It's wonderful to feel good, be part of a team, and make a lot of money. But if that person really is a Go and Grower, there's a point at which they wake up and say they want to be part of the psychological or financial ownership team, even at the lowest level.

4. What can I reasonably expect from my managers, in terms of numbers? That really depends on you. You have to be realistic in "stretchability" and "attainability." You have to stretch your managers and employees, but they also have to get there. These two components of accountability both must be present in the process. And it's important to have management input on those numbers.

When I was in the retail grocery store arena, we believed each of our managers was heading up a component of the company. Produce was a component, the meat department was a business within the business, and they all needed to manage their component. We looked to those managers as unit presidents, and they had to suggest the stretch and attainable numbers for their company, department, or business within the business. This entire component should be shared with those managers.

Most people in business today believe that a 4.6% growth rate, however you apply it, is minimum or average. In other words, traffic, sales, profitability, or some other reasonable benchmark should rise 4.6% each year. If the managers are involved in determining that, then in most cases you will find that the store will exceed those numbers. This is because those are the numbers they brought, and most people are a little more conservative when they participate in setting the numbers.

The other challenge we find in most markets is the three stages of store opening vs. store growth vs. store profitability. Most people have found that it takes so much to open, so much to grow, and then the profitability begins. So you need to stage your numbers accordingly.

But remember, numbers must be taken to actions, not to numbers. If store growth is targeted at 4.6%, whether that number is a traffic or a sales number, where is that going to come from? What are the tangible activities every day that need to happen in the store that contribute to that? If we don't take our numbers goals to action that the people in the store can focus on, we're not going to reach those numbers. That's critical. To the store employee, associate, or manager, the numbers must be actions they know they can accomplish to reach those goals.

5. How do I stage size and complexity of my infrastructure? If I'm staging store openings every six months, then my management team has to be in place four to six months before the store opening. In terms of infrastructure, the key is always to be rolling out infrastructure at least the number of months it's going to take before you acquire or open another location.

The normal orientation schedule for most managers I've run into is a minimum of six months. Until I get them to six months, they're not producing at the level I need-and that's if I'm taking the time to train them effectively. Some people believe they can bring a person on board in four weeks, and in six weeks that person is operating at or above minimum standards. In most cases, with my 25 years of experience, I would disagree with that.

If I'm planning backwards (and we all plan backwards, hopefully), we figure out where our destination is, the best road to get there, where we're going to stop for gas, for food, and what the timing of those stops is going to be. Many people just get in their car and take off because they know where they're going. That's the problem with most franchisees who want to become multi-unit franchisees: they just buy the unit, buy the location, buy the franchise. And then they leap in their car and take off, knowing that they have a pretty good idea where their destination is, but they haven't timed it.

Planning, in my experience in this business, is one of the weakest points for anybody getting involved in multi-unit franchising. They don't plan the specifics that are part of the route to get to the goal or destination. So everything must be backwards.

If you're going from Get Started, to Go to Grow, to Over the Top, you'll have to stage your timeline and back off at least 6 months from an infrastructure standpoint to ensure that it's in place and operating effectively before that acquisition or before the door opens to that new unit.

So before jumping in your car and hitting the road to multi-unit growth, be sure your organization is in place-at every level!

- Thomas Winninger has been referred to as America's Market Strategist. His expertise is in value differentiation and revenue growth and he speaks at over 75 conferences each year. His message has appeared in over 300 trade publications and he is author of 4 books. View Winninger live at www.winninger.com.
Published: May 11th, 2005
Share this Feature
Recommended Reading:
Comments:
comments powered by

Disqus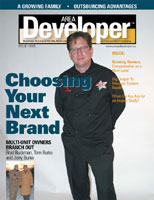 Multi-Unit Franchisee Magazine: Issue 1, 2005
Craveworthy Brands is a hospitality-first company with a portfolio of unique, engaging, and scalable brands dedicated to delivering truly CRAVEABLE...
Demand for The Bar Method continues to grow as more people discover the benefits of a barre-based workout and feel the empowerment after each...
Cash Required:
$150,000