When you're looking at demographics, size matters
As more franchise brands push outward from their local or regional base seeking growth on the national stage, choosing the right city or designated market area (DMA) is always a critical factor in success.

Working with local real estate developers in new markets is one way for franchisors to improve their odds for success, at least in terms of site location. But the best people for them to work with are area developers who already operate successfully in these new venues, understand their market from the inside, and have an organization and infrastructure in place.

This trend toward national expansion represents opportunity for area developers looking to add new brands to their portfolio, as in the case of David Peterman and Mitch Roberts, who have 23 Panera Bread restaurants throughout New England. Realizing they're approaching maximization within their territory, the partners recently signed an agreement with El Pollo Loco to build 25 restaurants in the New England states.

The accompanying chart focuses on population and number of franchises within a DMA, ranking the top 30 areas by percentage of units within a DMA.

(Note: FRANdata, which supplied the data for this listing, notes that these numbers do not include total units for McDonald's, Burger King, and 7-Eleven. While this changes the totals, of course, it has a lesser effect on the percentages. The percentages are derived from a representative sample of franchising, incorporating data from more than 900 systems. The units in the table are from the 30 largest DMAs, and represent about 52 percent of total franchise units nationwide and a population base totaling almost 170 million.)

There are many factors in choosing a city or region for expansion. But when it comes to population, it might be as simple as the legendary response of Willie Sutton when asked why he robbed banks: Because that's where the money is. Of course, franchising, even at its historical worst, wasn't bank robbery. The point is this: All other factors being equal, why not go where there are more customers to buy your goods or services?

The figures in the accompanying chart hold few surprises, and even can be considered obvious (the highest concentrations of franchises are found in the nation's largest DMAs). Nevertheless, there are some big-picture, 50,000-foot types of observations that could prove useful to area developers and franchisors looking to expand their geographic footprint.

If you plot the 30 DMAs on a map of the U.S., some patterns, or clusters, are evident. Looking from north to south, roughly 18 of the 30 largest DMAs (60 percent) are in the northern half of the U.S. From east to west, about the same number are east of the Mississippi. Eleven are on the East Coast, and six are on the West Coast. Eight are in the Rust Belt/Midwest, and seven are in the Southeast. The New York and Los Angeles DMAs alone, sitting on opposite corners of the country, account for 9.3 percent of all franchised units nationwide, nearly 1 in 10.

Looking at clusters, or DMAs located relatively close together, the following groupings appear:

The Northeast Corridor DMAs (Boston, New York, Philadelphia, Washington, D.C), for instance, could be seen as a logical expansion path for a brand like Dunkin' Donuts, expanding out of New England. Together these DMAs compose 13.5 percent of the country's franchised units (one in seven).
The Rust Belt/Midwest DMAs, taken together, form another cluster that includes eight DMAs: Chicago, Detroit, Cleveland-Akron, Columbus, Indianapolis, St. Louis, Cincinnati, and Minneapolis, totaling 11.8 percent of all franchised units, approaching one in eight. Adding in Nashville raises that figure to 12.7 percent.
The Southeast: Nashville, interestingly, sits in a central location between the Rust Belt and the Southeast. (It also happens to be a major proving ground for Dunkin' Donuts.) Nashville can be grouped with the Atlanta, Charlotte, Raleigh-Durham DMAs and the Florida mini-cluster (Tampa-St. Pete, Orlando-Daytona Beach, Miami-Ft. Lauderdale, which total 4.2 percent). This gives the region a total of 7 of the top 30 DMAs adding up to 9.5 percent of the nation's total, or nearly 1 in 10.


Moving westward, other clusters for regional expansion are Dallas-Ft. Worth and Houston (3.4 percent); and Phoenix, Denver, Salt Lake (4.3 percent). In California, Los Angeles and San Diego compose 5.7 percent, while San Francisco-Oakland and Sacramento add another 3.9 percent, for a total of 9.6 percent (again, nearly 1 in 10). Finally, moving into the Northwest, Seattle-Tacoma and Portland combine for 2.8 percent of franchised units.

Viewing the nation's DMAs like this can be useful to a franchisor looking to start in one city and branch out to other DMAs in the region; or to an area developer looking to extend the reach of his brand into another territory. Like an army on the march, supply lines and the three C's (command, control, and communication) are key to success.

While these numbers indicate the status quo, factoring in population growth trends before signing a 20-year agreement would be wise. With the Sun Belt continuing to grow, and the Latino/Hispanic percentage of the total population on the rise, the percentages are likely to shift southward. But the recent trend of warmer winters may mitigate, or at least delay, that movement.

Taking these large-scale trends into consideration is a first, easy step. Franchisors and area developers must, of course, break out each DMA for their specific segment or industry, followed by further drilling down into competition from local and national brands, real estate, and the standard demographic and psychographic analysis.
Published: May 1st, 2007
Share this Feature
Recommended Reading:
Comments:
comments powered by

Disqus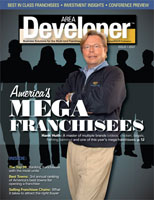 Multi-Unit Franchisee Magazine: Issue 1, 2007
Phenix Salon Suites is awarding our scalable, semi-absentee opportunity to motivated entrepreneurs. With no salon experience required, franchisees...
Cash Required:
$300,000
Altitude Trampoline Park is the premier indoor trampoline park destination, bringing active family fun through its JumpLife(SM) mantra to the global...
Cash Required:
$600,000