Your Own Worst Enemy?: 5 Ways We Sabotage Our Financial Affairs
Investing wisely does not come naturally to most of us.
Many of the skills that support ultimate financial management success run counter to how our natural wiring prompts us to behave. Sound long-term investment decisions often require the ability to make choices that differ from near-term "prevailing wisdom." But we are social creatures, most comfortable when we fit in.
We crave predictability, but the markets are unpredictable and random. We infer short-term "patterns" reinforced by what we just read online, but don't recognize long-term sea changes that evolve with subtle nuances. We love to share stories, but often find it challenging to grasp complex financial and mathematical relationships. And we are irresistibly drawn to what is happening in the here and now, often refusing to focus on what may or may not come to pass some time in the distant future.
Neuroscientists have found that loss of brain function as we age is not inevitable. We can actually retrain and strengthen important neural pathways throughout life by learning new skills or teaching ourselves to approach problems differently. In short, it's never too late to re-evaluate your habits and take control of your financial destiny. The first step is to commit to taking a different course of action. Outlined below are five of the most common ways individuals often sabotage their own financial affairs--with suggestions on ways to approach things differently.
Ignoring the future. When faced with a choice of "now" versus "later," it has been shown repeatedly that the vast majority of us choose "now." In one classic study, respondents were asked if they would prefer $10 today or $11 tomorrow. The bulk chose "today." However, when asked if they would take $10 in 365 days or $11 in 366, the bulk chose to wait the extra day. Part of the reason for this is that "today or tomorrow" are both palpable, near-term time periods. When looking out a year or more, one day seems as far away and fuzzy to comprehend as another. To combat this natural tendency, you must consciously shift your sights from how compelling that next cup of coffee is and convert your thinking into: "If I want to have $1,000 saved in the next 12 months, I need to deposit $2.75 per day, starting today."
Ignoring the implications of compounding. The importance of starting to save as soon as possible cannot be overemphasized. While compounding may seem dull in the beginning, once the balance starts to grow, the bottom-line advantages can be startling. For example, take two different 30-year-olds and their retirement savings plans. The first saves $1,000 per year for the first 10 years and then does nothing for the next 20. Assuming a compound annual increase of 8 percent, this individual invests a total of $10,000, which increases to $72,923 by year 30. The second individual does nothing for the first 10 years and then saves $1,000 per year for the next two decades, in an attempt to catch up. As the chart shows, the second individual invests twice as much, but ends up with a substantially smaller pot after 30 years because they had a shorter time to the compound money. Once your pools starts growing, watching the balance increase will gain a momentum of its own!

Spending more than you earn. It can be incredibly difficult to ignore the siren song perpetuated by every ad to "Buy!" but it's imperative that you learn to if you intend to be financially secured. Divide your total annual expenses into weekly increments and compare the total with your weekly take-home pay. Reevaluate your "needs" and "wants" to ensure there is enough left over each week to save and invest.
Focusing more on what you can't control than on what you can. The media is always trying to predict the market's next move as if an accurate prognostication would yield an investable event. Even if you can figure out what the economy is going to do, you can't know how individual stock prices or even broad sectors will react to events. Falling into the fantasy that you can accurately predict market movements can lead you toward trying to "time" your entry into or out of specific asset classes. While you can't control performance, you can have quite a bit of control over your costs, taxes, asset allocation, and the frequency that you readjust, reassess, or rebalance your asset mix. Spend your time getting a handle on those factors and you won't have time to fret about anything else!
Mistaking clubhouse banter for savvy investment advice. For every "I made 20 percent last year in Z Widget" story you hear, there are just as many tales of investments that went seriously awry. It's human nature to pass along only the stories that put one in a favorable light. Someone had to have owned all those imploding Internet stocks! The unfortunate thing about being exposed to the "I made a killing" stories is they can lead you to think your investment choices are somehow not as well positioned as others. Each bit of information prompts our brains to want to take some sort of action--which is more likely to be an emotionally based reaction than a well-thought-through plan customized for our individual needs. So set your own big picture goals, divide them into reasonable steps, and get going in crafting your own future!
Carol M. Schleif, CFA, is regional chief investment officer at Abbot Downing, a Wells Fargo business that provides products and services through Wells Fargo Bank, N.A. and its affiliates and subsidiaries. She welcomes questions and comments at carol.schleif@abbotdowning.com.
Published: March 19th, 2014
Share this Feature
Recommended Reading:
Comments:
comments powered by

Disqus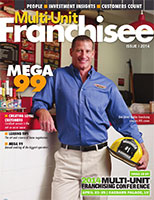 Multi-Unit Franchisee Magazine: Issue 1, 2014
Teriyaki Madness is the #1 Fastest-Growing Big Restaurant Chain for a reason: high-quality food, cutting-edge technology and incredible franchisee...
Cash Required:
$200,000
Retro Fitness is well positioned for today's economy and to dominate the low cost segment by offering a high quality and value add product in...
Cash Required:
$500,000