2019 MVP Winners: Best of the Best Franchisees
Winners of our annual Most Valuable Performer (MVP) Awards are chosen from applications submitted on behalf of some of the best multi-unit franchisees in the business. This year's winners were recognized on stage at the 2019 Multi-Unit Franchising Conference in March at Caesars Palace in Las Vegas.
To qualify, multi-unit franchisees must have at least five operating units and have been in a franchise system for at least 2 years. Congratulations to this year's MVP Award winners, who exemplify the best in franchising.
Pro Athlete Influencer Award
Adrian Gonzalez is a consummate professional, whether in baseball or in business. The five-time All-Star first baseman and longtime San Diego Padres star is embracing new challenges and opportunities as a Jersey Mike's franchisee in Southern California. With nine locations and two more in development, he has nearly doubled his locations since acquiring a majority stake in six stores last year.
American Dream Award
When she was 18, Pratiksha Rigley came to study in the U.S. from Zambia, where education was considered a luxury reserved only for the wealthy. Today, known as "Dr. Rigley" to her students and their parents, she considers education a gift she works tirelessly to bestow every day on the families that attend one of the five Primrose Schools she owns with her husband Noel Rigley, who was born in India.
Single-Brand Leadership Award
In just 2 years with Wayback Burgers, Jigar (Jim) Patel has excelled. Last October the brand named him its Multi-Unit Franchisee of the Year. With 5 Wayback restaurants open, he is gearing up to open 2 to 3 more annually in the next 5 years. And is committed to contributing to each community his restaurants serve, sponsoring local sports teams and supporting fundraisers.
Multi-Brand Growth Leadership Award
Bill Byrd, whose PMTD Restaurant company operates 32 KFC, Taco Bell, and Capriotti's restaurants in Georgia and Alabama, is a team player who believes in the power of surrounding himself with the right people. "Once you have good people, take good care of them and ensure their needs are met too. People Make The Difference!"
Community Involvement Leadership Award
Houston (Hu) Odom believes that if you take care of business first, community giving will follow naturally. Odom, owner of 20 Golden Corral restaurants in four states and a three-time Franchisee of the Year, has achieved both--and then some, including pioneering the practice of honoring U.S. military personnel at his restaurants, long before the concept became commonplace.
Noble Cause Award
Jeff Burroughs has always been driven to lead with a purpose. Named Team Leader/Owner of the Year in 2014 by Sport Clips, he was honored again in 2018 with the brand's "Heart of a Champion" award for his community activities--and fully credits his team of employees throughout his 21 salons for his business success and giving spirit.
Influencer Award For Husband & Wife Team
Jennifer and Rylan Miller, Tropical Smoothie franchisees with 7 units, are asked all the time what their secret is to successfully working together as a married couple. "I think it is key for a husband-and-wife team to lean on each other's strengths," says Jennifer. "People say, 'How can you work with your husband?' Honestly, it is difficult to work without him. We work better as a team."
Innovation Award
Lisa and Raul Ceide operate 10 Jersey Mike's Subs in Florida, with four more in development. Two years ago, they signed on with the then-new Uber Eats in Orlando. In the first year, their restaurants averaged more than $3,000 a week in sales generated from Uber Eats. Last October, Jersey Mike's went live with an official partnership for the entire system.
Mega Growth Leadership Award
Doug Pak was fresh out of college with a degree in business and economics from UCLA. "All my friends were looking at investment banking, consulting, and CPA firms. I just wanted to learn how to own and operate a business, so I took a job with a small franchisee who had one Denny's." Today he operates 72 Papa John's and 50 Hardee's that generate $130 million in annual sales.
Spirit Of Franchising Award
Jake Alleman's "people first" mantra makes him a deserving recipient of this award, presented for extraordinary and enduring performance, growth, and community giving. The Lafayette, La.-based franchisee has been in on the ground floor of two fast-growing Southern-inspired concepts--Another Broken Egg Cafe and Chicken Salad Chick.
Veteran Entrepreneurship Award
Joe Walker spent eight years in the U.S. Army, earning a Bronze Star and Purple Heart for his bravery during the Iraq war. When he returned home to Columbia, South Carolina, he transitioned into the business world via franchising. His military skills have been a perfect match for operating a franchise. Today he oversees a burgeoning portfolio of business that includes 19 Marco's Pizza locations; his own retail brand, Carolina Mattress and Furniture; along with marketing, construction, and real estate development companies
Pro Athlete
When Vernon Davis isn't catching footballs as a tight end for the NFL's Washington Redskins, he's busy with his 5 Jamba Juice locations in Northern California. Last year, he teamed up with Atlanta Falcons wide receiver Mohamed Sanu to open and operate six Jamba Juice locations in the Northern Virginia/DC metro area.
Under 30
Ali Momin began working in a Dairy Queen when he was 16. One big difference: the restaurant was his father's, who only 2 years later made his son a 50 percent owner. That's how a career in franchising started for the now 27-year-old. But it almost didn't... Finally, be sure to take a look at our annual Multi-Unit 50 rankings, beginning on page 54. It lists the brands with the highest number and highest percentage of multi-unit franchisees.
Published: May 2nd, 2019
Share this Feature
Recommended Reading:
Comments:
comments powered by

Disqus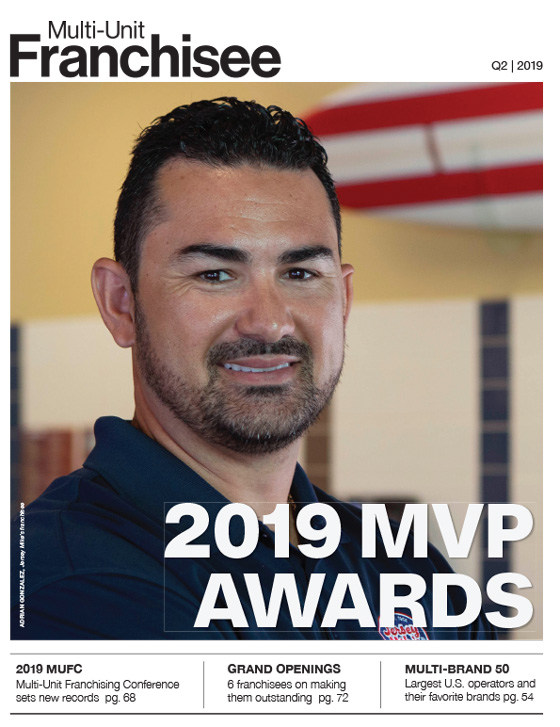 Multi-Unit Franchisee Magazine: Issue 2, 2019
Another Broken Egg is an upscale breakfast, brunch and lunch restaurant that specializes in Southern-inspired menu options and signature cocktails....
Cash Required:
$250,000
Buddy's is one of the fastest growing rent-to-own franchises in America with 60 years of proven success. Franchise owners enjoy a 0% royalty fee the...
Cash Required:
$150,000