21 Going on 70: Taking a Deep Dive with Jersey Mike's Subs
Alvaro Garcia epitomizes the proverbial American dream. With 21 Jersey Mike's Subs locations in Southern California already under his belt, Garcia is in the midst of an aggressive 70-store development plan that matches an equally fierce work ethic.
The youngest of 10 children, Garcia was a teenager when he came to the United States from Managua, Nicaragua. He watched his single mother work ceaselessly at three jobs, seven days a week, including 12-hour shifts at a hospital on the weekend.
"She taught me to be honest, work hard, and not to depend on others," says Garcia, who got his start in the restaurant business (and his first job) at age 18 as a Domino's Pizza delivery driver in Alhambra, Calif. Within a year, he was managing that store and moved up the ranks quickly, first to supervisor and then to district manager. Opportunity continued to knock, and he became a franchisee.
"I came from a country where there was not a lot of opportunity," Garcia says. "In the U.S., it is clear that if you work hard for something you can make it happen."
And Garcia knows how to make it happen. When first contacted for this profile, Garcia had a development plan to open 50 Jersey Mike's stores. By the time the story wrapped, his plans had expanded to 70 sites. And his energetic, hands-on approach is perfectly suited to Jersey Mike's philosophy of recruiting owners who also are operators.
When Hoyt Jones, president of Jersey Mike's and a former Domino's executive and franchisee, invited Garcia to check out one of the sub stores in Los Angeles County, Garcia had no intention of investing in a second franchise brand. At the time, he was busy with his own Domino's stores, and business was booming for his painting and construction contracting company. Nevertheless, Garcia was immediately drawn to Jersey Mike's product, customer service, store image, and commitment to the community. His eagerness to gobble up franchise territory would make new inroads in the brand's quest to expand on the West Coast.
"I wanted to jump in," Garcia says. "At the time, Pete had never signed 10 stores." Garcia opened the first Jersey Mike's in the Rancho Cucamonga, Calif., in June 2011, the first of three stores he opened in a month.
Earlier in his career, when Domino's Pizza stores became available to franchise, Garcia recruited his co-workers--many longtime Domino's employees--to form a corporation for a 22-store portfolio so "everyone" could benefit from the $7 million deal. He did "everything from A to Z" to help the group succeed and eventually stepped back, keeping seven stores for his own. Garcia is proud of his self-made status and works with equal enthusiasm to mentor anyone who will listen.
"In the old days at Domino's a lot of people wanted to help me, but I wanted to do it myself. I worked 18-hour days, whatever it took to get the job done," says Garcia. "What I want people to know is that they can do it. What I preach to my own guys is that I started from the bottom and you guys can do it as well. Let me know the day you want to do it, and I'm here to help."
In 2013, he sold his seven Domino's franchises to focus on Jersey Mike's and has never looked back... except to regret not investing in the brand earlier. Garcia and his business partners (Victor Fiss, Joe Sanchez, and John Thomas) expect to have 25 stores open by year-end, with 10 to 15 in the pipeline annually in the coming years.
Garcia still operates his construction firm, which is actively involved in all the build-out of his restaurants. "We have gone through Jersey Mike's approved contractor class to ensure we meet the quality standards of the company," he says.
Garcia is bullish on the future as he reaps the benefits that accompany the solid infrastructure he has in place. "The stronger and bigger you get, the more control and say you have," says Garcia, who also serves as president of the co-op board for Southern California.
Garcia says that he always felt his time for success would come if he continued to work hard. And on any given day that he is on site, you can find him sweeping floors or cleaning tables.
Name: Alvaro Garcia
Title: Principal
Company: Jersey Mike's Subs, dba Lilelu
No. of units: 21 Jersey Mike's
Age: 42
Family: Wife and three boys
Years in franchising: 7
Years in current position: 3
Personal
First job:
My first job was in the restaurant business at age 18. I was a Domino's Pizza driver.
Formative influences/events:
My mother--a single mom who worked three jobs. She taught me to be honest, work hard, and not to depend on others.
Key accomplishments:
I became a Domino's Pizza store manager in Alhambra, Calif. within the year, still 18 years old.
Biggest mistake:
Not knowing about Jersey Mike's earlier in my life because I love this brand for its quality (being "A Sub Above") and its involvement with charity and the community.
Smartest mistake:
Signing to develop 45 Jersey Mike's units. I was fortunate to sign up early as interest by other parties ramped up afterward and many more people also became interested in signing franchise deals with Jersey Mike's for 5 to 10 units. I came in at the right time. Sometimes you just have to take the risks.
Decision I wish I could do over:
Investing in this brand earlier/sooner.
Work week:
Six days.
How do you spend a typical day?
The first half of the day I am in the office. I spend the rest of the day in the field. All my time in the field is spent in the stores, looking at the needs and operations of each.
Favorite fun activities:
Watching sports, especially soccer. You can say I'm a sports junkie (my wife definitely thinks so). I enjoy spending time with friends.
Exercise/workout:
I walk every day for one hour with my German Shepherd Lucca.
Favorite tech toys:
iPod for iTunes.
What are you reading?
Restaurant magazines.
Do you have a favorite quote?
"Do not go where the path may lead. Go instead where there is no path and leave a trail." (Ralph Waldo Emerson)
Best advice you ever got:
Work hard, but work even smarter.
What gets you out of bed in the morning?
Fixing breakfast for my boys, ages 15, 10, and 7. My expertise is in making eggs, sausage, hash browns, and pancakes.
What's your passion in business?
Excellence in leadership. I believe you lead by example. People have to see you shine by your behavior and your action and, hopefully, will emulate that.
How do you balance life and work?
I don't. I'm working on it.
Last vacation:
Champions League final in Portugal.
Person I'd most like to have lunch with:
FC Barcelona soccer player Lionel Messi.
Management
Business philosophy:
Honesty implies integrity. I try to influence everybody to be their very best, regardless of the position they hold in the company.
Management method or style:
Delegate, delegate!
Greatest challenge:
Finding balance. This is because I am passionate about all that God has blessed me with: success, my family, and great friends.
How do others describe you?
Multi-tasker.
One thing I'm looking to do better:
Restructure the company's administration.
How I give my team room to innovate and experiment:
I meet with my team once a month to hear ideas for better results.
How close are you to operations?
Very involved. I also work with three great partners to develop the Jersey Mike's Brand: Victor Fiss, John Thomas, and Joe Sanchez.
What are the two most important things you rely on from your franchisor?
Support and a great partnership.
What I need from vendors:
Quality and efficiency.
Have you changed your marketing strategy in response to the economy?
No.
How is social media affecting your business?
Social media is a great tool. It makes it very easy to find us. We do blast texting and have an email club. We also show our products and engage as a company on Instagram, Facebook, and Twitter.
How do you hire and fire?
Hire by using Craigslist. Fire by following procedures.
How do you train and retain?
I train systematically and retrain periodically.
How do you deal with problem employees?
With very little tolerance.
Fastest way into my doghouse:
Act with lack of character.
Bottom Line
Annual revenue:
Close to $30 million expected in 2014.
2014 goals:
Open 10 Jersey Mike's locations.
Growth meter: How do you measure your growth?
By the number of stores we open every year.
Vision meter: Where do you want to be in 5 years? 10 years?
In 5 years, I would like to be almost done with the first phase of opening about 45 great Jersey Mike's stores, and in 10 years development will be complete with 70 locations.
How is the current economy affecting you, your employees, your customers?
In a positive way! We have managed to turn it around for our good. I teach my teams to focus on three things to ensure a terrific customer experience: great smiling, great customer service, and great subs. This helps us win and keep our customers.
Are you experiencing economic growth in your market?
Definitely! We offer a sub above, a great quality product.
What did you change or do differently during the economic downturn that you are continuing to do?
Saving in ways that do not affect our business, but that help us grow and improve. We focus on controlling food and labor costs while still ensuring a fantastic experience for our customers.
How do you forecast for your business?
Lots of growth, expansion, and success.
Is capital getting easier to access? Why/why not?
Yes, capital comes easier when you reach at least $1 million in EBITDA.
Where do you find capital for expansion?
Financial institutions and investors.
Have you used private equity, local banks, national banks, other institutions?
Why/why not?
Yes, we have used private equity because it was a large development.
What are you doing to take care of your employees?
Health insurance and 401(k)s.
How are you handling rising employee costs (payroll, healthcare, etc.)?
Like everybody else, we are raising our prices to maintain balance.
How do you reward/recognize top-performing employees?
Bonuses, vacations, tickets to sports events.
What kind of exit strategy do you have in place?
I don't have one at this time!
Published: December 30th, 2014
Share this Feature
Recommended Reading:
Comments:
comments powered by

Disqus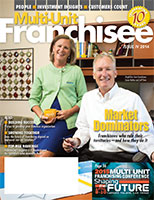 Multi-Unit Franchisee Magazine: Issue 4, 2014
When simplicity is the essence of your business model, clients and owners benefit. Clients want a predictably wonderful experience with every visit....
Cash Required:
$100,000
Loyalty Brands has launched an exciting new franchise concept, Loyalty Business Brokers. This brand is focused on connecting buyers and sellers of...