50 by 50: Welcome to growth!
The way Steven Taylor and Chris Smith see it, operating multiple brands just makes their business better.
"I got tired of hearing for so long, 'This is how every franchise does it'; or 'This is how it has always been done,'" says Taylor, a franchisee of Moe's Southwest Grill and Smashburger. "I was excited about branching out and diversifying to another concept and learning how they do it--and try to do it better. We have done that and have been able to cherry-pick the best of each brand and incorporate that into our own company."
At 40, Taylor and his partner Smith, 42, are gearing up for growth. The duo, who have three Smashburger locations and 14 Moe's in North and South Carolina, aim to operate 50 restaurants or post $50 million in sales by age 50. Under the umbrella of BrandStormers LLC, they are developing 8 additional Moe's and 12 Smashburger restaurants in the Carolinas.
Goal-setting is nothing new for Taylor, who early on inked a life plan to be a business owner at age 30. At 29, with his self-imposed deadline looming, Taylor turned his focus from selling medical supplies to franchising as the smartest and swiftest route to achieve his dream.
Armed with loads of confidence, but zero ownership experience and just $30,000 in the bank, Taylor turned a business cold call with a large Subway franchisee into a life and career game-changer. The franchisee group, which was looking to invest in a young entrepreneur, liked what they saw in Taylor--and fronted him $400,000 to open a franchise of his dream restaurant brand. Taylor's first Moe's Southwest franchise opened 11years ago at the University of South Carolina in Columbia, his alma mater and hometown. With help from Smith--and a college town location--the restaurant soon became the top Moe's unit in the state.
Smith's journey into franchising came after his own career epiphany before turning 30. He had quit his corporate banking job and moved to Austin to try his hand at music... when business beckoned.
" I burned out quickly on the corporate world and made a pledge to myself either to quit and start my own business or become a professional singer/songwriter," says Smith. "After a couple of years and still struggling, Steve presented a great opportunity to partner up and try our hand at the restaurant business."
Taylor soon noticed that Smith was "working harder than I was, and he wasn't an owner at the time," says Taylor. "I had a lot of respect and admiration for Chris, so we carved out a piece for him."
It was a telling test run for their future partnership, where titles aren't important. Smith is now known as "Head Nacho" while Taylor is the "Big Burrito." The duo credit their success since opening their first store to being free thinkers willing to try new things in a franchise culture often set in its ways. Adding Smashburger to their portfolio three years ago as a way to diversify opened their eyes to new ways of doing business.
Smashburger, for instance, is good at analytics, says Taylor. Moe's does a great job focusing on ticket times, but lacked concrete data to back up how well employees met the metrics corporate set. Smith, a self-described "data nerd," found a photo tracking system that they've rolled out in two stores. The technology eliminates guesswork by assigning a real time to customer service.
"Moe's says we want the guest to order and pay within 3 minutes and 30 seconds, but we have no way of truly measuring that," says Smith. " Soon, we hope to have a true understanding of how many guests truly get that 3-minute, 30-second promise."
This kind of operational savvy is just a sample of what Smith and Taylor have been cooking up that has caught the eye of the entrepreneurial world and earned them numerous awards. Taylor and Smith also are minority owners of 13 Moe's stores in the Washington, D.C. area---a venture launched with two other Moe's franchisees in 2012 under the name Guac N Roll LLC. The group has secured the rights to develop 20 additional Moe's restaurants in the D.C. area, with a particular focus on northern Virginia.
Looking back, Taylor still "can't believe they loaned me $400,000" to achieve his career dream. Taylor and Smith eventually bought out their angel investors in a "sweet deal" that allows them to repay the loan over 10 years with a low interest rate. The partners expect to easily meet their next career target of 50 stores, and will just have to ratchet up their goal when it happens.
"We are trying to build a brand," says Taylor. "It hasn't been easy. It takes time and tenacity."
Name: Steven Taylor and Chris Smith
Title: Owners, operators, partners
Company: BrandStormers LLC
No. of units: 14 Moe's Southwest Grills in the Carolinas and a minority interest in 13 Moe's in the Washington D.C. area; 3 Smashburgers in the Carolinas
Age: Taylor, 40; Smith, 42
Family: Taylor: Wife Jill, sons Hunter and Michael
Smith: Wife Amy, daughter Avery and son Loudon
Years in franchising: 11
Years in current position: 11
Personal
First job:
Taylor:: age 15, worked in a snow cone hut selling shaved ice.
Smith: age 16, a shoe salesman at Houser Shoes.
Formative influences/events:
Taylor: My father, Tom Taylor, and my mother, Nancy Taylor, for instilling in me confidence, morality, and a desire to succeed.
Smith: Working in and leaving the corporate world.
Key accomplishments:
Taylor: 40 under 40, Charlotte Business Journal; Moe's Franchise Partner of the Year (2011); Smashburger Rookie of the Year (2014); Moe's Franchise Advisory Council Member (2008-2011); youngest Moe's Franchise Advisory president at 35 (2010); Moe's Menu & Food Committee chair (2008-2011); Moe's Market of the Year Award, Columbia, S.C. (2006); assisting with the start-up of Friends of Epworth.
Biggest current challenge:
Taylor: Obamacare and rising food costs.
Smith: Growing and shaping Smashburger to the point that it predictably runs systems and profitability like our Moe's. We get better every month.
Next big goal:
50 units or $50 million in sales by age 50.
First turning point in your career:
Taylor: Forcing myself to start my own business by age 30 and finding someone to invest $400,000 in me at such a young age.
Smith: Moving outside our home base (Columbia) and purchasing the Augusta market.
Best business decision:
Taylor: Believing in Moe's Southwest Grill and the emergence of Americanized Mexican as a food category.
Smith: Partnering with experienced franchisees. When we started, we had two great, quasi-silent partners who were great mentors. They were Subway franchisees with 40-plus units who loved Moe's as well. After three years, we bought them out of Moe's. Working with them was like being given a playbook on how to be successful restaurant operators.
Hardest lesson learned:
Taylor: You can't do it all yourself.
Smith: Thinking that the work chemistry Steve and I have can be replicated with other partners.
Work week:
Taylor: 50 to 60 hours a week.
Smith: Consumed with weekly meetings on Mondays and Tuesdays with our various teams within the organization. By Wednesday, I'm able to start working on more strategic activities. I am usually in my home office or stores 50 hours a week. Plus, I'm usually checking email or taking the occasional call at night and on the weekends. I do my best though to "turn it off" from Friday night through Sunday night.
Exercise/workout:
Taylor: Addicted to CrossFit.
Smith: As a data nerd, I'm currently all about my Fitbit. I've learned that I'm a horrible sleeper and I don't take enough steps in the day. On a good week, I can get 3 or 4 workouts in. My preference is running.
Best advice you ever got:
Taylor:: Rules without relationships lead to rebellion!
What's your passion in business?
Taylor:: Establishing successful new locations while seeing people flourish and blossom in our existing business.
Smith: Data, analytics, technology. We are using all of that to build a smarter, more enjoyable, more profitable operation.
How do you balance life and work?
Taylor: Enable, empower, and entrust people to make the right decisions.
Smith: Developing systems at work and getting people to buy in to those systems allows us to step away when non-work life needs to begin.
Guilty pleasure:
Taylor: Häagen-Dazs chocolate and peanut butter.
Favorite book:
Taylor: Philosophies and Traditions by Russ Umphenour.
Smith: Outliers by Malcolm Gladwell.
Favorite movie:
Taylor: "Caddyshack."
Smith: "Star Wars."
What do most people not know about you?
Taylor: I was terminated from a restaurant while in college.
Smith: I had perfect attendance from kindergarten through my senior year of high school. My grandmother called the high school principal to make sure he knew of my attendance. Embarrassingly, she told this story at an awards banquet. Not my coolest moment.
Pet peeve:
Taylor: Dirty tables and apathetic employees.
What did you want to be when you grew up?
Taylor: A small-business owner like my father.
Smith: At age 8 or 9, I remember wanting to become a professional basketball player.
Last vacation:
Taylor: Took my family skiing to Snowbird/Alta, Utah.
Smith: China for two weeks in the summer of 2014.
Person I'd most like to have lunch with:
Taylor: My wife.
Smith: Stephen Colbert.
Management
Business philosophy:
Taylor: We have a passion for providing perfect food in a happy, safe, productive, and energetic environment where people can flourish personally and professionally. We always do the right thing, even when no one is watching.
Smith: Systems, systems, systems.
Management method or style:
Taylor: Great people running great systems.
Smith: Have fun and set people at ease, so you build trust, coach, mold, and grow.
Greatest challenge:
Establishing and maintaining good management infrastructure while growing aggressively.
How do others describe you?
Taylor: Intense, direct, humorous.
Smith: Have high expectations for myself--and others, maybe?
One thing I'm looking to do better:
Taylor: Minimize turnover.
Smith: Measure Moe's true speed of service. Moe's says we want guests to order and pay within three and a half minutes, but we have no way of truly measuring that. I found a tracking system that we've recently rolled out to two stores and plan to roll out to more of our stores. Soon, we hope to have a true understanding of how many guests truly get that 3-minute, 30-second promise.
How I give my team room to innovate and experiment:
Taylor: We often test new technologies or systems in a single store and we allow the DMs/GMs to own it and report back to the group on the results.
How close are you to operations?
Taylor: We are BFFs. Nothing is more important than operations.
Smith: I'm in the stores usually three days per week or more. I have an office in one of our locations.
What are the two most important things you rely on from your franchisor?
Taylor: Additional systems and marketing support.
Smith: Keeping food supplier costs under control; and innovation to keep the brand moving forward (mobile ordering, mobile payments, etc.)
What I need from vendors:
Taylor: Trust, reliability, performance.
Smith: Cost control and transparency. We have a linens provider that would not budge on price while other competitors could provide the exact same service for half the cost. They continue to lose our business as each store's contract ends.
Have you changed your marketing strategy in response to the economy? How?
Taylor: We have made it out of the Great Recession, which has encouraged us to get more aggressive with marketing in general, thus we are spending more money on marketing.
Smith: Yes. We had to choose to be bad at something if we couldn't be great at it. We couldn't be great at TV, so we cut it and poured our efforts into outdoor, social media, and several local campaign promotions.
How is social media affecting your business?
Taylor: It is good for building awareness and loyalty. However, we have been forced to spend more time and energy monitoring sites like Yelp, Google reviews, TripAdvisor, Urbanspoon, etc. for customer comments and complaints.
Smith: It's integral to our marketing approach. Five or more years ago, it was nonexistent in our marketing plans.
How do you hire and fire?
Taylor: We use an online application and assessment tool for new hires. If the candidate passes the assessment then they are highly likely to perform better and work within our system. We do background checks on all new hires. We discourage using the word "fire" because it's derogatory in nature. We are dealing with human lives here, so let's be courteous in everything we do. People are watching.
Smith: We've been rolling out Corvirtus in both concepts. We send interested candidates to a Corvirtus website where the candidate completes a pre-screening evaluation. If they're a "red" we don't interview. "Yellow" we may interview. "Green" we usually interview. Regarding firing, we have a progressive discipline approach. However, there are some unforgivable offenses like "no call, no show." I like to say, with a good employee handbook bad employees will inevitably "fire" themselves.
How do you train and retain?
Taylor: We offer significant bonus plans plus great benefits: 401(k), paid vacation, health insurance, life insurance, etc. We build relationships with our employees.
Smith: We are testing a centralized training approach where a market will have a training manager located at one store in that market. New hires go to that training store for at least a week. The training is a mix of online and hands-on learning.
How do you deal with problem employees?
Taylor: We try to create a business culture that does not tolerate problem employees. Be part of the solution, not part of the problem. You can tell a lot about your business culture by describing the last three people you asked to leave.
Smith: Coach them. If they're receptive to it, then we can grow the relationship. If they aren't, their employment will end one way or another.
Fastest way into my doghouse:
Taylor: Dirty and unorganized stores with apathetic employees not paying attention to customers or food quality. No passion to run a successful store.
Bottom Line
Annual revenue: We will do more than $20 million in sales in 2015.
2015 goals: Greater than 5 percent same-store sales growth, and keeping The 4 Disciplines of Execution (Chris McChesney) top of mind for employees.
Growth meter: How do you measure your growth? New starts and same-store sales.
Vision meter: Where do you want to be in 5 years? 10 years? 50 units or $50 million in sales by the age of 50. 5 years: 40-plus units 10 years. 10 years: 50-plus units.
How is the economy in your region affecting you, your employees, your customers? The economy has been strong in our area for quite some time now since the Great Recession. We are starting to see more competition for the same spaces. Hiring has become more challenging because of increased competition. Customers will start to have more choices, making competition for stomach space fiercer.
Are you experiencing economic growth in your market? Yes. There are two ways to grow: 1) grow an existing concept in other markets; or 2) take on a new concept in your existing footprint. We are doing both.
How do changes in the economy affect the way you do business? Less aggressive business decisions in a looming recession. But about 2½ years ago we started making more aggressive business decisions based on a speech by economist Brian Beaulieu at a Vistage meeting. I'm very happy we acted on that advice.
How do you forecast for your business? Drive same-store sales and create a road map with milestones for new store openings. Follow the road map. Remember that it takes 9 to 15 months to open a new location from start to finish (LOI, lease, architectural planning and permitting, construction, etc.). It is a long process.
What are the best sources for capital expansion? Small, regional, relationship banks. My experience has been that large banks don't like restaurants because we don't have a lot of assets (but we do have significant EBITDA).
What are you doing to take care of your employees? We offer significant bonus plans plus great benefits: 401(k), paid vacation, health insurance, life insurance, etc. We build relationships with our employees.
How do you reward/recognize top-performing employees? Taylor: Celebrate success! We have recurring yearly competitions such as The White Glove Inspection, where the cleanest store in our system wins $100 gift cards for all store employees and the GM gets an extra week of paid vacation. We also pay $1,000 extra bonus for the highest Steritech Food Safety audit score, franchisor inspections, and secret shoppers.
Smith: General managers who have been a GM for at least two years become eligible for our Operating Partner program. If we invite them to join as an Operating Partner, they earn a certain percentage of EBITDA on a quarterly basis. Additionally, we have all kinds of contests for same-store sales growth and QSC scores.
What kind of exit strategy do you have in place? Taylor: Once we achieve the $50 million in revenue or 50 units, we intend to sell to a responsible buyer. We are starting to own more and more of the real estate we occupy, so the intent would be to collect rent from a future buyer.
Smith: Why, are you interested in buying us out?
Published: November 2nd, 2015
Share this Feature
Recommended Reading:
Comments:
comments powered by

Disqus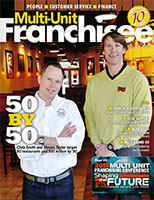 Multi-Unit Franchisee Magazine: Issue 2, 2015
MassageLuXe® is a fast-growing massage franchise providing massage services to clients, primarily through multi-unit area developers & single...
Cash Required:
$100,000
One of the fastest growing franchises in the U.S., Jimmy John's has been making fresh, fast, tasty sandwiches since 1983 - and seeking...
Cash Required:
$200,000