A Restaurateur's Dozen: Managing 126 Units, One at a Time
John Gantes has been in the restaurant business his entire life. "From the time I was a little kid, I worked around restaurants. I'm from Greek heritage and my dad had a restaurant when I was growing up, so I knew the business. Unlike my dad, who was very content to have one restaurant, that wasn't what I really wanted to do."

When he was a junior at Stanford, Gantes took over his father's restaurant, which had annual revenues of about $500,000. When he graduated in 1976, sales had nearly tripled to $1.3 million. "That was the starting point of where I really got involved in the restaurant business," he says.

After graduation, Gantes went back for an MBA. During that time he started developing real estate. "I still had a passion for the restaurant business," he says. "But I knew that to attract any kind of capital, I would have to become a franchisee, otherwise there was no money available to build a company." In 1983, he became a franchisee for Burger King, opening his first restaurant close to home in Orange County, Calif.

"Probably the biggest reason at the time was to attract capital," he says. "If you were an independent restaurant no one ever wanted to lend you money. That was probably the original reason I got involved with Burger King: to enable myself to build a company. Being part of a large system, I was able to secure debt financing through the fact that Burger King's successes allowed me access to capital markets that I wouldn't have had as an independent restaurateur."

He stayed exclusively with Burger King until 1992, when he signed franchise agreements with both Coco's Bakery Restaurant and Ruby's Diner. "They were more full-service, which is where my roots were. My first restaurant was a full-service, dinner-only steak house."

In the ensuing years, Gantes added concepts like hotcakes. He currently has more than 125 units operating or under development. His most recent venture, El Pollo Loco, calls for him to open 18 locations by 2015, 14 in the San Francisco Bay Area and four in southern Washington.
What was he thinking?
When Gantes began franchising 23 years ago, he didn't envision becoming the large, multi-concept developer he is today. "I did not have a master game plan in my mind. It evolved over time," he says. After his first Burger King, Gantes focused on growth in Orange County and adjacent areas.

"Instead of having one brand and taking it to multiple counties or states, I went where I knew the market well and did multiple brands. It's kind of a reverse strategy from how some people might do it," he says. "Instead of building an Applebee's here and going to New Mexico and do five more, for example, I did it the other way: I took an area probably 50 miles around where I lived and started building multiple brands where I knew the market and I had operational synergies."

There are at least two ways his operation produces those synergies today. One is his ability to locate two, three, or more brands on one piece of real estate. "We'll do for example, a Mexican and an Italian restaurant together in the same parking lot, which drives traffic there as a food destination. In that sense they complement each other because they don't directly compete," he says. Gantes has about 25 locations with two or more brands on the same parking lot or adjacent pad. (His only co-branding is with Bruegger's and Haagen-Dasz.)
Managing a dozen brands
Second, Gantes is able to find significant efficiencies through his corporate infrastructure. Financial, human resources, risk management, and other general administrative functions are pulled together. "Because there are a lot of similarities in how that aspect of a food service business operates, there's not a great need to have those separate," he says.

However, when it comes to managing each brand, it's another story. Each brand has its own director of operations, with each reporting to one of his two COOs. "We have dedicated people for each brand. Until you get to a higher level of the company, people manage only their specific brand," says Gantes.

"Operationally, the people who run these brands are kept totally separate. They're different businesses and we run them totally differently," he says. "We want to be sure that each of the brands maintains their identity and charismatic traits. We feel that's critical to maintain their success." And the record speaks for itself.
"Obviously the similarity of all the concepts is that they serve food; beyond that everything is totally different. Your expectations as a customer are totally different if you go a McDonald's versus going to a Chili's or any other brand. They're restaurants, but you better manage them each with a different mind set. Otherwise you'll fail."
Spreading the risk
Operating so many different brands is much like creating a diversified stock portfolio, spreading the risk in a changing market, a hedge against any one of them going bad. Reasons can range from a franchisor not living up to its end of the bargain to consumers' changing tastes to something as uncontrollable as an E. coli scare or some other external factor.

"I originally got into full service after I went into fast food initially in the '80s, to diversify risk," says Gantes. "Because it's not like people stop eating, they just eat somewhere else." Offering multiple brands means consumers will likely visit one or more of his restaurants when they go out to eat. Even the weather is a factor in determining consumer choice, says Gantes. "If it rains in California no one goes to fast food restaurants, everybody goes to full-service."

For Gantes, a significant part of his strategy is "to be diversified as far as different segments, so that we don't have all of our eggs in one basket. And geographically, we're into five states to diversify that risk as well."

His current rule of thumb is to keep his operations within a two-hour flight in the same time zone, and to develop anywhere from two to four concepts in those other markets. "Originally the premise of how we grew was within 50 miles. But as we continue to grow, we definitely want to diversify into other markets geographically," says Gantes.
Franchisee trade-offs
"In this business, we're only as good as that last meal we served, and every day is a new race, a new battle," says Gantes. "The biggest concern, because we aren't in total control of our destiny, is having a franchisor that is well run and has good franchisees. And we've been involved in a couple of brands, unfortunately, that over time have missed the mark or had issues.

"Burger King had its issues over time, but it's on the mend now. When you're part of a system, unfortunately, you don't have absolute control of your destiny. And that's always a negative of being a franchisee," he says. Size and success tend to mitigate that somewhat.

"Now that we've gotten larger, we look more carefully at the type of franchisor, where the brand's positioned, and the quality of the franchisees. Fortunately, we're involved in some very good systems right now that have a lot of checks and balances in place, so that franchisor and franchisee interests are both weighed; that it's not a totally franchisor-driven environment where they could care less about the franchisee who has millions and millions involved in the business and the buildings, and often has more at risk than the franchisor. We need to be sure that the franchisor has a balanced mind set to listen to us."
Looking ahead
So what's next for John Gantes and his ever-growing company, the Breckenridge Group? Nothing's really in the works right now, he says--other than 18 new El Pollo Locos, expanding existing brands, and a measured entrance into the hotel business. "We might do some one-offs in locations where we have extra real estate. But we aren't looking to take on any additional franchise brands at this time," he says.

The company's future, says Gantes, includes his four children, all of whom have plans to enter the family business. His oldest son joined the company after graduating from the University of Michigan and is now chief information officer. Another son, currently attending Cornell's School of Hotel Administration, is slated to take hands-on control of two Hilton products now under development, and basically serve as COO of that business segment. And when his only daughter graduates from Yale, she'll also return home and be the marketer for the company.

"Because we also have a real estate development company, that's kind of our diversification. If the question is 'Would I be a Jiffy Lube franchisee?' I'd say the answer is no. I like hospitality, and I enjoy the synergy with the real estate development side of that business as well." And of course there are additional synergies to be gained by combining hotels and restaurants, with restaurants located inside the hotels, nearby, or on the same pad.

In fact, it was real estate that led to his involvement with Famous Dave's. Gantes had a couple of extra pads from Carino's deals that he needed to fill. "That's kind of the back door of how I got involved with Famous Dave's. I had extra real estate, and then it ended up being a full-blown expansion into that business." And that's how a multi-unit, multi-concept empire is built. This one, anyway.
Published: July 11th, 2006
Share this Feature
Recommended Reading:
Comments:
comments powered by

Disqus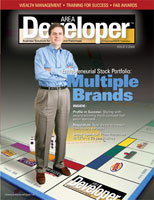 Multi-Unit Franchisee Magazine: Issue 2, 2006
At Celebree School, our child care franchise delivers a safe, nurturing, friendly, state-of-the-art learning environment that fosters a solid...
Cash Required:
$250,000
With over 650 stores operating across 28 states and commitments to open more, Scooter's Coffee is in the midst of a strategic growth phase...
Cash Required:
$200,000