All-Around High Achiever
Measuring success by how many people he helps reach their goals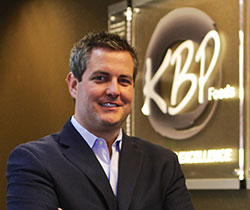 In a time when many business executives are looking at what to cut because of rising payroll and healthcare costs, Michael Kulp, president and CEO of KBP Foods, a $250 million restaurant company with units in nine states, is taking an "inverse" approach.
"We're using our growth as a vehicle to handle costs rather than shrinking the business down," says the 38-year-old Colorado native. "We're making sure that our growth and cash flow outpace the costs of healthcare and payroll." This approach illustrates what Kulp finds most rewarding about his job, he says. "Our mission is to develop our people personally, professionally, and financially."
With that goal in mind, KBP Foods, which includes nearly 300 KFCs, Taco Bells, and Long John Silver's, took another major step. "In the last three or four years, all of our key employees have become equity holders and we've completed recapitalization that provided them their first liquidity event," he says. "It's been my dream to make our key stakeholders true equity partners. It's one of the most gratifying events I've ever had as a franchisee."
His desire to give back was instilled early in Kulp, who grew up humbly with divorced parents, both of whom were teachers, and five brothers and sisters. "My mom taught special education for 35 years, so I was constantly in contact with people less fortunate than I," he says. "I always had a burning desire to make sure any future business success was paralleled by the success of others we could help."
That's why each regional vice president in the company is required to sit on the board of a charity and participate in fundraisers each year. "In Atlanta, we just raised $150,000 for the children's shelter. That's out of a $1 million budget, so we're making a big impact by using our restaurants to sell coupon books throughout the year," says Kulp, who holds bachelor's degrees from the University of Colorado in marketing and Colorado Mesa University in management.
The high-energy family man and self-described "avid, ongoing student" says he's had his hands full since KBP has regularly ranked in the top 10 fastest-growing restaurant companies in the U.S.--but he still takes each person in his office out alone every year. "As fast as we're growing, I've tried to stay true to the one-on-one time we had when we were a smaller organization," he says. "It's demanding from a time standpoint, but I'd much rather have lunch or a late afternoon glass of wine with a person from our office than sit in front of a computer screen for hours."
Kulp, who has always worked in restaurants and bought into an existing KFC franchise in 2006, remains highly aware of the juggling act that is life. "On the back of all our birthday cards to employees, we describe the five balls that we juggle in life as work, spirit, health, friends, and family. Only one--work--is rubber. If you drop it, it bounces back. The other four are glass, so if you drop them they break. We need to keep that in perspective."
Name: Michael Kulp
Title: President & CEO
Company: KBP Foods
No. of units by brand: 230 KFCs, 47 Taco Bells, and 4 Long John Silver's
Age: 38
Family: Wife Stephanie, three children
Years in franchising: 8
Years in current position: 4 (since we restructured in 2010)
Personal
First job:
Cook in a local fast-food restaurant.
Formative influences/events:
Watching a couple of business owners in franchising sparked my interest in the industry and how it provides great opportunities for people without such deep pockets. My first mentor was Gary Zancanelli, who purchased the original KFC where I was employed.
Key accomplishments:
Most important is our organization's involvement in charity work throughout the country. We contribute to a group in Kansas City called First Downs for Down Syndrome, the Atlanta Children's Shelter, and the Dream Center for Tampa, which offers after-school care and mentoring. We also raise funds for the Kansas City Harvesters Food Bank and a Virginia charity that assists families economically burdened because they have family members in the military protecting our country.
Biggest mistake:
Probably gravitating toward my strengths educationally. I wish I'd taken more courses in financing and accounting as opposed to marketing and management, which came naturally to me.
Smartest mistake:
There were a couple of large-scale acquisitions we considered after restructuring that we dragged our feet on because we felt due diligence needed to go deeper. When we lost them, we were distraught. However, it turned out to be a blessing in disguise because the franchisees that bought these companies are now in financial distress in a downward market.
Decision I wish I could do over:
Early on, we hesitated to bring in the right level of financial leadership. We're in a great spot today with our CFO, but with our reactive financial planning, we dug ourselves into a hole and it took us 2 years to catch up.
Work week:
As needed. Unfortunately, we have a lot of needs. I spend 30-plus weeks a year on the road. Since I'm away from my family, I try to take full advantage and spend as much time with people as I can. The regional VP and I host future leaders' breakfasts, in which we encourage them to grow in the restaurant world and educate themselves on what we do differently from the competition. I visit restaurants for most of the day and end with cocktails or dinner with the above-store leadership team. When I'm in the office in Kansas City, work is less demanding and I stay fairly true to weekends with my family, attending sporting events and spending time with the little ones.
How do you spend a typical day?
When I'm in town, I'm up early to see the kids off to school. I like to start my day with meetings outside the office, and I have several mentors and resources I breakfast with each week. When I walk into the office, I dedicate myself to what I'm doing there, ending my day with one-on-ones with my team until 5 or 6 p.m.
Favorite fun activities:
Golf, attending sporting events, and hanging around with my kids.
Exercise/workout:
Not as often as I'd like.
Favorite tech toys:
iPhone.
What are you reading?
Beyond the Final Score: There's More to Life than the Game by Tom Osborne, the former Nebraska football coach.
Do you have a favorite quote?
"Every leader deserves the team that he has."
Best advice you ever got:
Probably the Golden Rule. As you become successful, you can't forget that the people around you make you successful. If you stay focused on helping others achieve their dreams, you'll go much further in life.
What gets you out of bed in the morning?
Our team. We have the best team of any quarter-billion-dollar business in the industry and I truly look forward to spending time with them. I'm the youngest member of the executive team by far, and the intellectual stimulation I get from trying to stay one step ahead of them keeps me motivated.
What's your passion in business?
People development.
How do you balance life and work?
By being present and having things that I truly won't give on. I've learned that my wife and kids don't need 20 hours of my day. But when I'm with them, I'm with them. If I'm in a corner of the room talking on the phone or answering emails, it's harmful. No matter how important board meetings are, there are certain things you just don't miss in life.
Last vacation:
Mexico with my wife in October. We take a couple of trips together each year and then we take the kids other places.
Person I'd most like to have lunch with:
My father, who passed away.
Management
Business philosophy:
To provide personal, professional, and financial growth to all key stakeholders.
Management method or style:
To hire the best, challenge them, praise their efforts, recognize their progress, and reward their results.
Greatest challenge:
It's all on the people side, attracting, hiring, and retaining top talent.
How do others describe you?
High-energy, fairly intense, tenacious.
One thing I'm looking to do better:
I need to take better care of myself.
How I give my team room to innovate and experiment:
Ours is a pretty unusual structure with each regional VP an equity holder in the business. They're the decision-makers in the region and are given absolute autonomy and responsibility.
How close are you to operations?
Pretty close. I joke all the time with our lead guy that his job is to make sure he keeps the COO title from me.
What are the most important things you rely on from your franchisor?
Strategic and brand leadership, standards that create a consistent experience for the consumer across the franchisee base, and keeping the guy down the street from hurting our business.
What I need from vendors:
They're our partners, and we help them understand that we see them as an extension of our business and expect them to act that way.
Have you changed your marketing strategy in response to the economy? How?
Absolutely we changed. The economy exposed some of our value challenges. So we're doing two things differently: paying closer attention than ever to the consumer side of our retail offerings, and doing a better job of looking at different demographics in the same city from the local market standpoint. We're competing with the guy up the walkway, not just the guy with commercials on national TV.
How is social media affecting your business?
The effect is huge. Some guys we've not seen as competitors from an advertising point of view can now touch people in a cost-effective manner and drive loyalty in those businesses. It's also created a different sensitivity around core brand issues. If consumers want to broadcast something to the world, they can do it in seconds, so we're improving the way we handle negative situations with customers.
How do you hire and fire?
We hire slowly and fire fast. We put millions of dollars into a very sophisticated, proprietary industrial psychological process for new hires up front, and we do multiple rounds of interviews at all levels of the organization.
How do you train and retain?
Retention is all about personal connections. The company sits in Kansas City, but we try to provide tools to help our team create a work environment folks want to be part of. Retention is the number-one reason we've been in the 10 fastest-growing restaurant companies in the country for a while now. I've said for years: People don't wait on positions in this company. Positions wait on people. When they're ready, there's a spot for them.
How do you deal with problem employees?
Quickly. On the back of our values card, there's a statement we borrowed from GE that says: When people have poor results but good values, we can coach them. But when people have fundamental values issues, they are removed.
Fastest way into my doghouse:
An honesty or integrity breach. Mistakes are fine as long as you own them.
Bottom Line
Annual revenue:
$250 million.
2014 goals:
One real goal every year is to be the best operating restaurant company in the country. In our operating plan for 2014 is $100 million in revenue growth through acquisition.
Growth meter: How do you measure your growth?
It's easy to measure P&L and bottom line. Beyond that, the biggest measure of our success is how many people we help reach their goals.
Vision meter: Where do you want to be in 5 years? 10 years?
In 5 years, we'll be diversifying to keep up with our growth plan and will have established a second flag under our holding umbrella. In 10 years, I would love to own my own brand.
How is the current economy affecting you, your employees, your customers?
The biggest effect is on the competitive environment; we're now seeing competitors not historically placed in the value game, which brings more pressure. On a positive note, we're expecting good commodity deflation in 2014, so that's going to help us further compete in value. Beyond that, we work in lots of urban trade areas where teams are still under financial distress. The challenges our key employees are facing more broadly are affording healthcare, taking care of reliable transport, and finding enough hours without working a second job.
Are you experiencing economic growth in your market?
It varies by region since we're in nine states. Atlanta and Florida are experiencing some growth, but Virginia and North Carolina are not.
What did you change or do differently during the economic downturn that you are continuing to do?
We did what most people did: looked differently at every single line on our P&L. It made us a better operating company because we found a lot of waste we weren't focused on. One thing we did was cut out any unnecessary investments in things unrelated to the infrastructure.
How do you forecast for your business?
We have a fairly sophisticated POS platform in our business that keeps us on top of things. As far as growth, we educate ourselves a lot, attending conferences and reaching out to industry executives to stay abreast of what's coming and its implications on our business and brands.
Is capital getting easier to access? Why/why not?
Absolutely. We're in a little different situation, since we've operated from profitability in the top tier of our brands for years, so we have constant access to capital. Even in 2009 in Florida, we found it. Today banks are competing for our financing.
Where do you find capital for expansion?
We use both institutional private equity and large syndicate banks. Our four-bank structure is Wells Fargo, Cadence Bank, Bank of Montreal, and CrossFirst Bank. Our philosophy is that the single most important thing we can do is secure our underlying and financial structure.
Have you used private equity, local banks, national banks, other institutions? Why/why not?
We've used the above-mentioned banks and added in private equity because we wanted to remain conservative.
What are you doing to take care of your employees?
There's an annual contest where we take the top 10 percent of the company with their families for a three-day celebration in Key West. We bring high-performing people to Kansas City for two days with our Ambassadors of Excellence program. We give them development training, not restaurant-related, but more soft skills, like how to dress and how to interview and shake hands. We also have a profit-sharing program at the unit level and equity partnership for regional-level team and above.
How are you handling rising employee costs (payroll, healthcare, etc.)?
We've always offered a fairly robust healthcare plan for our segment and size of company. There's been some shift in resource allocation, but nothing huge or complicated. We've taken a different approach by using our growth to handle costs rather than making cuts to the business.
How do you reward/recognize top-performing employees?
We do little stuff, like sending 500-plus handwritten cards a year (every anniversary, every birthday). The bigger stuff includes a cleaning contest at the first of every year. There are four rounds of judging and we send the winners on a cruise. We have 12 store-level managers who are elected to our Managing Partner Council, and I meet with them once a quarter by phone and talk through issues. Every single time when we discuss incentives, they tell me that doing things that show you really care count most with our employees.
What kind of exit strategy do you have in place?
Two or three people inside the business have the ability to replace me. I don't ever plan on completely exiting the business, but I'd love to get to the place where my role was more of chairman or board only and less of the day-to-day. The recurring nature of our liquidity events provides a smoother succession transition than most.
Published: March 3rd, 2014
Share this Feature
Recommended Reading:
Comments:
comments powered by

Disqus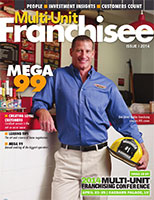 Multi-Unit Franchisee Magazine: Issue 1, 2014
Sky Zone created the world's first wall-to-wall trampoline park in 2004, bringing high-flying fun to guests across the globe. Now you can be...
Cash Required:
$500,000
$1M+ Avg. Revenue per Location. No medical experience necessary. Manage the manager franchise. Comprehensive training and support. Unique business...
Cash Required:
$75,000