Call of the Entrepreneur: Young Jersey Subs Operator is One of Their Best
Chris Rigassio is a Jersey boy who grew up loving Jersey Mike's sandwiches and the brand's unique culture. He always wanted to be an entrepreneur--something he confirmed during an internship at a financial planning company when he was still in college.
"That was one of the worst experiences of my life and showed me that there was no way that financial planning was for me," recalls the 29-year-old today. "Entrepreneurship was still calling."
Fresh out of college and just 22, he approached Jersey Mike's about franchising. The brand was skeptical because of his age and inexperience, but Rigassio was persistent. He asked the development team time and again for a shot. Finally, his determination paid off: the company gave him an opportunity to work as a crew member at one of their top locations in California to see if he had what it took to be a franchisee.
"I passed the test," says Rigassio.
Today, he is one of the brand's most successful multi-unit operators, with 9 Jersey Mike's locations up and plans for 16 more. But Rigassio is more than just a successful franchise operator. He also serves as director of operations for North New Jersey, where he oversees the development and growth of more than 30 other Jersey Mike's franchisees.
Of his success so far, Rigassio says, "I just kept my head down and continued working toward my goal to prove everyone wrong, and it has worked."
Rigassio says his next big goal is to open and operate 25 stores of his own. He knows it will require more hard work, and he's up for the challenge. With the help of a business coach, the young entrepreneur says he has learned to work on the business rather than in it. This, he says, will be one of the keys to taking his operation to the next level.
Name: Chris Rigassio
Title: Multi-unit franchisee; director of operations, North New Jersey
Company: Jersey Mike's Subs
No. of units: 9
Age: 29
Family: Wife-to-be Nicole, French Bulldog Drake
Years in franchising: 8
Years in current position: 4 as franchisee and director of operations
Personal
First job:
Lifeguard, Mantoloking Beach, N.J.
Formative influences/events:
I always wanted to be an entrepreneur. When I was in college, I didn't know how realistic that was so I took an internship at a financial planning firm/stock advisory and it was a real eye-opener. The internship was one of the worst experiences of my life and showed me there was no way financial planning was for me. That moved me in the direction of entrepreneurship.
Key accomplishments:
First million-dollar location: Rochelle Park, N.J.; still actively in the top 30 stores in the country out of more than 1,300 locations.
Biggest current challenge:
Keeping up the pace and momentum of opening stores and overall development of the company.
Next big goal:
To operate 25 stores.
First turning point in your career:
Partnering with investors and forming Prospect Capital Restaurants, LLC.
Best business decision:
Never giving up. I've been denied and underestimated a million times in my career. I just kept my head down and continued working toward my goal to prove everyone wrong, and it has worked.
Hardest lesson learned:
Starting my own business takes a village. Creating a successful business takes a lot of hard work and you have to make compromises along the way. The realization of success doesn't happen overnight. It takes a lot of long hours and many sleepless nights.
Work week:
On the phone with my director of operations at 6:30 a.m. to brief what's in store for today and review the previous day. I get my workout in around 7 a.m. After that, I'm in the office making calls from 8:30 to 10:30 or 11 a.m. Once that's complete, I'm on the road visiting my stores and/or have days in the office until 6:30-7:00 p.m.
Exercise/workout:
5-6 days a week. I'm usually in the gym by 7 a.m. I also run two times per week and Peloton bike two times per week.
Best advice you ever got:
Ice cream now or ice cream later. Put in the work now to enjoy the benefits later.
What's your passion in business?
Growth, Growth, Growth. I'm passionate about constantly growing our company with some of my closest friends, family members, and great employees I have picked up along the way. It is pure joy to see how far everyone has come and exciting to see where we can take this business.
How do you balance life and work?
I have a business coach who has helped me understand the importance of this over the last two years. Like any entrepreneur it was all work, and I mean all work at one point, and no life. Since then I have put trust in three of my top employees to oversee the operations and marketing of our company, and I have started to work (as my coach would say) on the business not in the business. However, as an operations manager, I will never give up the daily operations.
Guilty pleasure:
Traveling. I try to travel at least two to three times a year.
Favorite book:
Trump: The Art of the Deal.
Favorite movie:
"The Wolf of Wall Street."
Pet peeve:
Unmotivated people.
What did you want to be when you grew up?
Since I can remember, I wanted to be a business owner. I used to come up with the craziest ideas when I was kid, whether it was moving to the islands and opening jet ski rental businesses or online ordering platforms. I really wanted to own a local surf shop in a beach town community.
Last vacation:
Costa Rica.
Person I'd most like to have lunch with:
Jeff Bezos.
Management
Business philosophy:
Always striving for more. Never be satisfied with just enough.
Management method or style:
Perfectionist. Never settle.
Greatest challenge:
Over-committed. I have a problem saying no.
How do others describe you?
Relentless. I get an idea and won't give it up until it's achieved. "Dog with a bone." Driven.
One thing I'm looking to do better:
Not to forget work/life balance. Also, it's very important to me to increase the overall health of my company.
How I give my team room to innovate and experiment:
Always based on proven productivity and results. Will give it to them if and when they earn it.
How close are you to operations?
I have conference calls with my key team at 6:30 every morning before they start their day. We go over a recap of yesterday, what's in store for today and this week, and review daily labor and food cost numbers of managers and stores.
What are the two most important things you rely on from your franchisor?
Food safety best practices and marketing and social media tactics.
What I need from vendors:
We don't have many vendors, so the biggest thing is to just be on time. Quality of product is also important and for it to be in great condition.
Have you changed your marketing strategy in response to the economy? How?
We have improved our marketing strategy based on the increase in the economy; creating new revenue streams with stronger marketing.
How is social media affecting your business?
Positive. It gives us an opportunity to hit a larger target audience with more bandwidth.
How do you hire and fire?
It's extremely challenging to hire talented and energetic individuals willing to work the demands and hours of the hospitality industry. We interview and assess every potential employee's strengths and skills and use that as a way to find lasting candidates and employees who fit the mission of Jersey Mike's Subs.
How do you train and retrain?
Our employees go through extensive on-the-job training that sets the bar for operational excellence. Our employees are prepared and we are able to retain them by creating a fun atmosphere that encourages camaraderie and banter with the customers. The training we receive as franchisees gives us the tools to pass that training down to our managers, setting up each employee for long-lasting success. Well-trained franchisees and managers create successful stores, which encourages employee retention. Our staff believes that Jersey Mike's is not just a job, but also a career path, and that's a testament to how we train and prepare.
How do you deal with problem employees?
I rely on my key management team who are in the thick of things when the bullets are flying to deal with any issues that may arise with employees.
Fastest way into my doghouse:
My expectations of others. I expect everyone to have the same drive and commitment that I do.
Under 30
How did you get into franchising at such a young age?
Graduated from West Virginia University and wrote a college paper on Jersey Mike's vs. Subway. I interviewed franchisees for the paper and started to become more and more interested in it.
Was becoming a franchise something you'd planned on?
Yes, I'm from New Jersey and grew up eating Jersey Mike's subs. I figured I couldn't get a good sandwich away from school and it sparked an interest for me to get into franchising and open a Jersey Mike's. The seed was always planted, I had the idea, and it's something that kept getting bigger and bigger.
Did you have a mentor or inspiration for getting into franchising?
No.
What jobs, skills, and experience have helped you operate a franchise business?
Keeping calm under pressure. There is a lot of pressure that comes at you from many different directions. You can't bring your emotions into it, but rather have to think the process through.
What kinds of obstacles did you face in franchising at such a young age?
Not choosing the best location for my store. I've had a couple tough situations, but we've learned from our real estate mistakes. There's a lot of stress put on the company when you kind of miss the ball there.
How would you describe your generation?
In-between. I feel like the younger generation is so technology-driven and inherited a different work ethic. Some of my business partners are older and do things a bit differently and a bit more old school. I feel that our generation is stuck in between, as we have gathered a little bit of both sides of the spectrum.
Do you see franchising as a stepping-stone or a career for you?
I would say it's a career. The next step is to be a franchisor.
Bottom Line
Annual revenue:
$8.5 million.
2018 goals:
Open two new locations and earn more than $10 million in revenue.
Growth meter: How do you measure your growth?
Same store sales increase, annual revenue, unit count.
Vision meter: Where do you want to be in 5 years? 10 years?
50 stores in 5 years; 100 stores in 10 years.
How is the economy in your region affecting you, your employees, and your customers?
It's trending up. We are out of the recession and it seems like people are eating out a bit more, as our transactions are up.
Are you experiencing economic growth in your market?
We are growing by 18% on the high end. Our average would be 8-9%.
How do changes in the economy affect the way you do business?
I haven't experienced too much of that yet.
How do you forecast for your business?
Keep pushing forward. In 2019, we want to get at least 4 stores open. That should put us around 13 or 14 total. I'd like to keep that pace of 4 or 5 stores opening each year.
What are the best sources for capital expansion?
I have three business partners who are experienced in private equity and investment banking. They used to work for Barclays in New York and all have started new companies. They do most of the groundwork for acquiring financing. We have a relationship lender with a local bank and they pretty much provide us with a $1.5 million credit line to open Jersey Mike's.
Experience with private equity, local banks, national banks, and other institutions? Why/why not?
See above.
What are you doing to take care of your employees?
We give quarterly bonus incentives, 10% profit-sharing with the managers, Christmas parties, and provide health care benefits to our employees. We help people if they need to relocate, get cars and provide short-term help.
How are you handling rising employee costs (payroll, minimum wage, healthcare, etc.)?
The only way you can handle it is to increase your prices. If minimum wage goes up, we have to increase our menu pricing by whatever percentage that is. We don't incur the costs, but rather have to pass it off to the customer.
How do you reward/recognize top-performing employees?
We have two parties a year (summer and Christmas). We created them as an invite-only, and we give prizes and MVP awards that include best operating manager and other categories. The prizes can include trips, vacations, sporting event tickets, etc. We do company trips together and team-building activities as well.
What kind of exit strategy do you have in place?
I don't really have one. I'm just trying to focus on growth.
Published: October 5th, 2018
Share this Feature
Recommended Reading:
Comments:
comments powered by

Disqus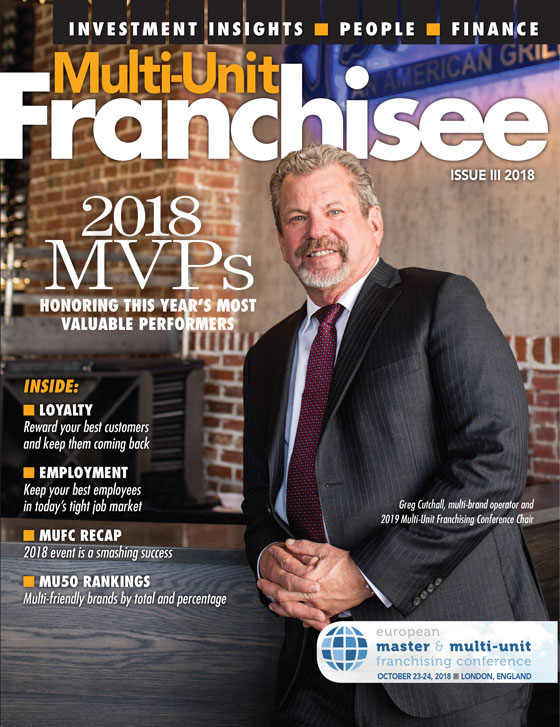 Multi-Unit Franchisee Magazine: Issue 3, 2018
SweatHouz is on a mission to bring the full range of health benefits from infrared saunas, cold plunge tubs, and more to communities all over the...
Cash Required:
$200,000
Mr Jeff is an innovative laundry franchise model that has expanded to over 30 countries, by making technology the core of the business. Mr Jeff adds...
Cash Required:
$100,000