Challenge the Pros: How is Transparency Helping You Increase Sales Leads, Quality, and Deals?
How is the trend towards transparency and increased disclosure helping you to increase sales leads, quality, and deals?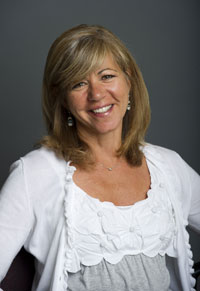 Lori Merrall
National Director of Franchise Sales
Massage Envy Spa
Massage Envy Spa has always been transparent when it comes to sharing its franchising opportunity with prospective franchisees. In our FDD Item 19, we include average unit volume and year-over-year growth numbers that provide candidates with the means to clearly evaluate our financial performance. While the FDD is readily available to anyone interested in learning more about Massage Envy Spa, we also ensure that some of these key evaluating factors are present in all of marketing materials.
Massage Envy provides its regional developers, who are actually recruiting franchisees for their territories, with a multitude of marketing tools they can use for recruitment. These materials are available through a proprietary Intranet site and are customizable. Our messaging regarding the reasons to invest, AUV, etc. are consistently highlighted in all of these materials. We provide print and online advertisements, email blast templates, direct mail letters, brochures, and press release templates all containing key messages outlining our franchise opportunity.
In addition, our franchising website goes beyond the typical franchising information and includes testimonials, a line-by-line table of the investment and typical expenditures, and a detailed map of opportunities available in each state. We've always believed that candidates should have all the information necessary to evaluate the opportunity to ensure it's a good fit for them and to form expectations that are based on hard data.
Increased disclosure also ensures that we are attracting the best possible franchisees. By sharing financials, the profile of a successful Massage Envy franchisee, and what the franchisee can expect in their investment, we enable them to determine earlier in the process if this franchise opportunity is the right one for them. In today's competitive and often challenging economy, it's important to spend less per lead and ensure your marketing dollars are reaching the right prospect. The days of casting a wide net are over, and targeting candidates with the right data and message points will lead to better, more qualified prospects who are ready to join our system as a successful franchisee.
---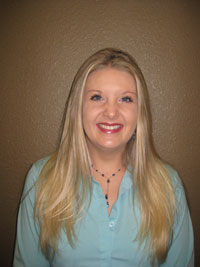 Jenna Barber
Director of Franchising
Nothing Bundt Cakes Enterprises
At Nothing Bundt Cakes, we believe that transparency in the sales process inspires trust. Our franchise website clearly shows the candidates what they will need to qualify for ownership. This allows them to prequalify themselves before even talking to me. From the very first phone conversation, I am honest with them and promise to not always paint a rosy picture, but a realistic one. I set very clear expectations of roles and the process from the beginning. For example, when I set an appointment I keep it and am always on time. They can count on my commitment to guiding them through this giant decision.
The sales portal that we use is new to the candidates, so I take the time to walk each one through it for clarity so they never feel insecure in the process. This also helps me to gather the compliance documents I need in a timely manner. This technology and these efficiencies make us very credible and impress the candidates.
The information provided in the sales process comes from a detailed script that is consistent for every candidate. This consistency ensures that our message is communicated equally and never compromised. Candidates also have access to our executive team members in each department for additional questions in the sales process.
In disclosing franchise candidates, I make sure to point out our Item 19 and encourage them to have the document reviewed by a franchise attorney if they would like. I also make it clear that we do not negotiate our document at the time of disclosure so they aren't surprised by this when it is time to sign a franchise agreement.
During the sales discussions, I make sure not to make any false promises such as growth availability if that won't be an option. And when they go through validation, they are provided contact information for all franchisees that are open, not just those listed in the FDD. We also provide suggested validation questions to candidates specifically targeted toward franchise support services. This makes them feel again like we have nothing to hide.
We also direct candidates to research us on Yelp. The feedback there is straight from our guests' opinions, and we can't manipulate those reviews. It helps them to see unedited positive feedback from our customer community as a validation tool.
Overall, my goal is to be as clear as possible with each candidate. Transparency and communication are synonymous, and throughout the life of a franchisee, from beginning to end, nothing is more important than communication.
Published: October 8th, 2012
Share this Feature
Recommended Reading:
Comments:
comments powered by

Disqus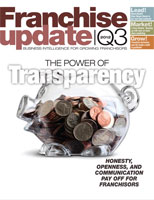 Franchise Update Magazine: Issue 3, 2012
Conferences
InterContinental, Atlanta
OCT 18-20TH, 2023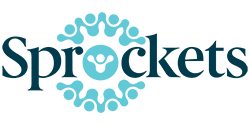 Sprockets is an AI-powered platform that helps franchisees maintain healthy staffing levels and improve employee retention. Our sophisticated...
Clayton Kendall provides franchise communities nationwide with comprehensive branded merchandise programs leading to greater brand exposure,...