Dhanani Dynasty II: Youngest Son of Family Business Branches Out
From his childhood growing up in Houston, Pakistani-born Amin Dhanani watched his father, the late Hassan Ali Dhanani, and family members build The Dhanani Group, a billion-dollar, mega-successful franchisee for Burger King and its own massive convenience store business.
The last of 11 children, Amin Dhanani never really considered anything other than going into the family business. His first job, working on the Whopper line at Burger King, was followed by various stints of working in the family business as a youth. After graduating from Southern Methodist University with a degree in business and accounting, the ambitious young entrepreneur joined the family business "for real" in 2000.
"I spent the first 10 years learning the business and the restaurant industry," he says. "I'd always wanted to be a businessman and run a corporation. So in 2010, I ventured out on my own under the umbrella of The Dhanani Group." He remains a general partner of The Dhanani Group, which owns 510 Burger Kings and 150 convenience stores.
In 2017, the youngest Dhanani is president of two Sugar Land, Texas-based companies: Z&H Foods, Inc., for his 270 Popeyes Louisiana Kitchens (Texas, Arizona, Utah, Colorado, Illinois, Missouri, and Ohio); and the newly formed HZ LM Casual Foods, which includes his acquisition of 26 La Madeleine French Bakery & Café acquisitions (Houston, Austin, and Louisiana).
Now the largest Popeyes franchisee, he continues to think big, aiming for 1,000 total units in the next five years or so, and/or owning his own brand under The Dhanani Group umbrella. Based on his track record--both acquiring and building restaurants--it could well happen.
Dhanani, a husband and father of two, says he chose both his brands with his passion--as his late father advised--as well as his business acumen. "I've eaten at both Popeyes and La Madeleine for years and I love the food!" he says. Acquiring his 26 La Madeleines in August, along with securing the development rights for another 57 in Houston, Austin, Louisiana, and other states, added a casual brand to his large QSR brand holdings.
The deal came a month after La Madeleine announced plans for rapid growth, refranchising entire existing markets to strong, multi-unit operators of other brands. With Dhanani's deal, La Madeleine has successfully completed the first phase of its refranchising program.
"My family and I have been guests at La Madeleine for years, and it's easy to see today that the brand is strong and cultivates a loyal following with industry-leading AUVs," says Dhanani. "I have no doubt that La Madeleine is ripe for expansion, and we look forward to growing with them."
When he's not working, Dhanani enjoys spending time with his family--his daughter is into volleyball and swimming and his son plays basketball and football--and pursuing his own love of sports. A huge Houston Rockets fan, he can also be found every Sunday during NFL season in front of his TV with his pals.
In the future, he'd like to carve out time to give back to the community. "I'd like to help those who are less fortunate in the community and the world," he says. His organization is currently working on a scholarship program to benefit employees and their children.
His best advice for would-be franchisees? "The restaurant business is a great one that will always be there, so consider that when you're looking," he says. "If you want to grow, you'll need to be hands-on in your business. Don't just leave somebody else to run it. It's great to delegate some things, but if you want to grow, you've got to be hands-on."
Name: Amin Dhanani
Title: President
Company: ZNH Foods, HZ LM Casual Foods
No. of units: 270 Popeyes Louisiana Kitchen, 26 La Madeleine French Bakery & Café
Age: 40
Family: Married with two children
Years in franchising: 25
Years in current position: 7
Personal
First job:
Working on the Whopper line in Burger King.
Formative influences/events:
Ever since I was a kid, my whole family--my older brothers and my father--have operated our businesses. I'm the 11th child, so I wanted to eventually carve out my own place. I'm a big sports fan, so I like to use the analogy that if you're six-foot-five or seven-feet two you can probably get to the NBA, but how well you do there is based on how hard you want to work. I feel I had an opportunity from my family and availed that to the max. I had the financial; I wanted to see where I could take myself.
Key accomplishments:
Becoming the largest franchisee in the Popeyes system in five years. I bought my first two in 2010, and in 2012 I made a large, 49-store acquisition. That put us on the map. I've had many acquisitions, about 30 a year, but I've also built 60 or 70 restaurants, which is a great learning experience.
Biggest current challenge:
It continues to be hiring great leaders for my infrastructure.
Next big goal:
I'd like to get to 1,000 stores in the next five years and/or own my own brand. First turning point in your career: Buying my first Popeyes in my hometown of Houston. It was the most exciting thing. I finally felt contentment doing it on own.
Best business decision:
To learn the QSR business from the ground up in the stores.
Hardest lesson learned:
Probably learning how to balance life with work and family. It's definitely tough when I look at what I want to do during a day: work, family, prayer, workout, personal time. It was really tough earlier on. Today, I'm in a better place because I have my infrastructure set up and everything is working well.
Work week:
About 55 to 60 hours. I try to keep weekends free to do things with my family, but I'll still do a mystery shop at a store on the way to a game or a lunch.
Exercise/workout:
I try to work out three times a week. I run, do cardio, and play basketball. I also love to watch basketball and football. Best advice you ever got: From my father, who died in 2016. He always said, "Work from your heart and passion, and success will follow. But always stay humble."
What's your passion in business?
I love opening new stores from scratch.
How do you balance life and work?
I spend lots of time with my wife and kids when I'm not working. I try to attend many of my kids' games and school activities. They're always busy.
Guilty pleasure:
Great food! I love to eat Indian food, desserts, Chinese, burgers, and Popeyes chicken, which I can only eat every two weeks. I've got to stay in shape.
Favorite book:
I always liked To Kill a Mockingbird by Harper Lee.
Favorite movie:
"Rocky" with Sylvester Stallone.
What do most people not know about you?
That I have more of a sense of humor than they know.
Pet peeve:
Lying and laziness.
What did you want to be when you grew up?
I always wanted to be CEO of a large corporation.
Last vacation:
We went to Laguna, California, for my nephew's destination wedding. I love California. The weather is great year-round. My dream is to have a house in California in the hills or in Malibu on the water.
Person I'd most like to have lunch with:
Warren Buffet.
Management
Business philosophy:
Work hard and smart and always treat your people with respect.
Management method or style:
I have a very hands-on approach. I know many managers by name and they can always contact me at any time.
Greatest challenge:
Finding and hiring passionate people.
How do others describe you?
I think they'd say I'm strict at work, disciplined, and, hopefully, hard-working.
One thing I'm looking to do better:
I'm trying to be more caring and responsive to the needs of others.
How I give my team room to innovate and experiment:
I let them run their own show and hold their own people accountable. I give them the freedom to be innovative but still expect strong numbers.
How close are you to operations?
I'm very close to operations on a daily basis. I talk to my VPs and directors every day.
What are the two most important things you rely on from your franchisor?
We need great marketing and operations coaching support at the store level with the managers.
What I need from vendors:
Good pricing and on-time deliveries.
Have you changed your marketing strategy in response to the economy? How?
Yes. I have not raised my prices in the past two years and have asked my people to step up service to the guests.
How is social media affecting your business?
Social media and the Millennials are changing a lot about the way we do business. During the second half of this year, we'll be doing more social media in many markets with Popeyes.
How do you hire and fire?
We use our company core values to recruit talent. We find that word of mouth is important. If you treat your employees well, it's a small world out there, and those working for other brands will hear about it. As for firing, I believe in second chances. Anybody can mess up once. But if it happens again, we'll move on.
How do you train and retain?
We supply internal training classes and more support to our managers at all levels. We also offer great incentives to them such as a bonus program, vacation pay, and monthly allowances. All these help to retain good people.
How do you deal with problem employees?
I try to see if they have any personal issues that are affecting their work and help them through those.
Fastest way into my doghouse:
By lying and being lazy!
Bottom Line
Annual revenue:
$500 million.
2018 goals:
To raise sales by 4 percent and profitability too.
Growth meter: How do you measure your growth?
By sales and traffic counts from the year before. Organic growth helps to get our top line numbers up.
Vision meter: Where do you want to be in 5 years? 10 years?
In 5 years, I would like to double my current revenues and store count. In 10 years, I would like to semi-retire out in California and only work a couple of hours to check my daily numbers.
How is the economy in your regions affecting you, your employees, your customers?
Customers are still looking for discounts, which hurts the gross profits of the business.
Are you experiencing economic growth in your market?
Yes, in some markets such as Texas and Colorado.
How do changes in the economy affect the way you do business?
When the economy gets worse, customers are looking for more discount deals. That can affect my bottom line and sales too.
How do you forecast for your business?
We budget every quarter and at the end of the year for the following year.
What are the best sources for capital expansion?
Great relationships with various lenders.
Experience with private equity, local banks, national banks, other institutions? Why/why not?
I haven't worked with private equity groups, but we use local and national banks all the time.
What are you doing to take care of your employees?
I offer vacation pay and a few forms of bonuses and annual merits.
How are you handling rising employee costs (payroll, minimum wage, healthcare, etc.)?
I'm trying to make strategic and cost-effective decisions and am basically growing the top line to cover the difference.
How do you reward/recognize top-performing employees?
We reward them at the yearly meetings in front of their peers, and some of them get a paid vacation for two from the company to a great destination.
What kind of exit strategy do you have in place?
None. I'm not a seller. I like to buy!
Published: January 4th, 2018
Share this Feature
Recommended Reading:
Comments:
comments powered by

Disqus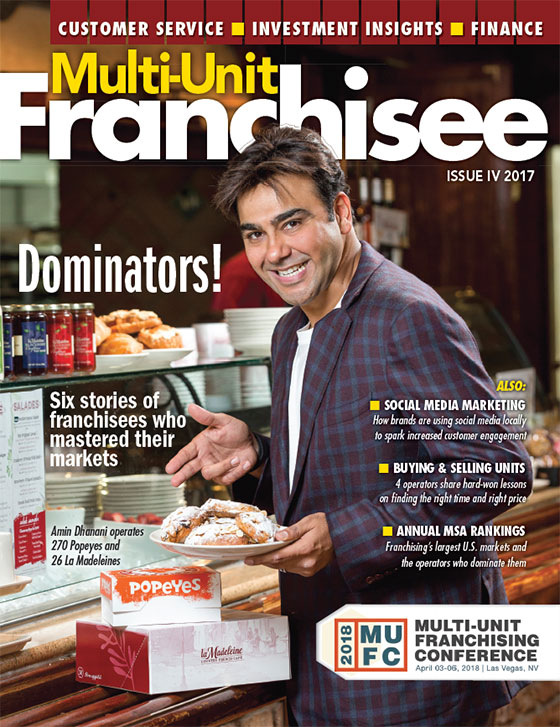 Multi-Unit Franchisee Magazine: Issue 4, 2017
Join the growing $811 Billion grocery industry. Save A Lot is the nation's leading independent grocery chain. Our proven licensed model provides the...
Cash Required:
$300,000
Sizzle Your Way to Success with Pepper Lunch: A teppanyaki sensation! Join our proven brand with 500+ global locations. Ignite your entrepreneurial...
Cash Required:
$690,200