Sonic Boom: Kamal Singh adds punch to his portfolio
Kamal Singh worked as a cashier at McDonald's, delivered sub sandwiches, opened his own Lenny's Subs shop, began adding other franchise brands, took over and turned around underperforming KFCs and Taco Bells, and recently bought 34 Sonic restaurants and 10 more KFC/Taco Bells in Houston. All this by just age 31.
Born in India, Singh emigrated to the U.S. with his family in 1999 when he was 14. He went on to earn an accounting degree from the University of Houston before moving into a career in the restaurant business.
"Through a commitment to excellence in operations, culture, results, assets, and strong relationships, we've found a formula for success with our brand partners and stakeholders," says Singh, president of Emerge Group, which now oversees 60 franchise locations, with more on the horizon.
Early in his career Singh became something of a specialist at running a tight ship and buying poor-performing locations and turning them into solid producers. When he got the chance to tackle some distressed KFC/Taco Bell stores in Texas and Louisiana, he didn't hesitate. He says he liked taking on challenges and moving up to the big leagues of restaurant franchises. "I learned how to increase performance levels at smaller restaurants and I now do that with larger ones," he says. Including the 10 KFC and Taco Bell locations he just purchased, he now has a total of 26.
His history of success has allowed him greater access to the kind of capital he needs to grow. The timing of Sonic's refranchising initiative was perfect for Singh, allowing him the opportunity to take on 34 Sonic locations in the Houston area. "Sonic has great numbers," he says. "The product and legacy are there." And he has plans to build 20 more Sonic restaurants in the area. "I think there is room for those additional locations. Houston is a fast- growing area."
For a man who had just seven units two years ago and now operates 60, the future is bright.
Name: Kamal Singh
Title: President
Company: Emerge Group
No. of units: 34 Sonic Drive-In, 13 KFC, 13 KFC/Taco Bell
Age: 31
Family: Wife Sonali, married 5½ years; sons Aryavir and Shaurya Vir
Years in franchising: 8
Years in current position: 8
Personal
First job:
Cashier at McDonald's.
Formative influences/events:
My father-in law taught me the ropes of business. I can always go to him if I ever need any advice.
Key accomplishments:
I broke into the QSR industry in 2015 with seven units. Since then, Emerge Group has grown to 60 units in less than two years.
Biggest current challenge:
Continuing to expand in a very competitive QSR industry.
Next big goal:
To grow my brands through acquisition and new unit development.
First turning point in your career:
Leaving an accounting position and buying my first restaurant in 2009.
Best business decision:
Going into the restaurant business.
Hardest lesson learned:
I've always been very hands-on with my employees throughout my career. I've learned to back off a bit and trust my teams to execute.
Work week:
I spend a typical work week in team meetings, on conference calls, and a couple of days making restaurant visits. I usually take off early on Saturdays and spend Sundays with my family.
Exercise/workout:
When time permits, my preferred workout is a two- to three-mile jog.
Best advice you ever got:
After many years of trying to break into the top-tier brands, I was coached by a multi-unit franchisee who advised me to "get a seat at the table."
What's your passion in business?
I'm passionate about growing the organization and the people within it.
How do you balance life and work?
When I'm home, I "switch off" from work and give my full attention to my family.
Guilty pleasure:
My wife's home-cooked dinners. She is a fantastic cook.
Favorite book:
It's Your Ship: Management Techniques from the Best Damn Ship in the Navy by Michael Abrashoff.
Favorite movie:
"The Pursuit of Happyness."
What do most people not know about you?
When I left my accounting job in 2009, I used my college savings to buy a sandwich restaurant that was going into bankruptcy.
Pet peeve:
Inefficient time management and non-urgency.
What did you want to be when you grew up?
A businessman.
Last vacation:
Last summer I traveled to Cancun.
Person I'd most like to have lunch with:
Steve Jobs. His passion for innovation and excellence has always inspired me.
Management
Business philosophy:
Today's QSR industry delivers a highly competitive environment. Therefore, I ensure a competitive advantage by continually improving operations and generating breakthrough ideas that develop people, processes, and profits.
Management method or style:
I don't believe in management, but in leadership. I want to inspire our teams to achieve greatness within themselves and within their teams. Our restaurant leaders are given a path to which they can always look for further growth. We know that if we provide a growth path to self-actualization and professional development, we will achieve future success and growth in our organization.
Greatest challenge:
Some may say the youth of our organization, but I find it one of our greatest strengths. They bring new energy, an innovative mindset, and competitive spirit to the brands to achieve breakthrough results.
How do others describe you?
A passionate leader who is relentless about excellence and growth, but who also knows how to stop and recognize achievements and reward genuine hard work.
One thing I'm looking to do better:
Continual development/improvement from the core of all our leaders, from junior management to our executive team. We look to the industry for best practices to evolve and better execute the brand vision and guest experience.
How I give my team room to innovate and experiment:
I leverage all our leaders' abilities and experiences. We have an ear to the ground in our restaurants, always looking to learn from all levels within our units. We empower our higher-level leaders through delegation. Additionally, we provide them with the opportunity to own key components of our organization.
How close are you to operations?
Operations is the heart of the business and the key to growing our organization. It's great to spend time in the restaurants driving more thoughtful conversation for desired results. Training events also allow us to maintain knowledge of brand rollouts and initiatives.
What are the two most important things you rely on from your franchisor?
Growth opportunities and a strong brand vision that provides evolutionary enhancements in operations and marketing.
What I need from vendors:
Integrity and partnership.
Have you changed your marketing strategy in response to the economy? How?
We strongly believe in supporting the national marketing strategy. We also believe in a strong, community-focused local store marketing approach as an integral part of developing customer loyalty within the neighborhoods and trade areas we serve.
How is social media affecting your business?
Our brands take the lead in this aspect through national marketing. We have an internal social media tool called Yammer that we use to share wins, culture heroes, and the fun our teams have at the restaurants.
How do you hire and fire?
I pursue talent who share our genuine belief in people and growth while focusing on providing a great guest experience. Accountability is essential to maintaining profit and limiting liability. We strongly enforce our policies and procedures.
How do you train and retain?
Training is asymmetrical for us because people learn in different ways. We find the key component to training is having validation processes in which we test knowledge and identify gaps to improve operations. We retain employees by providing a clear path of growth and sharing the success of others and the organization itself.
How do you deal with problem employees?
I explore the issue, analyze the root cause, respond with an action plan (coaching and/or acceptance), and follow up with the resolution.
Fastest way into my doghouse:
Have a fixed mindset versus a growth mindset.
Bottom Line
Annual revenue:
$70 million.
2018 goals:
Continue to grow my businesses.
How do you measure your growth?
Through people capability and top-line revenue.
Vision meter: Where do you want to be in 5 years? 10 years?
In 5 years, to be a brand leader in all metrics and unit count with our brands. In 10 years, to become a top 10 franchisee organization in unit count domestically.
How is the economy in your regions affecting you, your employees, your customers?
Fortunately, the brands we are involved with have done well in the last couple of years. With the robust growth, we can offer growth opportunities to our employees.
Are you experiencing economic growth in your market?
Sales for our organization are up YTD.
How do changes in the economy affect the way you do business?
As a growing organization, we must adapt to any changes and move the business forward. We focus on what we can control.
How do you forecast for your business?
Each brand has its consumer segment or approach to sales forecasts. We leverage the tools, historical data, and best-demonstrated practices provided by our brand partners to best prepare for sales growth or swings.
What are the best sources for capital expansion?
In our case, it is self-funded capital.
Experience with private equity, local banks, national banks, other institutions? Why/why not?
We have great relationships with the lender community. We have used national banks to fund our growth. With our proven track record in the QSR industry, capital has been easy to find.
What are you doing to take care of your employees?
Make recognition of paramount importance by consistently and frequently showing appreciation through bonus compensation, rewards, or growth opportunities.
How are you handling rising employee costs (payroll, minimum wage, healthcare, etc.)?
We analyze the price sensitivity of all our menus and increase prices from time to time. We also work to reduce turnover and increase labor efficiency through improved processes and leadership development.
How do you reward/recognize top-performing employees?
We have a great culture of recognition within our organization. I lead by example by consistently recognizing top-performing supervisors and regional general managers at our weekly and quarterly meetings.
What kind of exit strategy do you have in place?
At this point in my career, I don't have an exit strategy. I am fully focused on building a world-class organization.
Published: July 5th, 2018
Share this Feature
Recommended Reading:
Comments:
comments powered by

Disqus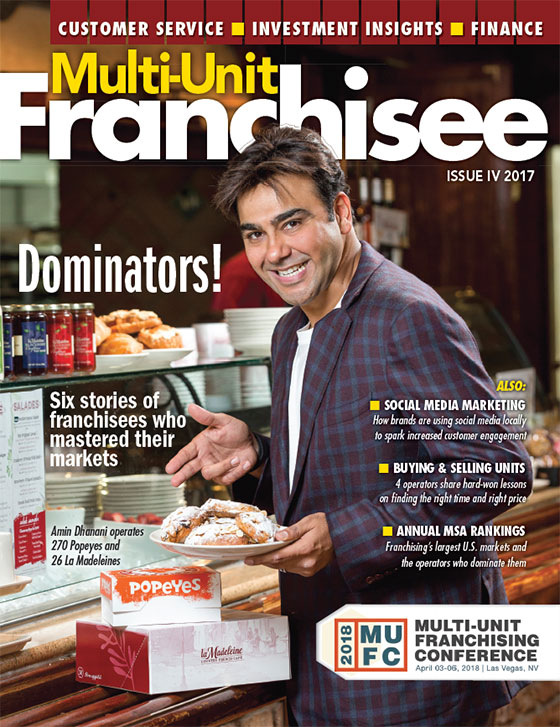 Multi-Unit Franchisee Magazine: Issue 4, 2017
Since 1962, customers have trusted Big O Tires for all their tire and automotive service needs. Today, we have over 465 locations across the country,...
Cash Required:
$50,000
Our nostalgic dining experience transports customer to a 1920's garage. Our menu drives broad guest appeal with hand-crafted America fare. Ford's...
Cash Required:
$1,750,000