Dominator Operators: 7 Franchisees Trace Their Route to Success
This issue's profiles of multi-unit franchisees include one of Panera Bread's first franchisees; a West Point graduate with 60 Pearle Vision locations; a 30-year-old Smoothie King franchisee with 14 stores and 8 more in various stages of development; Fantastic Sams' largest franchisee--a husband-and-wife team, high school sweethearts who have been married 41 years; a revisit to a Bojangles' franchisee (cover) who now has 59 restaurants in 5 states; a former MLB All-Star who acquired 6 Jersey Mike's in Southern California with an operating partner; and a 29-year-old franchisee of Freddy's Frozen Custard & Steakburgers who, although a new franchisee, has been working in the brand's stores since he was a teen.
Each represents a different path an entrepreneurial-minded person can take to become a multi-unit or multi-brand operator. Between them, they operate almost 200 units, with more under development.
As we've noted before, multi-unit operators are a unique breed, fun to interview, and inspiring to read about. Some control their markets by having a large number of units from different brands, some by operating many units of a single brand, and many are the top-performing operators in their regions. No matter how they do it, they dominate where they operate.
Once a year we devote an issue to these hard-working, successful franchisees. As usual, they're an interesting mix, but the results are similar: a combination of grit, determination, and perseverance has led each to success and domination with their chosen brands and markets. Here are this year's "Dominators"!
Mike Young, one of Panera Bread's first franchisees, says he owes his entry into franchising to his father-in-law, who introduced him to Saint Louis Bread, which soon became Panera. Twenty years later, Young operates 22 Paneras and has added 6 Freddy's Frozen Custard & Steakburgers, with a 7th set to open by year-end.
Bill Noble, whose Pearle Vision empire is now up to 60 locations, took an unconventional route to franchising. He's a West Point grad and former Black Hawk helicopter pilot with an MBA from Harvard Business School. In 2014, with financial support from his West Point classmates, he bought 10 corporate stores, and it's been solid growth ever since.
Andrew Weinstein believes he was meant for the world of big business. The Florida-based Smoothie King operator owns 14 Smoothie Kings, with 8 more in development in New York, Florida, and Georgia. "I want to get to 50 stores," he says, "and in 10 years, look back at 50 restaurants as just the start."
John & Patti Prichard, with 24 Fantastic Sams salons, are the brand's largest franchisees--but had no idea until recently. "I didn't even know until I was at the Multi-Unit Franchising Conference and ran into Fantastic Sams people and they told me," he says. "My approach wasn't to be the largest franchisee, it was to have 15 to 30 salons and we will see from there."
Jeff Rigsby had 21 Bojangles' in 2 states when we profiled him in 2010. Today he has 59 in 5 states, along with 2 Salsarita's and 1 Donatos Pizza. His goal is to add 15 more restaurants by the end of 2019 and to own 100 stores within the next 5 years. "I've been in the business for 40 years now, and the key to my passion has been the mentors I've had over the years," he says.
Adrian Gonzalez, best known as a 5-time MLB All-Star, winner of four Gold Gloves for his fielding, and a fearsome hitter with more than 300 career home runs, is now batting 1.000 with the 6 Jersey Mike's stores he bought in Southern California. "I have to think about the future, and this is one of the things I will be doing," says the 36-year-old, who says he will be much more active as a franchisee once he retires.
Alex King may be only 29, but the Freddy's Frozen Custard & Steakburgers franchisee has been a part of the throwback brand since he was a teenager. He's coming up on the 2-year anniversary of opening his first Freddy's and has a third on the way for next spring. "I started out with Freddy's at an entry-level position, so I can relate to employees on all levels," he says.
And once again we've teamed up with FRANdata to bring you the 2018 listing of the MSAs with the most franchised units, along with a listing of the dominant franchisee organizations in each region and state.
Published: November 8th, 2018
Share this Feature
Recommended Reading:
Comments:
comments powered by

Disqus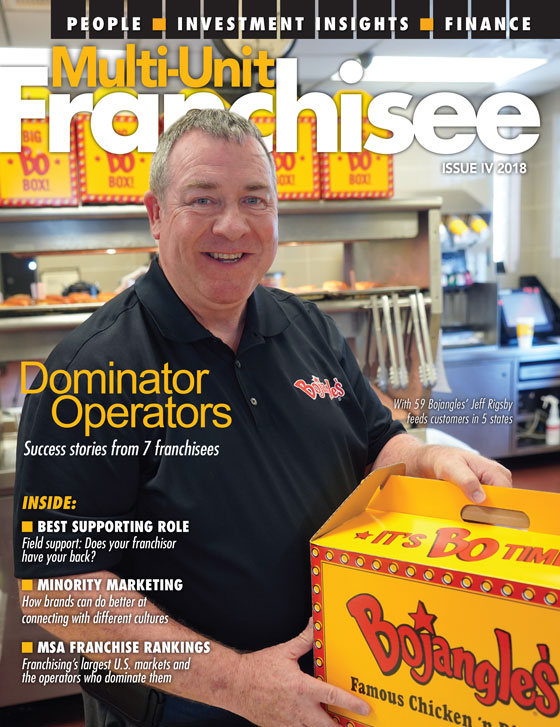 Multi-Unit Franchisee Magazine: Issue 4, 2018
Basecamp Fitness is empowering entrepreneurs to build an innovative fitness franchise in their markets while helping create happier, healthier...
Cash Required:
$200,000
Own a highly profitable business that impacts lives in your community by jumping into action as an Urban Air franchisee owner.
Cash Required:
$750,000