All in the Family: Early Panera Franchisee Adds Freddy's
As one of the first franchisees of Panera Bread Co., Mike Young still recalls the kitchen table conversation he had with his father-in-law more than 20 years ago. That talk ultimately led him to invest in a small, bread-focused restaurant chain--and a life-changing career decision.
"I would love to say I discovered Saint Louis Bread Company, which became Panera Bread, all on my own, and that I had this incredible business acumen," says Young, operating partner of the 22-unit Panera Bread of Iowa. "It was my father-in-law who said, using his words, 'I think this dog can hunt. Do you want to get in on it?' The best decision I ever made was saying 'Yes.'"
After opening their first Saint Louis Bread Company in May 1997, the chain, acquired earlier by Ron Shaich's Au Bon Pain Co., would a year later be renamed Panera Bread Co., a move that repositioned the brand to become the fast-casual cafe empire it is today.
Young, whose only previous brush with the food industry was working the concession stand every summer in high school for a minor league baseball team in Cedar Rapids, was a quick study and no stranger to hard work. Later, a=rmed with an accounting degree from the University of Iowa, he worked in finance for several companies before joining his father to help grow a security guard business he'd founded.
Young learned the restaurant business in a similar fashion, earning his way up the corporate ladder over four years opening new stores and working as an assistant manager, general manager, followed by two years as a district manager.
"I wanted to learn everything about this business, and I wanted credibility," says Young. "It is hard to tell GMs there is a better way of doing things when you haven't done them yourself. I also didn't want to be the son-in-law of the primary owner who just sort of walked into this position and didn't know what the heck he was talking about."
Today, Young's growing portfolio also includes six Freddy's Frozen Custard & Steakburgers, a family brand co-founded by another pioneering Panera franchisee.
"When we first started Saint Louis Bread, within a year we were Panera Bread," says Young. "No one in Iowa knew who Saint Louis Bread or Panera Bread was, so we had a whole lot of brand building to do. Now 20 years later, Panera Bread is considered one of the best restaurant concepts around--and, really, in the history of restaurants."
When the time came to expand with another brand, Young stuck close to his operating playbook to leverage a strong infrastructure and fulfill his dream of owning a burger joint.
After researching 20 burger-ice cream concepts, Young says he loved the food and the retro, fun feel of Freddy's. Freddy's co-founder Randy Simon, part of Panera Bread's second franchise group, spent 24 years in the Panera system until he sold his 34 restaurants last year to lead Freddy's as president and CEO. Founded in 2002, Freddy's is named for Simon's father.
"More than anything else, I thought the product was the most craveable, combined with the fact that I knew the Freddy's people and had a lot of trust in the senior management of the franchisor," says Young. "If it weren't for Panera, I would not be doing what I am doing with Freddy's. As a franchisee, I am not straying far from the Panera Bread success formula."
Young says it is has been fun to be part of Panera's journey to a nationally known brand--acquired in July 2017 by JAB Holding Co., launching a new growth partnership and ending a 26-year run as a public company and the best-performing restaurant stock of the last two decades.
"We are very happy with both brands, so we are going to build a lot more," says Young. "If I come across a brand that I think has great food and great leadership at the franchisor level, we will do more brands."
Young, a father of four, is now watching history repeat itself: he's had his own family sit-down about the franchise business. And now, after spending time with a Fortune 500 company, his eldest son Steven is hard at work as director of operations for Freddy's.
"Don't think you have to think of all of the great ideas by yourself," advises Young. "If people around you have already done it and been through the hard knocks, you can learn a heck of a lot from them."
Name: Mike Young
Title: Operating partner, Panera Bread of Iowa; Franchisee, Freddy's Frozen Custard & Steakburgers
Company: Panera Bread of Iowa, Freddy's franchisee
No. of units: 22 Panera Bread; 6 Freddy's, with a 7th set to open by year-end
Age: 54
Family: Married 31 years to wife Lisa; 4 kids: Steven, 27, Katie, 26, Bill, 23, and Mitchell, 21
Years in franchising: 20
Years in current position: 16 as operating partner for Panera Bread; 4.5 as a Freddy's franchisee
Personal
First job:
Working concessions at the local "Single A" minor league baseball games where the Cedar Rapids Kernels play.
Formative influences/events:
My parents have always influenced my professional career and success and so has my father-in-law, who is actually the majority partner in the Panera Bread of Iowa franchise. My father-in-law has taught me a great deal. One event that really shaped the path of my career was joining the family business and becoming an owner of my dad's security guard business when I was in my late 20s. It helped me realize all of the challenges that come with being a business owner and the sacrifices you must make to succeed. It really prepared me to become a restaurant franchisee.
Key accomplishments:
This may not sound like a key business accomplishment, but believe me, it is. Assuming a person wants to get married, I think the single most important decision you can make in your life is who you marry. I could never have accomplished being a franchise owner without my wife's unconditional support. She steps in whenever needed, from running cash registers and busing tables in the dining room to interviewing and onboarding new employees, and so much more--all without being on the payroll. When she isn't helping with the business, she's managing everything that comes with having a family of four kids. My business success is directly correlated to her support and participation.
Biggest current challenge:
Like all in the restaurant industry, labor is the current challenge. The unemployment rate in Iowa is the second-lowest in the country, so it's even more challenging here to find great people and to keep them around.
Next big goal:
I plan to begin teaching my son Steven all that I know, so one day he can assume the CEO role for my Freddy's locations. He is currently the director of operations and oversees the day-to-day for all of our Freddy's.
First turning point in your career/best business decision:
Saying yes to my father-in-law when he asked me to join Panera Bread of Iowa. He offered me an opportunity that I never would have gotten on my own. He brought me into the world of restaurant franchising.
Hardest lesson learned:
You can't do everything yourself. I thought I needed to do it all at the beginning and did not hire staff soon enough, nor did I let my staff do 100 percent of what I was paying them to do. I thought I needed to be in on every decision and know about everything going on in all facets of the business. As a result, I spent too much time on things that were not using my full capabilities or best use of time.
Work week:
Monday through Friday beginning at 6:15 a.m. until however long it takes to wrap up the day. I usually finish no earlier than 6:00 p.m. and no later than 7:30 p.m. On Saturdays, I work from 7 a.m. to noon. On Sundays, it depends. I usually work a couple of hours from 8 a.m. to 10 a.m. and aim to keep it at that.
Exercise/workout:
I exercise Monday through Friday from 5:00 to 5:45 a.m. Weights and running.
Best advice you ever got:
Related to managing people, "Feed the horses. Lose your losers." We try to hire nothing but superstars. When you find that you have made the right decision and have a superstar on your team, you need to take care of that superstar every way you can. It's hard to find superstar employees, so it's extremely important to keep them. Feed the horses. On the other hand, every now and then you end up with someone on the team who does not care about the success of the business, brings a poisonous attitude to the job, and does not care about their teammates or the guests. You need to lose these people quickly. Lose the losers. If you keep them around because you tell yourself you are short-staffed, or they will get better, etc., you will find that your superstars will quit. They don't want to work side-by-side with people like this, so they go elsewhere. If you don't lose your losers quickly, you will end up with a staff of nothing but losers.
What's your passion in business?
Through franchising with Freddy's and Panera, I have the opportunity every single day to make a positive impact on many lives. Knowing that I am associated with two restaurant concepts where people absolutely love the food and look forward to visiting is what fuels my passion for what I do. I don't want to let them down.
How do you balance life and work?
Frankly, I was much better at balancing life and work when my kids still lived at home. I strived to rarely sacrifice the time I spent with my family and children for work. Now that my kids are not around as much, I find myself struggling to balance life and work. Fortunately, my wife is also a go-getter and is often helping with our Freddy's business, which allows us to spend time together. She also does an excellent job of making sure I am balancing life and work by taking it upon herself to schedule social time, fun time, vacations, and more for us. If it were not for her, I would struggle even more with balancing life and work.
Guilty pleasure:
Junk food.
Favorite book:
The Da Vinci Code by Dan Brown.
Favorite movie:
"The Sandlot."
What do most people not know about you?
I was born in Stuttgart, Germany.
Pet peeve:
Slow drivers who drive in and block the fast lane and won't get over.
What did you want to be when you grew up?
A cop. My grandpa was a police officer and so was my dad.
Last vacation:
Eight days in Italy in March 2018.
Person I'd most like to have lunch with:
Jesus Christ.
Management
Business philosophy:
Hire talented people, set expectations, and share the vision, goals, and KPIs. Then get out of their way.
Management method or style:
See directly above.
Greatest challenge:
Finding talented people to begin with, but then beyond that, making sure you have talented people who can work well with each other. One disadvantage to having talented and confident people on your team is that they all have their own great ideas, and this can lead to team dysfunction and conflict.
How do others describe you?
Fair, open-minded to the ideas of others, respectful of others, but not afraid to ask tough questions when they need to be asked.
One thing I'm looking to do better:
Eliminate all of the duties and tasks that take me away from my highest and best uses. I spend too much time managing email, participating in conference calls that don't require my presence, reviewing reports that others should be more concerned about, and solving problems that others should be solving.
How I give my team room to innovate and experiment:
I've found that the easiest way to do this is to simply tell my team members that they are empowered to come up with, and test, their own ideas. And then when they do, don't chastise them when things did not work out exactly as they had hoped.
How close are you to operations?
As we've grown, not as close as I used to be, that's for sure. I still pay attention to the big things: sales growth, food and labor cost, hospitality/friendliness, cleanliness, order accuracy, and speed of service.
What are the two most important things you rely on from your franchisor?
First and foremost, the food. Our franchisors must keep our food nothing less than what it is now: craveable. Second, I rely on them for great marketing. We rely on our franchisor to make sure they are truly marketing the brand in a way that causes people to want to come to our restaurants.
What I need from vendors:
One of the few disadvantages of the franchise business model is that you deal with "approved" vendors. Some of these approved vendors can become arrogant. They know they are our only option, so they are less responsive than they should be to our problems and concerns.
Have you changed your marketing strategy in response to the economy? How?
Our focus has always been on local store marketing, and that will remain our focus for now.
How is social media affecting your business?
It affects you most when you've disappointed a guest. Some guests use social media to tell a lot of people very quickly about your mistake. So you need to make an extra effort to check in with guests while they are still in your dining room or in your drive-thru lanes. You need to fix problems there, before guests leave and have the opportunity to turn to social media.
How do you hire and fire?
We don't hire, we recruit! We have to sell working at our restaurants as aggressively as we sell how great our food is. To do that, we have phenomenal recruiters working in our human resources department, and we use recruiting firms as well.
How do you train and retain?
We train using our franchisors' training programs. We retain by hiring store managers who know how to create fun while getting the job done. Pay, benefits, perks, etc. all help with retention. But nothing helps more than a general manager who knows how to make the job as fun as it can possibly be for our team members.
How do you deal with problem employees?
We always start by giving them the benefit of the doubt. We communicate with them, coach and ask what we can do to help. Sometimes we succeed in turning the problem employee around, and sometimes we don't.
Fastest way into my doghouse:
Being a jerk to others. Being difficult to work with, not respecting those you work side-by-side with, and thinking your ideas are the only good ones. Life is too short to work with jerks.
Bottom Line
Annual revenue:
$60 million.
2018 goals:
5 percent sales growth for Freddy's; 3 percent for Panera.
Growth meter: How do you measure your growth?
Same store year-over-year comparisons.
Vision meter: Where do you want to be in 5 years? 10 years?
We hope to continue to build new locations. For Freddy's, in 5 years we hope to build another 7 restaurants for a total of 14 locations. In 10 years, we want to be at a total of 20 to 25 locations. For Panera, we would like to build another 5 locations over the next 5 to 10 years, giving us a total of 27.
How is the economy in your region affecting you, your employees, your customers?
Iowa is the second-lowest in the country when it comes to unemployment, so it's tough for everyone throughout the state. Put simply, we are in need of more employees to alleviate the workload for our existing employees. When we are short-staffed, employees have to take on extra responsibilities. With a full staff, we can provide even better service for our customers.
Are you experiencing economic growth in your market?
Some trade areas are growing, and some are not.
How do changes in the economy affect the way you do business?
They don't really. We need to provide great food fairly quickly and accurately from warm and friendly employees in a sparkling clean environment. Changes in the economy have no effect on that.
How do you forecast for your business?
Unfortunately, there is no exact science to forecasting. We look at trends both regionally and nationally, and we look at what's going on locally, such as new businesses coming to the areas and local community events that may increase or decrease traffic.
What are the best sources of capital for expansion?
Local and national banks.
Experience with private equity, local banks, national banks, other institutions? Why/why not?
We've only done business with local and national banks mainly because the banks in the area know we are a very good investment for them, so we tend to get very competitive interest rates.
What are you doing to take care of your employees?
We ask our employees what is most important to them, and that's what we try to provide. The large majority have told us they want opportunity to receive bonuses, the opportunity to be promoted, the opportunity to participate in decision-making, and of course, competitive pay and benefits. So that's what we provide.
How are you handling rising employee costs (payroll, minimum wage, healthcare, etc.)?
For now, we are absorbing these costs, but eventually we will have to raise prices.
How do you reward/recognize top-performing employees?
We increase pay, provide bonuses, recognize them in company publications, and because Freddy's is growing, we have the luxury of offering promotions.
What kind of exit strategy do you have in place?
No plans to exit yet, so no strategy in place, other than to train my son to learn all that I do.
Published: December 28th, 2018
Share this Feature
Recommended Reading:
Comments:
comments powered by

Disqus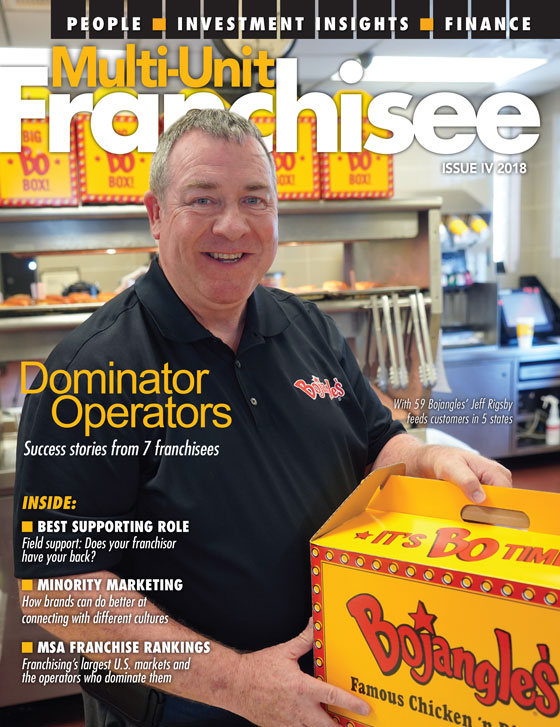 Multi-Unit Franchisee Magazine: Issue 4, 2018
Own a rewarding business and help children develop skills for life with The Little Gym, the world's largest children's motor skill development...
Cash Required:
$100,000
Sport Clips is a winning concept-a great haircut experience for men and boys in a sports-themed environment. With more than 1,700+ stores and...
Cash Required:
$200,000