Family Matters: Franchising Families Face Unique Succession Dilemmas
Family and entrepreneur-run businesses face many unique and complex challenges, including succession planning. Generally, family businesses are more than just a place of work; there is emotional as well as financial capital tied up in the business, and passing on the family legacy can be stressful and fraught with difficulty.
It is common for small-business owners to be so consumed by running the day-to-day activities of their businesses that they forget to take a step back and contemplate transition planning for the future. Founders work hard to build a solid company, but it is important they take their own needs into account and plan for their eventual retirement and/or the transition of their company. This process becomes even more complicated when families have adult children who are active in the family business and are possible successors to the ownership and management of the company. Many entrepreneurs simply fail to address the issues of family succession planning because the challenges are so difficult to face.
The most obvious transition plan for a family business is to transfer it to the next generation. Whether or not this makes sense depends on two main factors: 1) Are the kids are already involved in the business?; and 2) Do they have the interest and expertise to take it over?
Choosing a suitable and qualified successor proves to be a difficult task when more than one child is interested in taking over the company, or when a child lacks the necessary skill set to effectively manage the company on their own. Additionally, parents may be unwilling to hand over the reins fearing a loss of status, or solely because they do not wish to retire at the time the kids are ready to take over the business.
In franchising, the dynamics of the family business have changed significantly in the past generation. Many current retirement-aged franchisees started their businesses at the pioneering stage of the franchise lifecycle. These founding franchisees had simple goals: develop a limited number of stores, and work tirelessly to build their businesses into small, profitable companies, in turn providing financial stability for their families. Most franchised companies were small, less-sophisticated, mom-and-pop businesses with the majority of the founders' net worth tied up in the business. Significant growth opportunities were limited, and expansion required putting all or most of the founders' personal resources on the line to build the company. Children of entrepreneurs often had no interest in the business, many of them choosing instead to pursue college and careers with larger business organizations or as professionals. They simply had no interest in "flipping burgers" and working long hours to learn the family business. However, this trend has been gradually changing over the past 40 years.
Today franchising is an enormously successful and established business model. Many franchisees are now managing professional and sophisticated organizations with a significant number of units and revenue. Founders have evolved from running a few units from their dining room tables to managing complex business organizations with professional operational, financial, marketing, and human resource teams. External capital is readily available (with some limitations in the current credit squeeze) to grow, make acquisitions, and build the scale of the business beyond what the primary owner ever contemplated. Larger franchisees also have significant opportunities to expand beyond their original or core concept. Simultaneously, many adult children of founders are transitioning away from working for larger organizations or in professional careers to working for their entrepreneurial family businesses. They recognize the unique opportunity to control their own destiny that a family business provides.
This increasing interest of adult children to step into the shoes of their franchisee parents creates an important dilemma for the parents. How do the parents deal with their need and desire to capitalize financially on their hard work and success? In some ways, the ultimate desire of a parent is to work with their children in growing and creating a legacy organization by passing the business along to them. However, this can create a conflict with the parents' desire for liquidity, financial independence, and reduction of financial risk. Founders have to assess a number of critical questions, such as:
What are my needs/objectives for liquidity?
If I sell my business, what will my children do?
Do my children possess the tools and experience to effectively manage and grow the business independently?
If I sell my equity, how will the infrastructure of the business change?
If I transfer the business to the children, how do I minimize my financial risk and protect my assets?
Succession options
Depending upon individual circumstances, a variety of options exist that can satisfy the objectives of all parties. These include:
Outright sale to a third party. The founder and children agree on a disposition of proceeds providing the children liquidity with inheritance or financial security for another career.
Outright sale to a third party/related opportunity. The children find or create another opportunity supported by the founder with seed or start-up capital and support.
Partial sale to children/cash out transaction. This option assumes the existing company has a modest level of current debt and the parents are able to cash out a significant percentage of their ownership in the business as a result from an LBO recapitalization. Parents will typically remain financially involved with some level of minority ownership given the limited resources of the children. The primary owner recognizes meaningful liquidity and reduces their overall personal risk.
Structured sale to children/partial cash out transaction. This option assumes that the current level of debt within the company allows for some level of additional leverage but not enough to facilitate substantial cash out of the parents' equity. Usually the parents stay in and the childern buy the family interest over time with excess profitability and proceeds. This option often does not provide large up-front liquidity or remove the financial risk for the founder, but provides for a systematic transition to the children over time.
Partial sale to strategic buyer. This option allows the founders to benefit from a liquidity event though a partial sale to a third party. However, the children maintain a minority interest where a financial or strategic buyer acquires a minority or majority stake in the business, and continue to manage the company on an ongoing basis.
The family succession issue requires significant time, careful planning, and often outside resources to guide the family through the process and various alternatives. Given proper planning, the family can successfully achieve the best strategic path for their situation.
Dean Zuccarello, CEO and founder of The Cypress Group, has more than 25 years of financial and transactional experience in mergers, acquisitions, divestitures, strategic planning, and financing in the restaurant industry. The Cypress Group is a privately owned investment bank and advisory services firm focused exclusively on the multi-unit and franchise business for more than 17 years. Contact him at 303-680-4141 or dzuccarello@cypressgroup.biz.
Published: March 7th, 2011
Share this Feature
Recommended Reading:
Comments:
comments powered by

Disqus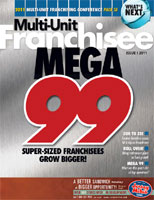 Multi-Unit Franchisee Magazine: Issue 1, 2011
With many attractive development territories available for multi-unit growth, there has never been a better time to become a Penn Station franchisee.
Cash Required:
$300,000
As the personal care movement continues to develop and more people recognize the benefits of a regular self-care routine, the demand for Waxing the...
Cash Required:
$150,000