Reward Loyalty!: And Increase Traffic, Frequency, and Ticket Size
Craig and Dianne LeMieux, area developers and franchisees for Tropical Smoothie Cafe, couldn't be happier with their brand's loyalty program. The couple have opened 75-plus locations in Northern Ohio, Michigan, and Colorado, have nearly 50 more sold and in various stages of development, and, with partners, own 10 cafes themselves.
The debut of the Tropical Smoothie Reward app in July 2016 has made a significant difference in sales, says Craig LeMieux, who spoke with us for this article.
"That reward system for loyalty brings our customers back more often and increases transactions. It's a key part of our business model," he says. The app, which works at any Tropical Smoothie store, is not the only customer loyalty tool they employ to increase repeat business.
On an average of once a week, their franchise locations send text messages offering special incentives. Individualized for each location, the messages often are sent on days when the weather at those locations might be a barrier to seeing customers come through their doors.
"Customers today want to know that the brand notices their loyalty and are rewarded for it," says LeMieux. He and his wife also know their customers. "I've seen some brands reward their customers with cookies after making a certain amount of purchases. A customer at Tropical Smoothie Cafe may be a little more health-conscious than your average quick service restaurant customer. That's why we offer something that we know definitely that our customer wants. Often it is money off or a free smoothie, depending on the offer."
The brand's tactics are a capsule portrait of three ideas now producing powerful customer loyalty success for franchises: 1) listen to what your customers say they want and like; 2) begin locally and, if possible, expand to national; and 3) make it easy as possible for customers to join the program and be frequent patrons.
Community involvement
The act of listening, broadly defined, is also proving effective for brands that appeal to their customers' better instincts. Positive customer response to community-based charitable contributions and sponsorships is telling franchisors and franchisees alike that customers appreciate them thinking beyond the buck.
"Customer loyalty is a long game," says George W. Tinsley, II, vice president and managing partner of Tinsley Family Concessions, a fast-growing company currently managing 40 locations in the Miami and Tampa International airports. "Anybody getting into it should be in it for the long haul."
The family business, founded in 1982 by Tinsley's father, George W. Tinsley, Sr., includes holdings in KFC, TGI Fridays, Starbucks, Pizza Hut, Jose Cuervo Tequileria, Quiznos, and more. The senior Tinsley opened his first franchise in 1984, a KFC (see his profile in MUF, Q2 2017).
For Tinsley and his father, one example of the long game is honoring any brand offers made by KFC. "But what we found worked best was being actively involved in the community our customers come from--people need that to build a loyalty. Inside the store, it's about building a team that's actively recognizing and truly enjoys serving our customers."
So the Tinsleys seriously embraced community involvement. It began early, with the senior Tinsley supplying enough chicken dinners to feed a whole school, and has since expanded to attending school awards ceremonies for employees and their children. It all builds an employee culture that encourages deep customer familiarity, says the younger Tinsley.
"We look at everyone as stakeholders in our business. In our KFCs, employees can predict the order for 50 to 70 percent of our customers," he says. That commitment also includes college scholarships for employees. The Tinsleys also build partnerships with sports teams, catering meals when the teams fly. The results of this approach speak for themselves: while KFC's average frequency of purchase is 60 to 65 days, the Tinsley-run locations average is every 10 days.
What works for one franchise brand or industry might not work for another, but the same three principles (listening to customers, focusing locally, and making the program easy to join and use)--customized to individual circumstances, remain the same.
Community giving
Jersey Mike's Shore Points Rewards program is successfully encouraging customers to accumulate and redeem points, but the brand's loyalty program really begins before a new store even opens. In the days leading up to a grand opening, employees of the new store visit neighboring businesses to let them know that during the store's first five days they will receive a free sub if they make a donation to a local school.
This approach, says John Helm, who owns 15 Jersey Mike's Subs in New Jersey, has resulted in "lines out the door for five days straight. People are filling their stomachs and we're raising thousands of dollars for local schools."
Beyond that local emphasis is Jersey Mike's national "Month of Giving" every March, culminating in a "Day of Giving" where this year 1,360 restaurants donated 100 percent of sales, contributing more than $6 million to 170 charities nationwide. Locally, the campaign raised more than $377,492 this year for Make-A-Wish New Jersey.
"That day there are no discounts," Helm says, "but the community comes in and supports what we're doing. Sales are triple that day." The community goodwill that begins with local charities and community organizations feeds into daily sales, too, Helm says.
Jersey Mike's loyalty program began in classic punch card form, but the card-based system was vulnerable to abuse, so much so that it was discontinued for a time, says Rich Hope, Jersey Mike's chief marketing officer. With its format updated--it's now available as an app--Shore Points Rewards is a great success. Forty-five percent of the brand's customers are part of the program, more than twice the level considered worthwhile for a customer loyalty program, Hope says.
During grand openings, Jersey Mike's employees don't push customers to enroll in the program, but they are given information about it. Signing people up during their orders proved to add too much time to a transaction, so the program is now available with a simple text message and downloadable app. The response has been tremendous: the Shore Points program has more than 9 million members and is adding 35,000 new ones weekly, says Hope.
"Our rewards program is simple, easy to get started with, and it's easy to redeem points," he says. "Over 50 percent of our sales are from our loyalty program. At our best stores, three of every four customers are loyalty program customers. Now we have a huge base of people who are marketing for us, telling our story for us."
Earning trust
Pearle Vision EyeCare Centers, founded in 1961, has a different kind of customer loyalty challenge than the typical QSR (price, quality, customer service, for example). The hurdle instead is educating its customers that the brand's franchisees do more than provide eyeglass frames and lenses, even though those products represent the majority of its revenue.
Multi-unit Pearle Vision franchisee Chris Butcher, doctor of optometry and COO of several locations in Florida, has been sending a dedicated team to community events. His goal is to give the public a chance to appreciate what the brand can do by offering a free color vision or eyesight test, or answering questions about insurance, eyeglasses, or how to maintain healthy eyesight for all family members--and perhaps have them make an appointment to come in. Once that first appointment has been made, Pearle then emphasizes its experience as a healthcare provider and its ability to do more than just sell glasses.
"We are earning the trust of the patient," says Butcher, "and we want the experience they have to be memorable enough so they come back in a year. You may need glasses, but the piece that's lasting is eye health." Going out to meet people by participating in community events to share his stores' eye health expertise, he says, "is a way to interact with people where they're at."
Listen to your customers
For more than 30 years, Taco John's has deployed a reliable tactic to spur customer loyalty and foot traffic: Taco Tuesday. "It's a classic form of customer loyalty program," says Tamra Kennedy, a nine-unit Taco John franchisee whose franchising career began in the franchise's corporate offices in 1984.
"We have built trust with our customers through the humble taco," says Kennedy, "and we do see some customers only on Tuesdays. But we can count on that, and we appreciate it."
A few years ago, customers asked if Taco Tuesdays could include soft shell tacos too. The brand listened and responded with a yes. Customer response was huge, says Kennedy, with soft shell tacos outselling crispy by two to one. "They appreciated that we responded to what they really wanted," she says.
Taco John's has also paid attention to the digital skills--or lack thereof--of some of its customers, whose generational experience still leans toward using cell phones as phones. The brand still has a paper punch card for breakfasts, but it also has an app with a reward system, and it's working. "We know that, generally speaking, our guest check average is higher when it includes reward items--and that they feel okay about ordering other items. It's all part of the overall picture," she says.
Kennedy has learned that customer loyalty is "a marriage between understanding customers and fulfilling their needs. Everybody wants a good deal, and if there's a way to save a couple of bucks and have a great meal, then I want to be the place you think of first. It becomes a question of strategically choosing what to discount and how to market that discount."
And during new menu item launches, she's generous with samples. New steak burritos were first presented on the house, and when salsa bars debuted, guests were given free bags of nacho chips to encourage them to head to the salsa bar. Nor does she miss an opportunity to chat up and share information with customers.
"We talk to people about what's on the horizon, even at the drive-through window, and we put samples on people's trays," she says. "Most people want in on the secret, and they're going to be upset if you don't tell them."
Data trove
Pie Five Pizza is just five years out of the gate, though it is part of Rave Restaurant Group, which has been franchising its Pizza Inn brand since 1963. Its customer loyalty program, Circle of Crust, has been out front from the start. The app, which replaced a card-based program, offers upgraded rewards, online ordering, and automatically adds reward points, among other features. Customers earn a point for every dollar spent and are rewarded with $10 when they reach 100 points.
Kerry Goebel, one of Pie Five's founders, is seeing higher check averages for Circle of Crust members, but he's just as excited about the useful data to be harvested about what his customers are ordering.
"We can see spending and buying habits and answer questions like, 'Is this what you want?' We can introduce something and watch how our loyal customers react," he says. Recently, Pie Five debuted a cauliflower crust as a limited-time offer at a couple of locations. "It was selling so much we couldn't keep it in stock," Goebel says. "Now, people are coming every week for this crust and it will become a permanent addition to the menu."
The information gained from the app's users is vital to the brand's continuing success and future growth, he says. "We are innovative, but we have to stay with what's valued by our customers. We can be more disciplined about what we roll out with an interactive program that's mutually beneficial."
Loyalty accounts now tally about 30 percent of transactions, a percentage that is growing at Pie Five's 78 locations in 20 states. Goebel, along with his brother, sister, and father (Dave Goebel, former Applebee's CEO; profiled in MUF Q4 2016), also owns 12 Pie Five locations in Kansas and Missouri.
Cross-brand perspective
If anyone understands the differences and interactions between franchise brands, it's Rahul Marwah, who manages operations and development for the Denco Family of companies. His parents bought their first franchise, a 7-Eleven, in 1983. Today the Denco Family owns 25 Denny's, 10 Subways, 7 Popeyes Louisiana Kitchen, and 3 7-Eleven stores, as well as Marriott, Hilton, Choice Hotels, and InterContinental Hotel Group hotels.
With this big-picture perspective, Marwah, who calls himself "technically a Millennial," is a bit of a skeptic on the value of loyalty programs, at least in his own life. "I participate in all of them," he says, "but it really doesn't drive my decisions."
And he sees some lag in the switch from paper to digital--a problem, he says, "because people have stopped wanting to carry cards and coupons, and I think a lot of brands haven't figured this out yet." Hotel brands, whose franchisors compensate franchisees for rooms given away with earned points, do drive repeat business with such programs, however.
What he does see as a useful approach are networks of retailers that collectively participate in a rewards program--such as Plenti, a 3-year-old rewards program from American Express that let members earn points in one place and use them at another--until AmEx shut it down on July 10.
For a rewards or loyalty program to be effective, the price point has to be right, he adds. "If you're talking about a meal with an average ticket of $28 to $40, I don't think you're going to choose that same full-service dining location more than once a month. But if you are able to participate in a network with multiple brands, then it's an opportunity for all boats to rise."
Published: October 4th, 2018
Share this Feature
Recommended Reading:
Comments:
comments powered by

Disqus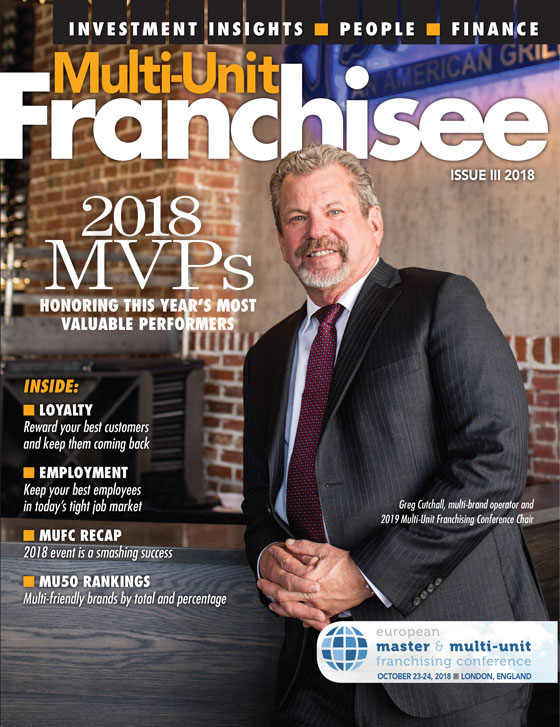 Multi-Unit Franchisee Magazine: Issue 3, 2018
When simplicity is the essence of your business model, clients and owners benefit. Clients want a predictably wonderful experience with every visit....
Cash Required:
$100,000
At Nautical Bowls, we combine healthy, fresh superfood bowls with an uplifting atmosphere, giving you energy to life a full life! Our goal is to...
Cash Required:
$100,000