Gone Social: How Three Brands are Engaging Customers Online
Twenty years ago business discovered the Internet and the world wide web, "changing everything." Ten years ago Twitter and Facebook arrived, changing everything again. Today we're still adjusting... to social media, 24-hour feedback, and "customerization" (customers driving how companies develop products and services).
(For an entertaining and informative take on how we arrived where we are today, look up "The Complete History of Social Media" from Avalaunch Media and "The History of Social Networking" on Digital Trends.)
The challenge for businesses not only is keeping up with the most popular platforms and channels to find and engage with their customers, but to stay current with continual change--within the platforms they've chosen and with new ones that continue to appear, gaining and waning in popularity by the month.
We spoke with three brands, Buffalo Wings & Ring, Moe's Southwest Grill, and Meineke Car Care Centers to see how they are using social media and digital technology for customer engagement and as a local marketing tool for their franchisees.
At Buffalo Wings & Rings (BW&R), Facebook is the primary social channel for connecting with customers. The reason? Simple. "Because so many of our consumers are on it," says Marketing Director Diane Matheson. That consumer, she says, is 30 to 55 years old and probably not jumping on the latest technology bandwagon.
For BW&R, which is approaching 70 restaurants, the benefits of using Facebook include building brand awareness and engaging with customers in real time, she says, including personalizing and customizing communications to online fans. Examples include alerting them to events, offers, and promotions in their area or store.
Reaching and engaging with the brand's consumers, she says, means "staying focused on where your audience is and not chasing the shiny new object." And while Facebook is the primary platform for online customer engagement, "We're not ignoring other channels," says Matheson. "We know where our guests are and employ the same strategy we use on Facebook in those other channels."
"Engagement" is a much-used word these days. For Matheson it involves having conversations with people online, just as one would with a friend. Her hope is that entering online conversations and discreetly sharing brand news and posting other content will generate likes and encourage photo postings, offline conversations, and referrals--and, of course, that those connections will generate increased foot traffic into stores, boost online ordering, and result in bigger tickets.
She says it's more about participating in, rather than driving, online conversations. Determining the balance of "push" and "pull" is a fine line to walk, a constantly moving target. It also differs by platform (see table). And in terms of what to add to the conversation, she says her "pillars" are to be entertaining, engaging, educational, informational, and promotional.
Start by identifying your target audience online. "Go out and find where the consumers are online and what types of content they engage in," she says. Facebook, says Matheson, is not about you and your brand, but getting your brand into the conversation your customers and fans are already having. Don't interrupt the conversation with overly promotional content or what you want customers to be interested in. Rather, she says, follow this 80/20 rule: it's 80 percent about the conversation with fun, engaging content, and 20 percent about the brand.
When it comes to online participation, "Pick one thing and do it really well," she says, and model that approach to go "all in" on other platforms you select. She suggests listening to the online conversations your customers are having, creating content buckets for each platform, and establishing content calendars six to nine months out.
The brand's Club '84 is a loyalty program, not a points program, but it does offer benefits and keeps customers connected to the company. "It's an opportunity for us to keep our guests informed about the brand," says Matheson, through offers on birthdays and anniversaries, as well as through previews of LTOs and menus, VIP parties, special offers, and "insider" information that makes them feel special, and closer to the brand. Club members also have participated in consumer research such as menu development and providing feedback on food presentation, taste profiles, and other potential changes.
Data & Segmentation
"Understanding the guest is core to any brand and marketing program," says BW&R's Matheson. She gathers data on the brand's core consumers from review sites, social media pages, secret shopper scores, demographics and psychographics, and more. One goal is to sort those customers into different, discernible segments based on factors such as trip occasions, why they chose the brand, why not, how they feel about the category, health trends, etc.
This helps her determine "who we're going after, why, where, how we talk to them, and what we need to say," she says. Segments can be based on many variables and help to determine different, customized approaches, from online engagement to new product development.
"We use segmentation and consumer research for everything--new flavor profiles, what consumers are expecting, and what will weaken or strengthen brand health scores," she says. "When you understand your consumer and your brand at the core it makes every decision easier." This also helps the team at corporate with decisions such as whether participation in a new social media site is worthwhile, where to advertise, and in crafting a media plan.
Welcome to Moe's!
Moe's Southwest Grill currently has more than 650 franchised locations in the U.S., spread across 39 states. This summer, Moe's launched a new loyalty program called Rockin' Rewards. The goal was to create a single, unified app and loyalty program, making it easier for customers to earn and redeem points, order online, receive promotions and special offers, refer friends, engage online with the brand, and participate in surveys and provide feedback, says Alan Magee, Moe's director of brand marketing.
The brand connects with customers on more than half a dozen platforms, including Vine, Instagram, Snapchat, Facebook, Twitter, YouTube, and Google+. "That's where our customers are," say Magee. Each channel or platform requires a different communication strategy with different messages and purposes, he says.
The new app is part of Moe's strategy to engage brand fans on a deeper level, says Magee. "It's not only the basics of loyalty and redeeming points, but how can we add to their experience," whether in-store or online.
One new in-store experience being rolled out this quarter is adding an augmented reality feature to the new app. Inside the restaurants, Moe's customers will be able to log in to the app, hold their phone up to original wall art called Rockscapes, press a button, and watch the poster "come alive" with movement and music, says Magee. The six musically themed Rockscape posters commemorate a different memorable moment in rock history--and were made using real food items. At first only one piece of art will come digitally alive, with the rest staged in next year.
While the Pokémon Go craze prepared the general public for augmented reality, Moe's started planning this about a year ago. "Pokémon came along and amplified AR, but we already were pretty well down the road," says Magee. Welcome to AR!
Franchisees and LSM
Before launching the new app, Moe's engaged a committee of franchisees early in the process. Moe's also tested it with franchisees in selected markets and tweaked it before rolling it out nationwide. In general, he says, franchisees responded positively. Corporate worked with franchisees to show them how to use the app and involve their crews to engage with local fans and show them how to earn and redeem points.
At the store level, franchisees can offer promotions through the app, another way to get them involved in local store marketing. After a customer downloads the app, they can choose their favorite store and receive local offers, such as double points all week, or come in at a certain time of day and get 50 percent off an entrée.
BW&R also is focusing on boosting local store marketing efforts. At their annual conference, a panel presented local marketing activities that are working for its franchisees. The brand also is starting a monthly blog that showcases franchisees using local store marketing effectively, as well as an "LSM toolbox" to educate operators about other programs implemented by franchisees, showing them not only the strategy, but how to execute it in their own stores. Larger, multi-unit franchisees, says Matheson, can afford to hire their own resources and marketing teams.
Both brands have implemented a centralized, national strategy for their websites and social media channels, with room for franchisees to customize for their local markets. "When I started here, I had heart palpitations when I saw that everyone had their own page. My first reaction was to shut them down and have a national page," she says. Since then, "I've come to understand the importance of franchisees having their own page."
"Franchisees still have the flexibility to do local things," says Matheson. However, she adds, only with guidance and ongoing education from corporate, including providing them with content, and proving the effectiveness of the national page using metrics. On Facebook those KPIs include the total number of fans, fans reached each week, overall engagement, and engagement per post.
Corporate also has a lot to teach franchisees about how to most effectively engage their fans online. "It takes a lot of time and energy and effort to understand the guest. We do that at the franchisor level," she says. For example, franchisees were not following the 80/20 rule discussed above, and instead were making the conversation too much about themselves--not the conversation the guests were having. As a result, she says, 80 percent of online content will come from the national team, leaving the remainder for the franchisees to customize for their local market.
Matheson says her 80/20 rule offers the best of both worlds to both franchisees and corporate. "We can do a better job to engage their audience."
Getting Franchisees To Play
A common problem for brands is convincing franchisees to participate in local marketing efforts and campaigns. Is their time worth it? Can they follow through and do it consistently over time? Respond to negative online reviews, or even positive ones? Keep their local website or Facebook page current?
BW&R works hard to solve these problems through training intended to help its operators understand the importance of maintaining a strong digital presence. A session on social media at its annual conference walked attendees through the benefits and reasons to be active on Facebook--from brand building to how it will boost sales by driving customers into their stores, as well as where Facebook is going so they can keep up.
There's also basic training on her 80/20 rule (see main article), how to take photos for posting online, how to respond to comments, and making sure franchisees have assigned someone to do local store marketing. Looking ahead, she says national messages will be pushed out to local pages. "Today we let them opt in and determine local content," says Matheson. In addition, she says, "We are starting to deploy some field marketing associates to partner with stores and help them."
Some franchisees get LSM and digital, especially multi-unit owners, she says, and they're very successful at it. However, she adds, "It's always a work in progress." In the hustle and bustle of everyday firefighting, "They forget LSM is something they have to keep doing. It's never-ending. We want to move the 'goods' to 'great.'" One way to make this easier, she adds, is to build this question into the vetting process (if it's not already there) with new candidates: Do they have the ability to do LSM?
Built-in advantage
At Moe's, about 80 percent of its social media outreach is done through dedicated in-house resources. Each platform or channel has different messages and purposes, he says, which requires a different communication strategy. Corporate manages a lot of the messaging, as well as responses to customer questions or comments--"no matter what your question is," says Magee. "The beauty of having those resources in-house is that we can have a consistent message and brand voice."
At Moe's, field marketing teams work closely with franchisees to establish and maintain brand consistency across its websites and social media channels. "It's more efficient to have this as a centralized resource," says Magee. Search Moe's and there is one national website, but it's local pages when customers are in or near a store. This also allows rapid changes, for instance when a hurricane races up the East Coast, or there's a community event nearby. "We want fans and guests to have that continuity and consistency," says Magee.
Moe's has an additional advantage by being part of Focus Brands (which itself is owned by Roark Capital). Focus has six franchise brands under its umbrella (Moe's, Auntie Anne's, Carvel, Cinnabon, Schlotzsky's, and Seattle's Best Coffee). Focus has created "centers of excellence"--pooled resources to support the individual brands with public relations, social, and creative--and built a new campus to support these cross-brand initiatives.
At BW&R, a much smaller enterprise, social media is outsourced to Empower MediaMarketing, a local agency in Cincinnati that assists in crafting their content. "It takes a lot of time and effort to develop it ourselves," says Matheson. Instead, she's outsourced several functions, which she monitors and oversees. "I like using agencies. It's much more efficient and effective." She uses Fishbowl to help with data analytics and employs Directions Research, a local company, for additional consumer research and analysis. Another advantage to using third parties, she says, is that each agency works with clients across many different industry segments, and can provide her with a broader perspective, beyond her brand and outside of franchising.
Even a brand with plenty of internal resources relies on outside expertise. To develop and deploy its new app, says Magee, Moe's worked with two different outside agencies, creating a cross-functional team consisting of its internal creative and tech staff with the two agencies.
Social media is another important way Moe's engages with its fans through events such as the brand's annual Free Queso Day, sneak peeks into its kitchen, and having fans post their food photos. It also allows store operators to strengthen their ties with the local community through fundraisers with schools, churches, and local charities. Much of it is about having fun, a big part of the brand's identity.
Magee says engaging with customers is about tying all of the brand's different online initiatives together to touch the consumer in as many different ways and through as many different channels as possible. With so many moving parts, this is easier said than done, but these two brands are moving steadily in the right direction.
Driven: The Meineke Rewards Program
By Summer Nunn
The Meineke Rewards program has been very successful for us. Meineke Rewards truly sets us apart from the competition because it matches every dollar spent with rewards points. The benefit to customers is the ability to redeem points for normal services like oil changes, tires, and brakes.
Since its launch last winter, more than 378,000 customers have enrolled in the program. Beyond enrollment, we track the average spend of rewards customers vs. non-rewards customers, along with the number of redemptions for free services, to gauge success of the program.
The management of the Meineke Rewards program is a collective effort between internal teams and business partners. Meineke's internal marketing team oversees the full program and directs business partners and agencies accordingly. Clutch, a customer marketing and engagement firm, has been our main partner. They helped launch the program and assisted in the overall revitalization of our customer retention and marketing efforts.
How did we engage the franchisees on this?
Encouraging franchisee buy-in is fairly simple. In addition to education including webinars, emails, and print materials in each center, we're transparent about the benefit of the program and share it in the language they speak: customer return rate, average spend, overall center profitability. It's hard to argue with a program that encourages customers to return more, spend more, and that adds money to your bottom line! With that, we've been able to get buy-in from 30 percent of our centers. Our goal is 50 percent by the end of the year. Customer demand also dictates franchisee buy-in--the more customers ask about the program, the more our franchisees are encouraged to participate.
How are we managing/balancing centralized control with local flexibility in our digital marketing efforts?
One of the benefits of being a part of the Driven Brands family of automotive companies is access to Driven Brands' digital marketing team. This means we're able to execute national and local initiatives in a nimble way. Because all advertising efforts are data-driven, if there's an opportunity to shift efforts for the betterment of a market, we can do so at any given time. It's a balancing act we've worked hard to perfect. We're almost there!
Which social media platforms are we finding most effective for our customers and target customers?
Facebook and Twitter remain our go-to social media engagement tools. Both make it easy to reach and engage with customers while leveraging advertising capabilities that aren't too intrusive. However, we believe in the power of a strong digital presence and engage on Instagram and LinkedIn as well. We want to make it easy for customers to find and engage with us, regardless of where and how they do it.
Summer Nunn is vice president of marketing for Meineke Car Care Centers.
Published: November 24th, 2016
Share this Feature
Recommended Reading:
Comments:
comments powered by

Disqus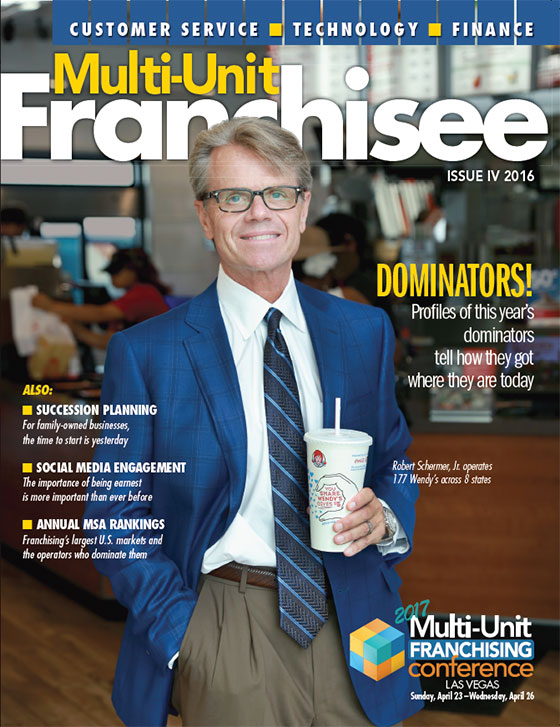 Multi-Unit Franchisee Magazine: Issue 4, 2016
The Drybar® brand, the category creator and a leading blow dry bar salon franchise, is seeking qualified owners.
With a proven 45-year track record, 1.1MM+ Nationwide AUVs*, and flexible footprints to fit into any community, Potbelly is poised for growth —...
Cash Required:
$250,000