Hell of a Ride! Greg Flynn, with 1,245 restaurants, is Gunning for More
As founder, chairman, and CEO of Flynn Restaurant Group (FRG), Greg Flynn is the nation's largest restaurant franchisee on a quest to be the industry's premier operator. "It means being able to walk into a franchise convention and have people wonder, 'How do they do it so well, at such scale?'" says Flynn.
With the December 2018 acquisition of all 368 units from Arby's largest franchisee, U.S. Beef Corp., Flynn is well on his way to being both the biggest and best franchise group in a business he has redefined with scale. San Francisco-based FRG operates 1,245 Applebee's, Taco Bell, Panera Bread, and Arby's restaurants--a $2.5 billion portfolio employing nearly 48,000 people across 33 states.
The recent addition of a fourth household brand name establishes the company as the first privately held franchise operator to top $2 billion in sales, an impressive follow-up from 2012 when FRG became the first U.S. franchisee to reach the $1 billion mark.
For Flynn, who now oversees one of the top 20 largest food service companies of any kind, the double distinction simply illustrates the power of a large operator to execute well.
"I hope that franchisors have a growing appreciation of how positive a strong relationship can be with their larger franchisees," Flynn says. "We can be great allies and stewards to drive the success of the brand."
An entrepreneur at heart, Flynn launched his first business at an early age when he sold fruit, purchased wholesale, off a cart to housewives in his Ross, California, neighborhood. He was just 10.
Inspired by the life path of an uncle he considers his greatest mentor, Flynn spent the first third of his life learning--with gusto. The Bay area native holds an AB magna cum laude from Brown University, an MA from Yale University, and an MBA from the Stanford Graduate School of Business. At Brown, the history buff received a Rotary Foundation scholarship to study at Australia's University of Queensland, where he earned a graduate degree in literary studies with a master's equivalent thesis on Alexander Hamilton.
In between his educational endeavors, Flynn pursued his passion for growing his nascent business empire. Flynn Holdings includes Flynn Properties Inc., which has directly and through its real estate funds acquired more than 3 million square feet of commercial real estate over the years. The real estate company also owns, in partnership, luxury resorts in Los Cabos, Napa Valley, and Telluride.
Flynn's first foray into restaurants came in 1995 as an angel investor turned licensee of World Wrapps, a West Coast concept created by a Stanford classmate.
"This was an early fast casual concept that created wraps as we know them today. No one before that called them wraps," Flynn says. "It was hard. I realized I'm playing this business the wrong way. I should be a franchisee. So I pivoted and got into Applebee's."
In 1999, Flynn bought his first eight Applebee's locations in Seattle, persistently snapping up more locations to become the brand's largest franchisee with 458 restaurants in 26 states. Along with operating the most Arby's and Applebee's franchise locations, FRG is the second-largest Panera Bread franchisee and third-largest owner of Taco Bell restaurants, with a significant presence across the three major industry segments of casual dining, quick service, and fast casual.
While Flynn thinks big, the company's unique "state and federal" operating model is relatively decentralized. States are run by market presidents empowered with a local approach to operations, with deep resources and high standards at the corporate level. This "Own it" mantra for FRG's restaurants has resulted in two decades of greater than 30 percent annual growth for the company, led by an executive team with incredible stability, says Flynn.
"We have all been together doing this for 20-plus years," he says. "We can finish each other's sentences--it makes it a very efficient experience. We also have complementary experiences, skill sets, and interests, so we divide and conquer very effectively."
Flynn isn't sure what FRG will conquer next. While there are no plans for another acquisition, polished casual, fine dining, or international expansion are all on the table. There are no limits to Flynn's path, only opportunity.
"It's been a hell of a ride--and we are only halfway through," says Flynn.
Name: Greg Flynn
Title: Founder, Chairman, CEO
Company: Flynn Restaurant Group
No. of units: 1,245 total: 283 Taco Bell, 135 Panera Bread, 369 Arby's, 458 Applebee's
Age: 55
Family: Wife Julie, twin boys Jamie and Michael 21, daughter Sarah 18
Years in franchising: 24
Years in current position: 20
Personal
First job:
My very first job was in sixth grade selling fruit off of a cart in my hometown of Ross, California. I learned that you can get housewives in the town of Ross to buy much more fruit than they actually need when you are a little kid.
Formative influences/events:
For me, the guidance and mentorship of an uncle of mine. How he planned and lived his life sort of became my life plan, summarized by three words: learn, earn, return. His life plan turned out to be my life plan. I spent the first 30 years learning. I did a lot of schooling and did it deeply, took it seriously, and got a lot from it. Right now, I am in that middle 30 years of earn. I plan to then take the next 30 years--if I have 30 of them--and give it all away and do good with it. My wife and I plan to basically give all our money to charity during our lifetime.
Key accomplishments:
Having created one of the best teams in an industry that includes a lot of great teams.
Biggest current challenge:
How to manage rising labor costs.
Next big goal:
That is a tough one. I don't have a clear notion of what will come next. I have been nothing but opportunistic my whole career and I have ideas about what it might be. It could be a foray into polished casual or fine dining or international expansion. But I don't know. It will somewhat depend upon the opportunities we find along the way.
First turning point in your career:
Making the decision to migrate from the riskiest end of the risk spectrum in the restaurant industry to the least risky end.
Best business decision:
Same as above. I was running around Seattle opening up World Wrapps restaurants, a raw startup. Everything about it was hard. It's hard to find real estate and convince landlords they ought to lease it, because you are unknown and you have no credit. It's hard to get people to work for you, and it is hard to get customers to come to you because they don't know you yet. And it is very hard to execute consistently well on a high-quality product in a high-velocity environment at a low cost. And you have no marketing budget. What I realized as a franchisee of a top 10 brand like Applebee's is this: Everything is easier. The landlords know you and want to lease to you, the employees know you and want to work for you, the guests know you and want to come to you, and, most important, the banks understand these are lower-risk businesses and they will lend you basically all of the money to expand.
Hardest lesson learned:
That a combination of high operating leverage and lease leverage and financial leverage can be devastating to cash flow when there is a serious downdraft in sales, as there just was at Applebee's. We doubled our resolve to run our restaurants well and to not compromise at all on maintenance, on 100 percent staffing, and on a lot of the areas many other restaurateurs cut when times get tough. Now that we have been through it I have learned that what we did was the right thing to do.
Work week:
Breakfast every morning with my family. Clear my inbox. I exercise every day. I get into the office or travel, because I travel a lot for work. Dinner with family and go to bed. The weekends are usually focused on something active--hiking, sailing, skiing, or cultural activities.
Exercise/workout:
I exercise every day, typically for 35 minutes. Running is most common, but I'll do the elliptical or the Peloton or go to a class. A few years ago, I ramped it up from four to seven days. I've come to the conclusion that exercise is the best thing you can do for your overall physical and mental health. You don't need to do a lot of it, just doing it regularly is what matters.
Best advice you ever got:
Don't run with scissors! ;-)
What's your passion in business?
Executing on rapid, consistent growth with the best team in the industry.
How do you balance life and work?
I try to not be in a position where I don't have to choose between the two. I never let myself get so backed up in work I have to forgo something personal that I value, like exercise or time with my family. Again, it comes down to having the right team.
Guilty pleasure:
The Arbynator!
Favorite book:
1776 by David McCullough.
Favorite movie:
"The Lord of the Rings" trilogy.
What do most people not know about you?
That I have a master of literary studies degree from the University of Queensland in Australia.
Pet peeve:
Can't-do attitudes.
What did you want to be when you grew up?
What I am.
Last vacation:
Rome, Tuscany, and Paris.
Person I'd most like to have lunch with:
Alexander Hamilton. I have been a lifelong Alexander Hamilton fan. I also happen to love musicals, so when a musical about Alexander Hamilton came out it was my dream come true.
Management
Business philosophy:
Trust people. Empower them. Agree on a vision and align our interests.
Management method or style:
Same as above.
How do others describe you?
Energetic. I hear that a lot.
One thing I'm looking to do better:
Delegate more. I have always been a good delegator, but as the business has grown in an exponential way there is always more for me to do going forward than looking back. I am used to a high level of personal involvement in all aspects of each of our brands. But now that we have four, realistically, I cannot be involved as I was.
How I give my team room to innovate and experiment:
It is the essence of our culture.
How close are you to operations?
I am extremely close. I am not an operator by background, but operations is the heart and soul of our company. Our operators are the heroes and the whole company exists to support them--including me. I am in charge of the whole organization, but the organization's mission is to operate well. So in a way I am an operator. If we can't execute well on operations, none of the rest of it matters.
What are the two most important things you rely on from your franchisor?
Marketing and menu.
What I need from vendors:
Good service and low prices.
Have you changed your marketing strategy in response to the economy? How?
As a franchise operator, marketing is not one of our primary responsibilities. I participate in system directions on marketing, but it is not something I personally have spent more time with than I think is appropriate.
How is social media affecting your business?
Significantly, both positively and negatively. Positive is that it is a marketing channel. Word of mouth, in particular, through social media can be hugely and positively impactful. For instance, when we launched Dollarita at Applebee's it went viral and drove a lot of traffic. It can be very negative too. Mistakes you make in the restaurant that end up in social media can amplify the effect far beyond what we ever saw before. We need to be especially careful not to do dumb things.
How do you hire and fire?
Considering we have almost 50,000 employees and approximately 100 percent turnover, we do it frequently.
How do you train and retain?
Training is mostly pursuant to programs developed by our franchisors or through our own training department and executed by our operators in the field. Retention is one of a holistic culture project. We wish to be an employer of choice and the best employees have a lot of choice--more than they have ever had.
How do you deal with problem employees?
It depends on the nature of the problem. Our experience is that you can teach skills, but not personality. If you have the wrong personality fit, you are better off recognizing it as quickly as possible and making a change. Most problems come from that.
Fastest way into my doghouse:
Making it someone else's problem.
Bottom Line
Annual revenue:
$2.3 billion.
2019 goals:
To grow sales robustly enough to manage rising costs everywhere.
Growth meter: How do you measure your growth?
Best-growth growing is growing sales you're generating out of your existing facilities. Comp sales growth is what we first and foremost always strive for. And then there is growth through building new units, buying new units, and getting into new brands. But if you made me choose between those, I would rather just have comp sales.
Vision meter: Where do you want to be in 5 years? 10 years?
In both time periods I would like to be recognized as the premier operator in each of the brands where we operate. In 5 years, I wouldn't be surprised to have at least one more brand. In 10 years, I wouldn't be surprised to have a meaningful international presence.
How is the economy in your regions affecting you, your employees, your customers?
We operate in 33 states, in basically all regions. We play mostly at the value end of the spectrum. And finally, the recovery over the past 10 years from the recession is putting more money into the pockets of the lowest income earners, and many of them are our guests. We are actually feeling some tailwinds from that fact.
How do changes in the economy affect the way you do business?
I don't think changes in the economy have a great effect on how we do business because our job as franchise operators is to run our restaurants well. It probably has a greater effect on how our franchisors conceive of new products and promotions and advertising.
How do you forecast for your business?
We do bottom-up budgeting annually and have a constantly updated 5-year plan.
What are the best sources for capital expansion?
Debt and cash flow. We built this entire business on debt and cash flow.
Experience with private equity, local banks, national banks, other institutions? Why/why not?
I have had experience with all of those. We have had--and still have--a consortium of 15 banks that lends to our Applebee's business. We have tapped institutional private debt for our other businesses. We have had private equity investors in the past and we currently have a pension fund as our only outside investor. You name it, we have had it. This business takes a lot of money.
What are you doing to take care of your employees?
Our strategy for addressing low unemployment and increasing labor shortages is to be the employer of choice, and the best employees have a lot of choice. That means you have to pay competitively and have competitive benefits. But money isn't everything, and for many people it is not the most important thing. It is the other aspects of the job that we try to be appealing about as well, starting with the physical work environment, which is clean and well-maintained and operates to the highest standards. It is having restaurants that are 100 percent staffed. There is nothing worse on your staff than being understaffed, so the best thing we can do for their work experience is be 100 percent staffed. It is making investments in technology that can make their jobs much easier in terms of finding us to apply, scheduling, making food in the restaurants, and interacting with our guests. It is one of the general culture norms of our organization. We greatly stress honesty, candor, and integrity. We have a lot of fun. We give back to our communities. We are very engaged with our communities. All these things really matter to the best employees.
How are you handling rising employee costs (payroll, minimum wage, healthcare, etc.)?
With all of our brands, we try to drive sales growth sufficient to cover our rising costs. That takes two forms: some of it is pricing, but hopefully it is driving additional traffic.
How do you reward/recognize top-performing employees?
We have a higher level of profit-sharing in Flynn Restaurant Group than most restaurant companies. And we have generous equity sharing with our senior operators and team overall.
What kind of exit strategy do you have in place?
I don't have one.
Published: August 8th, 2019
Share this Feature
Recommended Reading:
Comments:
comments powered by

Disqus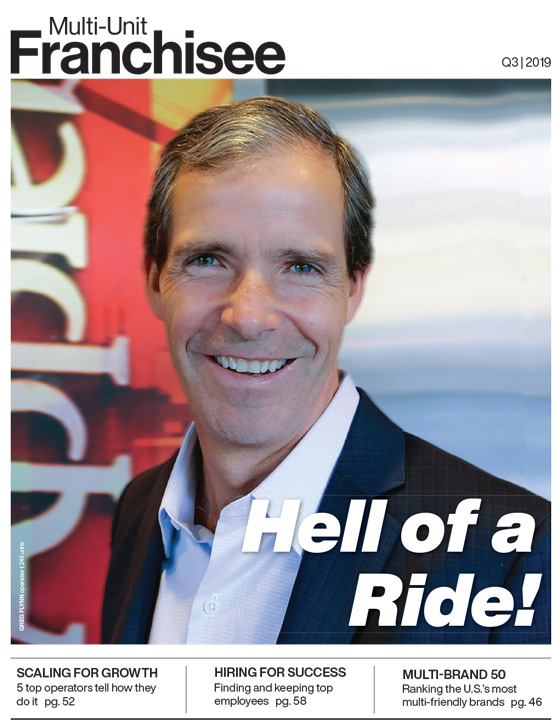 Multi-Unit Franchisee Magazine: Issue 3, 2019
Vitality Bowls specializes in acai bowls, smoothies, juices, salads, grain bowls, wraps, toast & panini, made with unique superfoods like pitaya,...
After investing more than 45 years in building the most trusted brand in health and wellness, The Vitamin Shoppe is now franchising with only 234...
Cash Required:
$200,000