Here's Lookin' for You!: Franchising's most popular brands want developers--are you fit?
Growing up with a father who owned a Burger King gave Will Bigham an early look into the back room operations of fast food franchising, laying the groundwork for his own career.

"As soon as I could reach the beverage station, I was pouring drinks," he says with a laugh.

Years later, when he went into business for himself, his father Hugh signed on as a partner. Soon Bigham began assembling a portfolio of his own franchises. He now has a chain of locations for the Flying Biscuit Cafe, Moe's Southwest Grill, and Mama Fu's Asian House in Charlotte, N.C.

"The franchisors that have been around a long time have a lot more to offer," Bigham says. "Burger King has systems in place and pretty much figured everything out." Newer concepts, he says, can be more of a challenge, but they also offer fresh opportunities for entrepreneurs. And by adding new concepts featuring different types of dining experiences, he can find additional ways to tap into the booming local economy.

"We look for a different type of audience," says Bigham. "That way you can have Mama's, Moe's, and Flying Biscuits close to each other. You're getting consumers' dollars every day of the week."

Multiple-brand franchisees and franchisors alike are constantly in search of compatible matches. For franchisees, finding the right franchisor offers a shortcut to success, adds advertising dollars, support and expertise that can be crucial to attaining profitability. And in the scrum to woo the best franchisees, nothing grabs the attention of a franchisor quite like a track record of success in a business that resembles their own. Successful entrepreneurs who have built a string of fried chicken restaurants have the inside track in the race to sell more burgers, tacos, or pizza. And as long as the franchisee isn't competing head-on with the franchisor's brand, some similarity in culture can be a real plus.

"I try to really understand our culture and be able to discuss it with candidates," says Yum! Brand's Scott Haner, vice president of franchising. "I don't get into other chains and what their cultures are like."

For Yum! Brands, which offers the KFC, Pizza Hut, and Taco Bell brands, "The ideal candidate profile we're looking for is someone who has business savvy--optimally food experience," says Haner. "Retail can be a very challenging arena. We want people to understand the business of the restaurant business; not just love the brand. That expertise helps them."

At Denny's, previous experience is also at the top of the list, says Steve Dunn, Denny's vice president of franchise development. "We look for experience, and there are various brands that are somewhat complementary, with a 24-hour service, tableside mentality. It could be fast food, but it doesn't have to be."

Prior success with another brand is another strength a franchisee can bring to the table. That success is likely to indicate that franchisees will have both the money and organization in place to get off to an ambitious start with a new brand.

Money and experience also are prime criteria at Popeyes Chicken & Biscuits, says John Feilmeier, director of new business development. "Generally speaking, they meet the financial requirements we have to be a franchisee candidate and, secondly, they have the experience, which is another requirement."

Feilmeier says he likes to seek out successful franchisees with brands such as Burger King and Red Robin Gourmet Burgers. "A quick-service restaurant is a quick-service restaurant," he says. "Most importantly, they have an infrastructure already in place: corporate staff, HR, accounting, and regional managers. Adding two, three, four, or five more Popeyes isn't a big deal for them--and they can spread the overhead over more restaurants."

Another important group to consider, says Feilmeier, is franchisees who have no more room for growth in their territory. "They may have executed their development agreement already and maxed out that other franchise. A new franchise offers fresh opportunities."

Nor does Popeyes limit its search only to other restaurant franchises. "We also look for anyone in the restaurant business, like mom-and-pop pizza places. They can understand the benefits of what a franchise brings: structure and standardization," he says.

Some limits apply

"We practice category-only exclusivity," says Haner. "We're not going to put someone in the chicken business into KFC. We want to make sure the proprietary systems we have stay proprietary."

That doesn't mean, though, that someone in a pizza chain can't buy a KFC. "If we excluded everybody that competes with our brands, we'd be excluding a great many people who work in the food services business," he says.

But they won't be allowed a peek at Pizza Hut's internal workings. "If we had someone in another brand, we're not likely to let them be on a marketing or advertising committee that sees forward-thinking strategies," says Haner. "The idea is not to have the information go out to your competitors."
In pursuit of excellence
So who fits the perfect profile? What are the characteristics and traits of the ideal candidate?

"One is business savvy. We're looking for a demonstrated team-builder," says Haner. "We want multiunit franchisees. The day of the single-unit franchisee getting into one store and staying 40 years--that's not the way the business is structured. You can't be everywhere, so you need to be able to build infrastructure, teams. If you've done it before, you have demonstrated that you can do it again."

Says Haner, "We want people with a vision who are committed to grow, and who have a sense of urgency. These are people who would like to be a 10-store operator over time. We don't sell territory; we do it site by site. But we try to look for places where we might have 5, or 6, or 10 opportunities and put in people who have a vision to build multiple stores."

And, of course, he wants people with the financial wherewithal to make that dream a reality. He says the financial piece--$400,000 liquid capital and $1 million net worth--is the easiest part to determine. "You either have the capital or you don't."
When it comes to the more challenging, harder-to-operate brands, the value of related experience goes up, and the better it is for franchisees to have a track record with a similar type of operation.

Take Denny's, which has 265 franchise groups operating about 1,100 restaurants. "This business, with its 24-hour operations and complex menu, requires somebody that has the past experience you need to predict future performance," says Dunn. "It's hard to learn this on the job."

A prime example of related experience, he says, would be fast food brands with 24-hour service, such as Jack in the Box or Del Taco. "The customer base they're going after is pretty broad. For Del Taco, it's a specific meal occasion for people looking for that style of food. That's separate from Denny's. They work in tandem. We have a franchise group in the Midwest that has Wendy's, Long John Silver's, Papa John's, and ours. On the West Coast, one franchisee is also the largest Carl's Jr. franchisee."

But there are limits. "We will not allow some other brands that serve a similar menu and have the same operating characteristics, like Steak n Shake, or a brand that is heavy on breakfast. That's not viewed as a complementary brand," says Dunn.

Geography and timing can also factor in for both parties. "I think it depends on your franchise candidate and the individual requirements around the country. Denny's is fairly mature, so someone in the L.A. basin may do only one store because of other rights with existing franchisees. If they go somewhere else, though, they could build multiple units over time."

The Nashville market, where Denny's is a long way from the saturation point, says Dunn, is one example of where a franchisee with other brands in the area could do well with a multiunit development deal.
Weighing the intangibles
A track record, solid net worth, and ready funds may be essential to a successful franchise operation, but some franchisors are quick to point out that there are intangibles to consider that can be just as important--if not more so.

"It's not so important they have the food experience," says Don Fertman, Subway's director of development. "In our case it's a simple operation." However, he says, if a candidate understands how a franchise works and has experience with the franchisor-franchisee relationship, "it diminishes or eliminates a significant learning curve."

Prior experience working within the constraints of a franchise system most often increases the chances of franchisee success, he says, but for some entrepreneurs it's still an issue. "Having that worked out in advance is an advantage," he says.

Fertman is also sensitive to the potential downsides of selling a successful franchisee an additional brand. "Experience has shown that if the operation, particularly in a new market or country, does not show expected profitability within a relatively short time, the franchise owner tends to revert focus to the previously acquired brand that is already providing income." Poor sales results early on, he says, can become a self-fulfilling prophecy if new owners then decide to concentrate on their previous brands.

When recruiting developers, says Fertman, the issue of attention diversion becomes even more of a concern. "It's essential that those developing a new territory give complete focus to one business--and that business be their major, if not sole, source of income, to ensure that the full potential of that concept has the best chance to be fulfilled."

Peter Wright, director of franchising at Panera Bread, says divided attention also can result from timing. Recruiting franchisees with experience and a corporate structure in place is great, but it could pose a problem if they're in expansion mode with their existing brands. "If someone is developing other concepts and wants to develop ours at the same time, they could be splitting their focus. It's tough enough to get one concept and develop that," he says.

Panera has a seven-figure liquidity requirement, but getting started requires a lot more than sufficient capital. "Obviously a lot of people have money in mind," says Wright. "But if their primary motivation is making money, it's not a great lead indicator. You want to see passion for the brand and the products; you want to see people who share a lot of our values about the business, who love being in multiunit restaurants."
Plan for growth
The best way to get started adding a new brand to a multiunit or multi-concept operation, says Bob McDevitt, senior vice president of franchising for Golden Corral, is to have a reasonable expansion plan mapped out in advance. McDevitt says franchisees may want to start off with one, two or three stores, building up to about five locations at a relatively quick pace.

"In years past, we've had situations where we've sold large blocks of territory. Given the pace of development today, large blocks can take a long time to develop," he says.

For a franchise like Golden Corral, upfront costs are steep. "As a concept," he says, "it's rather expensive for land, building, and equipment." The price tag for those items runs $3.5 million to $4 million--then add the franchise fees.

"We have successful people from other industries," he says. "We don't find that positive or negative." But a franchisee with outside experience would need an operating partner with a resume that includes hands-on experience.

"If you don't know what you're doing," says Popeyes' Feilmeier, "there's a huge risk."

One example of those with plenty of money and no experience are the dot-com millionaires looking to branch out. But, says Haner. "It's not retail, and there was no team-building. So that would get discounted somewhat. It's not what we do."

However, he says, "We have people out of the gas and convenience business that have built multiple units, relying on training and support, and those are skills that can transfer into building restaurants. How do they represent the learning experience? Then we determine how that translates."
The final challenge
For franchisors, getting the attention of the right multiunit operators is a huge challenge. "It's easy to identify them, but it's not so easy to talk to them," says Dunn. "You can get lists of other franchisees in those other brands, and then you have to get your message to them in various ways. We send them information, some type of striking direct mail campaign." Also, he says, "You could go to the type of events they go to, typically where they're looking for money. That could be a trade show environment, and then you have to look for affinity groups and use some traditional networking methods."

"The people we're searching for are in a very defined group," says Feilmeier. "As you can imagine, we're also not the only people calling on them. Most others want the same kind of person. Thank goodness we have a great brand and a product that people like to eat."
Published: August 8th, 2008
Share this Feature
Recommended Reading:
Comments:
comments powered by

Disqus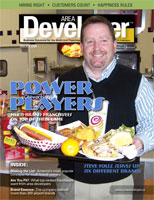 Multi-Unit Franchisee Magazine: Issue 2, 2008
810's mission is to bring there premium entertainment experience, traditionally available in large metropolitan markets, and makes it available...
Cash Required:
$550,000
The Drybar® brand, the category creator and a leading blow dry bar salon franchise, is seeking qualified owners.