How to Avoid Traps When Giving Employment Advice
Providing employment advice through franchisees can be a tricky business-and very expensive if not done correctly. Amounts awarded in damages for employment cases brought against employers are on the rise. Damages recovered against employers in litigation brought by the Equal Employment Opportunity Commission (EEOC) rose from $52.8 million in 2002 to $148.7 million in 2003. Damages received per case also increased from an average recovery of approximately $140,000 in 2002 to almost triple that amount-$390,000-in 2003.

There are three specific areas that, handled correctly, will help franchisors and franchisees limit liability for a claim of illegal employment action: handbooks, manager awareness, and training.

Handbooks

Every employer, regardless of the business of the organization, should have a handbook that communicates policies and procedures to employees. Written communication of these policies and procedures ensures consistency of application, a clear statement to be used in explaining future personnel actions, and a solid basis for arguing that future inconsistent oral statements or practices are not in accordance with organization policy.

Certain provisions in handbooks must be there for the legal protection of the organization. These include an offensive behavior policy (prohibiting harassment), the EEOC policy (prohibiting discrimination on the basis of membership in a protected class), and the FMLA policy (federal leave law) among others. It is also important for handbooks to address requirements of the state(s) in which a franchisee operates.

Harassment claims filed with the EEOC increased fivefold from the '80s to the '90s. While the proliferation of harassment claims began with sexual harassment, there has been a significant increase in harassment based on religion, as well as country of origin and other protected classes. Employers are required by law to take adequate steps to prevent harassment, including publication of a policy to protect employees against illegal harassment. These could include a sexual harassment policy, or a more inclusive offensive-behavior policy. An offensive behavior policy is preferable to the narrow policy covering only sexual harassment in light of the increase in harassment claims based on other protected characteristics. The policy should be prominently published and verbally communicated to all employees to maximize the protections of the federal law.

If appropriately implemented and followed, these policies will provide an organization with a defense against a claim of harassment and will establish that the employer exercised reasonable care to prevent and correct illegal behavior.

The handbook also will need to include broader state laws that expand the protections of the federal laws. Although Title VII does not protect against employment discrimination on the basis of sexual orientation or marital status, some states prohibit discrimination on the basis of race, color, creed, religion, national origin, sex, marital status, status with regard to public assistance, membership or activity in a local commission disability, sexual orientation, or age.

Another significant state-specific area to be addressed by handbooks is leave provisions. Franchisors need to ensure that corporate handbooks have been modified to include state-mandated leaves. The Family and Medical Leave Act (which generally applies to employers with 50 or more employees) provides for leave, but it does not apply to many smaller employers. States often mandate additional leave or leave that is required to be provided by an employer operating in the state regardless of the size of its workforce.

Managers

Under state and federal employment laws, the manager is the company. What the manager knows, the employer is imputed to know, and the same applies for the manager's actions and failure to comply with the law or the written policies of an organization.

Managers may not understand the consequences of neglecting the human resources or employee relations aspect of the job. But managers and supervisors are responsible for the implementation of all of the policies contained in the handbook.

Although written policies are less likely to be misunderstood, lack of consistency in applying policies resulting in discipline is likely to lead to legal claims based on the employee's perception of lack of fairness.

A manager who terminates an employee must be able to explain the employer's legitimate business purpose in ending the employee's employment.

Contemporaneous documentation of discipline and termination is the best evidence and managers who do not consistently document the stated reasons for discipline or termination can expose the organization to legal liability. The employer, through its manager, should also have checks and balances in place to ensure that changes in an employee's position, compensation, job duties and employment status are never the result of discrimination.

In short, it is the manager's responsibility to implement the policies developed by the employer as set out in the handbook fairly and consistently. This will encourage a perception of fairness and is likely to limit legal claims when an employee is disciplined or terminated.

Training for Managers and Employees

The third area, training, is critically important. Training and informing employees of various policies that are in place, such as policies against discrimination and the complaint process the employee is expected to follow, allows an employer to more easily handle an employment claim and minimize the risk of punitive damages.

Because it is important for managers to implement the policies contained in the handbook fairly and consistently, they must be trained about their legal obligations under the law. For example, if managers are involved in hiring, they need to know what questions can be asked of prospective employees, how job offers are to be made, when a physical examination can be required, and what information can be sought.

Franchisees need to offer managers training for handling behavior and performance issues. While documentation is critical to support performance correction and discipline decisions, it may be a basis of liability unless created accurately and maintained consistently. Managers need training on the creation of a formal performance improvement plan with defined expectations and time frames, as well as how to communicate effectively with employees.

Another tricky area that managers have to understand and monitor is compensation and benefits. All employers should assume that the federal wage and hour law, the Fair Labor Standards Act (FLSA), applies to them. This law requires payment of the "minimum wage" and overtime for hours worked over 40 in a work week unless the employee is exempt from the act. Penalties for failure to comply with the FLSA are significant and include punitive damages and attorney's fees. Overtime at the rate of time and a half must be paid to all non-exempt employees for any hours worked over 40 in a work week. The manager needs to understand pay obligations for non-standard working hours and how the FLSA applies to salary of an exempt employee.

At the very least, managers need to be trained to spot potential issues so they are aware of problem areas and can request assistance before an employee files an agency charge or a lawsuit. Ideally, training should help develop awareness, knowledge and skills. Real-life applications or role playing can help with this development and also may serve to highlight a need for additional changes or customizing of policies.

Having a good handbook with appropriate policies is essential in an era in which employment law claims represent over a third of all civil litigation in the United States. Understanding the role of the manager is important not only from the standpoint of employee morale, customer service and profitability, but also to limit legal liability for a business during a time when one out of every five litigated employment law cases results in a million-dollar jury award. Finally, employment law training is necessary to ensure fewer legal claims, reduce litigation costs and be less burdensome on an organization's time, attention and productivity.

- Nell Matthews is a partner in Rider Bennett's Litigation Department. She concentrates her practice in the areas of employment law, general business and commercial law, and governmental liability litigation.
Published: March 2nd, 2005
Share this Feature
Recommended Reading:
Comments:
comments powered by

Disqus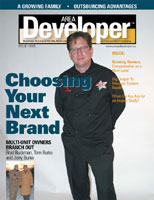 Multi-Unit Franchisee Magazine: Issue 1, 2005
Featured Opportunities