In the Moment: Real-Time Tips to Engage Consumers
Nothing beats the feeling of a real-time moment. In 1996, I watched as St. Louis Cardinals shortstop Ozzie Smith took his final regular season backflip in the infield of Busch Memorial Stadium. Nearly 20 years later, backstage at Bridgestone Arena in Nashville, I watched in awe as Chris Stapleton sang with Justin Timberlake at the 49th Annual CMA Music Awards. And, I tweeted with immense passion as Big A was finally revealed on "Pretty Little Liars."
Many of today's biggest moments are being covered in real time (think Twitter). This gives brands the opportunity to join the conversation through engaging, creative, and most important, relevant content. Additionally, responding in real time to events and news can help a brand feel fresh, relevant, and personal. Here are a few ways brands are doing exactly that
Create your brand story. In 2011, Buffalo Wild Wings aired a campaign called "Hit the Button," which playfully implied that BWW could change the course of a game with just a tap of some buttons. Fast forward to January 2018, when BWW took credit for a missed field goal with 3 seconds left in the college football national championship game. Since that first 2011 campaign, fans are still asking whether BWW "Hit the Button" during crazy sports moments such as an unexpected overtime, an unheard-of call (or a missed one), or an unbelievable play. By owning the conversation, BWW is able to play along with fans, driving brand awareness in a natural way during the sports world's largest and smallest moments.
Mix it up. Retailers know that Black Friday weekend is a key moment in their marketing strategies. For carry-out restaurants, dates like Halloween and the Super Bowl rank high on their priority list. For Arby's social team, though, dates like Pokémon Day (February 27) and the release of Nintendo Switch's first game ("The Legend of Zelda: Breath of the Wild") are driving the most conversation. Arby's has an engagement-first mindset on social, allowing them to focus on reaching their audience in creative ways. With the overlap of Arby's devotees and gamers, Arby's has been able to connect on a deeper level, driving affinity for the brand, and getting recognition from game makers as well.
Try a partnership. In today's crowded digital landscape, it's easy to see everyone as your competitor. You aren't just competing against the everyday competitor, you're battling for space against publications, children, and celebrities. A great way to reach new audiences is by partnering with influencers and other brands. Seventy percent of Millennials are influenced by the recommendations of their peers in buying decisions. By connecting with partners whose audiences are similar to your own, you can expand your network even further. Dunkin' and Dove Hair partnered for a social giveaway featuring two items their female Millennial audience used: coffee and dry shampoo. #DoveXDunkin drove 1,141 posts on Instagram and was used as an awareness campaign for both Dunkin's new branding and Dove's new product.
Support a cause. Not every moment is fleeting. Just ask Disney, whose Share Your Ears campaign with the Make-A-Wish Foundation was able to capitalize on a year-long celebration of Mickey Mouse's 90th birthday. The campaign concept is simple enough: share a photo of yourself with Mickey Mouse ears and Disney donates $1 to the Make-A-Wish Foundation. Along with celebrity support on social, the campaign appeared on Mickey's 90th Spectacular on ABC last November. All in all, Disney donated $3 million to the foundation, making Share Your Ears one of the most successful cause marketing campaigns of the season.
Be prepared. Don't just wait for a big moment. Get your best and brightest minds ready to roll when a brand-adjacent event is happening. Keep an up-to-date calendar of conversation starters (pop culture, foodie holidays, television, sports, industry conferences), and use it when building out your content calendar. For the key dates, you want to participate in, have a team ready to engage when the moment strikes. Provide them with guidelines for engagement, along with a point of contact for a quick approval.
With a little preparation and a lot of creativity, brands can contribute to real-time conversation in a meaningful way. Responding to events in real time can not only help drive awareness to new customers but also build affinity with existing ones. Creating content in real time allows a brand to take advantage of what consumers are already paying attention to - and allows even the oldest brands to remain relevant and fresh. By planning ahead for events, including preparing for the unexpected, any brand can use real-time content to elevate their social media efforts and supercharge their brand status.
Ashley Parks is a social media strategist at RIESTER, a full-service digital marketing, advertising and public relations firm known for building brands and creating positive social norms. Learn more at www.riester.com.
Published: March 7th, 2019
Share this Feature
Recommended Reading:
Comments:
comments powered by

Disqus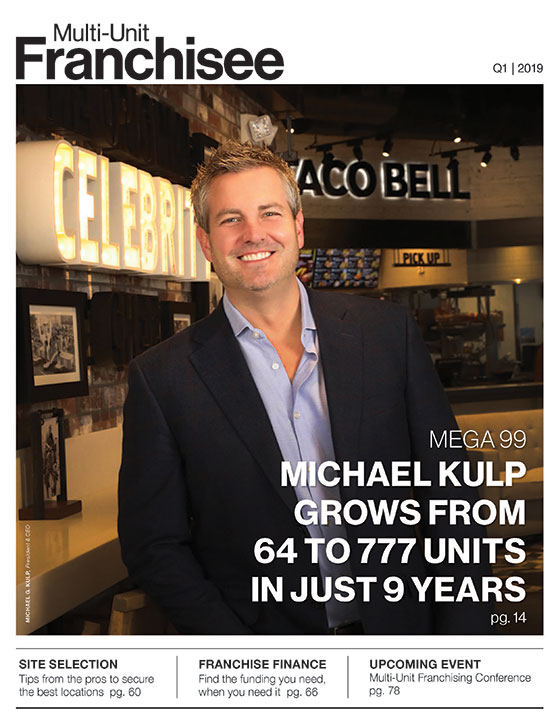 Multi-Unit Franchisee Magazine: Issue 1, 2019
Tropical Smoothie Cafe is a healthier, quick-casual restaurant brand with 1,175+ locations in 44 states. One of its key differentiators is what the...
Cash Required:
$125,000
Invest in a legacy brand with 40 years of experience serving up crave-able food in a fun environment. Here's all you need to know
Cash Required:
$1,500,000