It's About Wow: Keeping The Customers Coming Back Requires Constant Change
"I love the action of the restaurants and the strategy of the real estate. This is the jackpot business for me," says Mike Scanlon, president and CEO of Thomas and King in Lexington, Ky., where he opened his first Applebee's in 1988.

Scanlon has been involved in real estate and restaurants since he left college. He worked for Wendy's and MCL Cafeteria as a restaurant manager, as well as for Denny's and Sambo's. He later spent five years in site selection and real estate for Tom DuPree, a Burger King multi-unit owner who formed Apple South Inc. in 1985 and became one of the earliest, and later the largest, Applebee's franchisee. Before starting to sell them off in 1996, DuPree had amassed 264 Applebee's. Scanlon, who today has 90 Applebee's of his own, knows a little something about the brand—and real estate.
Today Scanlon owns a little over half of the real estate his restaurants sit on, but it wasn't always that way. When he became an Applebee's franchisee 20 years ago, he leased the land. "When you start out younger, you do the deals you can," he says.
Scanlon attributes his success to two things: passion and focus. "What we do we do with passion," he says.

Yet despite his passion for real estate, Scanlon is clear on his priorities. "Building a real estate empire is a good thing, but the object always is to produce a high-volume store and generate cash flow," he says.

Several years ago, approaching his territory's saturation point with Applebee's, Scanlon knew he had to branch out. "Eventually we knew we'd run out of room," he says. "The problem with any other concept when you're an Applebee's franchise is you're already dancing with the prettiest girl at the party. Its profitability and market acceptance is a phenomenon. It's hard to find anyone else as good."

He tried a few new dance partners, Rio Bravo and Huddle House among them, before finding a new one he could stick with: Johnny Carino's, now Carino's Italian Grill. "The food is delicious, outstanding. We talked to them about a year before we did anything," he says. And the business is good.

Still, he says, it's hard to get over that first love. "Applebee's is still the jewel in the crown. Even in the slump that it's in, it's still the best deal in town."
The multi-concept life
Beyond the obvious benefits of having multiple concepts (more opportunity for everyone in the organization, critical mass, infrastructure, enhanced purchasing power and marketing clout, etc.), Scanlon says there are subtle advantages as well.
These include cross-fertilization among brands, the discovery that best practices at one brand can sometimes be applied to another.

"You start off justifying it with more growth," he says. Then you find out there's more. "Even if you're already dancing with the prettiest girl you can learn new steps. I didn't expect that," he says. "One concept helps energize every one," he says.

Even with two good concepts, however, all is not sunshine and light. "The downside is huge," he says. One danger is diluting attention to one concept at the expense of the other. Another is thinking that what's good for one brand is good for another.

"Sometimes when you're a multiunit operator you want to standardize as much as you can," he says. "The real dangerous downside is saying, 'Well, we're going to run the Carino's like we run the Applebee's,' or vice versa. That's crazy, it doesn't work."

Avoiding this natural inclination requires vigilance on a case-by-case basis, he says, whether among different brands or different regions. "It takes a lot of judgment and flexibility. When should I standardize? When not?"

And while regional tastes may be similar enough for his units across Pennsylvania, Ohio, Indiana, and even Kentucky, that's much less likely for his Applebee's units in Arizona. Regional or district managers keep him informed of local tastes, trends, and other geographical differences. "We still have a home office for accounting and infrastructure, but in the field our operational managers are separate."

In his marketing department he has a director of operations dedicated solely to his seven Carino's units. (Not an issue for his 90 Applebee's.)
Scanlon says his company, Thomas and King, takes an unusual approach to human resources. "We have the training and communication piece of HR in one area, and formal rules and regulations enforcement in another," he says. "We've separated the legalistic from the training and energy pieces."

In other words, one group handles the initial how-to's, while the other deals with employees who are unhappy or underperforming. "If we have an employee who needs some coaching, people in the training department just don't work for that," he says.
Maturity brings change
"Twenty years ago we were a startup creating the market. Now we're sharing it," says Scanlon. "You have to be careful that the structure you create as a multiunit person doesn't ever get set in concrete. We forget we've been doing it for 20 years, so our structure helps us keep growing and evolving."

Thomas and King has its own area for real estate, construction, and remodeling, but there has been a shift in focus and resource allocation over time. With his restaurants getting older, Scanlon says the company spends as much or more on remodeling as on building new units.

From a single Applebee's in 1988, Thomas and King has grown to nearly 100 restaurants with 7,500 employees, necessitating another shift: "Our real estate department has gotten a little smaller, and our marketing and communication has grown," says Scanlon.

Maintaining a fresh outlook is a key part of his approach, and a reason for his company's ongoing success. "We're still very much a startup in our attitudes and beliefs," says Scanlon.

Working with Applebee's, he recently closed that first restaurant, which had become slightly dowdy after 20 years, and built a new prototype Applebee's a block away that opened last September.

Scanlon says that first restaurant was famous locally, his top sales unit, and the one that made Thomas and King. Sentimental? Yes and no. "You wouldn't know the new store. We doubled our business overnight. Applebee's International did a great job," he says.
Help yourself!
"I think sometimes franchisees rely way too much on the franchisor," says Scanlon. "You want to open the box and drive, but there's still so much the franchisee has to do—and that's still with a great franchisor."

Scanlon's company has its own culture, which can be summed up in one word—WOW—which he uses as a registered trademark of Thomas and King. The idea, of course, is to give the customer a WOW experience in the restaurant that stays with them after they leave.

Then there's the WOW Bus, a 45-foot motor coach that serves as the company's goodwill ambassador, mobile training station, and is used to take restaurant employees to events like concerts and sporting events. The company's website describes it as: "a totally tricked out, head-turning machine with award-winning graphics, a flat-screen television, a conference room and more coolness quotient than your favorite rock band's tour bus." No dowdy here!

Thomas and King also espouses a set of values, a very important part of maintaining its culture—and success. "We have to model the behavior if we want it. You can't count on the franchisor for that, it's not their job," he says. "You have the system, but you're still your own person."

But building the franchise brand still comes first for Scanlon. "We have our own internal branding, but it's all about Applebee's and Carino's. Sometimes the operators want to make it about the company, not the brand."
Forever young
Scanlon, 53, relies on his younger staff to communicate with his Millennial-aged employees using MySpace and YouTube, as well as text messaging. The company even has a recruitment video on YouTube (www.youtube.com/watch?v=egh2C7TUjUo).

"Ninety percent of our employees communicate on YouTube and MySpace and similar social networks," he says. So that's where he chooses to communicate with them. "We want to be where our employees are."

Scanlon, who was 33 when he started Thomas and King, says his role has evolved over time. Today, it's more about envisioning where the company is going, and coaching people, finding the right place for them, both in the company and in life. He also teaches leadership and team-building classes.

But he's not too old to remember how to combine good business with good fun. The WOW Bus made a trip to the Superbowl this year, to promote a new partnership with Anheuser-Busch and give his Arizona Applebee's employees a treat.

During Superbowl weekend, in collaboration with the world's largest brewer, Scanlon rolled out a concept called The Perfect Beer at 10 of his restaurants, with 25 more "on tap" by August. "Twenty percent of our company profits come out of the tap and we've never paid attention to beer," he says. "We sell a ton of their business."
The Perfect Beer required installing new taps and serving the beer at 38 degrees in glasses that are cold but not frozen to create a one-inch head—as well as more sales and more WOW.

While Thomas and King did its own internal branding for the rollout, he says Anheuser-Busch went out of their way to help. "They're a great partner," says Scanlon, who approached the $16.7 billion brewery giant with the idea of working together on this.
"It's an industry-changer, not something you get from the franchisor," he says. "There are innovations you can do and still be a franchisee and work within the system."

Changing focus, shifting gears

With the slowdown in the economy and the uncertainty roiling Applebee's, Scanlon says he's seen some setbacks in sales in the last 12 months. "Right now, the market is not screaming for 200 more Applebee's." Besides, his Applebee's territory is pretty full.
"When you're a multiunit owner and developer like we are, you have to remember you're developing restaurants to earn a profit. Sometimes you need to know when to build them and when to operate them. Right now we need to focus on excellent operations and execution, digesting the growth we have," he says.

That's the approach he's taking following his recent purchase of three Carino's from a franchisee, which took him to seven. And while he's fairly maxed out on his Applebee's for now, "the world is wide open for Carino's growth," he says.

"The casual restaurant business is in transition. There's an evolution now, and we want to be part of that," says Scanlon. "Rapid growth in sales, not units, is the thing. We can make a lot more money doing that."

Name: Michael J. Scanlon
Title: President/CEO
Company: Thomas and King
Units by brand: 90 Applebee's and 7 Carino's Italian Grills
PERSONAL
Age: 53
Family: Married 28 years with 2 grown daughters
Years in current position: 20
Years in franchising: 25

Key accomplishments:
Lead a team of great people who have built a multi-generational privately owned company that values the community.

Biggest mistake:
Reacted too slowly to this current downturn in business.

Smartest mistake:
Passing on a beautiful acquisition because of price. It was a beautiful city—perfect—but too much money to pay, and we didn't do it. The new buyers didn't do well with it. You just can't buy and swallow everything that's beautiful.

How do you spend a day, typically?
Scheming, dreaming, and following through.

Work week:
Five 12-hour days

Favorite activity:
Time with family and close friends.

Exercise:
Avoid it.

What do you do for fun?
Collect classic cars.

Books/magazines recently read or recommended:
The Power of Now and Good to Great.
MANAGEMENT
Management method or style:
Focus on outcomes and build teams.

Greatest challenge:
Maintaining focus on the "main things."

Personality:
Passionate, high energy.

"Growth meter"—How do you measure your growth? Business measurement:
profit. Personal measurement: quality of life for everyone.

Annual revenue:
$260 million

2008 goals:
Excellent execution of concept and build management bench strength.
Published: August 7th, 2008
Share this Feature
Recommended Reading:
Comments:
comments powered by

Disqus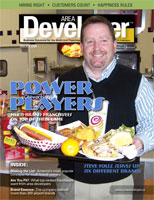 Multi-Unit Franchisee Magazine: Issue 2, 2008
Class 101 college planning franchise helps high school students get into better colleges and qualify for higher amounts of scholarships and financial...
Cash Required:
$50,000
If you are looking for a business that is meaningful and fulfilling, you should take a closer look at Bruster's® Real Ice Cream Franchise!
Cash Required:
$125,000