Living the Dream: Healthy Lifestyle and Healthy Growth
Smoothie King multi-unit franchisee Andrew Weinstein believes he was meant for the world of big business. And if his rookie year is an indication of what the future holds, the Florida-based operator is off to a great start on the road to living his entrepreneurial dream.
Armed with a vision for growth and a passion for the product, Weinstein owns 14 Smoothie Kings, with eight additional stores in development in New York, Florida, and Georgia. He sees tremendous opportunity to expand with the brand, both through acquisitions and organic growth and a mission to inspire healthy living.
"I want to get to 50 stores," Weinstein says. "We believe in servant leadership and support, systems, and tools. And we believe we have the ability to grow as a brand, our team, and as individuals in this company."
Since opening his first store in Coconut Creek, Florida, Weinstein teamed up with business partner Barry Edwards to ink a flurry of franchise deals. Most recently, he acquired nine existing stores in Atlanta and opened the second of seven locations planned in Long Island, New York--a move taking him back to his roots.
Weinstein, who is from Syosset, New York, walked into his neighborhood McDonald's on his 14th birthday to apply for a job and began "working every chance I could," he says. The captain of his community college basketball team, a sport he still loves to play, Weinstein is a natural leader. "I have always loved leadership and the essence of a team."
Now the entrepreneur is busy building his own team with a legacy brand he's had a soft spot for since he was a kid. He fondly recalls attending New York Knicks basketball games with his father where, after the game, they would head to the Smoothie King beneath Madison Square Garden to grab an Angel Food smoothie before boarding the Long Island Rail Road home.
Weinstein's rediscovery of the chain a decade later--thanks to his wife--came just as he was moving on from his first burger franchise investment where, he says, he learned a lot and was able to sell for a good amount of money. He became an avid fan again and eventually a franchisee of the brand, which he credits with helping him lose weight and live a more active and healthy lifestyle. "I am a loyal user," says Weinstein. "Smoothie King has changed my life significantly in more ways than just money.
Bullish on growth, Weinstein is set to build on Smoothie King's continued healthy evolution as a brand focused on "Cleaner Blending," a proprietary approach to using more whole fruits and vegetables and removing added sugars and artificial ingredients from the smoothie recipes.
"I have always had a great vision for big business," says Weinstein. "I would like to, one day, be the guy with a lot of restaurants that people would like to have lunch with to talk about the industry--and in 10 years, look back at 50 restaurants as just the start."
Name: Andrew Weinstein
Title: Partner
Company: AB Smoothie LLC
No. of units: 14 Smoothie Kings, 1 under construction, 7 in development.
Age: 30
Family: Wife Licia
Years in franchising: 5
Years in current position: 2
Personal
First job:
McDonald's. I was a crew member and loved the drive-thru!
Formative influences/events:
My wife, my dad, my business partner Barry Edwards, and a few basketball coaches over the years.
Key accomplishments:
Our mission is to inspire people to live an active and healthy lifestyle. Smoothie King allows us to achieve our life's mission and our goals of making a good living.
Biggest current challenge:
Trying to find the right real estate in the markets where we operate.
Next big goal:
To open 50 stores and develop and have an impact on as many lives as we can.
First turning point in your career:
Selling my first restaurant. Then, when my wife fell in love with Smoothie King as a guest, it changed everything.
Best business decision:
Walking into Smoothie King and ordering a Peanut Power Plus.
Hardest lesson learned:
That you can't turn around everything and everyone. The only thing you can do is your best.
Work week:
I usually go to the gym at 6 a.m. I get back to the home office at 7 a.m. and answer emails and start checking reports. I usually get in the car and head out to stores mid-morning and hang through lunch. After lunch I head back to the office or keep visiting sites, depending on if I am on the road or not.
Exercise/workout:
I run a few times a week. In between, I play basketball and lift weights. I try to work out five days a week--it really keeps me going.
Best advice you ever got:
To focus on three things: hard work, great people, and God's help.
What's your passion in business?
To serve each other (the team), the guests, the community, and give the ultimate guest experience.
How do you balance life and work?
I try to finish work by 6 p.m. every day so I can spend time with my wife and our dogs.
Guilty pleasure:
Cheeseburger with ketchup and extra onions from McDonald's.
Favorite book:
Rich Dad Poor Dad by Robert Kiyosaki and Sharon Lechter.
Favorite movie:
"Shawshank Redemption."
What do most people not know about you?
My last name is Jewish and my dad is a rabbi, but I am actually Christian.
Pet peeve:
To see guests waiting in line.
What did you want to be when you grew up?
Hah! A firefighter or UPS driver.
Last vacation:
The Exumas, Bahamas.
Person I'd most like to have lunch with:
Tom Garrett at GPS Hospitality. He has a great company and exhibits great leadership.
Management
Business philosophy:
Serve first, serve fast, and serve with a smile.
Management method or style:
I let the managers run their stores and I serve them in any way they need. It inspires growth and creates an ownership mentality in the store. We also lean on our managers to get to know who the customer is in each area, because there are all different walks of life coming through the door, so we really rely on our team.
Greatest challenge:
Finding the right people for the right roles.
How do others describe you?
Fun, energetic, hard working. Great basketball player (LOL).
One thing I'm looking to do better:
Be more organized. As we grow, it is becoming harder to manage the growing reams of paperwork. My wife usually gets on me for this, so I will, no doubt, improve.
How I give my team room to innovate and experiment:
We are in a franchise system, so it's hard to innovate with new products. That said, our teams come up with new smoothies all the time that are fun and exciting and they always recommend them to the guests. Any ideas they have, we always listen to and allow them to try in their store. If it's a winning idea, we always try to roll it out!
How close are you to operations?
Very close. Every day I am in the stores and on the phone talking to teams and vendors, trying to achieve excellence.
What are the two most important things you rely on from your franchisor?
Training support and tools to make operations simple, and the ability to grow organically and through acquisitions.
What I need from vendors:
To be on time so I don't have to field the "Where is my truck?" call.
Have you changed your marketing strategy in response to the economy? How?
I used to think Facebook was the end-all for marketing, but it is really hard to make a splash on there unless you devote most of your resources to it. We have been successful with EDDM mailers and local sampling of our product.
How is social media affecting your business?
Social is a big part of our approach, but when it comes to marketing it all can't be in one bucket, so we reach out through a variety of tactics.
How do you hire and fire?
We hire with LinkedIn, Indeed, and walk-ins. We don't fire. I always say, "You fire yourself."
How do you train and retain?
Smoothie King has a great training platform that makes it really easy for everyone to get on the same page and quickly. We retain by putting people first.
How do you deal with problem employees?
We usually try to coach people and guide them to the water. It's up to them to drink.
Fastest way into my doghouse:
To be on your phone when a guest walks in.
Bottom Line
Annual revenue:
We have taken over all our stores this year, so we estimate between $6 million and $7 million for year one.
2018 goals:
To open one location in Massapequa, New York, and, hopefully, finish the year with a few more acquisitions.
Growth meter: How do you measure your growth?
More flags in the ground and through same store sale comps.
Vision meter: Where do you want to be in 5 years? 10 years?
In 5 years we would like to be at 50 restaurants. In 10 years, I would like to have surpassed our 5-year goal and be able to give the opportunity to our teammates to own their own restaurants. I believe mentorship is what it's all about and would like to help our team grow their businesses. If this opportunity comes before 10 years, that's cool too.
How is the economy in your regions affecting you, your employees, your customers?
Right now, everything is going well and people are happy. At Smoothie King, we sell a healthy meal in a cup that is easy to eat on the run and costs between $5 and $6. I think that is a winning ticket in any economy.
Are you experiencing economic growth in your market?
We operate in three different states--New York, Florida, and Georgia. In New York, it is always booming with jobs and the wages are going up so everyone has extra cash (or so they think, until everything becomes more expensive) to buy food out of the house. Boca Raton, Florida has a lot of snow birds who come back in the winter, along with the college students, and that makes for great winter months in that area. Atlanta is new to us, so I don't have an answer, but we know it is one of the fastest-growing cities and we are excited about our opportunity there.
How do changes in the economy affect the way you do business?
We continue to serve first, serve fast, and be the joy in everyone's day. We believe if we do these things right and have a clean store, we will continue on our growth path.
How do you forecast for your business?
We try to hit a 10 percent growth in same store sales.
What are the best sources of capital for expansion?
We have used a few different vehicles over the years, but I have found the processes very challenging.
Experience with private equity, local banks, national banks, other institutions? Why/why not?
Our company is new, so local banks have been a snag for us to this point. As we grow, and become more of a mature company, we will look to partner with banks.
What are you doing to take care of your employees?
Every member in the organization has the opportunity to earn more money every month through bonuses--from members to leaders of the company. We also love to drop pizza in on Fridays. Everyone loves pizza!
How are you handling rising employee costs (payroll, minimum wage, healthcare, etc.)?
It just seems like it's going to be what it's going to be, and rising costs won't change. With that being said, we staff our stores to grow and retain and to serve each other and the guest.
How do you reward/recognize top-performing employees?
We bonus our teams and always show them appreciation for their service.
What kind of exit strategy do you have in place?
I don't have one at this time, besides eventually selling stores to our team, as I noted above. We are growing and hoping to grow to be one of the largest franchisees in the system.
Published: November 22nd, 2018
Share this Feature
Recommended Reading:
Comments:
comments powered by

Disqus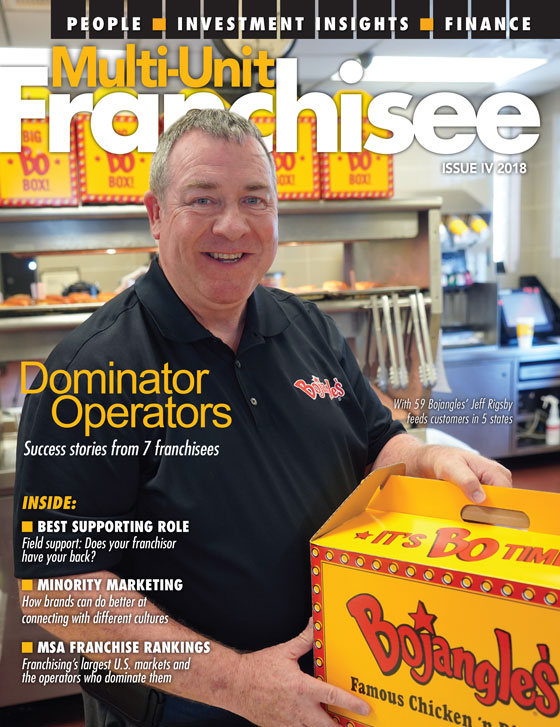 Multi-Unit Franchisee Magazine: Issue 4, 2018
The hottest new franchise is here (literally 150°). Perspire has developed, formulated and tested the most superior infrared sauna studio model...
uBreakiFix is a consumer electronics repair company based out of Orlando, FL that specializes in refurbishing and restoring smartphones, tablets,...
Cash Required:
$125,000