Clear Visionary: 60 Locations in 4 Years, With More to Come!
Pearle Vision multi-unit operator Bill Noble, a graduate of West Point and former UH-60A Black Hawk helicopter pilot, credits "courage and access to capital" for his swift growth as a first-time franchisee. Today, with 60 Pearle Vision locations and more on the way, Noble is one of the brand's largest and fastest-growing franchisees.
"Not a lot of people are comfortable taking risks," said Noble in an interview with Pearle Vision profiling his success with the brand. "I'm very competitive, and I truly believe in the sayings, "Go big or go home" and "Be bold, be daring, or be gone."
Noble, who also earned an MBA in general management at Harvard Business School, saw an opportunity to build a big business as his own boss with the 2014 purchase of 10 corporate Pearle Vision locations--backed by an investor group that is almost all affiliated with West Point in some way.
"I have West Point classmates from the Class of 1986, football teammates, and alumni from other classes who constitute over 85 percent of the invested capital in the company," says Noble. Fittingly, he has named his company West Point Optical Group.
Comfortable with scale and armed with a wealth of experience in retail operations, Noble was primed for growth from the start. His background includes work with well-known retail brands including The Limited, Toys R Us, Lord & Taylor, Walmart, Famous Footwear, and Luxottica, where he spent two years with Pearle Vision's sister brand, LensCrafters, as senior vice president of stores and brand planning.
Before that, he spent nearly a decade learning a different set of business skill at three companies: McKinsey & Company (associate consultant), Harrah's Entertainment (senior vice president and general manager), and Cintas (assistant vice president).
The support of Pearle Vision's leadership team encouraged Noble to make the leap into the world of franchising and assume ownership of multiple Pearle Vision locations throughout Ohio--a perfect fit with the brand's aggressive plans to convert its corporate-owned eye care centers to franchises and grow its national footprint.
As Noble's portfolio has burgeoned, so have the goals he and his team set for the company each year. The mission for 2018 is 10 percent sales growth, 15 percent profit margin increase on net sales, and a 5 percent rise in patient exams.
Noble says he runs a lean employment model, with the primary philosophy of right people, right place, right time. He looks to hire the best employees in the industry, assembling a team of people invested in the company's success and where store managers own 5 percent of the business.
"You hear so many people in retail management say that you have to treat a store like you're an owner," said Noble in his Pearle Vision profile. "We took it a step further and we made them owners. So we can say it and back it up by giving them equity."
These days Noble, who points to his experiences at West Point for shaping him as both a man and business leader, is busy rallying the troops for more growth. The father of five, whose wife Lauralee is vice president of human resources for West Point Optical Group, plans to continue opening new locations in the company's key DMAs.
"Our success has been most evident in those markets where we have three or more stores and can leverage our top-performing associates to drive business results," says Noble. "While the marketing synergies and economic benefits of scale are certainly important, it is our people who really make the difference."
For Noble, doing well while doing good has proven to be a winning combination. "How do you put a value on being able to see clearly?" he asks. "We are truly changing people's lives."
Name: Bill Noble
Title: Founder and CEO
Company: Pearle Vision
No. of units: 60 Pearle Vision
Age: 55
Family: Wife Lauralee, 5 children ages 9 to 26
Years in franchising: 4
Years in current position: 4
Personal
First job:
I started working at my father's flower shop when I was seven. I got my first true job at a local grocery store in Albany, Georgia, as a courtesy clerk when I was 16. I wore a white shirt and a tie every day and would help shoppers to their car with their groceries.
Key accomplishments:
My parents always stressed the importance of doing well in school. As I look back on my life and career, graduating from West Point and Harvard Business School are high on my list of accomplishments. These two experiences prepared me for my career and paved the way for me to be able to excel.
Biggest current challenge:
With 60 Pearle Vision locations and more on the way, I work on finding a healthy balance between work and home life. I love being with my family and participating in my kids' activities and sporting events, but I also love being a part of the day-to-day business. I don't want to fail as a father, husband, or business owner, so I'm careful to make decisions on how I spend my time.
Best advice you ever got:
There have been several mentors throughout my academic and business careers. But being from humble beginnings in south Georgia, something that has always stuck with me is: Never allow anyone else to define your goals and dreams. I remind myself that I'm the only one who can limit myself, not others.
What's your passion in business?
I enjoy all the different aspects of retail, like leadership, sales, and interpersonal skills. And in the optical industry, we have the opportunity to make an impact in someone's life through their ability to see. We are truly changing people's lives. Annual eye exams are wonderful predictors of overall health. We have countless examples where our doctors have uncovered serious medical issues through our optical exams and imaging. We are doing well and doing good at the same time, and that is a great combination.
How do you balance life and work?
Work/life balance is a constant work in progress for me. I want to do it all when it comes to business and family, and I constantly struggle to find the balance that satisfies the needs of the business and the needs of my family.
Favorite movie:
"Which Way is Up?", a Richard Pryor comedy from the 1970s.
Management
Business philosophy:
My experiences at West Point shaped me into the man and business leader I am today. West Point instilled three core values of duty, honor, and country that have been the cornerstone of my ethical code and value system over the past 35 or so years. Duty speaks to the importance of getting the mission completed successfully and fulfilling all of my obligations. A sense of honor compels me to conduct myself honorably and ethically in all aspects of my life. Country is pretty self-explanatory, but it speaks to me about America being a land of freedom and opportunity where many thousands of veterans have made the ultimate sacrifice to protect our way of life.
How I give my team room to innovate and experiment:
Our team is on the same page when it comes to our goals and priorities, so I trust them to experiment and bring new ideas to the table that will help us grow and better serve our patients and customers. This could be a simple update to a current process or the start of a new project. I surround myself with smart, innovative team members, so I expect them to challenge my thinking to propel the business forward.
How close are you to operations?
We're a small, lean business, so I'm heavily involved in operations alongside my team. I'm not a micromanager. I give my team space to do their jobs. I feel it has to be a collaborative environment, where each team member is valued and contributes to the day-to-day success of the business. I subscribe to the old saying, "The devil is in the details."
What are the two most important things you rely on from your franchisor?
Pearle Vision's brand name is widely recognizable, and the franchisor invests to increase brand awareness, which helps us in our local markets. The second would be that Pearle Vision offers us the opportunity to build a strong business that offers franchisees a business model where growth is rewarded.
Bottom Line
2018 goals:
Our team sets three new goals each year. This year our goals are to see 1) 5 percent exam growth; 2) 10 percent sales growth; and 3) 15 percent profit margin on net sales. Every initiative we launch has to bring us closer to making these three goals. We will set new goals in Q4 for 2019.
Growth meter: How do you measure your growth?
By the number of locations we open each year and by the same store sales performance of each location.
Vision meter: Where do you want to be in 5 years? 10 years?
We started 2014 with 10 locations and will be ending 2018 with 60-plus locations open. So in the near future we are focused on looking at our business as a whole and evaluating and fine-tuning our processes and systems. Looking ahead, we want to continue opening new locations in our existing key DMAs of Ohio, Michigan, Indiana, Pennsylvania, Arizona, Colorado, and Northern Florida.
How do changes in the economy affect the way you do business?
One of the many good things about the optical industry is that all people need eye care, and that's not going to change. Whether it's a child needing their eyes examined or a 40-year-old coming in for the first time, proper eye care will remain a need. So it does make the industry somewhat recession-resistant. We haven't seen any negative impacts of the economy on our business. The trend is positive.
What are you doing to take care of your employees?
Our primary philosophy is right people, right place, right time. Our employment goals are to hire the best employees in the industry in key DMAs. We run a lean employment model, so it's important that our stores are staffed with the right people at the right place and at the right time. To celebrate our employees, we convene an annual meeting in early December each year, where we invite all of our full-time employees to review our current-year accomplishments to date, prepare for our busiest two weeks of the year, and share our vision and operating goals for the following year. This meeting helps us nurture our culture and ensure that all our employees understand the role they must play in our success.
Published: December 7th, 2018
Share this Feature
Recommended Reading:
Comments:
comments powered by

Disqus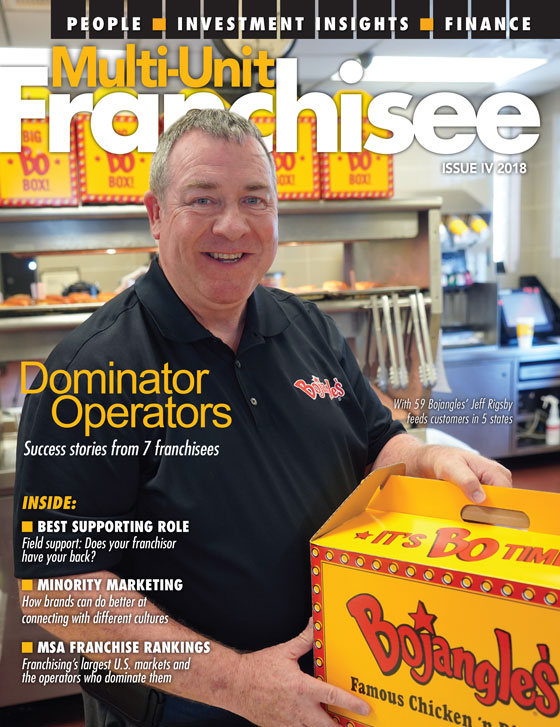 Multi-Unit Franchisee Magazine: Issue 4, 2018
The hottest new franchise is here (literally 150°). Perspire has developed, formulated and tested the most superior infrared sauna studio model...
At Celebree School, our child care franchise delivers a safe, nurturing, friendly, state-of-the-art learning environment that fosters a solid...
Cash Required:
$250,000