Taking the Plunge: At 29, Michael Sasseen is Swimming in Pool Service Success
Running a pool service repair and maintenance company, working in the family property management business, and serving as a reserve deputy for the sheriff's department makes for a diverse career path for 29-year-old Mike Sasseen. Today, he operates two locations of America's Swimming Pool Company (ASP) in Central Missouri.
The Show Me State native says he had always wanted to be a police officer when he was growing up and went through the police academy when he was only 20. "I loved everything about it," he recalls. "But I quickly realized I wouldn't be able to support a family the way I wanted to." A year later he was lured away by a better-paying job in Alabama before returning to Missouri a few years ago.
When he got back he became a reserve deputy for the Miller County Sheriff's Office to keep his post-certification. He continued to be involved with his family's property management business, overseeing more than 8,500 properties. One of his ongoing challenges was finding a reliable pool service company. He knew he could do better, and during an online search he discovered ASP, part of Authority Brands.
He remembered studying The Dwyer Group in college and had read "Live R.I.C.H.," a book by CEO Dina Dwyer-Owens. He knew how well the franchising model worked and opened his own ASP franchise in 2016.
"I picked ASP because it was the best choice for a pool franchise. It has the best software, trainers, advisors, and all around I just knew ASP was going to guide me to success," he says. As a young entrepreneur, he recognized that he needed guidance and says ASP delivered that. Within 2 years he was doing $850,000 in annual revenue.
After opening his second unit and with his business growing, Sasseen realized that running his company and working for the sheriff's department was taking him away from his family. He let go of his deputy job last January and today concentrates exclusively on his ASP business.
"I love everything about what I do," he says. "I love seeing people's faces when we do a major renovation on their pool and it looks like an entirely new paradise."
Name: Michael Sasseen
Title: Owner
Company: America's Swimming Pool Co. Central Missouri
No. of units: 2
Age: 29
Family: Wife and 2-year-old child
Years in franchising: 3
Years in current position: 3
Personal
First job:
Sales with my father's tractor company.
Formative influences/events:
My father, who passed away, was a great salesman and the biggest influence of my life. He would tell me to always be honest to my customers and treat them like family; to always follow up and make sure they are happy.
Key accomplishments:
Going way beyond expected revenue in my second year. We went from $250,000 our first year to $850,000 in our second year.
Biggest current challenge:
Weather plays a big role right now. We lost four months of our spring "key renovation time" because of rain, but we made up for a large part of that. Another big challenge is finding employees who will love what they do and give the same passion to our customers.
Next big goal:
Expanding to another large city.
First turning point in your career:
The realization that owning a company is about much more than yourself; the moment I realized that my employees depended on me to make sure they could provide for their families. It brought a whole new light to how I manage and treat my employees that I really didn't think of before owning my business.
Best business decision:
Joining a franchise. It was a huge decision when I wanted to start a pool company but knew very little about the industry. I decided that the franchise model was the most logical choice that could guide me to success.
Hardest lesson learned:
Making sure you keep up with family life. Owning a business takes a lot of time, sometimes on weekends and 14-plus hours a day. Making sure you keep your family time is very important.
Work week:
Generally during the summer it's 8 to 14 hours a day during the week and sometimes on weekends. During off-season I generally work just 5 to 8 hours a day.
Exercise/workout:
I get quite a workout at work.
Best advice you ever got:
Treating your customers with respect like they are your family. Making sure you set expectations and follow up.
What's your passion in business?
I love everything about what I do. I love meeting new people and getting new challenges. I love seeing people's faces when we do a major renovation on their pool and it looks like an entirely new paradise.
How do you balance life and work?
I make sure I find time every week to take my son somewhere, whether it's the park or just going out as a family. Finding that time sometimes can be hard during busy season, but it's so important. We always make sure my son gets plenty of his dad.
Guilty pleasure:
Starbucks and candy. Sometimes I'm just a kid when I go into a candy store.
Favorite book:
I love reading to my child--so many children's books.
Favorite movie:
"Good Morning, Vietnam."
What do most people not know about you?
I have three brothers and three sisters.
Pet peeve:
When employees do not respect and take care of your equipment you buy to make their lives easier.
What did you want to be when you grew up?
A police officer (which I did for a few years), and a tractor salesman with my dad.
Last vacation:
I went to Las Vegas with my best friend a few months ago.
Management
Business philosophy:
"Do not make excuses, make improvements" and "There are never problems, only solutions."
Management method or style:
Generally, I give my employees as much freedom as I can to do their jobs. Many of our employees came from pool companies that were always looking over their shoulders and never gave them the trust they deserve. I let them solve their problems, and we have had nothing but success from that. Our employees feel like they are a part of the company and can do what they feel is right. We do not push to get done too fast. We want our employees to take their time and do things right the first time. Our customers have given us a great response from that.
Greatest challenge:
Keeping up with paperwork and organization.
How do others describe you?
A great guy, caring, and always will give his shirt off his back for you if you need help (from an employee).
One thing I'm looking to do better:
I look forward to learning better organizational skills and improving my processes to make less stress in my life.
How I give my team room to innovate and experiment:
I give them freedom to do things the way they think is right. I send them to train anywhere in the United States. I have sent employees to Texas, Florida, and several other states to learn new methods. I also do online training, in-house training, and training with Pentair in state.
How close are you to operations?
I handle most of the operations myself. I am currently looking for a manager to help me with operations to take some load off my back and to give me more time to spend with my customers.
What are the two most important things you rely on from your franchisor?
One of the major things I depend on is a great image, from everything to how we look showing up to your door, to our advertising and marketing. I love how consistent it is when customers from other states or locations that have a house here know what to expect already. Another thing is making sure we are profitable and looking over our financials, which would normally take me much longer to do myself.
What I need from vendors:
I use different vendors for many aspects of my company--payroll, design software for pools, my product reps with questions and warranty, concrete vendors, plaster, and many more. The biggest thing I ask for with every vendor is to be honest with me and show up when they say they will. I tell them all it's a partnership, if my customers are not happy with their performance I have to find someone else. All my vendors love the way I work with them and have a check for them the second they are done. They always show up when they say they will and go above and beyond.
Have you changed your marketing strategy in response to the economy? How?
Pricing generally changes one or two times a year if needed. I always make sure we are profitable with everything we do. We explain why to the customers as needed (generally it's shipping costs or tariffs) and they are 99.9 percent of the time okay with those changes.
How is social media affecting your business?
Social media is the biggest investment I put in marketing. A vast majority of customers will search for you on Google or social media. I make sure we stay up-to-date, and so does our franchise to make sure we stay relevant in that field.
How do you hire and fire?
I give my employees a few chances and we try to make it work any way we can. We have a surprisingly low turnover rate because we treat our employees like family. We give them benefits, including insurance. We hire mainly based on attitude and how they relate with people. It is more important to me to have an employee who customers like, rather than one who has experience but is rude to our customers. It's all about their passion. We fire if necessary if performance is dropping, not looking good on returning, or not following our core values.
How do you train and retain?
We are consistently training our employees. We even move them to different positions and let our maintenance techs ride with our service techs to help learn the ins and outs of equipment. We are always looking to improve our relations with our employees, from having Christmas dinners with their families to just giving a thank-you card. We also feel insurance and benefits play a huge role with the employee because it shows we care, and it helps shape in their mind that this is a career, not a job.
How do you deal with problem employees?
Generally, I try to shape our employees the best I can by starting with verbal warnings and showing them myself the correct way to do things, if necessary. Then we go to written write-ups, which I try to avoid because we do like to retain our employees. Then we terminate if all else fails.
Fastest way into my doghouse:
Being rude to our customers or other employees.
Under 30
How did you get into franchising at such a young age?
I got into franchising when I was 27 because my family owns a property management company and we couldn't find a reliable pool company. I said I could do it better (which I did) and looked into options. I ran across ASP when searching on Google. I decided franchising was a great move because it would guide me to success.
Was becoming a franchisee something you'd planned on?
Not at the start. But when looking on the side of statistics, I found that franchising would be a better move.
What jobs, skills, and experience have helped you operate a franchise business?
Business management and people skills were my best skills.
What kinds of obstacles did you face in franchising at such a young age?
Getting people to respect you and know that you know what you are talking about. A lot of people will look down on you because of your age. Also, a lot will give you congrats on doing great things at your age, but then decide to go with someone else because they think someone else will have more experience.
How would you describe your generation?
I think all generations are similar and every generation will say the new generation is lazy or don't want to do anything. So I can't really describe that well.
Do you see franchising as a stepping-stone or a career for you?
I think it's both. My ultimate goal is to sell my business, but it's a career to me.
Bottom Line
Annual revenue:
$750,000 to $1 million.
2020 goals:
$1.25 million.
Vision meter: Where do you want to be in 5 years? 10 years?
I want to grow our business to $3 million in this location, expand into other locations in my territory, and get into building.
How is the economy in your region affecting you, your employees, your customers?
Lake of the Ozarks, Missouri, is very seasonal. With over 80 percent of the homes being summer homes, it is greatly affected by time of year. Our population generally during winter is 4,000 to 5,000 and during summer it's 300,000 to 500,000. Such a large jump dramatically affects us.
Are you experiencing economic growth in your market?
Definitely. We have a lot of development in our area and lots of new tourists because of TV shows and the growing popularity of our area.
How do changes in the economy affect the way you do business?
It doesn't really change it too much for us, other then renovations. If the pool is built the customer will want someone to take care of it regardless.
Experience with private equity, local banks, national banks, other institutions? Why/why not?
Yes, we use our local bank for all of our loans. We trust them greatly, and they are always willing to help us.
What are you doing to take care of your employees?
Making sure they are taken care of with medical and retirement. It is a struggle these days to get medical, and it is so important to us and our employees. Also our employees having a 401(k) is a big deal to them.
How are you handling rising employee costs (payroll, minimum wage, healthcare, etc.)?
We raise our costs as needed to make sure we take care of our employees and stay profitable.
What laws and regulations are affecting your business and how are you dealing with it?
Missouri has very little to no regulations in our industry.
How do you reward/recognize top-performing employees?
We give them bonuses and handwritten notes thanking them.
What kind of exit strategy do you have in place?
We plan to sell our franchise when the time is right.
Published: January 24th, 2020
Share this Feature
Recommended Reading:
Comments:
comments powered by

Disqus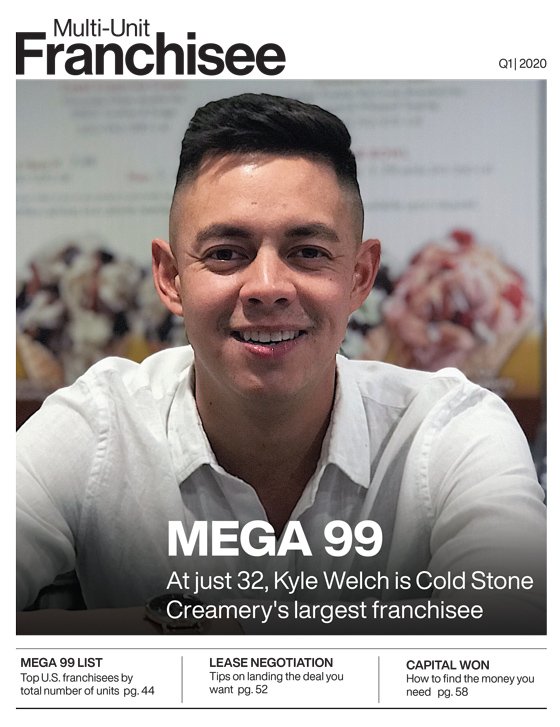 Multi-Unit Franchisee Magazine: Issue 1, 2020
Main Squeeze Juice Co. was locally born in Lake Charles, Louisiana. When we realized the need for our concept across the country we decided to begin...
Cash Required:
$180,000
A neighborhood butcher franchise is what every community needs. Learn more about joining Southern Steer franchise.
Cash Required:
$100,000