Mr. Big Shot: NBA star Chauncey Billups Scores in Franchising
Retired Detroit Pistons star Chauncey Billups has never shied away from a challenge. That's not surprising when you consider the five-time NBA All-Star and three-time All-NBA player was nicknamed "Mr. Big Shot" for making crucial late-game shots when he was a guard with the Detroit Pistons (think 2004 NBA Finals where the Pistons defeated the Los Angeles Lakers). After 17 seasons in the NBA playing in cities including Boston, Toronto, Denver, and Orlando, Billups was savvy enough to think about his future and plan a career off the court.
Today, along with a role as an NBA analyst with ESPN, Billups has been putting his entrepreneurial skills to work building his own post-basketball business portfolio. In 2013, he teamed up with former NBA player Junior Bridgeman to purchase 30 Wendy's in the St. Louis market. Last summer he added a new brand, Salon Plaza, a franchise that allows independent stylists and cosmetologists to rent a fully equipped private studio and run their own business in an upscale environment. He opened his first location in Southfield, Michigan, in August and says there will be more to come, in places ranging from Washington, D.C., to Baltimore and Atlanta.
Billups says Salon Plaza was a clear choice as he looked to break into the fast-growing salon sector. The brand's philosophy is similar to his own of making a difference with community-driven personal and professional values. "I remember my aunties, cousins, and others close to me who had their own businesses, but they were doing it out of their basements," he says. "Now, we're making it possible for people to get into a business of their own in a one-of-a-kind environment with fantastic amenities and top-notch design."
If he weren't already busy enough, Billups is also testing the waters with Rise Nation, a fitness club that offers cardio climbing equipment and workouts that Billups uses himself. "Our Rise Nation locations are in Denver. It's an active community and our business is doing well there," he says.
Though Billups admits "running a business is far more challenging than basketball," he sees the similarities--and value--in doing both right. "Team, processes, and systems are critical," he says. Because of that, he says, he's in a position to win with all of his business ventures.
Name: Chauncey Billups
Title: Multi-brand franchisee
No. of units: 40-plus Salon Plaza, Wendy's, and Rise Nation
Age: 43
Family: Wife Piper, 3 daughters, Cydney, Ciara, and Cenaiya
Years in franchising: 7
Years in current position: 7
Personal
Formative influences/events:
2004 NBA Championship with the Detroit Pistons beating the Los Angeles Lakers and named Finals MVP. Earned nickname "Mr. Big Shot" following the series.
Key accomplishments:
Played 17 seasons in the NBA. Star at the University of Colorado, and selected third overall in the 1997 NBA draft by the Boston Celtics; five-time NBA All-Star and three-time All-NBA selection.
Biggest current challenge:
Given my competitive spirit and the edge I like to have in everything I do, I want to have my whole self involved. However, I balance a lot and I am able to do it well thanks to the team I work with. With all of that said, no matter what you get into, it's always a risk, and at the end of the day, for me, you have to be willing to lose. But I now have a team, processes, and systems that mitigate threats to our businesses and we're in a position to win with all of our business endeavors.
Hardest lesson learned:
When I first began to invest, I was attracted to businesses and opportunities that I jumped at way too quickly. I thought these opportunities were one thing and they turned out to be another. I have bumped my head a few times--I didn't know my partners well enough. Now when I look into investing in a business, I am patient. I go through a thorough due diligence process and turn over every stone.
Exercise/workout:
Check out the Rise Nation classes. It is a fantastic workout.
Best advice you ever got:
During an off-season I attended a seminar geared toward NBA players considering entrepreneurial endeavors as the next phase of their career. Junior Bridgeman presented. I was drawn to him because of his approach with people and how he inspires others through the businesses he owns. I followed up on that presentation with Junior multiple times and stayed persistent, trying to get more time with him so I could learn from him. As a result of my persistence, I established trust and he invited me to spend time with him in Louisville for three straight summers. I am sure a lot of guys have reached out to him, but didn't have the intensity or willingness to put in the time and effort into being great--they just want to be great. We spent a lot of time at his stores. It was during this time that I realized thanks to Junior that we are not in the business of selling food, salon suites, or workouts... we're in the people business. Junior made it clear that if you provide solid opportunities for others to make a living and advance their lives, along with inspiration, motivation, and mentorship, they'll remain loyal and become the team members you want to surround yourself with every day. I cherish what I have learned from Junior. We are still very closely connected, and we're partners in our Wendy's investment in the St. Louis market.
What's your passion in business?
Because of our "people business" approach, we have several team members who have reached higher levels in the company than they ever thought. Their families, friends, and colleagues are proud of them. It's what makes business worth every minute. With Salon Plaza, what I love about our opportunity is the impact we can have on the individuals who rent suites with us. I've discussed with them that their success comes down to how they treat their clientele. It's all about the relationship, and that relationship is why their customers will continue coming back. I think about why I still go to the barber that I've gone to forever--it's the relationship. I don't even have hair, but I still go... now for my beard. My wife Piper says the same thing. She goes to her salon because of the bond she shares. We're coaching the individuals who rent suites with us to establish those types of relationships and giving them a platform to do it.
How do you balance life and work?
Family is most important, that's rule number one. So for me, I have to set boundaries when it is time for family because between business and my NBA broadcasting, I can be pulled in a lot of directions. You just need to set clear lines.
What do most people not know about you?
Life comes full circle. Now, a lot of players come up to me and ask about what it takes to make it in business. They hear my story and they reach out to me and ask advice. What I say to them is, "It's on you." One thing you can't do is count on something just falling into your lap. Far too many people exiting professional sports lose a lot of money by not doing their due diligence. You have to be very patient; nothing happens overnight. When you play, you are so used to those checks being so big--you are making a million dollars a month. There is no business out there where you are going to get that kind of money. It's a slow boogie.
What did you want to be when you grew up?
Playing the highest level in basketball was always my focus. And when it came time to think about my post-playing days, I honestly didn't know what I wanted to do. Midway through my career, I knew that I wanted to stay in basketball. But I also grew a desire, an entrepreneurial desire. It came out of my goal to help others. Helping others also goes beyond business for me. I started and have grown what has become a successful leadership academy that helps kids who need more direction in getting life figured out. My parents and grandparents were always there for me. They made the sacrifices needed to support my goals. Without their help, there was no way I would have made it. I want to pay it forward, and I do that through business and in other meaningful ways.
Management
Business philosophy:
I am especially drawn to our franchise investment with Salon Plaza because of our ability to foster business ownership through salon suite rentals. We're able to guide and mentor small-business owners in the salon industry through support programs that offer pathways to success. We support their flight in life by giving them the right platform to achieve prosperity. Help others reach their goals and they'll help you get to yours.
How do others describe you?
I bring a strong work ethic to everything I do. I am driven and competitive, but really enjoy working with others. I thrive in leadership opportunities and have an ability to guide a team through selflessness, cooperation, and inspiring motivation.
Sports & Business
What do find more challenging, sports or business?
The day-to-day of running a business is far more challenging than basketball. I played basketball starting at age 10. I'm still relatively young in business, and I know I have so much to learn.
What skills/experience from sports have carried over to operating a business?
Leadership on the floor translates well into business. I was a leader for all the teams I played on and I know how to take accountability. I also learned through sports how to treat people. Also, you have to have good mentors to teach you what you don't know. Plus my work ethic carried over. I was always very detailed, having a clear understanding of the game plan, the competition, and the strategy to win. Today I talk business with a lot of my former teammates. Many of them are successful in other industries. We talk about their successes and challenges and I share the same. We learn from each other.
How did you transition from sports to franchising?
When I first retired I went to work for ESPN right away, so I still haven't completely removed myself from sports. But when my playing days ended, I was ready for the next phase in life. I had a blessed run, and I am truly enjoying where I am today.
Bottom Line
Annual revenue:
N/A.
2020 goals:
I want to continue to grow. The Salon Plaza investment is done with a team we refer to as the "Dream Team." We have an ambitious franchisee group and we're aiming to open more than 100 locations as franchisees. Our first is in the Detroit market, and it is going so well. We opened this past summer. As franchisees with Salon Plaza, we're focused on bringing the concept to urban environments where we know that hair, skin, and beauty are prioritized. Ironically, those destinations are in many of the NBA cities I am familiar with, having played in them for 15-plus years. Salon Plaza appealed to me was because we could affect lives so well. I remember my aunties, cousins, and others close to me who had their own businesses, but they were doing it out of their basements. Now we're making it possible for them to get into a business of their own in a one-of-a-kind environment with fantastic amenities and top-notch design.
Growth meter: How do you measure your growth?
Growth can be measured in countless ways. For me, I look at the impact had on people pursuing their dreams. For instance, with Salon Plaza, we have put dozens of people into business ownership in a really inspiring environment. Likewise, as mentioned, I am thoughtful about the investments I make and need to spend a lot of time getting to know the parties involved. Each year I look at opportunities and make calculated moves. Being strategic is key, and I look back over each year and ensure that I am sticking to my plan as I grow with new concepts.
How is the economy in your regions affecting you, your employees, your customers?
We are in fantastic segments. The quick-serve category with Wendy's is outstanding. We are a top choice in the communities we serve in St. Louis, so there are no issues at all there. If anything, the strong economy and employment are helping business. Denver is a really fit area serving an extremely active audience. That is where we have our Rise Nation locations, so those do very well also. And our Salon Plaza open in Southfield, Michigan, just outside Detroit, has fantastic demand. Stylists love having affordable space to rent in an environment that breeds confidence and appeals to consumers.
What are you doing to take care of your employees?
As a management team we know how to empower others to take ownership of their work. It comes down to outstanding leadership and training. So providing opportunities for growth through new responsibilities and promotion has become very common.
Published: February 28th, 2020
Share this Feature
Recommended Reading:
Comments:
comments powered by

Disqus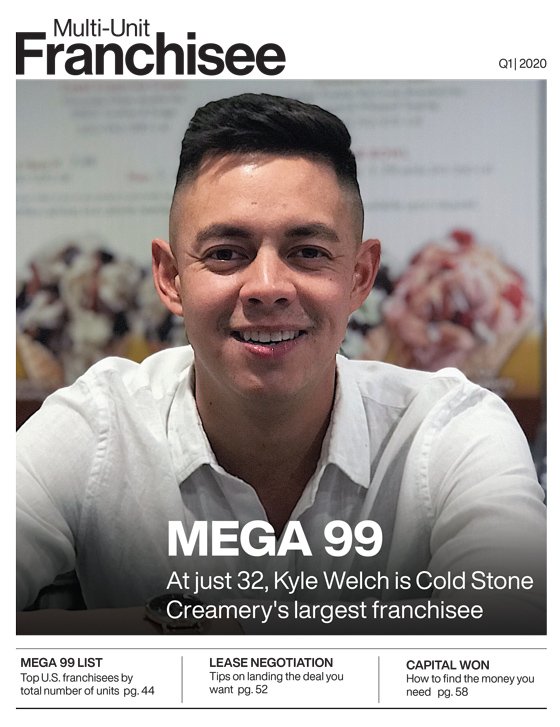 Multi-Unit Franchisee Magazine: Issue 1, 2020
Own one of the world's most beloved ice cream franchises! For nearly 35 years Cold Stone has been the go-to for the Ultimate Ice Cream...
Our commitment to developing the best drive-thru espresso led us to franchising. Unlike nearly all other franchises, we do not charge...
Cash Required:
$100,000