The Heart of the Deal
We sat down (virtually, of course) with Greg Flynn, founder, chairman, and CEO of FRG—and with Dean Zuccarello, founder and CEO of The Cypress Group, who played a pivotal role in completing the massive transaction.
"I would like to be recognized not so much as the biggest operator, but as one of the best operators."
Tell us why you pursued this deal.
One of the most interesting things about the overall opportunity is what a perfect fit it was with our existing businesses and with our objective to evolve the composition of our overall business. We have a goal of being diversified in the restaurant industry, roughly mirroring the composition of the industry itself. We had flags planted in all of the major segments: quick service with Taco Bell and Arby's, fast casual with Panera, and casual dining with Applebee's, but we were light in QSR.
If you look at QSR, the two biggest subsegments are burgers and pizza, in that order, and we had nothing in burgers and pizza. We also like to play at scale for the scale economies, but also so we can also be a collaborative partner with our franchisors and have a seat at the table.
NPC represented entry into the very subsegments we weren't already in and to do so at scale. It's like a unicorn, it was just a perfect fit. If I set out to find a business like NPC's that didn't happen to exist, you would think that you would never find it. And there it was.
In a previous interview with this magazine (Q3 2019), you told us that you built your organization on debt and cash flow. How did you finance this deal?
NPC is different than our previous acquisitions. It's bigger, and there was really no possibility of financing it just with debt and cash flow. So we're bringing in more than $300 million in fresh outside equity that's coming from the existing owners of the business, including myself.
We decided to finance it very conservatively. We're putting separate debt facilities in place for each of the brands, but the debt is going to be supported by that big injection of new cash equity into the business. Because we're financing the NPC assets so conservatively, if you combine the businesses and look at their overall level of debt and cash flow, we're actually more conservatively financed than before the acquisition. This transaction actually will be delevering for us overall.
It was NPC's debt that allowed the lenders to control the company and sell it in bankruptcy. We're not assuming any of that debt. We're getting new loans for each of the new businesses, but a lot less. For instance, NPC had approximately $900 million in debt. We're coming with about $250 million in debt.
We're not buying all of the assets, but that gives you a sense that they had so much more debt on the business than we have going in. We're going to be in a much more financially secure position from the get-go.
Why is diversification so important to you?
I learned a lesson early on that you should not have all your eggs in one basket, that you should be meaningfully diversified. So that's why, from the very beginning, I've been in two businesses: real estate and restaurants. And that within restaurants I want to be diversified, because you want to be in a position to weather whatever storm comes along. And of course 2020 was the perfect storm. If I'd been in nothing but Applebee's it would have been a much harder year than having hundreds of QSR restaurants with drive-thrus.
We very deliberately set out to be diversified not only between segments and brands in the restaurant industry, but also geographically so that we can weather whatever geographically specific threats may arise, and there are lots of them. Hurricane Sandy shut a lot of restaurants down and that hurt us a little bit, but we had lots that weren't affected at all; or the long-term recession in the Rust Belt, or the housing bubble bursting especially hard in Southern California. All of those things happen, but none of them is enough to really move the needle on our whole business.
Why doesn't everybody do this?
The hardest part is running your restaurants well every day, year after year. We've just done it at a greater scale than most. It all starts with that, and with figuring out how to keep running them well as you grow. Growth in many ways facilitates good operations in that you have the financial resources to reinvest in your business, to keep it fully staffed, and to adopt technologies, which really helps. But the biggest benefit is in being attractive to great employees, who value the advancement opportunities and excitement that growth can offer.
Our belief is that running our restaurants well day in and day out is the mission-critical task. It's that which affects our outcome the most. What the franchisors do matters, of course—menu and marketing and design of prototypes and training programs. That all matters. But if we don't run our restaurants well, then what they do doesn't matter enough to save us. (Laughs.) And likewise, even if our franchisors occasionally are a little less effective at what they do, if we keep running our restaurants well, we'll be fine.
How do you make it all work so well?
I like the analogy of a fleet of ships. We've been able to grow at a very high rate—just under 30% per year compounded for 21 years now—and we've managed to do that while running our restaurants well. If we weren't running our restaurants well, then we should just stop acquisitions or growth of any sort until we get our house in shape. But we've managed to.
An advantage of a decentralized model like ours is that it is much less rigid than a traditional command-and-control hierarchy. Think of a pyramid. What have you got—a person on the top, and the whole organization below them exists basically to implement those decisions. That's a very rigid structure. So if you try to add something by acquisition, the whole structure needs to adjust to accommodate the addition. It's disruptive.
So if you think about our model as a fleet of ships, and the fleet can be sailing in any direction, you can add another ship to it and it has no effect whatsoever on the effective navigation of the existing fleet. Now it affects the people who are supporting these restaurants, and that's a lot of work. But our existing operations haven't been affected at all by the now 21 acquisitions we've done.
We've tested this model now over more than two decades and four concepts and it works very well for us. So we have every reason to expect that it will work very well for us in our new businesses as well.
What is technology's role in making it possible to steer an organization this large?
We have very, very good information systems. We use Microsoft's Power BI, which allows us to understand our business with great depth and very clear reporting, so we know in real time what the levers are that are really driving our business, and we know where to focus our efforts. And we can share that information with our operators and help them understand what really matters and what we ought to be focusing on. So that's the information technology. Then there are all sorts of restaurant technologies that are making us more and more efficient all the time and making the guest experience more frictionless.
I think the main takeaway here is that you need very good information and reporting systems to keep track of everything that's going on at an enterprise of our scale and as diversified as we are. And we have that. I know what's going on in our business very well. I probably know more about our business than many small operators know about their businesses, because it hasn't been a priority for them and they don't have the systems.
How are you managing the transition of nearly 25,000 employees into your organization?
What we've always done in the past is a series of road shows where we go to the markets and meet with the new people who are joining us—from the restaurant general manager level on up. We tell our story, share our plans for the business with them, and let them see our faces and know that we're just real, regular people, just like them, and there's nothing to be afraid of. In this case we couldn't do that because of Covid, but we did do nine virtual road shows that covered approximately the same content. It wasn't as much fun because we didn't get to see everyone in person, but it still gave us an opportunity to share our stories and address some of the concerns of the people who are coming on board.
Another thing that we do is match up the leaders of the new businesses with our existing people, especially the ones who have gone through a transition like this with us. It's an opportunity for them to ask questions and to provide the resources for them to figure out how things work. But most importantly, it allows them to see firsthand that someone else went through the same thing and landed in a very good place. That's what we really hope they all conclude. Being acquired by anyone can be scary or make you nervous. But we've seen over and over again that it turns out to be a great outcome, and we have every reason to expect that it will be with NPC as well.
How do you think what you're doing is affecting how franchisors think about large MUOs?
I like to think that it is making them appreciate the benefits of scale operators, and setting their minds a bit at rest about the threat that larger operators might represent. We are totally dedicated to being collaborative partners with our franchisors, never throwing our weight around or letting the fact that we have a lot of restaurants make us act any way differently than if we only had a few. What we want to do is the right thing as a system, never going rogue.
We operate with very real scale economies. This helps us to execute well, and I think they see that. We also have really deep financial resources to invest in our business that can help us make it through tough times.
It's been a multi-decade project of trying to make franchisors understand that big isn't necessarily bad. It can be bad, but it can be good too. And we've set out to prove to them that in our case big is good, that it helps us execute well in our business and benefits them without posing a threat.
Ultimately, our franchisors will judge us by what we do. And what we have shown we will do in all of our systems over more than 20 years is run our restaurants well, keep them in good condition, build new ones, and be constructive thought partners and system leaders. I think that's what franchisors really care about.
Did you hit any speed bumps in the process?
Wendy's was concerned that Arby's and Panera were competitive with them, and that's a legitimate concern. We just had to convince them that may be the case, but since we really weren't in a position to sell those businesses (we've never sold anything), let us convince you why it's worth it to make an exception for us because we'll be great franchisees—we'll invest in the brand, we'll build new restaurants, we'll remodel the ones we have, we'll run them well, and we'll be very collaborative with you, the franchisor. And ultimately, that's what happened. They got over their concerns, realizing that the benefits outweighed them.
Did you think you could pull this off?
It was a long shot to be able to buy the whole thing. I think everyone expected that both businesses, both portfolios, would be broken up and sold in pieces. I appreciated that there were very few people who could probably buy it as a whole. I felt we could finance it, we could integrate it, we could run it, and we could get approved by the franchisors. There certainly were private equity firms who could have taken down the whole business, and a couple I know were interested in it. But that's not enough. You also have to be able to prove to the franchisors that you can run these restaurants once you buy them, and we had a real distinct advantage there: the combination that we had the financial resources to buy the whole thing and we had the track record to illustrate that we could run it after we bought it.
How many people told you you were crazy?
(Laughs.) A few! It was a large bet and there were some skeptics, even on our team. The stakes were high. But it was such a wonderful fit with our business that I made the decision early on that we were going to run very hard at this and would spend the money it took to get in the best position to be chosen as the buyer.
How many people in your management team told you you were nuts?
(Laughs again.) A few.
How did you manage to persevere in the face of doubters?
When I think of my role as CEO of this business, it really is to think about where do we want to go, how are we going to get there, and to spot opportunities that can take us there. Right from the very beginning I saw, this is our opportunity. It took some convincing for our management team, our investors, and ultimately a lot of lenders, and I had to convince all the franchisors it was a good idea. But I believed in it so much, and for what I thought were good reasons that I could articulate to any doubters. Ultimately, I think we just got everyone to see how much sense this made. And that's what it took. Once they saw it, their eyes opened, and everyone got on board. It kind of went from being Flynn's Folly to, "You're right, this is really an opportunity! This really does make sense. Let's do it!"
Back to the fleet of ships. You're the guy on the bridge with the telescope scanning the horizon for opportunity?
Yes, that's funny. And you need people to do all of those things we've discussed. In our business, we divide and conquer. We are a restaurant operating business; that's mission-critical for what we do. Everything we do goes to support that. I am not myself a restaurant operator, but I do preach the extreme importance of it. And so we have teams that do that, and they're excellent. But that doesn't need to be me. What I need to do is have a healthy appreciation of it, and an ability to attract great team members who can get that done.
But then there are the other needs of the business. There's the strategic vision that is my job. There's financing the whole thing, that's partly my job and partly the job of Lorin Cortina, my great long-term partner and our CFO. As I said, we divide and conquer to get all this stuff done and it works really well.
How do you think what you're doing reflects any trends in franchising?
There has been consolidation in the franchise space. The size of some of the larger players is definitely rising, and we're part of that. I would like to be recognized not so much as the biggest operator, but as one of the best operators. That's what I really care about. And the one that showed the industry, especially our franchisor partners, that big isn't necessarily bad. In fact, big can help you be great.
I think the other thing that really was a change was starting in 2001 when we brought in Goldman Sachs as a private equity investor. That was the first time I'm aware of that a private equity investment of serious size was made in a franchise operator. And now there's lots of that, of course.
And in the debt financing realm, I think we had the largest facility of classic franchise finance, with a 13-bank syndicate. My partner and our CFO, Lorin Cortina, heard from everyone all the time that we were going to outgrow that debt universe and needed to look elsewhere. But he just kept growing the whole sector by bringing more lenders in. And the bigger we got and the more we survived various cycles and events, the more lenders realized, "Wow, this is a pretty good place to lend to and this is a good borrower." He pushed it well beyond the limits of what most people 20 years ago thought was the capacity of that whole lending universe. That was important too, because this thing does take a lot of money.
We've had bank syndicates as large as 15, I think—the point being that there had never been a syndicate that large in franchising or involved with so many banks before us. And that's one of the contributions I think we've made to the trend toward consolidation and showing that it could be done.
In late 2019 you told us, "It's been a hell of a ride—and we are only halfway through." You just doubled, so are you done now?
(Laughs.) I don't know if this is the 2nd inning or the 8th inning, but I know the game's not over.
You also said that in 10 years you wouldn't be surprised to have a meaningful international presence. Is that still in the cards?
Yes. We're nothing if not opportunistic. It's a big world, and there is undoubtedly good opportunity outside of the United States. We haven't been focused on it because we've had so much opportunity within the United States, but at some point it will probably make sense to start looking abroad.
Are you still planning to give it all away to charity someday?
Yes. My life plan is modeled loosely on my uncle's life plan, who modeled it on Andrew Carnegie's life plan, and I don't know where Carnegie got it. You divide your life into thirds: "Learn, Earn, and Return." I spent about until age 30 in the Learn part of it. I'm now in the Earn part of it. One of these days I'll move into the Return phase.
Published: May 17th, 2021
Share this Feature
Recommended Reading:
Comments:
comments powered by

Disqus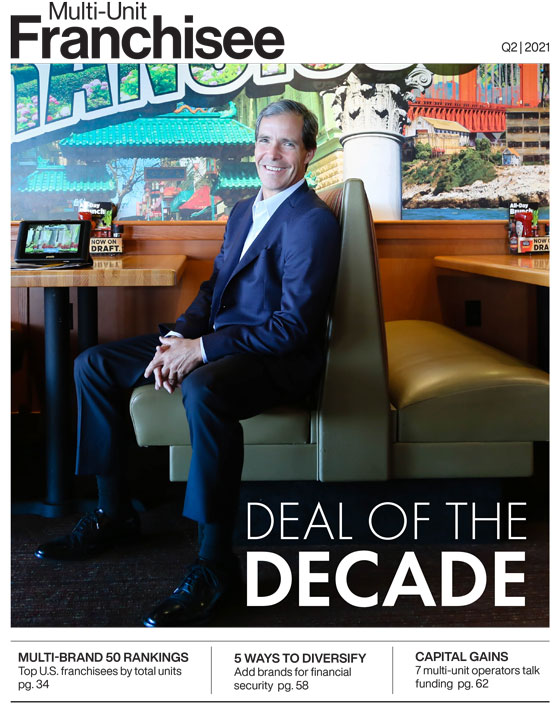 Multi-Unit Franchisee Magazine: Issue 2, 2021
Starting your own Snapology education franchise is affordable, flexible, and provides a great opportunity for success. Find out more today on how you...
When simplicity is the essence of your business model, clients and owners benefit. Clients want a predictably wonderful experience with every visit....
Cash Required:
$100,000